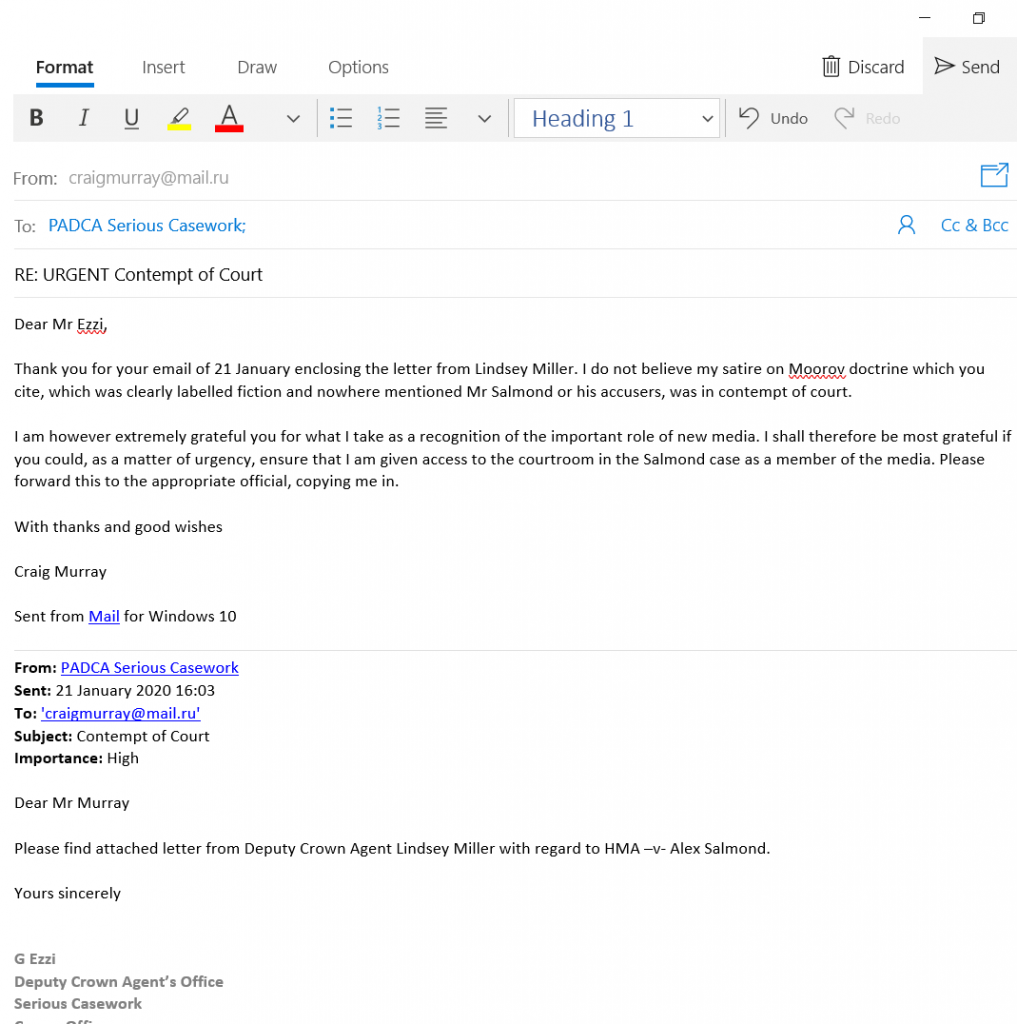 I am just off to the High Court to check out physical arrangements for access on Monday, and was inspired to send the above email, which I add as an update.
On Monday morning at 6am I shall again be queuing up outside a courtroom. I never had any intention this blog would become so concentrated on court reporting, but then I never expected the state to be trying to put so many of my friends in prison.
Nor had I expected at this stage in my life to be threatened with prison myself. The Procurator Fiscal's office in Scotland wrote to me to say that they are considering prosecuting me for contempt of court – which when it is related to a major criminal trial, carries a maximum sentence in Scotland of up to two years in prison.
20200121 LRM letter to C Murray[353039]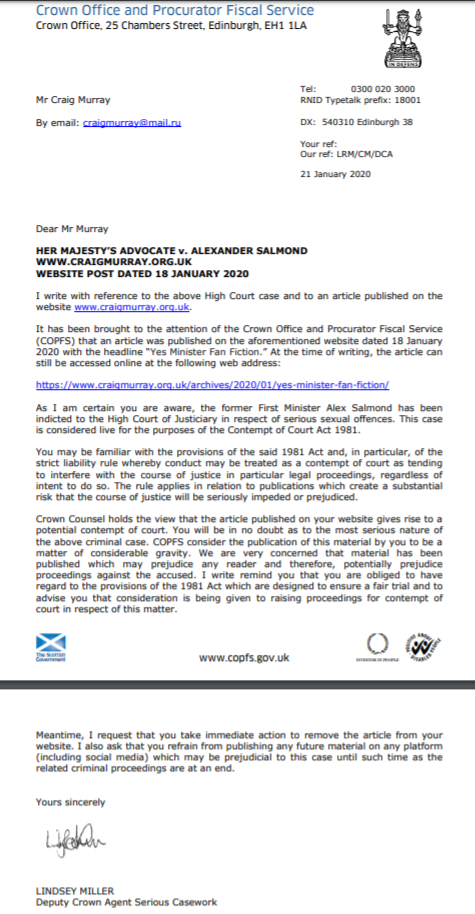 I have still not heard where their consideration of whether to prosecute me has led them. But the job of the Crown Office is to prosecute criminals, not to write them letters. My interpretation of the letter, which I believe would be the interpretation of any reasonable person, is that it is an attempt at censorship by terrifying me into removing the article of which they complain.
The Crown should not be doing that. If the Crown is ordering the suppression of satire without the decision of a judge, then we have set Scottish society and Scottish liberties back several hundred years. The Crown is not in the position of somebody who feels themselves libeled and might send a "cease and desist". For the Crown to attempt direct censorship without judicial authority is a very serious breach of human rights.
The article complained of, clearly labeled as fiction, does not mention Alex Salmond nor any of his accusers and is largely a satire on the Moorov Doctrine. If the Crown is saying that it is illegal to satirise the Moorov Doctrine lest you reduce its efficacy, that again appears to me to have serious human rights implications. A senior QC told me shortly before Christmas that, entirely unrelated to the Salmond Case, they had been briefed by the Procurator Fiscal Service that it was their policy to push and extend the use of Moorov Doctrine. There is a very wide public interest in discussing that.
All of which naturally constrains my reporting next week. It is of course important both to give the fairest hearing to the accusers and not to prejudice jury members on the facts with which they are faced. But I cannot even tell you what happened in court at the last case management hearing, although it is very important. When combined with the anonymity of the accusers, it does make it very difficult indeed to report the background to the case, which given its profound political implications that engage a legitimate wider public interest, is deeply disturbing to me. I shall however do my best, in full compliance with both the law of contempt and the rulings of the court, but operating hard up against that boundary in the interests of free speech and public knowledge, to the extent that is permissible and legitimate, to report as much of the truth as I can.
Hopefully without going to prison. Wish me luck.