Long term readers know that the Doune the Rabbit Hole Music Festival is run by my family and myself and is a major part of my life. It is in a sense my "day job". The full line-up for 2020 is now here.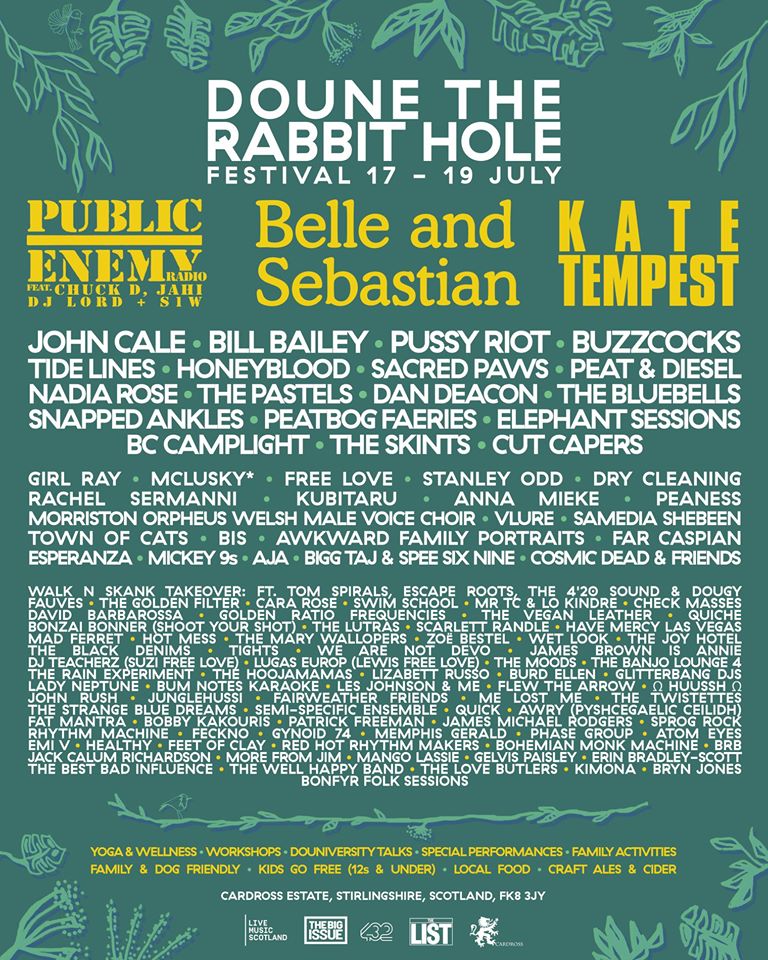 The artistic direction of the festival is very much the province of my son Jamie, though when you see something entirely unexpected like the Morriston Orpheus Choir you know there is some input from me!
I have written before about why we do the festival. It is about lifestyle and community, about creating a nicer, kinder world for a short time in the fields on the edge of the Highland Line. Doune the Rabbit Hole is a conscious attempt to maintain the communal values of the earliest music festivals, and the experience is very different from that of the large commercial ones. It is a family festival not just in the sense of being family owned and run. Under 12s come free and there is a huge amount of time and other resource devoted to providing facilities and entertainment for them. The very presence of so many children is important to the sense of being a community, not an audience, as is the extraordinary age range of those who come. There is no dominant age group. Pets are welcome and lots of people bring them.
The finances of the festival are a huge challenge. The fixed costs of the required infrastructure – fencing, temporary roads, water, stages, lighting, sound systems, toilets, tentage, signage, security, first aid and more – are colossal, amounting to over £400,000. This is why many of Scotland's camping festivals, including Wicker Man and Electric Fields, have closed down in recent years. In the modern age, much of that is mandated by the authorities, for example we would be much happier without six miles of fencing. That is before you pay the musicians. Live performance rather than selling recorded music is nowadays a much higher percentage of a musicians' income, and the cost of leading bands has increased exponentially in real terms over the last couple of decades. Plus, as a matter of principle, we pay all the musicians, including those looking to break through, of which we have masses.
Ten years of trying has proven to us that the only way a camping festival can survive financially is to reach a size of about 8,000 people, due to the fixed costs. You can imagine the challenges of attempting to grow the festival to the size needed, with all the infrastructure required to keep that many people entertained, safe, fed, watered and with clean toilets (and having the cleanest toilets of any festival is very high on our priorities), yet at the same time retain the community, family, non-commercial and above all friendly atmosphere. I hope that this link might take you to the public reviews on Google. My feeling was last year that we achieved this atmosphere for the visitors but not for the crew, who were over-stressed. I am spending a lot of time on how to make the community work for everybody and keep the finances together, while avoiding commercialisation. We are always very keen on keeping bar and food prices down to ordinary, non-festival levels and making sure that people never feel ripped off on site.
Let me be perfectly open with you and say that this is the year we finally hope we will reach a size where the festival stops losing money. The reason that it has been able to survive and develop to this stage, is that I have over the years put in a six figure sum of my own money to keep it going (which is also the reason I do not now have any!)
The Douniversity proved a very popular innovation last year, with a legion of talks including by Kristin Hrafnsson (editor in chief Wikileaks), Robin McAlpine and myself. This year Common Weal are curating the Douniversity, which I am sure will be great.
The festival has become to me an essential annual spiritual refreshment, and a vital part of what keeps me going.
Finally, I would as every year very much welcome volunteers from our readers who would be prepared to come and help out at the festival, particularly behind the bars, but if you have other particular skills or preferences I am sure they can be accommodated. In the first instance, please send me a message via the contact button top right of the blog to introduce yourself. Please do let me know if you have done it before or if you have otherwise met me, as I have a terrible memory for names. We do, however, need to sell a great many tickets, and if you fancy coming just to enjoy the event you will be very welcome indeed. You can buy tickets here.
.