UPDATE I today received a prison sentence of eight months for my reporting of the defence case in the Alex Salmond trial. I have a three week stay while we apply to this same court for permission to appeal to the Supreme Court. My appeal will be based on the simple fact that I did not identify anybody. It will also be based on the right to report the defence case being denied by an extraordinary, impossibly strict application of "jigsaw identification", and on fair process not having been observed.
Should this court refuse permission to appeal, which seems not unlikely, I will in all probability be jailed while we apply direct to the Supreme Court for permission, which will take some months.
I am afraid I find myself once again obliged to ask you for funding for the appeal. We have raised about £70,000 but are likely to need, at the least, double that.
UPDATE The defence fund has received £46,520 in the 24 hours since it was relaunched to fund the appeal to the Supreme Court. That does not get us there, but it is a good start on our way as the appeal continues. Over 2,000 people have donated, with the smallest donation being 82p and the largest £1,000. Every penny is greatly appreciated. I should make plain that despite the astronomical costs, some members of our legal team have been working substantially below their normal rates and with time donated free.
One donation of £500 from a gentleman I know, came with a note that explained that Willie MacRae had lent him £100 shortly before his highly suspect death. He regarded the £500 as repaying that debt, and was sure Willie would approve of the use of his money. That brought tears to my eyes.
UPDATE ENDS
On Friday I shall be sentenced, very possibly to prison, for contempt of court by "jigsaw identification". While I do not believe anybody has ever been imprisoned for "jigsaw identification" before, my entire prosecution has been so perverse that I cannot imagine why they have done it unless that is the intention.
With enormous diffidence and frankly embarrassment, I find myself yet again obliged to ask people to contribute towards my defence fund before my hearing next Friday, to enable us to move forward with an appeal to the Supreme Court. Legal bills actually paid to date amount to £161,000, with about eight thousand not billed yet. Non-legal costs, including the opinion poll, total around £9,000. The total raised by the defence fund to date is around £143,000 with the balance of around £18,000 paid so far having come from my personal pocket.
The practical result of the judgement against me is that it is virtually impossible to report the defence in any sexual allegation case; as witness the fact that I was ordered by the court to take down every single word of my articles covering the defence case and evidence.
The judges ruled that publishing any information that could theoretically assist not the public, but literally a colleague who worked in the same office, to identify a complainant, would constitute jigsaw identification. They also ruled that jigsaw identification was committed if you gave a piece of information which could identify a complainant in conjunction with information that could be found anywhere else, no matter how obscure. For example, if information from page 19 of the Inverurie Herald six years ago, combined with information from page 178 of a book, combined with something I published could lead to an identification, I am guilty regardless of whether or not anybody did in practice actually piece together these obscure sources of information.
In fact the court heard nothing that would pass as evidence in court that any individual had in fact identified anybody as a result of my articles. There was zero evidence of harm. What has been harmful is the gross censorship of my journalism, with my entire daily account of the defence case removed, and my critique of the Garavelli article removed. In consequence, it is once again virtually impossible for anybody to discover WHY Alex Salmond was acquitted, enabling the massive state and media led campaign to claim he was really guilty – which sadly appears, with the counter-narrative banned, to have acquired great traction.
You will recall that I commissioned a Panelbase opinion poll which proved that a significant 8% of the Scottish population – that is around 400,000 adults – believed they had been able to identify one or more of the complainants in the Salmond case from publication, but when asked stated that the source of this caption was overwhelmingly the mainstream media.
Well I decided to re-run the opinion poll to see if anything had changed. These were the results. 11% of the Scottish adult population – that is half a million adults – by now believe they know an identity. This is how they know: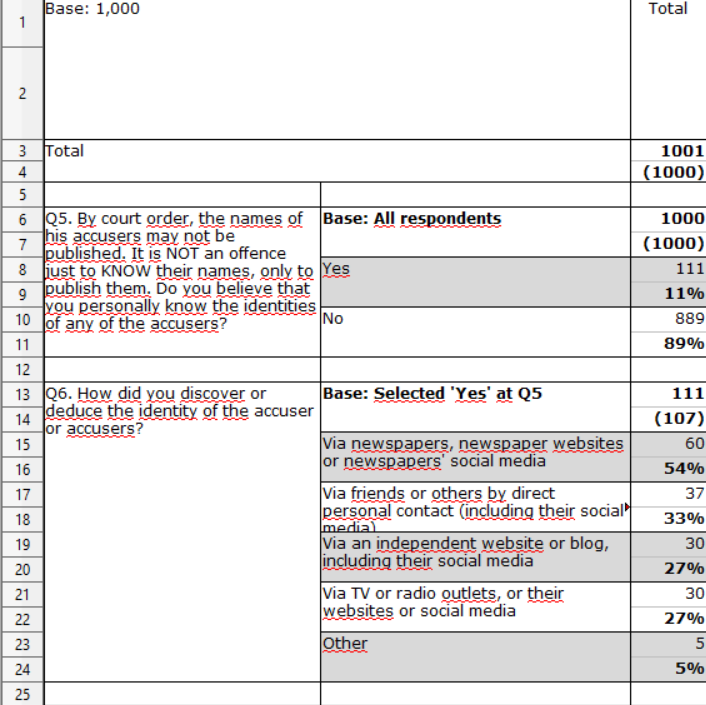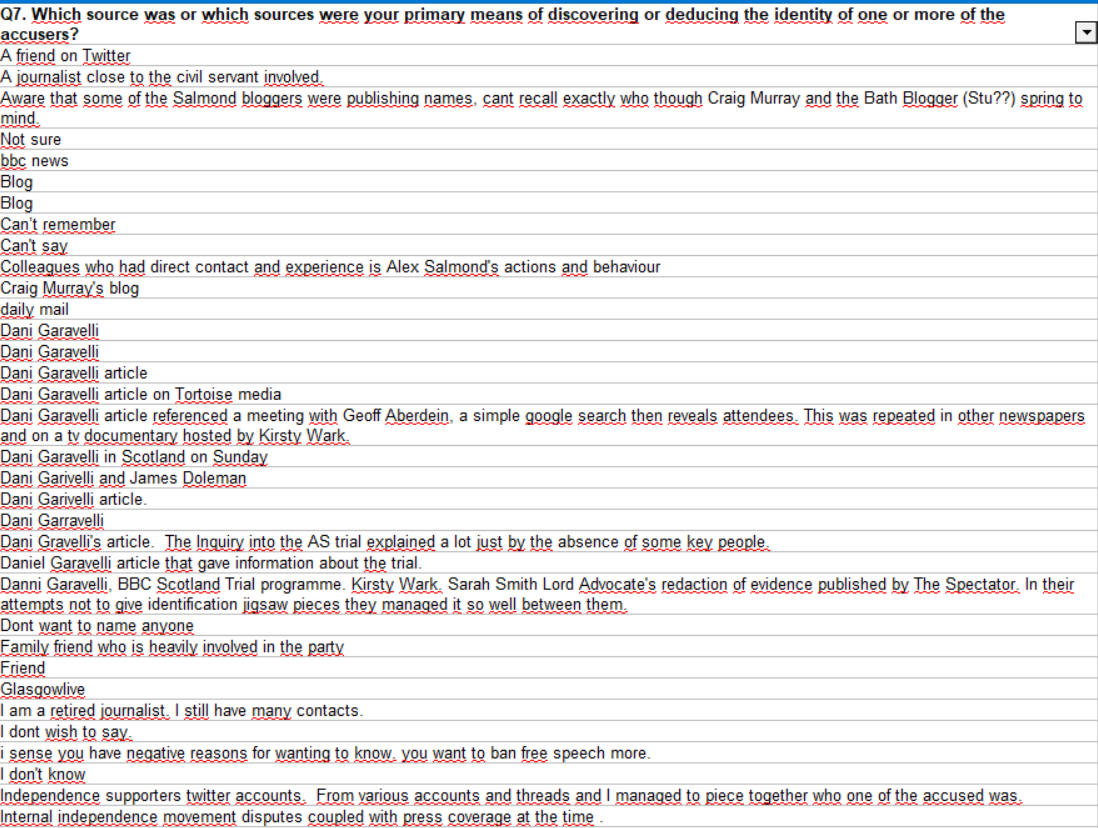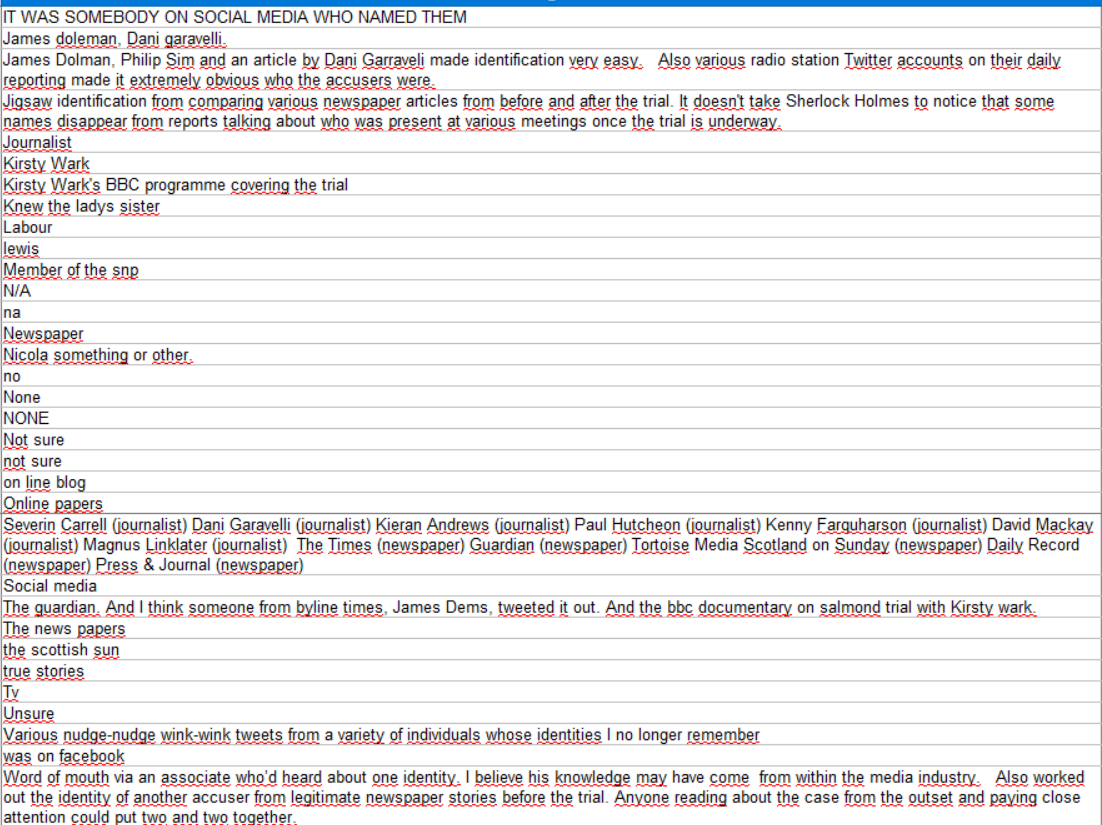 It is perfectly clear and entirely consistent with the first poll. 54% of people who believe they know an identity got their information from the newspapers. 27% got it from TV and radio (there may be overlap between these groups).
Yet no newspaper or TV journalist or editor is being prosecuted.
Not even Dani Garavelli, who is overwhelmingly named as the source of information – by fifteen different people – is being prosecuted.
So let us be perfectly clear. The three top sources named for identification were
Dani Garavelli – by a country mile
Kirsty Wark
BBC
None of whom is being prosecuted. Garavelli has published an entire series of major articles amplifying the prosecution case against Salmond, in Tortoise media, twice in Scotland on Sunday and in the London Review of Books, plus many other well paid commissions. She has effectively made a fat living out of an entirely one-sided account that claims miscarriage of justice simply by omitting all the defence evidence. In so doing she has plainly been much more credibly guilty of jigsaw identification than I. On the other hand, my long critique of Garavelli's first Scotland on Sunday article, which interpolated the defence evidence which contradicted her account and proved that the jury was right, has now been banned, censored and desroyed by the court, the 21st century equivalent of burning the manuscript in the public square.
Garavelli has gone on to become media-puppet-in-chief to the Scottish government, producing a stream of adulatory articles about Nicola Sturgeon like this one about what a great constituency MSP Sturgeon is, which is (ahem) somewhat contrary to received wisdom.
Garavelli is protected because she is part of the inner circle, while I am prosecuted, when the mainstream media is not, because I am an opponent of the corrupt nexus of power that governs Scotland today. The official line is that through enthusiasm for Salmond's cause I revealed information to the public that the mainstream media did not. That is a fiction the Scottish legal system has chosen to adopt, and for which I will be sentenced on Friday.
All the real world evidence shows that is untrue. I revealed far less than the mainstream media revealed. This is a shameless and openly political prosecution of one of the very few platforms of any size which explained the truth about why Alex Salmond was acquitted by the jury. That is my "crime".
We have to get this out of the foetid corruption of Edinburgh and into Strasbourg. That is only possible via the UK Supreme Court, and my legal team are now working on that appeal. I urge you to subscribe not only because of the particular injustice of my own case, but also because this ruling puts a huge power in the hands of the state by making it next to impossible to report the defence in cases of sexual allegation. As such allegations are the favoured tool of the state against perceived dissident threats (cf Julian Assange), this is very dangerous indeed.
You can contribute to my defence fund here. I am extremely grateful to those who have and I want to stress that I absolutely do not want anybody to contribute if it causes them even the slightest financial difficulty. I am afraid to say that the amounts we need to raise remain ridiculous; this fact is of course all part of the implementation of suppression, by "lawfare".
Click HERE TO DONATE if you do not see the Donate button above
Alternatively:
Account name
MURRAY CJ
Account number 3 2 1 5 0 9 6 2
Sort code 6 0 – 4 0 – 0 5
IBAN GB98NWBK60400532150962
BIC NWBKGB2L
Bank address Natwest, PO Box 414, 38 Strand, London, WC2H 5JB
Bitcoin: bc1q3sdm60rshynxtvfnkhhqjn83vk3e3nyw78cjx9
Ethereum/ERC-20: 0x764a6054783e86C321Cb8208442477d24834861a