The arrest of Piers Corbyn is yet another sign of the intolerance of dissent and devaluing of free speech in the modern UK. Neither being tasteless nor being wrong is a police matter. Furthermore the attempt to distort this into a question of anti-semitism is ludicrous. The clear import of the leaflet involved is that Auschwitz was an instrument of mass murder, and so is the covid vaccine. There is no way of reading this that makes out Corbyn to be denying Auschwitz or promoting it as a good thing. That the Auschwitz comparison is tasteless as well as simply wrong is a view I would share; but neither is a crime, and I perfectly accept other people may view it as neither tasteless nor wrong.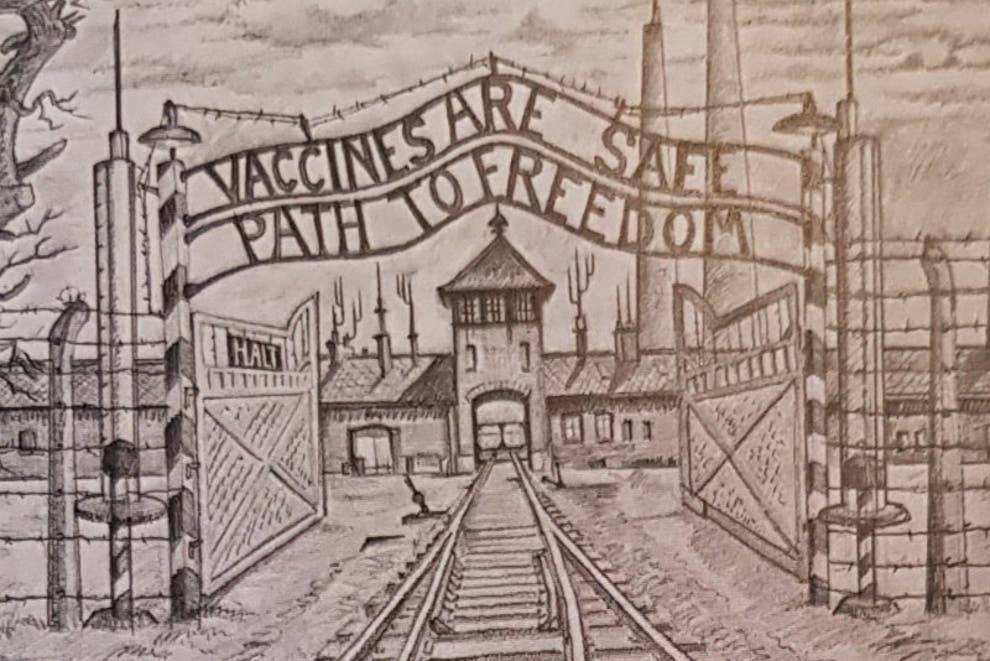 The intrusion of the state into the legitimate expression of dissenting views is becoming commonplace. The hatred directed at Piers' brother explains something of the glee that swept both social and mainstream media at Piers' arrest, as does another chance to contrive Corbyn and anti-semitism into the same sentence. However the incident betrays the very real shift in society towards intolerance of non-mainstream views. It is only the vigilance of citizens which will ever limit the power of the state, and it is therefore no surprise that in the age of cancel culture the state stamps down on dissenting opinion.
I leave aside the question of Piers Corbyn's connection to the leaflet and cartoon or not as irrelevant to my argument here, though of course it is relevant to his legal position; there is no reason for the leaflet to be illegal anyway.
I do not think that anybody will ever put the argument for free speech better than the great John Stuart Mill:
First, if any opinion is compelled to silence, that opinion may, for aught we can certainly know, be true. To deny this is to assume our own infallibility.

Secondly, though the silenced opinion be an error, it may, and very commonly does, contain a portion of truth; and since the general or prevailing opinion on any subject is rarely or never the whole truth, it is only by the collision of adverse opinions, that the remainder of the truth has any chance of being supplied.

Thirdly, even if the received opinion be not only true, but the whole truth; unless it is suffered to be, and actually is, vigorously and earnestly contested, it will, by most of those who receive it, be held in the manner of a prejudice, with little comprehension or feeling of its rational grounds.
[Despite a lifetime of studying Mill, it was only in researching Sikunder Burnes that I discovered that when John Stuart's father James left Montrose for London he anglicised the family name from Milne to Mill. John Stuart and Burnes became friends in the East India Company, as had been their fathers in Montrose.]
As to this particular opinion of Piers Corbyn, I have no qualification that makes my view any more authoritative than yours. But it seems to me probable that the massive advances in knowledge of how vaccines work within the body at the level both of incredibly small structures and of atoms, better enable theoretical constructs to underpin the discoveries of the vaccine testing process, and thus vaccine safety can indeed be established sooner than in earlier years, when the testing of empirical effects of a vaccine proved efficacy and safety or otherwise, without knowledge of precise mechanisms being entirely essential to the process. I shall myself take the vaccine when offered and urge everybody else to do so, despite myself tending to the view that the risk of death from covid-19, other than to clearly defined vulnerable groups, is extremely small. The risk to those vulnerable groups is acute, so for their sake I hope everybody vaccinates.
I might expand into my general view of vaccines. Being of an age where I can recall people only slightly older than myself living lives in forms twisted by polio, I have always regarded "anti-vaxxers" as deeply misguided. Any vaccine of course carries an inherent risk, as does any instance of putting anything at all in the human body. But for all established vaccines, those risks are very small. In fact, I view those who do not take vaccinations as extremely selfish, because while refusing the vaccination because of a very small risk to themselves, they still benefit from the herd immunity created by everybody else who has taken that tiny risk. I therefore view anti-vaccination as an immoral position; with the caveat that not everything that in my view, or even the state's view, is immoral should be illegal. We come back again to the right to be different, to the fact that neither the state nor I are infallible judges of personal morality, and that the arm of the state is already too far extended.
—————————————————–


Forgive me for pointing out that my ability to provide this coverage is entirely dependent on your kind voluntary subscriptions which keep this blog going. This post is free for anybody to reproduce or republish, including in translation. You are still very welcome to read without subscribing.
Unlike our adversaries including the Integrity Initiative, the 77th Brigade, Bellingcat, the Atlantic Council and hundreds of other warmongering propaganda operations, this blog has no source of state, corporate or institutional finance whatsoever. It runs entirely on voluntary subscriptions from its readers – many of whom do not necessarily agree with the every article, but welcome the alternative voice, insider information and debate.
Subscriptions to keep this blog going are gratefully received.
Choose subscription amount from dropdown box:
Paypal address for one-off donations: [email protected]
Alternatively by bank transfer or standing order:
Account name
MURRAY CJ
Account number 3 2 1 5 0 9 6 2
Sort code 6 0 – 4 0 – 0 5
IBAN GB98NWBK60400532150962
BIC NWBKGB2L
Bank address Natwest, PO Box 414, 38 Strand, London, WC2H 5JB
Bitcoin: bc1q3sdm60rshynxtvfnkhhqjn83vk3e3nyw78cjx9
Ethereum/ERC-20: 0x764a6054783e86C321Cb8208442477d24834861a
Subscriptions are still preferred to donations as I can't run the blog without some certainty of future income, but I understand why some people prefer not to commit to that.