In December 2002 I cooperated closely with the UN Special Rapporteur on Torture, Theo van Boven, who was paying an inspection visit to Uzbekistan. As I recorded in Murder in Samarkand "against the protocols, the Uzbek authorities refused to let him enter the SNB holding centre in Tashkent, the most notorious of all the torture sites." I upbraided the Uzbek Foreign Minister for this.
That kind of contempt of the UN is perhaps expected of dictatorships. But consider this. The Immigration detention centre at Yarls Wood became notorious for the sexual exploitation of female detainees by staff, on a large scale. In April 2015 the UN Special Rapporteur on Violence against Women, Rashida Manjoo, visited the UK. The government denied her entry to Yarls Wood. In accordance with UN protocols, she went anyway, and was blocked from entering – on the direct orders of Home Secretary Theresa May
You very probably did not know that, because the great problem our society faces is an over-mighty executive government backed by corporate wealth which controls a corporate media. But it is typical of May's instincts, and they are terrible. Her default position is retreat into secrecy and blatant abuse of power. That is precisely what we are seeing over Brexit, where there is no plan and much to hide. May's natural instinct is to brook no opposition, debate or discussion of her actions, but to proceed on the basis of executive fiat, with as little information as possible given to parliament, devolved authorities and – Heaven forfend – the public.
Everything you do on the web is now stored for twelve months by the security services. They can hack into your laptop or phone to see what is on there without any conditions at all. Not only do they not need to convince a judge you are suspected of a crime, they do not need to even pretend to actually suspect you of anything at all. They can just decide to target you and go fishing. The UK has now zero right to online privacy and the most vicious security service powers of any democracy. Indeed when you combine powers with capability (and the security service are recruiting tens of thousands more staff to our stasi state) the UK is now the most authoritarian country in the world. The legislation. passed this week, was framed by Theresa May as Home Secretary and received no significant opposition from the UK's complicit political class.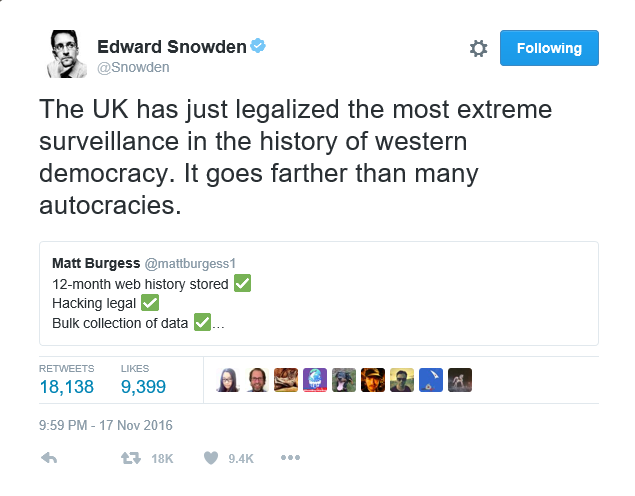 This mass gathering of data is nothing to do with fighting terrorism – being lost in a massive ocean of irrelevant data is actually a major hindrance to fighting terrorism. It is about social control. I have nowhere heard this better explained than by John Kiriakou, former senior CIA agent who was jailed as part of the Obama administration's vicious war on whistleblowers, after Kiriakou blew the whistle on CIA torture. Kiriakou's speech on receiving the Sam Adams award in Washington is well worth hearing, and beings 1 hour and 3 minutes in here.
It was May who sent poster vans around London urging immigrants to go home, and whose anti-immigrant instincts were so strong she banned the tiny number of Afghan interpreters for UK armed forces from being given asylum in the UK. That May is intellectually out of her depth is plain even to Conservatives every Prime Minister's question time in the Commons. Expect her to fall back more and more on those instincts for secrecy and authoritarianism – and the abuse of the massive powers of the state.
**********************************************************************************************************************
Signed First Editions of Sikunder Burnes are now available direct from this blog! You can leave a message naming the dedication you want. Sold at cover price of £25 including p&p for UK delivery or £29 for overseas delivery. Ideal Christmas presents!!