Judith Mackinnon joined the Scottish government in 2017. She was slotted into the highly remunerated non-job of Head of People Advice. That really is her title. I saw it in the Record and did not believe it, but just phoned the Scottish Government and they confirmed it. Judith Mackinnon is Head of People Advice at the Scottish Government. She was previously Head of Human Resource Governance at Police Scotland. A senior policeman tells me that appeared in practice to mean professional feminist.
As might be expected from somebody with such pointless job titles, Mackinnon writes gobbledegook rather than English. Here is an extract from her Police Scotland submission to the consultation on the Scottish Government bill on gender equality on boards.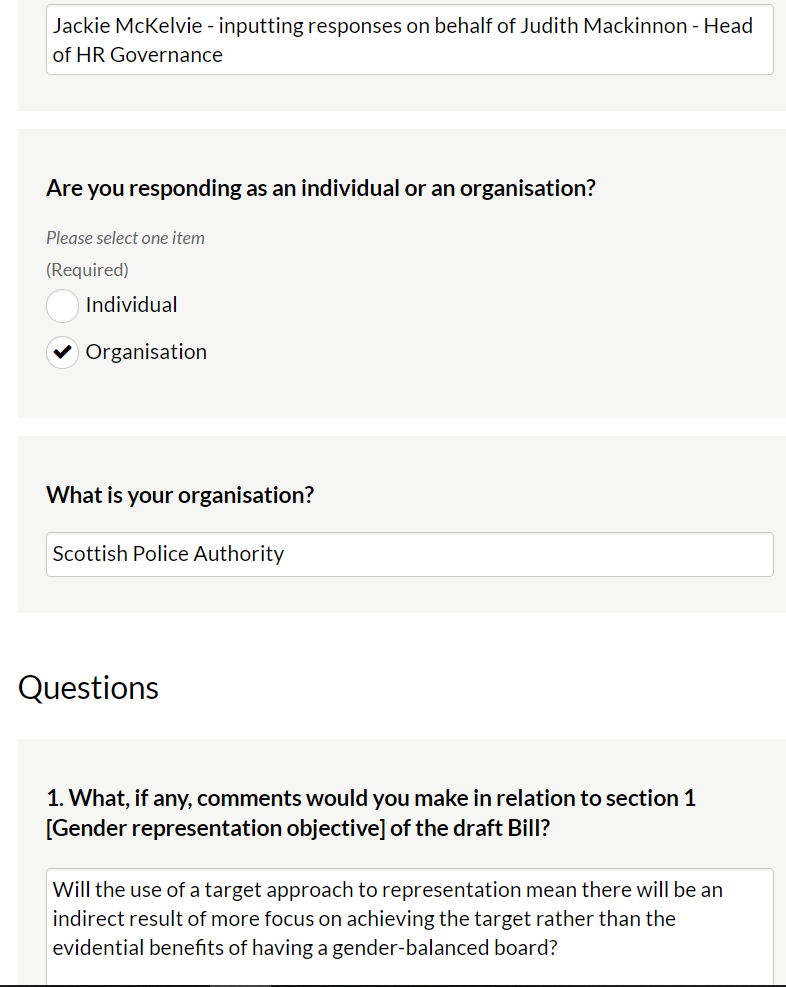 I confess I got no further than answer 1), my bullshit meter having exploded. I felt very sorry for Jackie McKelvie.
It is vital to note that, in her peculiar non-job at the Scottish Government, Mackinnon had no normal professional contact with the alleged "complainants" against Alex Salmond. It is still more vital to note that the "complainants" did not approach Mackinnon. In January 2018, shortly after starting at the Scottish Government, Mackinnon sought them out and – as it was carefully put in court today (tremendous twitter stream report here), spoke to them in a manner "bordering on encouragement to proceed with formal complaints" against Alex Salmond. It appears this was a process, not just one meeting. Again in the language used in court today, there was a "significant amount of direct personal contact" between Mackinnon and the complainants.
At this stage the complaints were brought to the attention of Leslie Evans, the Permanent Secretary – assuming she was not the one who instigated Mackinnon to act originally. Incredibly, Evans then appoints Mackinnon as the formal investigating officer for the case.
Even more incredibly, Mackinnon and Evans then together work on a new Civil Service Code which specifically makes the retrospective actioning of these complaints possible.
So Mackinnon instigated the complaints, investigated the complaints and drafted the code changes which made the complaints actionable.
Judith Mackinnon has been a human resources professional operating for over 25 years. It is impossible that Mackinnon did not realise that this method of pursuing a stitch up is absolutely illegitimate, as was today conceded in court. It is equally impossible that the Head of the Civil Service, Leslie Evans, did not realise these measures were completely illegitimate.
The actions of these civil servants are not just reckless, they are a deliberate stitch-up of an individual amounting to the crime of misconduct in public office. It is most certainly a sacking offence and it is Evans and Mackinnon who should be the subject of police investigation. Apart from their deliberate and cold malice towards Salmond, they have cost the taxpayer £350,000 wasted on this case.
Leslie Evans issued a statement today which is breathtaking in these circumstances in its impudence and its tendentiousness. She appears to try to say that she did not know until last month of Mackinnon's role in instigating the complaints.
After reassessing all the materials available, I have concluded that an impression of partiality could have been created based on one specific point – contact between the Investigating Officer and the two complainants around the time of their complaints being made in January 2018.

The full picture only became evident in December 2018 as a result of the work being undertaken to produce relevant documents in advance of the hearing.
This amounts to an incredible accusation against Mackinnon by Evans. To save her own skin, Evans appears to be alleging that at the time of Mackinnon's appointment as investigating officer, Mackinnon did not reveal to Evans her role in initiating the "complaints"; and presumably also left that out of the investigative reports, if Evans did not find out until December.
However as a former member of the senior civil service myself, I can tell you that the truly disgusting Leslie Evans is here attempting to give that impression by weasel drafting. She is saying that "the full picture" only became clear in December. In fact, Evans already knew a great deal more than she is here attempting to portray. Perhaps she didn't know whether Mackinnon and the complainants drank tea or coffee together, hence not the "full picture".
There is a still more important and extraordinary misrepresentation in Evans' statement, She claims:
All the other grounds of Mr Salmond's challenge have been dismissed
I cannot understand this at all. There has been no judgement issued in the case. The Scottish Government caved in once it was ordered to reveal the incriminating emails and minutes that told the above story. The Scottish Government caved in and settled out of court; therefore the case was dismissed by the judge. It is totally false of Evans to claim that this amounts to Salmond's other claims being "dismissed" in the sense she intends to convey, and indeed is the opposite of what the Scottish Government's own QC specifically stated in court. He said that the Government disagreed with Salmond on the other points but that this was "now academic".
The misrepresentations in Leslie Evans' statement are simply appalling in a civil servant. She has to go.
All documents in this case should now be released. It is a matter of essential public interest, relating to a politically motivated attempt to impact on the bid for Independence of the entire Scottish nation. One thing that those documents will make clear is whether or not the First Minister's office was as entirely insulated from events as is claimed.
Nicola Sturgeon must now move to demand the resignation of both Evans and Mackinnon. Both fully deserve to lose their jobs. If Sturgeon moves to protect them, she will attract suspicion that she is motivated by keeping them silent about the extent of her own involvement in the sorry process. To avoid this rumour she has to act swiftly and decisively and invite them to resign tomorrow morning.
.