Today the prosecution concluded its case against Alex Salmond. The most important point was that, now the final prosecution witness has been called, we can conclusively say that the Crown did not produce a single eye witness to any of the 13 alleged incidents. This is even though many of them occurred in public; at a photo opportunity in Stirling Castle, in restaurants, in a vehicle with other occupants. It is strange that a behaviour allegedly so continuous and so compulsive was simultaneously so invisible – that is invisible to anybody who was not either a member of Nicola Sturgeon's very closed inner circle – which describes six of the nine accusers – or a senior Scottish government civil servant, which describes the other three. It is the very narrow and connected milieu of the accusers which distinguishes this case from the comparisons the media had everywhere drawn with the monstrous Weinstein.
The nearest thing the crown had to an eye witness was Mr Donald Cameron, head of the private office of Leslie Evans, Permanent Secretary to the Scottish Government. Mr Cameron testified on Friday that he had witnessed Alex Salmond attempt to brush the hair from the cheek of a civil servant in a lift (which is not one of the charges). Mr Cameron also agreed under questioning that there was not, to his knowledge, any policy against female civil servants working alongside Mr Salmond in Bute House, which claim had been the major trial media headline on Friday morning.
The other main point of interest since my last report has been the acknowledgement by accuser Ms J that she had been in messaging contact with Ms H – before making her allegations. The Crown did not after all call one of its listed witnesses, Ian McCann, the SNP official who had been in the WhatsApp group discussing (ahem) the accusations and who had been involved in the strategy to "sit on them" until they were "needed". The cross-examination of McCann would have been very interesting; I am rather unsurprised the Crown have pulled him.
I had a conversation on the last AUOB march with a lady who used to be a senior British Airways air hostess. British Airways used to host promotional events such as conferences and dinners at venues such as Turnberry or Gleneagles. Air hostesses would be present for hospitality duties, in their uniforms in the day and then changing into evening wear for the evening function. Social mores change, and this would be viewed as pretty tacky now, but it was perfectly normal twenty or thirty years ago.
The lady told me that she very frequently had problems with guests becoming over familiar and trying it on with the hostesses, particularly after drinking at dinner. The guests were generally very senior executives and politicians. The hostesses would frequently discuss among themselves who was and who was not "handsy", who to avoid and who was nice company. She told me that Alex Salmond had been very frequently, over many years, a guest of BA at these functions, in a variety of capacities. She had never once heard a single word of complaint about him. In the starkest contrast to many other public figures.
The media have had over a week of lurid headlines. Tomorrow will see the start of the defence case – and the good news is that means the court will be open to the public. If I can wake up and queue up early enough, I hope that I shall be able to bring you detailed reporting.
Shortly after Alex Salmond left the Scottish parliament, Robin Mcalpine told me that he had been entering the parliament with Alex Salmond for a meeting. The security guard had been rather embarrassed to tell the former First Minister that he would require to be signed in as he was no longer a member. Salmond replied "of course, call the First Minister's office". The guard did so, and the First Minister's office refused to sign him in. That was when I first knew something was badly wrong.
Under Alex Salmond, Scottish nationalism was radical and challenged the imperialist English nationalist narrative that so dominates UK politics and media. Since his departure, there has been a radical change of emphasis. On Syria, on Ukraine, on Huawei, the SNP has decided to join in with Britnat union jack patriotism and indeed be still more militaristic than the Tory government. Rather than explain, let me present some contrasts which you should easily understand.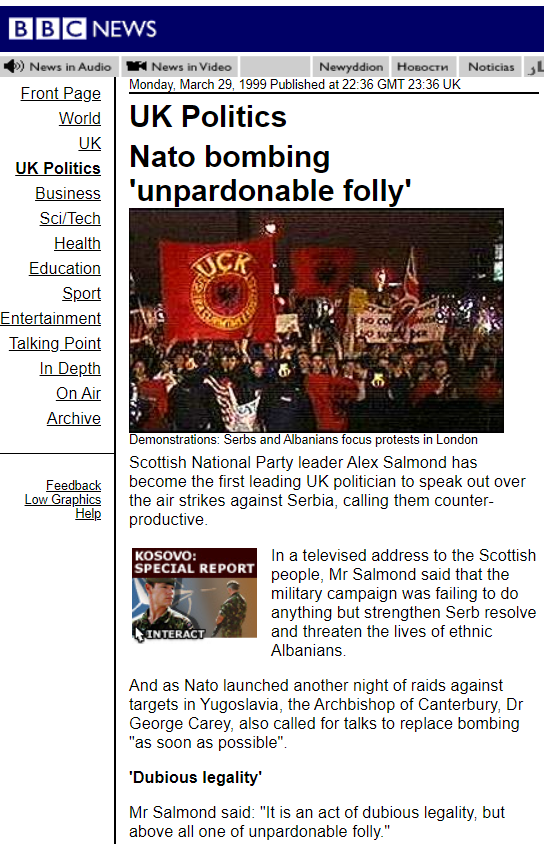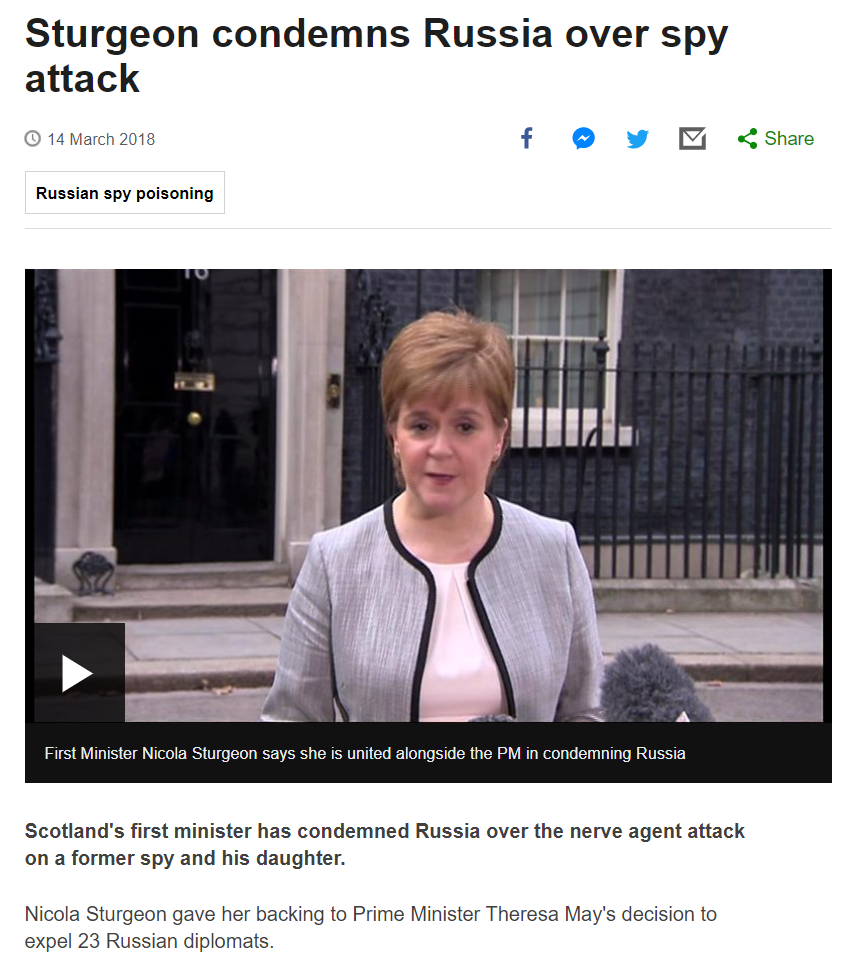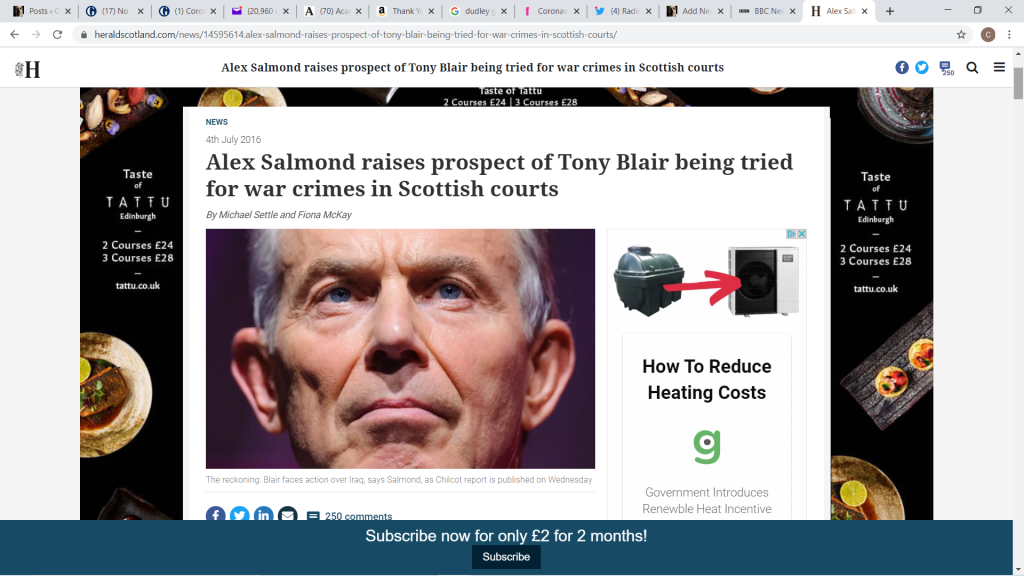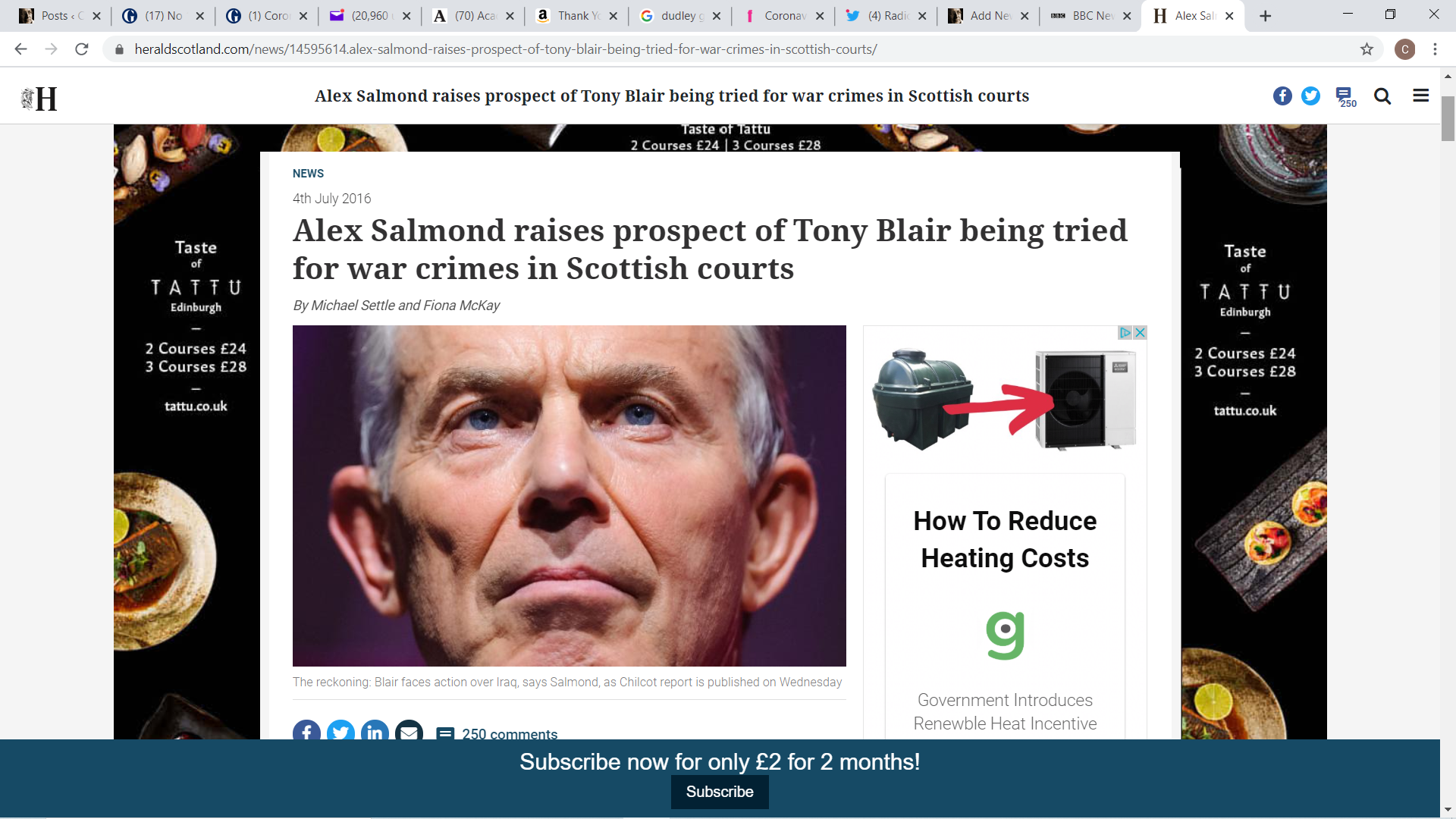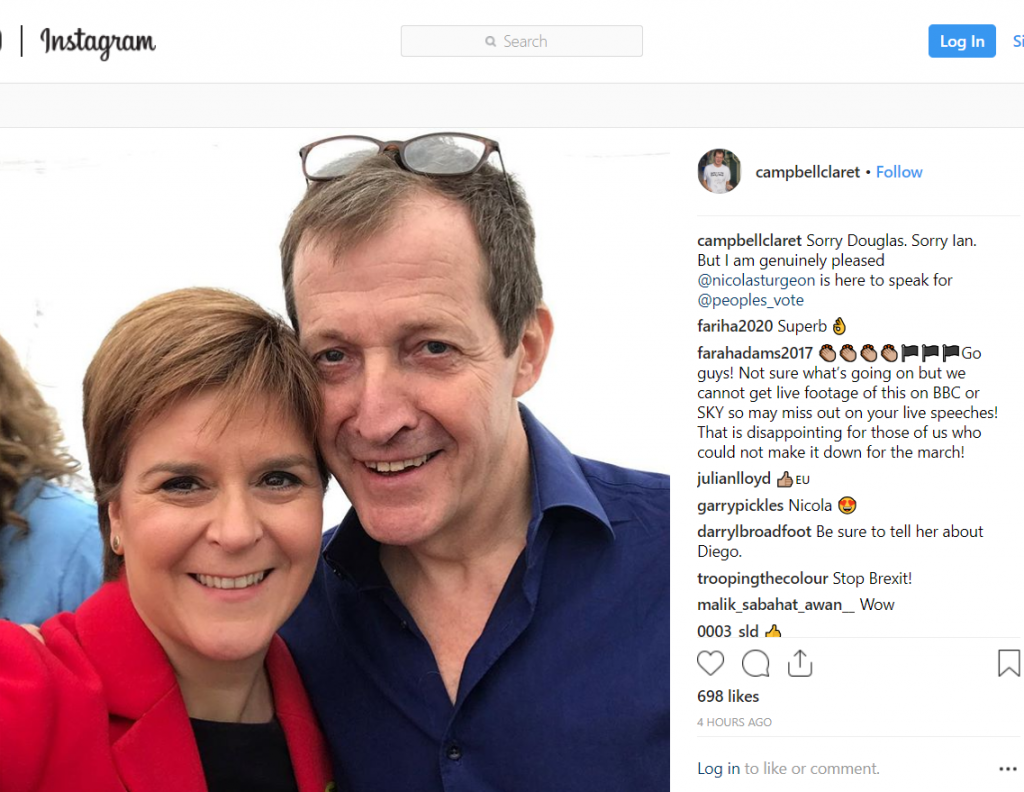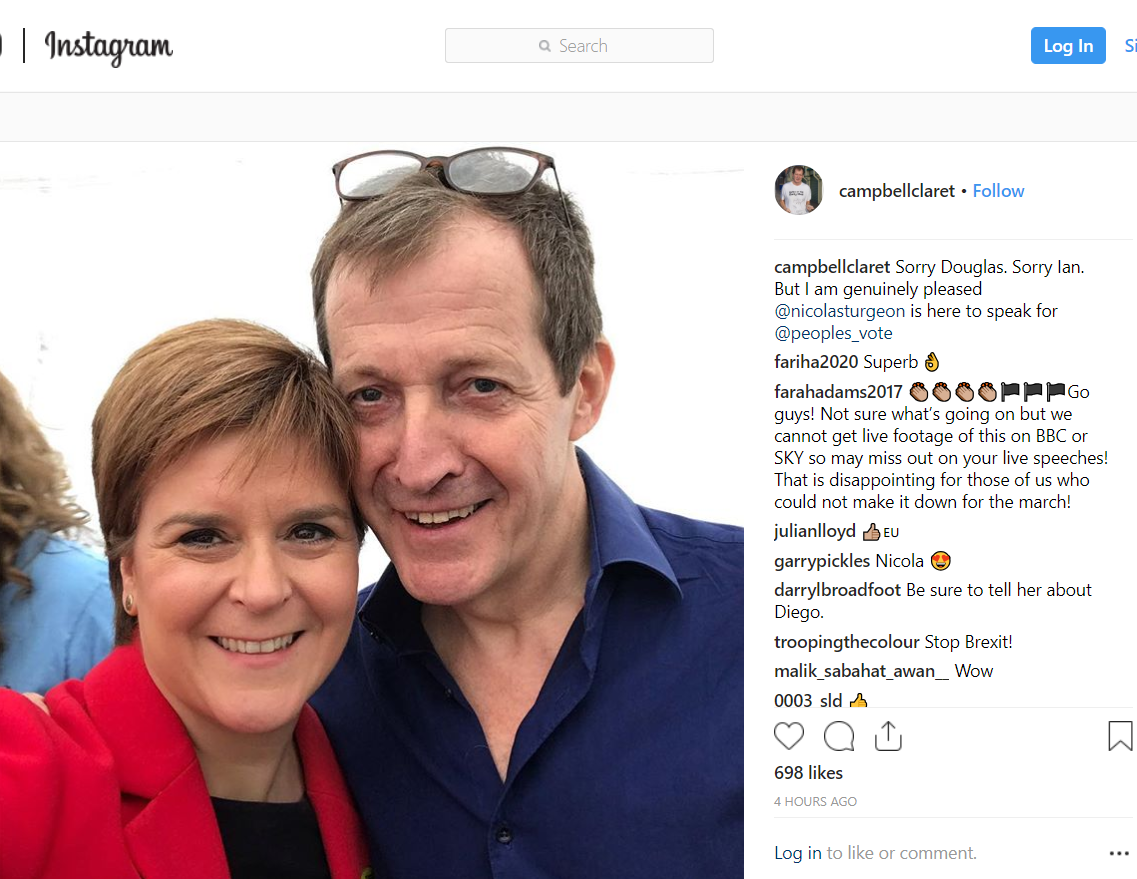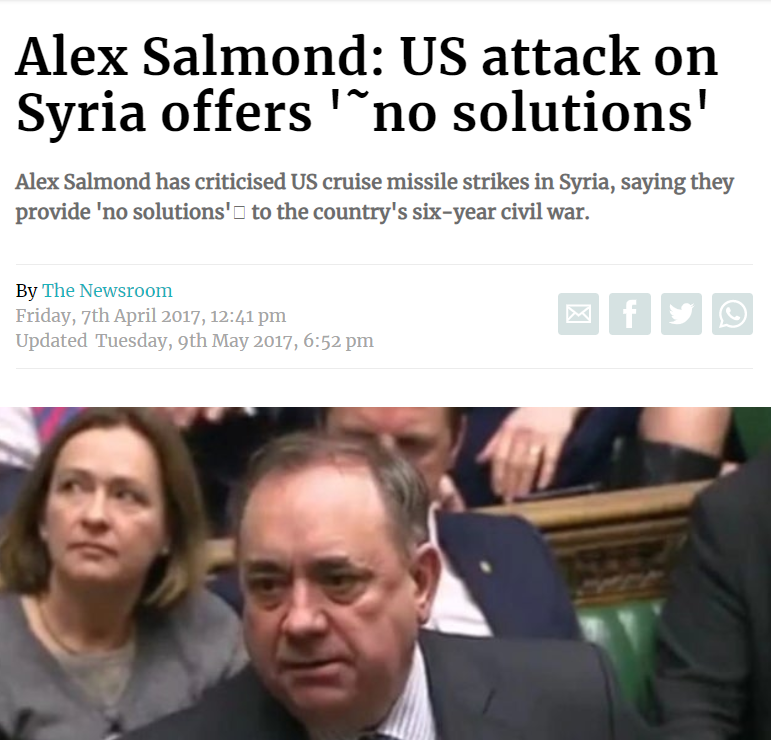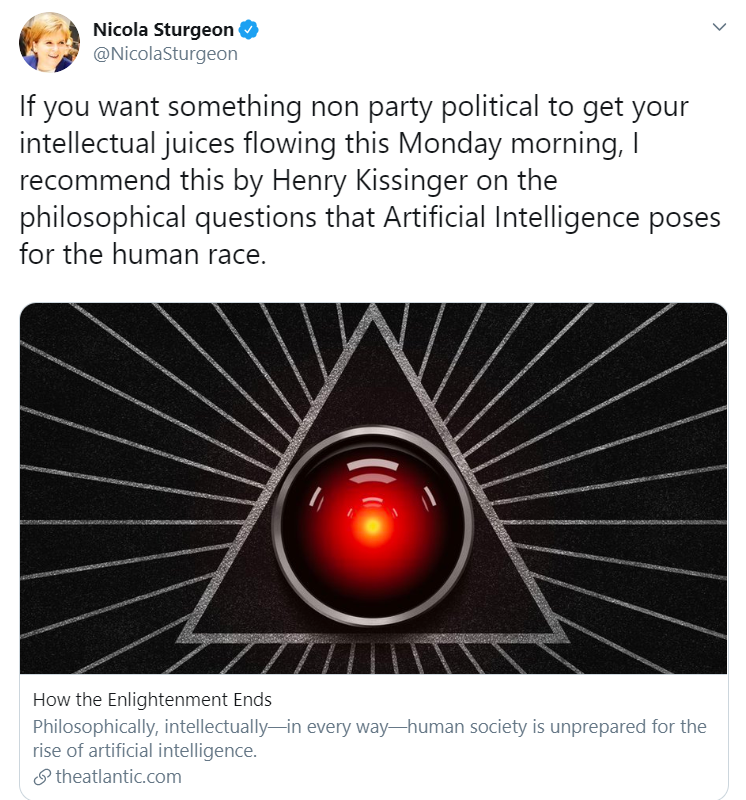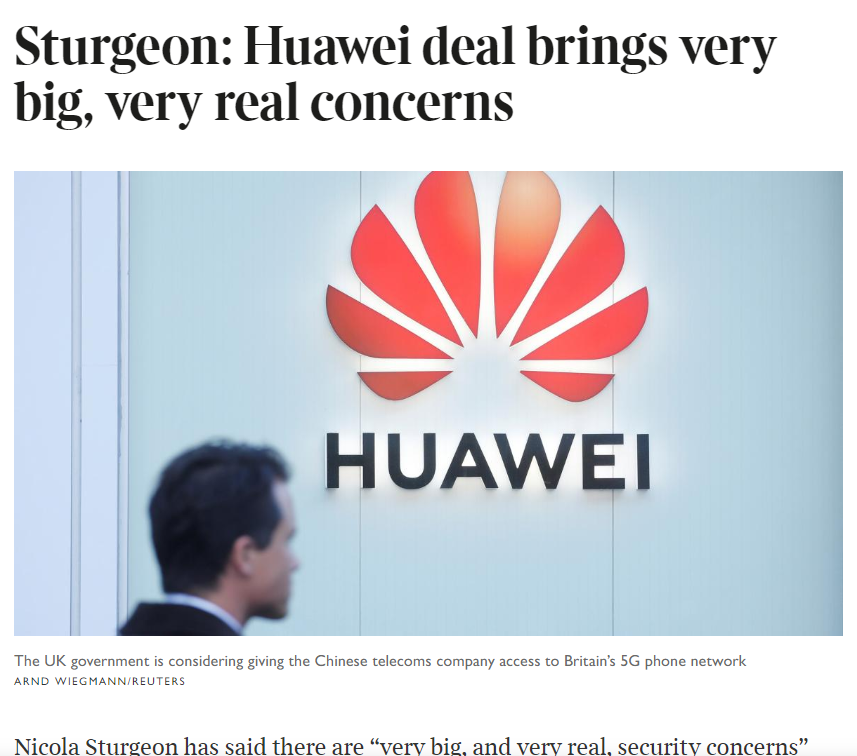 Last week the SNP at Westminster sided with the most right wing Tory rebels in voting against Huawei's involvement in constructing the UK's 5G network. On Syria the SNP is actively calling for regime change and criticising the UK government for not adopting a policy of regime change.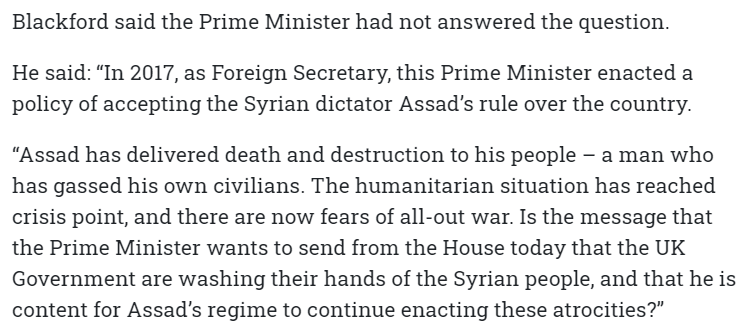 On Ukraine also the SNP is actively more hawkish and anti-Russian than the Tory government and criticises from the extreme NATO hawk position. The SNP defence spokesman, Stewart MacDonald, posted a twitter stream of the books he read in 2019 which was an astonishing collection of Russophobia, both Russophobic "research" and Russophobic spy fantasy fiction. MacDonald was actually awarded a medal by the President of Ukraine for his services to Russophobia – sorry, services to Ukraine's image abroad. (This is true, not a joke).
With Salmond out of the picture, the SNP has been captured to become a political party with an absolutely safe, dependable neo-con worldview. The SNP leadership unquestioningly now accepts and actively promotes the Britnat framing of China and Russia as the enemy. Salmond never did. The SNP has been successfully neutered by the British Establishment both from challenging the Britnat worldview and from any genuine intention to break free of the UK state. This has been a major success for the security services in neutralising what the UK state saw as its biggest single danger. It explains absolutely why Alex Salmond needs, from a UK security service point of view, to be permanently put out of the picture.
Neither China nor Russia is the enemy of Scotland. Quite the opposite. I am going to say that again so it sinks in. Neither China nor Russia is the enemy of Scotland. The acceptance by the SNP hierarchy of this Britnat imperialist framing is a betrayal of the Independence movement.
On Huawei, it seems to me extremely improbable that the Chinese state – which has enjoyed phenomenal success through peaceful economic expansion – has any intention of spying aimed at harming the interests of Scotland. What I do know for certain is that the UK government will use 5G, exactly as it has used every other communications technology, for mass spying on its own citizens. What I know for certain is that the UK government's mass spying on its own citizens includes those it views as being a danger to the UK state through their support for Scottish Independence.
I should have been a great deal more impressed by the SNP's vast coterie of Westminster MP's, all of whose arses are becoming increasingly well padded from their long and comfortable sojourn on the green benches in Westminster, if they had taken the opportunity of the Huawei debate to speak, not in Churchillian terms about the Chinese Red threat to the United Kingdom, but to speak about GCHQ and MI5 spying on Scottish people. That is what the SNP should be about, not British patriotism.
Consider the above change in the SNP's geopolitical stance. Consider that the majority of accusers are senior SNP figures close to the current leadership. Consider the role of SNP Party HQ in (ahem) discussing the accusations. I hope you now understand that is why I shall be in court every day from tomorrow.
——————————————
Unlike our adversaries including the Integrity Initiative, the 77th Brigade, Bellingcat, the Atlantic Council and hundreds of other warmongering propaganda operations, this blog has no source of state, corporate or institutional finance whatsoever. It runs entirely on voluntary subscriptions from its readers – many of whom do not necessarily agree with the every article, but welcome the alternative voice, insider information and debate.
Subscriptions to keep this blog going are gratefully received.
Choose subscription amount from dropdown box:
Paypal address for one-off donations: [email protected]
Alternatively:
Account name
MURRAY CJ
Account number 3 2 1 5 0 9 6 2
Sort code 6 0 – 4 0 – 0 5
IBAN GB98NWBK60400532150962
BIC NWBKGB2L
Bank address Natwest, PO Box 414, 38 Strand, London, WC2H 5JB
Subscriptions are still preferred to donations as I can't run the blog without some certainty of future income, but I understand why some people prefer not to commit to that.