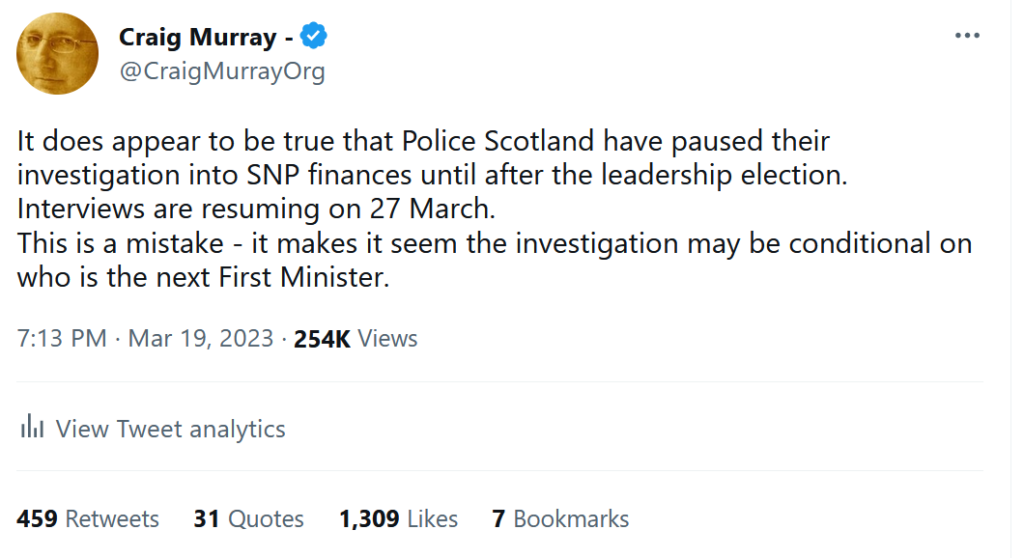 The threat of imprisonment for contempt of court again looms over me if I tell you (again) too much of the truth about the arrest of Nicola Sturgeon's husband Peter Murrell. But I can make a few observations.
As I stated on twitter on March 19 (I am not going to repeat all my tweets here but you can go searching down my twitter thread), Police Scotland delayed their investigation into SNP corruption for the duration of the SNP Leadership election campaign.
That campaign was triggered by Sturgeon's sudden resignation, which was itself precipitated by her being told by Police Scotland the investigation was going to proceed. Whether she was told in terms her husband would be arrested I am not sure, but the implication was obvious.
For police to warn the suspects in an investigation in this way of how the investigation is proceeding – and to agree a pause for the leadership election – is deeply corrupt.  It has at least two seriously damaging consequences.
Firstly, the high profile searches today at the Murrell family and other domestic properties in Scotland, and at SNP HQ, are a charade. They have had a month's warning to destroy any evidence, should any alleged crime have been committed.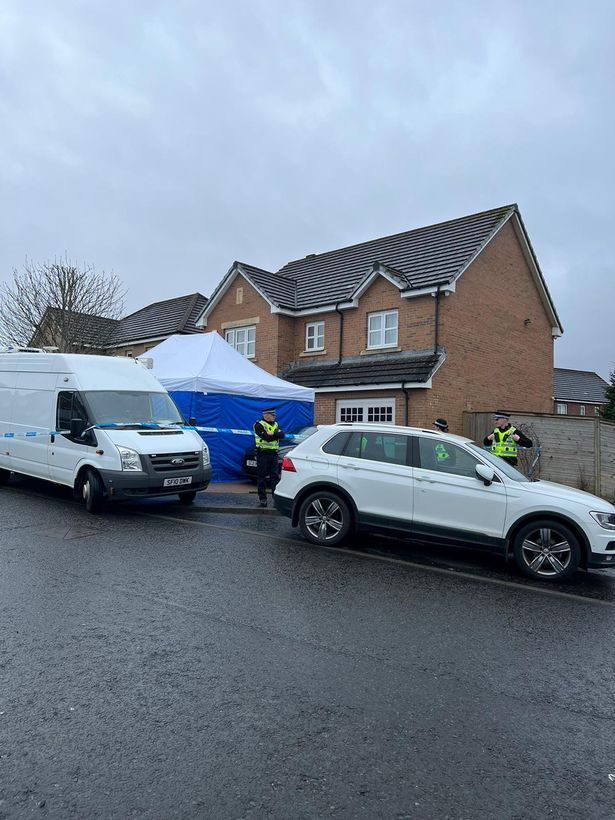 Secondly, by delaying Murrell's arrest (on charges of which we must presume his innocence), Police Scotland have influenced the outcome of the SNP leadership contest.
By pausing their investigation, Police Scotland gave the Murrells time to get their self-proclaimed "continuity candidate" in place. Had the investigation and thus arrest not been delayed, "continuity" would have looked a great deal less attractive to the SNP membership.
The mainstream media is widely reporting that the investigation relates to the missing 600,000 pounds Indyref2 fund. I understand that while that was the starting point, the allegations may now go much wider.
I am afraid that's really all I can safely say today. Please be equally circumspect in comments.
Except I am feeling well vindicated.
————————————————
Forgive me for pointing out that my ability to provide this coverage is entirely dependent on your kind voluntary subscriptions which keep this blog going. This post is free for anybody to reproduce or republish, including in translation. You are still very welcome to read without subscribing.
Unlike our adversaries including the Integrity Initiative, the 77th Brigade, Bellingcat, the Atlantic Council and hundreds of other warmongering propaganda operations, this blog has no source of state, corporate or institutional finance whatsoever. It runs entirely on voluntary subscriptions from its readers – many of whom do not necessarily agree with the every article, but welcome the alternative voice, insider information and debate.
Subscriptions to keep this blog going are gratefully received.
Choose subscription amount from dropdown box:
Paypal address for one-off donations: [email protected]
Alternatively by bank transfer or standing order:
Account name
MURRAY CJ
Account number 3 2 1 5 0 9 6 2
Sort code 6 0 – 4 0 – 0 5
IBAN GB98NWBK60400532150962
BIC NWBKGB2L
Bank address Natwest, PO Box 414, 38 Strand, London, WC2H 5JB
Bitcoin: bc1q3sdm60rshynxtvfnkhhqjn83vk3e3nyw78cjx9
Ethereum/ERC-20: 0x764a6054783e86C321Cb8208442477d24834861a
Subscriptions are still preferred to donations as I can't run the blog without some certainty of future income, but I understand why some people prefer not to commit to that.