I spent today at the University College of Agriculture and Environmental Sciences at Bunso and the nearby Cocoa Research Institute of Ghana. Those who have read my memoir The Catholic Orangemen of Togo and other Conflicts I Have Known will know that rural development in Africa has been the abiding passion of my working life. The good news is that for the first time a paperback edition of The Catholic Orangemen should be out in a week or so.
The abiding impression of today was the extent of local awareness of environmental issues and the need to maintain a fragile but wonderful ecology. This faces enormous challenges. I was intellectually aware of the extent of illegal gold mining in Ghana but unprepared for the evidence of its scale. Rivers that provide the drinking water for millions have been transformed into dead sewers of brown sludge. Having known them as live rivers, I was really shaken.
Ghana is looking to develop its bauxite industry and finally bring its aluminium smelters to life. This will impact the precise area I was visiting and I know from Jamaica that the environmental impact of bauxite mining is hideous. It is perhaps the most destructive of all extractive industries. It is a horrid irony that the bauxite scheme should impact the exact area where local traditional leadership (the Okyenhene) has pioneered environmentalism.
I feel conflicted. Our standard of living in the developed world has been based on the destruction of the forests which we conveniently forget once covered our lands. We wish to keep what remains of wild Africa as untouched as possible, because we know that otherwise it impacts us. But we are not prepared to expend serious resources into raising the standard of living of those who would be denied the immediate material benefits of industrial mining. My instincts are all to oppose the bauxite extraction on environmental grounds. But I am not so intellectually dishonest as to pretend that, with all the pollution and illnesses and destruction, the industry would not bring important wealth and employment. It would. I do not feel morally able to lecture poor communities on why they should remain undeveloped when they are excited by rare hope. I suspect many of you will think I am wrong.
On a more positive note, I was inspired by the commitment of the faculty of the University College, their research interests and their ability to deliver a first class curriculum to the students with minimal resources. It struck me how a major improvement could be made to their efforts by the injection of comparatively modest sums into laboratory equipment, for example. I shall be working on this and in the longer term on developing possible academic collaborations.
I loved the new canopy walk at Bunso built to promote eco-tourism.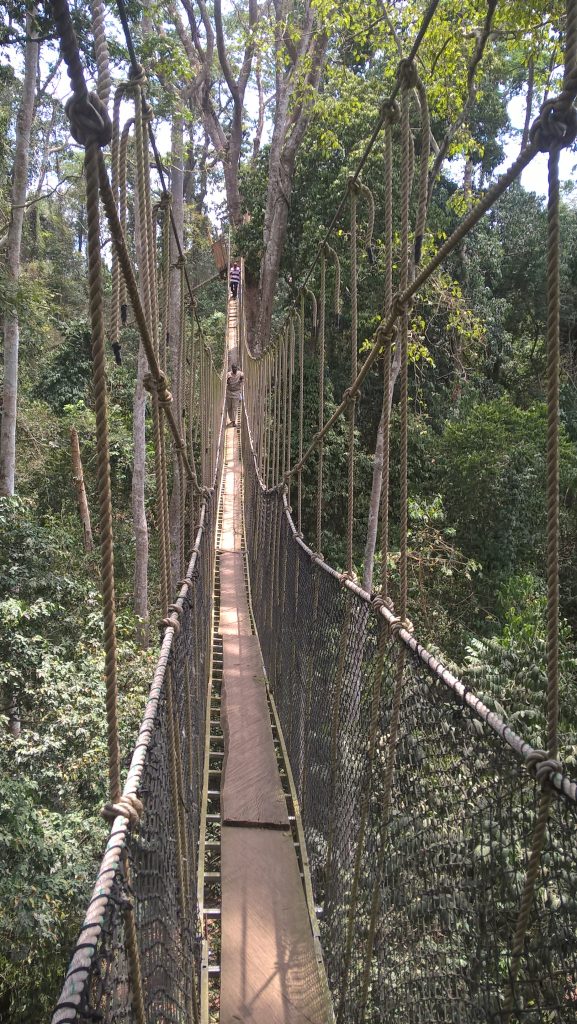 It has five of these bridges, all of which are high, and one very high indeed as it crosses a valley. It is a great deal more adventurous than the one at Kakum. And yes, I did cross them all.
I am often very critical of the FCO, so it would be churlish of me not to note that Jon Benjamin leaves Accra this summer after an extremely effective and principled tenure as High Commissioner, including playing an effective and helpful role behind the scenes in the third peaceful transfer of power between political parties since Ghana became a real democracy in 2000. The more so since, most unusually, the UK was acting against the desires of the USA, and I suspect Jon was pivotal in that.