This taxi driver was the only member of the public who managed to get anywhere near Theresa May on her much publicised "meet the people" election visit to Bolton yesterday. As not one local person was allowed to speak to her, he is expressing his views in the only way available. He is also exercising his essential democratic right to make his views plain during an election.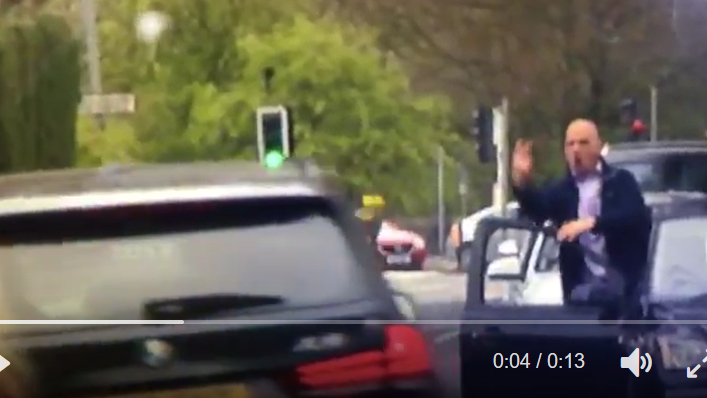 This is a policeman from May's escort immediately moving in to crush any sign of dissent.
The still below does not capture how aggressive the policeman on the motorcycle is. He repeatedly thrusts his pointing finger towards the drivers' face in an aggressive gesture I have seen used by "law enforcement" in dictatorships all around the world. You get the full idea only by watching the video.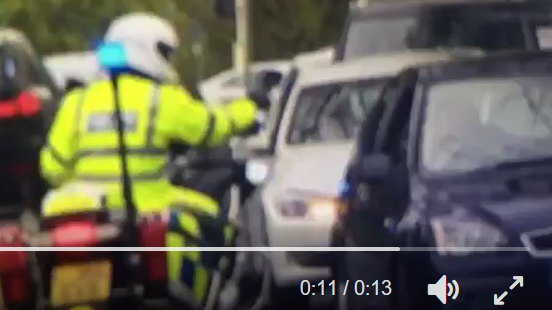 That May's police escort see it as their job to prevent any expression of dissent says everything about the kind of Britain she is creating. It goes along with her failure, twice, to accept Angus Robertson's invitation to distance herself from the Daily Mail's "Crush the Saboteurs" headline.
Disciplinary action should be taken against the policeman for the harassment of that driver – who it should be noted had already been forced to halt and pull aside for a period of time to let May's convoy pass, and had complied. That we have a police force who think you are not allowed to show dissent to the Prime Minister is deeply troubling.
Visiting Bolton yesterday, May arrived by helicopter, was whisked through town in an armoured convoy, spoke to a tiny audience of vetted conservatives, refused to answer any questions, and was whisked out again. In a precise example of what we have to expect in the next six weeks the BBC reported she had been to "meet the people", and then gave us a series of vox pops from Labour voters in Bolton who were switching to Conservative.
The media picture with which we are presented is not just a distortion, it is the polar opposite of the reality. It was not a "meet the people" visit, it was an "avoid the people" visit. With not even other members of the political establishment being allowed to question her in debate, this is an Uzbek style election in the UK.
Hat tip – and link above – to Tom Pride.
UPDATE: For those having video troubles – here it is below
Direct Link