The enormous economic impact of the reaction to Covid-19 is plain for all to see. The effect on economies – which had barely recovered to 2008 levels after the great Banker Theft crisis – is enormous. You cannot just close down businesses and expect them all to restart three months later. Plus the hit to personal finances is going to result in a huge and lasting reduction in consumer demand, exaggerated by what I predict will be a much higher propensity to save against future disaster. Even optimistic economists are expecting a 15% drop in GDP and slow recovery. At recent levels it is going to take some seven years of compound economic growth to recover that.
I always argued that England and Wales should leave the EU as had been democratically decided by the electorate, and an Independent Scotland should not as similarly decided. My personal enthusiasm for the EU's political institutions disappeared after their enthusiastic backing for the repression in Catalonia. But I also always believed, and still believed, that a hard Brexit was madness and that a Norway or Switzerland style relationship made sense – which approximates fairly well to the position the UK currently is in until the transition period ends at the turn of the year.
To leave the EU customs union and single market will be a massive short term economic dislocation. Even to consider doing this on top of the economic crisis caused by the reaction to Covid-19 ought to be unthinkable and I suspect that it is. There is no way that the UK can crash out of the single market in January 2021 in these circumstances, and I suspect that even this Westminster government may be forced to admit that soon.
I might add that the government measures to alleviate the economic impact of covid-19 in the UK are going to run aground in a fog of inertia, largely as the result of the UK having crippled its own bureaucratic machine though a decade of extreme cuts to staffing and capabilities. I myself tried to organise a COVID business interruption loan for the music festivals, and after many hours of effort was finally told by Natwest Bank that the regulations state that:
1) If the bank would normally grant the loan on commercial terms, it must do so without the government COVID guarantee
2) The bank may not grant the loan unless it would normally do so on commercial terms
Which means it is impossible to get the government's purported loan guarantee. I assumed this was just Natwest being obstructive, but then I discovered this is precisely what the government scheme says.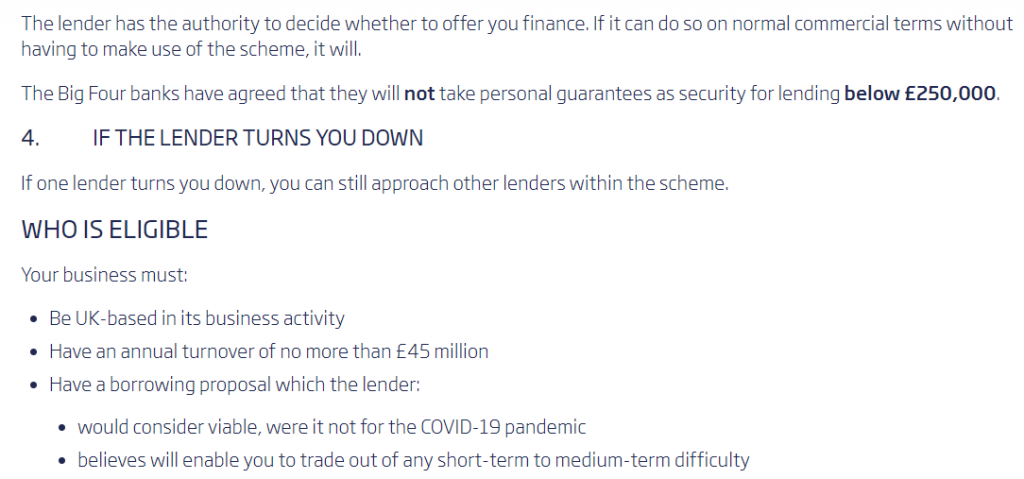 Not so much Covid 19 as Covid 22. The actual effect in practice will be that the only people able to access the billions in government guaranteed funds for business interruption will be very wealthy Tory businessmen who don't actually need the money. The sad thing is, that is not in the least surprising.
One thing of which we can be certain is that the depression will be used by the Tories to bring in another decade of austerity, of further abandonment of the economic potential of the state actor, and of attacks on the living standards of the poorest in society. It is important now to start working on a counter-plan of economic planning and investment to build a fairer and greener economy, with much more localism and resilience, once the current crisis has passed. Here in Scotland, that can show the alternative path which Independence can bring; in the rest of the UK it can bring a new focus for societal resistance to the Tories. Empathy, solidarity, localism and resilience are all virtues that are not valued by neo-liberalism. That society is rediscovering them could yet open the way to a brighter future.
——————————————
Unlike our adversaries including the Integrity Initiative, the 77th Brigade, Bellingcat, the Atlantic Council and hundreds of other warmongering propaganda operations, this blog has no source of state, corporate or institutional finance whatsoever. It runs entirely on voluntary subscriptions from its readers – many of whom do not necessarily agree with the every article, but welcome the alternative voice, insider information and debate.
Subscriptions to keep this blog going are gratefully received.
Choose subscription amount from dropdown box:
Paypal address for one-off donations: [email protected]
Alternatively:
Account name
MURRAY CJ
Account number 3 2 1 5 0 9 6 2
Sort code 6 0 – 4 0 – 0 5
IBAN GB98NWBK60400532150962
BIC NWBKGB2L
Bank address Natwest, PO Box 414, 38 Strand, London, WC2H 5JB
Subscriptions are still preferred to donations as I can't run the blog without some certainty of future income, but I understand why some people prefer not to commit to that.