Mark Hirst, a former senior SNP staffer at Holyrood, is being criminally prosecuted under the 2003 Communications Act for saying this:
These women, and not just these women, some of the people involved in this are senior members of the Scottish Government, senior members of the SNP, and they have been involved in this active collusion to try and destroy Alex Salmond's reputation and there's not a cat's chance in hell that they are going to get away with that.
So they're going to reap a whirlwind, no question about it, that's going to happen as soon as this virus emergency is out of the way, then there is going to be a bit of reckoning takes place and we'll clear out the soft independence supporters which are currently leading the party, that's why we've seen no movement in nearly six years and we're going to claim the party back, get the country back on course for Independence but to do that we are going to have to wade through what's left of this leadership and get them out of the way, which I am confident that we'll do.
The Crown is making the ludicrous charge that this is a statement of a "menacing character". Mark is being charged under the Communications Act 2003 Para 127 (1)(A)

The Crown Office has been briefing its favourite tame journalist at the Times on the charges against Mark Hirst. You will recall that when I was charged with Contempt of Court, I was contacted by the Times immediately after the police left my home.
As the Times reports, the Crown office are briefing that Mark Hirst has been charged for stating that Salmond's accusers would "reap the whirlwind". Both the Times and the Crown Office are guilty of gross dishonesty in presenting that phrase out of the context, which context you can now see plainly in the above full quote. The Crown Office is dishonestly attempting to convey the impression that "reap the whirlwind" implied some personal or even violent vendetta against the conspirators, whereas what Mark Hirst was actually referring to was a political campaign to take back control of the SNP from scheming careerists.
In fact what Mark is saying has precisely the same import as this tweet of mine:

Deliberately to miscontrue a call to political action in opposition to a political grouping as an act of "menace" is state persecution which has profound implications. The prosecution of Mark Hirst is the act of an executive with major fascist leanings.
Mark is the journalist and friend to whom I referred that had five policemen enter his home and confiscate all his phones and laptops. It is far from plain why that action was necessary when he is being prosecuted for the contents of a video that he openly posted online. The provenance of his video is not in dispute: why would they need his phone and computers?
This seems another example of Police Scotland's "fishing expedition" approach. Remember, the police who did this described themselves to Mark as the "Salmond Team". The burning question is, why does Police Scotland still have a "Salmond Team" going around to terrorise people in their homes during a pandemic, even after Salmond's acquittal?
That the decisions on who to prosecute are entirely political is conclusively demonstrated here and here.
I am sorry to say that it appears that the very notion of free speech is anathema to the current government of Scotland.
When we consider what they are doing against Mark Hirst and myself to attack free speech using the Contempt of Court Act 1982 and the Communications Act of 2003, we have to seriously worry about the new legislation currently going through the Scottish parliament specifically to limit freedom of speech.
On 23 April 2020 the Scottish Government introduced its Hate Crime and Public Order Bill into the Scottish Parliament. This vastly increases the amount of speech subject to criminal prosecution. It introduces new categories of protected characteristics, and gives Ministers powers to add new ones without going back to parliament. There is a specific power in the Bill for ministers to add "sex" as a protected characteristic, for example. Crucially it removes the need to prove intent embodied in current law. If you call someone an "old fool", you will be committing a criminal offence even if you meant nothing by it and were just using a common phrase, age being a protected characteristic. Calling someone a "stupid boy" will similarly become illegal. To possess "inflammatory" material will specifically be a crime even if you had no intention to communicate it to others.
Richard III would very definitely be illegal under this legislation for anti-disabled prejudice. The Merchant of Venice would be illegal for anti-semitism. Once "sex" is added by Ministers, The Taming of the Shrew would be illegal for misogyny. I was glancing through The 39 Steps yesterday and was struck by a very anti-semitic passage I had forgotten was there. Is possessing John Buchan to be illegal? I can see nothing in the bill which would protect you from prosecution for possessing Buchan, if the Crown Office decided to go for you over it. Can you see any protection? Genuine question.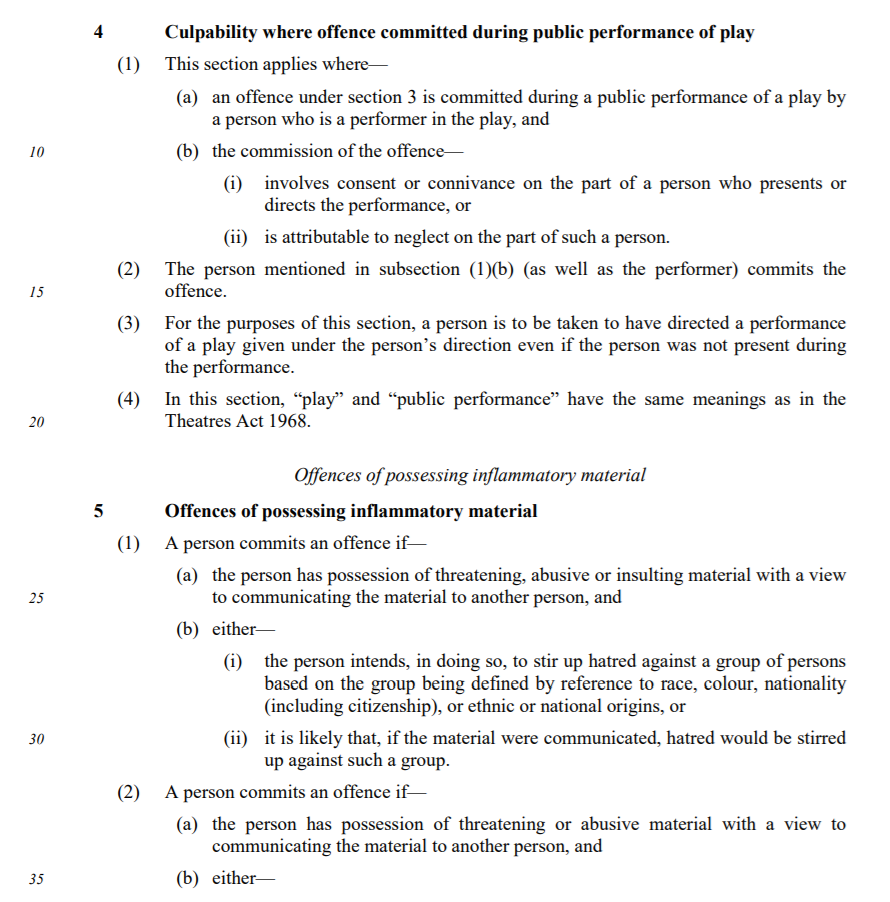 The Bill specifically includes performance. Politically incorrect jokes will become an actual criminal offence. Really. Pretty well every Carry On film ever made would now be illegal and subject its producers, writers and performers to possible imprisonment if made now. I quite accept that the mores of society change, and there is much in Carry On films society would find unacceptable now, but criminal? The Act moves matters of taste and disapproval firmly into the field of the police and the courts. It is a grossly authoritarian piece of legislation.
Once you have statutes in place that make telling a sexist joke a crime, you are dependent on the police and on prosecutors to apply the law in a sensible and liberal manner. But what the case of both Mark Hirst and myself makes plain – as indeed does the Alex Salmond case itself – is that Scotland does not have that at all. Scotland has politically controlled, vindictive and corrupt police and prosecutors who will, as the Mark Hirst case could not demonstrate more plainly, twist any law to the maximum to contrive a prosecution against those labeled as political enemies.
Mark Hirst is a good man. I realise so many of you dug very deep to fund my own defence, but I do urge those who are able to do so to support Mark, who also faces jail for the "crime" of political writing and with whom I stand shoulder to shoulder. My own defence fund has raised more than we need at the current stage of proceedings so it is my intention, absent major objection from you whose money it is, to transfer £10,000 from my defence fund to Mark's.
——————————————
Unlike our adversaries including the Integrity Initiative, the 77th Brigade, Bellingcat, the Atlantic Council and hundreds of other warmongering propaganda operations, this blog has no source of state, corporate or institutional finance whatsoever. It runs entirely on voluntary subscriptions from its readers – many of whom do not necessarily agree with the every article, but welcome the alternative voice, insider information and debate.
Subscriptions to keep this blog going are gratefully received.
Choose subscription amount from dropdown box:
Paypal address for one-off donations: [email protected]
Alternatively:
Account name
MURRAY CJ
Account number 3 2 1 5 0 9 6 2
Sort code 6 0 – 4 0 – 0 5
IBAN GB98NWBK60400532150962
BIC NWBKGB2L
Bank address Natwest, PO Box 414, 38 Strand, London, WC2H 5JB
Subscriptions are still preferred to donations as I can't run the blog without some certainty of future income, but I understand why some people prefer not to commit to that.