Post By Kirsten MacDonald
On Monday morning, Lady Dorrian and two supporting judges will hear the application from Roddy Dunlop QC for Craig Murray to be allowed to appeal to the UK Supreme Court against both their verdict of contempt of court for jigsaw identification, and against the disproportionate sentence.
It is widely expected, given the obvious animus against Murray she has shown throughout the proceedings, that leave to appeal will be refused and Lady Dorrian will commit Craig Murray to jail, probably from Wednesday 9 June. At that stage, Murray's legal team will have to apply direct to the UK Supreme Court to grant him an appeal, but his eight month sentence will likely be served before the Supreme Court even looks at whether to consider it.
For comparison, the English High Court has not yet decided whether to hear the United States appeal against the decision to refuse extradition of Julian Assange, even though Assange remains in Belmarsh prison while they decide whether to take their case. Murray languishing in Saughton or Barlinnie is unlikely to be a consideration for the Supreme Court.
There is no precedent for an appeal against conviction for contempt of court in Scotland to be heard by the UK Supreme Court; we are in uncharted waters. It is possible for Lady Dorrian to grant interim liberation so that Murray is not jailed pending a decision on taking his case by the UK Supreme Court, and then further until they had decided the case. The UK Supreme Court does not itself have power to grant liberation.
But anybody who heard Lady Dorrian interrupt Roddy Dunlop QC six times in the opening four minutes of his mitigation plea, and heard her tone of voice in the sentencing remarks, would view it as very unlikely she will delay imprisonment. One experienced reporter said to me that they had never heard any judge so "emotionally invested".
There was one moment at the end of the sentencing hearing when there was consternation among the judges, noted by those with videolink access. When Roddy Dunlop QC stated that they would seek leave to appeal to the Supreme Court, Lady Dorrian's air of stern control dissipated momentarily and there was a moment where all three judges were visibly, physically shifting around uncomfortably.
Lady Dorrian replied that any appeal would be to the nobile officium, an ad hoc court peculiar to the Scottish system which is brought into being where no other appeal route exists. That appeal would in effect be to Lord Carloway, Chief Justice of Scotland and an extremely close friend as well as colleague of Lady Dorrian, supported by a panel of judges all of whom work under Lady Dorrian, the Lord Justice Clerk.
The Murray team had decided such an appeal would be utterly pointless. There is very serious concern that the system of justice in Scotland has been corrupted, as expounded this week in the House of Commons by no less than Scotland's former Justice Secretary, Kenny MacAskill MP:
Since the days of learning about the Gordon Airs case, HM Advocate v. Airs, I always assumed that those who were seeking to put forward information that was appropriate and fair would be protected. Yet in Scotland, in the fallout from the Alex Salmond affair, we have seen Mark Hirst, a journalist, prosecuted. The case, in which he was supported by the NUJ, was rightly rejected by the presiding sheriff in the borders. We have seen Craig Murray, a blogger and former British senior civil servant, now facing a prison sentence of eight months. That is not only shocking, but drives a coach and horses through a position brought in by the Scottish Government that there be a presumption against a sentence of imprisonment for less than a year. Their absence of criticism and their failure to comment has been quite shocking.

It is not simply cases brought by the Crown. It is the cases that have been pursued by the police, where people so much as tweeting anything that might be seen as possibly identifying a witness have faced a knock on the door from the police. That is fundamentally damaging to Scottish democracy. It is not what I expect and it has not come about by happenchance. It has been deliberate. It has been targeted. It is being driven by the Crown Office. If we are to have a free press, there has to be free reporting. That has to apply to bloggers as much as it applies to the mainstream press.

That people have been charged in Scottish courts and have faced possible terms of imprisonment for simply doing exactly the same as the mainstream press has done but not faced prosecution is simply unacceptable. There is also a reason that I am required to raise it here: it is that the position of the Lord Advocate of Scotland is no longer tenable. There has to be a separation of powers of having one individual who is both a legal adviser to the Scottish Government and also the head of the prosecution service in Scotland. That is no longer appropriate
Murray's legal team effectively decided to break for the border and get the case out of corrupt Edinburgh. Roddy Dunlop QC argued that, by statute, the appeal against any ruling of a panel of two or more Scottish High Court judges is to the UK Supreme Court. There had been some legal consternation as to why Murray's contempt case was heard by a panel of three judges in the first instance, which is unusual. It was perhaps intended to increase the thin veneer of respectability of these highly political proceedings, but it seems they may have shot themselves in the foot by providing an escape route away from the nobile officium, which plainly caught Dorrian completely off guard when Dunlop first raised it. Lord Turnbull looked around as if an answer to this development might be lurking somewhere behind him in his study. It was the most bizarre moment in these entirely bizarre virtual proceedings.
So Monday will be about the denial to Murray of the right to appeal. That a blogger might be jailed with no jury and no right of appeal, for a jigsaw identification which few other than Lady Dorrian were able to perceive, is a stain on the reputation of Scotland.
But not necessarily a black mark for Lady Dorrian. Many believe her ambition is to replace Lord Carloway, who retires shortly, as Lord President – Scotland's top judge. The appointment will be made by the Queen on the recommendation of Nicola Sturgeon.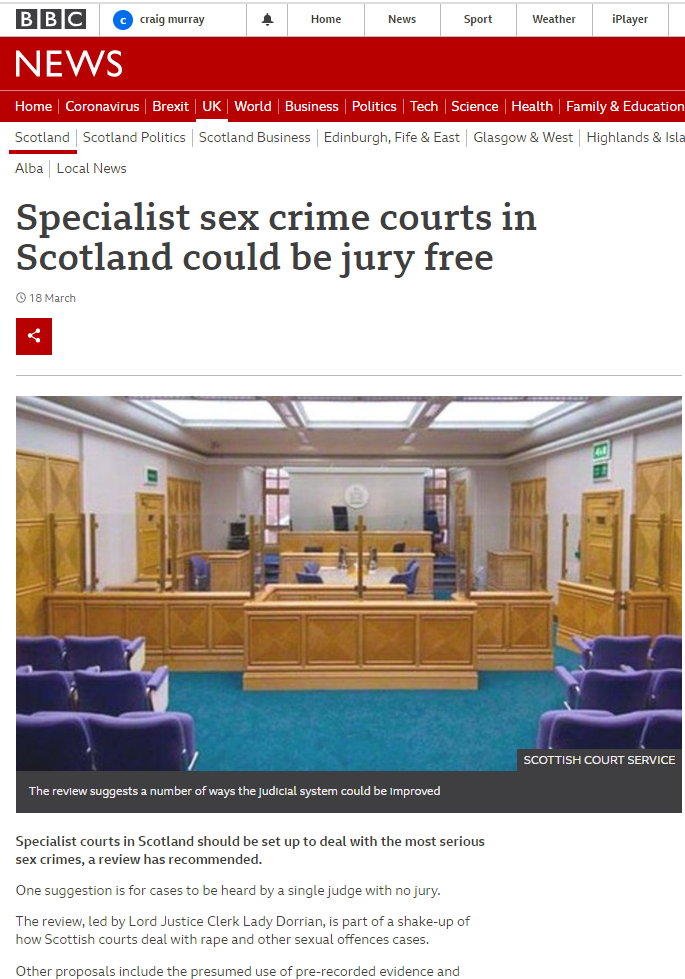 Lady Dorrian, while the Murray case was engaged in its painfully slow process, produced a report for the Scottish Government suggesting the abolition of juries in cases of sexual assault, and that accusers should not attend court or be cross-examined by defence lawyers. Dorrian's public advocacy of this on the BBC alongside the Scottish Government funded Rape Crisis Scotland, will, to say the least, do her no harm with Nicola Sturgeon.

Murray is of course one of Sturgeon's fiercest critics and opposes both the abolition of juries and the abolition of the right of defence lawyers to cross-examine accusers. The prime thrust of the reporting for which he is being jailed was that Nicola Sturgeon was behind the false accusations that were made against Alex Salmond.
There is a real possibility that aspects of Dorrian's handling of the Murray case could come in for serious criticism by the Supreme Court. These include her acceptance of a handful of anonymous tweets claiming to have learnt identities from Murray's blog (with zero evidence they actually knew identities) as having important evidential weight, her effective dismissal of his entire affidavits as lies despite hearing no evidence that contradicted them, her making no reference at any stage to Salmond's acquittal (indeed both her judgement and sentencing remarks on Murray refer to Salmond's "victims" and "offences" with no "purported", "alleged" or other qualifier, even after the acquittal), her extremely low bar for jigsaw identification (to any individual who already had specialist knowledge), the breathtakingly draconian sentence, and the curt and offhand dismissal of all Article X ECHR freedom of speech arguments.
If Dorrian grants the appeal to the Supreme Court, she is opening herself up to criticism at a crucial time in her career. As one lawyer put it to me, to grant the appeal would be "asking for a kicking". If she refuses permission to appeal, she is putting back any Supreme Court decision probably for two years, and giving herself the ability to imprison and silence Murray in the interim.
Murray's team have very little hope for Monday.
Details of how to contribute to Craig Murray's Defence Fund are here:
Click HERE TO DONATE if you do not see the Donate button above
Alternatively:
Account name
MURRAY CJ
Account number 3 2 1 5 0 9 6 2
Sort code 6 0 – 4 0 – 0 5
IBAN GB98NWBK60400532150962
BIC NWBKGB2L
Bank address Natwest, PO Box 414, 38 Strand, London, WC2H 5JB
Bitcoin: bc1q3sdm60rshynxtvfnkhhqjn83vk3e3nyw78cjx9
Ethereum/ERC-20: 0x764a6054783e86C321Cb8208442477d24834861a