UPDATED: The BBC now reports UK to give asylum seekers one-way ticket to Rwanda
Some asylum seekers who arrive in the UK on small boats across the Channel will be given a one-way ticket to Rwanda, under new government plans.

Home Secretary Priti Patel is in the African nation to agree a £120m trial involving mostly single men arriving in Britain on boats or lorries.

BBC home editor Mark Easton, reporting from Rwanda, said ministers face legal hurdles and substantial costs.

Refugee organisations have criticised the plans as cruel and urged a rethink.
When the Tory government announced it was in talks with the government of Ghana over opening internment camps for asylum seekers in that country, I was quickly able to confirm with Ghanaian ministers that this was simply a lie; the subject had never been discussed and would not be discussed.
I am hoping that the same may be true of Rwanda, and the Tories may simply again be making up stories to placate their racist base. Certainly the Times reported that Johnson was this week forced to delay an announcement as arrangements were not yet in place. But unlike Ghana, I do not have contacts with the government of Rwanda so I cannot be certain.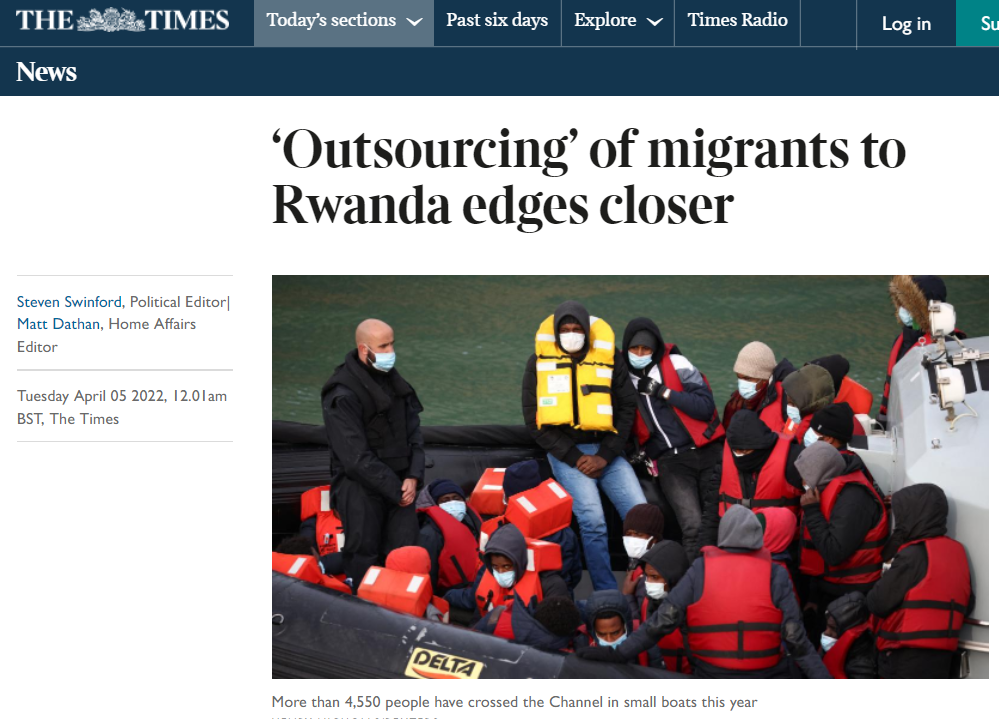 What I am sure of is that it would be a massive disgrace to any African country to host prisons for locking up those fleeing persecution – including fellow Africans. I do not wish to believe that any African state would cooperate with the continent's largest former colonial power, which still retains colonial possessions, in the systematic imposition of racist detention. It would be a terrible blot on the good name of Rwanda, and a terrible blot on the good name of Africa.
We must call on all Rwandans, wherever they may be, to express through your contacts and institutions your unhappiness at any Rwandan involvement in such a scheme. It is only racism that determines that refugees from wars and disaster from Eritrea, Syria or Libya should be treated differently (by the UK) from Ukrainians or political dissidents from Russia (though God knows the UK has failed to offer the real help to Ukrainians it promised).
A policy which is going to include using naval boats to push struggling Africans and others in small craft back in the cruel sea, which will include shackling Africans, who have done nothing except flee war and starvation, to fly them to Rwanda, should not for a moment be entertained by any African country. No amount of money promised by Johnson and his crew is worth selling the souls of the Rwandan nation for this scheme.
We must also call on the African Union to adopt a policy that no African country will host immigration detention camps for former colonial powers. We must call on His Excellency President Macky Sall of Senegal, Chairperson of the African Union, to bring the matter forward. I call on Presidents Cyril Ramaphosa, Nana Akuffo Addo and Muhammadu Buhari to make sure there is a firm African Union policy against this evil. We must especially call on President Paul Kagame of Rwanda to follow the Ghanaian example and immediately deny Johnson's claims.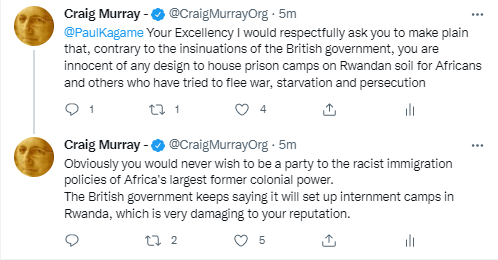 This really is an issue where Africans, both in Africa and in the diaspora, particularly in the UK, I believe could get a reaction from their governments if everybody feeds in their concern by whatever means is available to them.
Africa has been for many years the victim of white racism. Africans should never act as the facilitator of white racism.
I am contacting a number of people to see if I can organise a delegation to Rwanda, Senegal, South Africa and OAU Headquarters in Addis Ababa to lobby against Johnson's prison camps.
I am very happy to hear from anybody who can contribute in any way to efforts to unite Africa against this shameful proposal.
————————————————-


Forgive me for pointing out that my ability to provide this coverage is entirely dependent on your kind voluntary subscriptions which keep this blog going. This post is free for anybody to reproduce or republish, including in translation. You are still very welcome to read without subscribing.
Unlike our adversaries including the Integrity Initiative, the 77th Brigade, Bellingcat, the Atlantic Council and hundreds of other warmongering propaganda operations, this blog has no source of state, corporate or institutional finance whatsoever. It runs entirely on voluntary subscriptions from its readers – many of whom do not necessarily agree with the every article, but welcome the alternative voice, insider information and debate.
Subscriptions to keep this blog going are gratefully received.
Choose subscription amount from dropdown box:
Paypal address for one-off donations: [email protected]
Alternatively by bank transfer or standing order:
Account name
MURRAY CJ
Account number 3 2 1 5 0 9 6 2
Sort code 6 0 – 4 0 – 0 5
IBAN GB98NWBK60400532150962
BIC NWBKGB2L
Bank address Natwest, PO Box 414, 38 Strand, London, WC2H 5JB
Bitcoin: bc1q3sdm60rshynxtvfnkhhqjn83vk3e3nyw78cjx9
Ethereum/ERC-20: 0x764a6054783e86C321Cb8208442477d24834861a
Subscriptions are still preferred to donations as I can't run the blog without some certainty of future income, but I understand why some people prefer not to commit to that.