Nobody can accuse the authors of the Forde report of having a low opinion of themselves. Its lofty tone reflects profound disdain for the views and actions of mere mortals, and it utters judgments with an air of deep profundity. This is amusing as it is banal in the extreme.
The Forde Report is, peculiarly, a Report into a Report. The Forde panel's terms of reference were simply to discover who commissioned the "Leaked Report", and why, who leaked the "Leaked Report", and whether the "allegations" in the "Leaked Report" were true.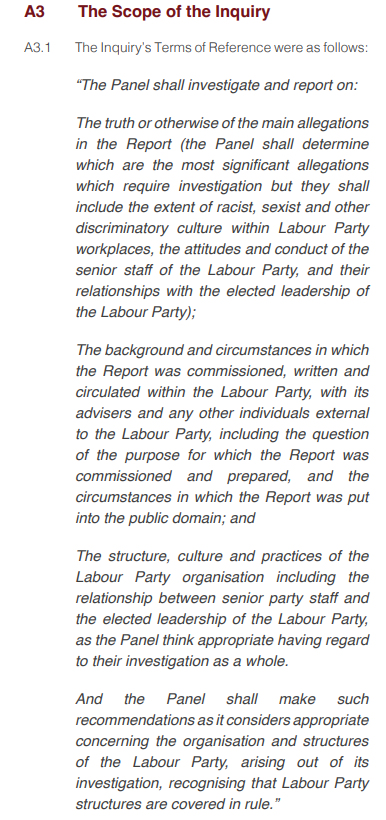 It is often the case in official, or at least officious, documents that a simple bit of terminology betrays the entire mindset. The "Leaked Report" discovered a great many things, all of which the Forde Report finds to be essentially, and in detail, true. Yet the findings of the "Leaked Report" are described right from the terms of reference and throughout in the Forde exercise as "allegations", while the findings of the Forde Report are, of course, "findings".
This is a form of dishonest declension: I make findings, you make allegations.
Forde pulls well over a hundred pages of linguistic tricks to try to hide his basic "finding", that the "allegations" of the "Leaked Report" are both accurate and fairly and honestly reached. Yet he can't quite obscure it. He continually bangs on about the authors of the "Leaked Report" being "young and inexperienced", as though that somehow detracts from the fact they wrote the truth. Forde is left to rest upon the very shaky ground that their truth was only a "factional" truth, so somehow doesn't count.
There is an extended section where Forde traces the history of the party apparatus, how Labour HQ staff came to be dominated by a self-perpetuating clique of Blairites, and how this resulted in their seeking to subvert Jeremy Corbyn after the latter's election by the new mass membership franchise. This is all good and accurate.
Forde then attempts to maintain "balance" and treat all "factions" as equally authoritative and morally valid. That is the great failing of his report, and can be described in one sentence: Forde denies democracy.
At no stage does the Forde report accept that Corbyn's election by the mass membership gave him a democratic mandate that the paid HQ staff were obliged to follow. Rather Forde sees the HQ staff as guardians of a Blairite tradition that had an entirely equal right to determine events within the Labour Party, despite its leadership candidates being overwhelmingly rejected – several times – by the membership.
Forde's entire report is undermined by this false equivalence – the notion that both "factions" were equally responsible for the problems, and deserved equal weight and consideration. This approach is well represented in this paragraph: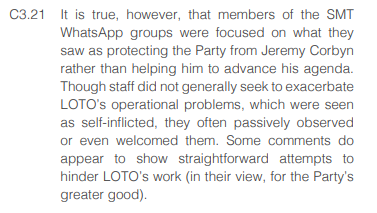 Forde throughout treats the Blairites' attempts to cause Corbyn (LOTO = Leader of the Opposition) to fail as in some sense legitimate because they believed they were pursuing the Greater Good. Corbyn's mandate from leadership elections is viewed by Forde only as one factor in a series of power balances; his view of the Labour Party is essentially anti-democratic.
It is worth noting that the Forde report found unequivocally that the appalling evidence of the "Leaked Report" was entirely genuine and not presented unfairly out of context (though the Forde panel says the authors of the published messages should have been given a right of reply).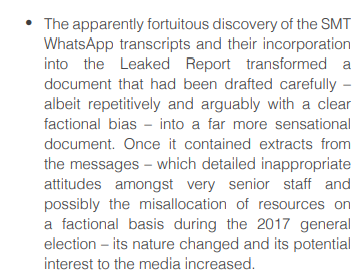 It is worth reminding us – as Forde discreetly does not – what some of those messages actually said. Here are two senior members of Labour HQ staff hoping that Labour would lose Manchester Gorton to the Lib Dems
27/02/2017, 16:53 – Patrick Heneghan: Just had discussion at strategy meeting We will meet Steve and Andy next Monday – we are looking at all 3 in May but select in Gorton within 4 weeks Katy will speak to you/Iain
27/02/2017, 16:53 – Patrick Heneghan: From karie
27/02/2017, 16:54 – Patrick Heneghan: They didn't include us in the discussion.
27/02/2017, 16:54 – Patrick Heneghan: Well let's hope the lib dems can do it….113
Here are two senior members of Labour HQ staff hoping that Labour would decline in the opinion polls following a Corbyn speech pointing out that Western invasions in the Middle East cause terrorism at home:
Jo Greening 09:12: and I shall tell you why it is a peak and the polling was done after the Manchester attack so with a bit of luck this speech will show a clear polling decline and we shall all be able to point to how disgusting they truly are
(now obviously we know it was never real – but that isnt the point in politics!)
Francis Grove-White 09:13: Yeah I'm sure that's right
Francis Grove-White 09:16: My fears are that: a) the speech won't go down as badly as it deserves to thanks to the large groundswell of ill-informed opposition to all western interventions. And b) they will use that poll to claim they were on course to win and then Manchester happened. And whether or not JC goes, lots of the membership will buy that argument. Like after the referendum when they distorted the polling and claimed we had overtaken the Tories before the "coup" happpened
Jo Greening 09:17: if this speech gets cut through – as I think it may – it will harden normal people against us definitely in the face of a terror attack normal people do not blame foreign intervention they blame immigration whats more – all they will hear is we dont want to respond strongly we want peace with ISIS it all plays into a bigger picture of how they see corbyn so I have a feeling this will cut through you are right on the second point it has to be up to the MPs though to demonstrate how toxic he is on the doorstep throughout but that this speech particularly was toxic and Manchester had happened when that poll was in the field on the supporters I personally think we are going to do very badly in deed and I think it will shock a lot of them how badly we do including JC so everyone has to be ready when he is in shock it has to be clean and brutal and not involve the party at all in my opinion those crazy people who now make up our membership never want us to win in anycase they are communists and green supporters even if Manchester hadnt happened and we got smashed they would have never changed their minds
Francis Grove-White 09:23: Yeah that's true
Senior Labour HQ staff member Jo Greening is here actually hoping that the general public blames immigrants, rather than Blair's invasion of Iraq, for terrorist attacks. Let that sink in.
If you had not already done so, read my analysis of the "Leaked Report" here.
In the classical Establishment reaction to release of damning material, the Forde Panel are much more concerned about who leaked it than what it says (cf Assange). Forde sees this desire to damage Labour under Corbyn by its own senior staff as simply factionalism in which both sides are guilty.
However no evidence is produced anywhere of Corbyn supporters hoping that Labour will decline in the polls or will lose by-elections to the Lib Dems.
To be fair to the Forde panel, they did not pretend that utterly deplorable behaviour by the Blairite senior staff did not happen. Occasionally they are forthright: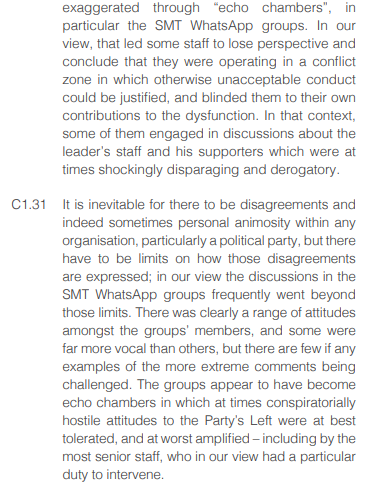 The problem is that they did not allow the undeniable evidence, nor their accurate description of it, to affect their ultimate conclusion that it was all equally the fault of all sides; a conclusion which can only have been pre-determined.
It is also not the Forde Panel's fault that the mainstream media completely failed to publish anything approaching a fair summation of the Forde Report, as described by the ever brilliant Peter Oborne.
One of the most stunning of the Forde Panel's findings appears to have gone almost completely unreported – that Labour HQ staff conducted a systematic exercise to disenfranchise Corbyn supporters in the leadership elections. Here the Forde Report is unequivocal.

It is important to take fully on board what is being said here. It is not that in a ballot validation exercise, staff were biased in using it to remove Corbyn supporters. It is that the entire ballot validation exercise was initiated in the first place with the purpose of removing Corbyn supporters.
Again, let that sink in. Is that not a peculiar "finding" to go unhighlighted?
Forde found that the Blairites at HQ had indeed set up a separate operation at Ergon House in the 2017 general election to covertly channel funds and resources away from other seats to assist the defence of sitting, specifically selected Blairite MPs.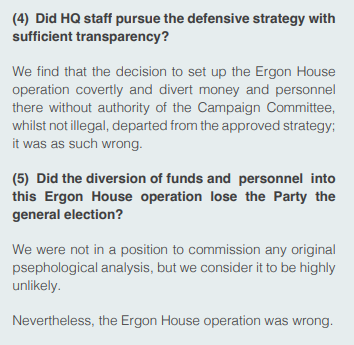 In an election in which Labour made gains, campaigns in Tory marginals were handicapped by lack of funds which had secretly been hived off to sitting Blairite MP's. That is the long and short of it.
The Forde panel thinks it "unlikely" this significantly impacted the result of the election. They also claim to have seen no evidence the Blairite HQ staff were deliberately not winning the election (evidently in the space of twenty pages of report having forgotten the meaning of the Whatsapp messages above).
So that is apparently alright then. Just factionalism on both sides.
For me, the greatest hole in the report is its complete failure to tackle the actual issue of anti-semitism. The original report contained some appalling examples of real anti-semitism. There is no doubt it exists in society and must be actively challenged. But while noting the weaponisation of anti-semitism accusations for factional purposes, Forde has nothing to say on the fundamental issue.
Which is this. Does support for the rights of the Palestinians and criticism of the human rights record and settlement policies of the state of Israel amount to anti-semitism? With Starmer clearly set on an affirmative answer, perhaps Forde and his panel felt it unhelpful to address the question. But without at least noting it, there is a gaping hole in the report.
About a third of the mass membership that Corbyn brought into the Labour Party has now left. Starmer, having lied his way through his leadership election, has now positioned the party very squarely back as Blairite and Tory Lite. There is therefore a very real argument that the Forde Report simply does not matter.
On the surface, it is all over for the prospect of any left wing challenge to rampant neo-liberalism, at least arising from the Labour Party. However the consequences of unchecked wealth inequality, destruction of worker and popular rights, environmental destruction and of violent neo-Imperialism abroad, are likely to strike the general population with ferocity this winter. I am not sure people are prepared for the level of calamity that is unfurling.
The lessons of what was done to Corbyn – and to Bernie Sanders – may yet need to be understood in the not too distant future. We have never stood more in need of radical change.
————————————————-


Forgive me for pointing out that my ability to provide this coverage is entirely dependent on your kind voluntary subscriptions which keep this blog going. This post is free for anybody to reproduce or republish, including in translation. You are still very welcome to read without subscribing.
Unlike our adversaries including the Integrity Initiative, the 77th Brigade, Bellingcat, the Atlantic Council and hundreds of other warmongering propaganda operations, this blog has no source of state, corporate or institutional finance whatsoever. It runs entirely on voluntary subscriptions from its readers – many of whom do not necessarily agree with the every article, but welcome the alternative voice, insider information and debate.
Subscriptions to keep this blog going are gratefully received.
Choose subscription amount from dropdown box:
Paypal address for one-off donations: [email protected]
Alternatively by bank transfer or standing order:
Account name
MURRAY CJ
Account number 3 2 1 5 0 9 6 2
Sort code 6 0 – 4 0 – 0 5
IBAN GB98NWBK60400532150962
BIC NWBKGB2L
Bank address Natwest, PO Box 414, 38 Strand, London, WC2H 5JB
Bitcoin: bc1q3sdm60rshynxtvfnkhhqjn83vk3e3nyw78cjx9
Ethereum/ERC-20: 0x764a6054783e86C321Cb8208442477d24834861a
Subscriptions are still preferred to donations as I can't run the blog without some certainty of future income, but I understand why some people prefer not to commit to that.