Anyone who knows the former Soviet space well understands the crucial difference between "grazdanstvo" – citizenship – and "narodnosc" – nationality. It featured on all identity documents, including passports, in the Soviet Union and on post Soviet national passports, at least until countries joined the EU.
I don't know if it is currently retained on Ukrainian passports, or if not when it was dropped – perhaps someone might advise.
Everybody in the post Soviet sphere knew the distinction. In Uzbekistan, an inhabitant of Samarkand would almost certainly enter their citizenship – grazdanstvo – as Uzbek and their nationality – narodnosc – as Tajik, for example.
There has been a strange failure to counter the myth that the inhabitants of the Donbass are mostly Russian. They are not, and have not been so for many centuries.
The last census in Ukraine was in 2001, conducted under the pro-Russian president Leonid Kuchma. These are the narodnosc results as percentages for the regions Putin has just annexed.
Donetsk Region
Ukrainians 56.9
Russians 38.2
Greeks 1.6
Belarussians 0.9
Tatars 0.5
Armenians 0.3
Jews 0.5
Azerbaijanians 0.2
Luhansk Region
Ukrainians 58.0
Russians 39.0
Belarussians 0.8
Tatars 0.3
Armenians 0.3
Kherson Region
Ukrainians 82.0
Russians 14.1
Belarussians 0.7
Tatars 0.5
Moldavians 0.4
Armenians 0.4
Crimean Tatars 0.2
Zaporizhzhia Region
Ukrainians 70.8
Russians 24.7
Bulgarians 1.4
Belarussians 0.7
Jews 0.2
Armenians 0.3
Tatars 0.3
Georgians 0.2
In none of the regions Putin has just annexed were Russians a majority in 2001, let alone a 99.7% majority. Apparently 6.4 million Ukrainians have simply vanished.
For completeness here were the 2001 results for Crimea:
Russians 58.3
Ukrainians 24.3
Crimean Tatars 12.0
Belarussians 1.4
Tatars 0.5
Armenians 0.4
Jews 0.2
Poles 0.2
Moldavians 0.2
Azerbaijanians 0.2
There is an extremely important validation of these results available. They only show small changes from the last Soviet census in 1989. In all of these regions (bar Crimea) a majority identified their nationality as Ukrainian in the Soviet census too. So it is not a factor of Ukrainian independence.
Here is the region with the highest concentration of Russians – Donetsk – in the Soviet census in 1989.
Donetsk 1989 Soviet Census
Ukrainians 50.7
Russians 43.6
Greeks 1.6
Belarussians 1.4
Tatars 0.5
Armenians 0.2
Jews 0.5
Azerbaijanians 0.1
As I said, there has never been a Russian majority in the Donbass.
There may have been a slight Russian speaking majority. 14.8% of those, Ukraine wide, who identified their nationality as Ukrainian, gave Russian as their first language. This was higher in the East and lower in the West. But those who self-identify as Ukrainian but speak Russian as their first language, are no different to English speaking Scots. Russian speaking was advantageous in the Soviet Union.
There has never been a Russian majority in the Donbass. Never. The Russian minority in Donbass is mostly derived from the great population movements of 1946, when the Polish city of Lvov became Ukrainian and German cities like Breslau and Posen became Polish.
The Russian minority in Donbass is heavily urban, concentrated in the cities. The Ukrainian majority in the Donbass is heavily rural. The Russians are thus much more concentrated, visible and easy to mobilise. That is why it is genuinely possible to mobilise a pro-Russian demonstration in the cities of Luhansk or Donetsk. It is why journalists visiting those cities get a false impression of the wider population of the region.
That urban/rural split is of course not absolute, and just one factor in patchiness of distribution. Some eastern portions of the Donbass probably did have a Russian majority population.
Farmers cling to their land, and a surprising number of rural Ukrainians remained even within the minority proportion of the lands of the Donbass that became a Russian military enclave post 2014. Most of the land of Donbass, outside the Russian controlled areas, became even more Ukrainian as some population exchange between the areas occurred.
The majority of the territory of Donbass has been conquered by Russia only within the last six months and the population there certainly remains majority Ukrainian. Only in the easternmost areas, the post 2014 enclaves, is there at this moment almost certainly a Russian majority. But even they still have some Ukrainian rural populations.
The notion that the entire Donbass voted 99% to join Russia is just so ludicrous that I don't know what to say to people who believe it, except that they are so blinded by ideology and hatred of western governments that they have quite literally stopped thinking.
I probably dislike western governments in a deeper and more informed way than they do; it just does not lead me to the ridiculous illogicality of believing that because the west is bad and run by warmongers, rival warmonger Putin and his oligarchs must be better.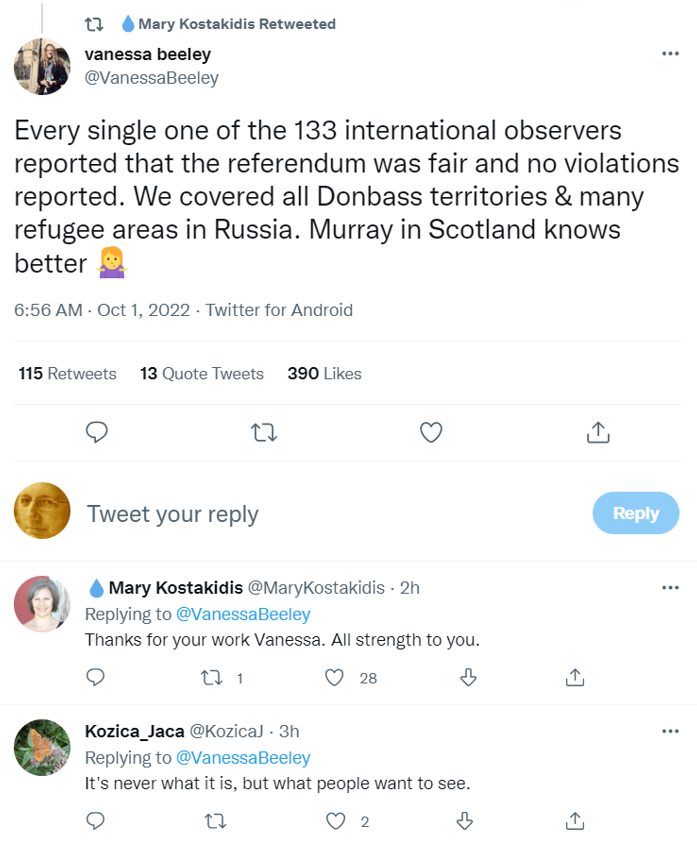 You see Vanessa, I do know better. I speak Russian and Polish, have lived in St Petersburg and Warsaw, and have almost certainly both spent more time in Ukraine than you, while I have very definitely forgotten more Ukrainian history than you will ever know.
The idea that in Zaporizhzhia – where 24% of the population self identify as Russian – or Kherson, where 14% are Russian, 97% of the population voted to join Russia is so ludicrous that I can't believe I find myself explaining it. I have friends in Kherson.
Equally ludicrous is Vanessa Beeley's idea of election observation. Knowing nothing of the country or its history – and I am quite certain she has no idea of the above census facts – you cannot fly in for a few days and judge a democratic process free and fair.
There are international rules for election observation, long established by the Organisation for Security and Cooperation in Europe and more recently by the United Nations. These include that observers should not be funded by the host country or by any party involved or be dependent on either for logistics, transport, accommodation and communications. Observers should not be accompanied by any officials when observing.
I have asked Vanessa a few questions on the absolute basics of international referendum observation 101. Let me expand on those a bit here:
What electoral register was used? When was it taken?
What was the supervising body of the referendum? Where are its published rules? How independent was it?
Which people or organisations represented each side of the referendum question? How were they registered?
How long was the campaign period?
What broadcast debates were held?
How was equality of airtime on local broadcast media implemented? how did the observers monitor it?
What were the spending limits for each campaign? How much was spent? How was it audited?
Was each side able to campaign freely without fear and intimidation?
How were the observers dispersed geographically? How many in rural how many in urban areas? For how many weeks?
What campaigning was seen? Where is the observers' photographic evidence of democratic campaigning by each side?
That is the basic work of any monitoring mission. Democracy is a process, not merely a vote. Only after that do we get to secrecy of the ballot, access to voting, intimidation at polling stations, security of the count etc.
The plain truth is that I resemble a Ducati motorbike more than what happened in Ukraine resembled a democratic process. Anybody who claims otherwise is simply an appalling liar. I was amused by a comment from Eva Bartlett, for whom I generally have much respect, who said she did not meet anybody opposed to the annexation.
If you think carefully, Eva, that is not the win you think it is.
These annexations are deeply unhelpful. They go way beyond anything to which Russia can have the slightest reasonable claim. I could see a negotiated settlement around Ukraine acknowledging Russian sovereignty over Crimea, and perhaps those parts of the Donbass within the control line as at February 2022.
But by declaring as Russian territory large regions of Ukraine to which Russia has no valid claim whatsoever, Putin has made a negotiated settlement almost impossible. He has also bitten off far more than he can chew. As I keep explaining, Russia is not the military superpower NATO wants us to believe in order to keep us fueling the military industrial complex.
Putin is playing into the hands of the United States' strategy, to bleed Russia and degrade its military whilst expending only Ukrainian lives. Western military technology is vastly superior to Russian. Putin is sending 300,000 conscripts into a meat grinder. As more and more of that western weaponry reaches Ukraine and becomes operational, the Russian conscripts will neither see nor have a chance to fight the person killing them from way over the horizon.
The dangers of escalation towards the nuclear are becoming very real.  I fully acknowledge and condemn the toxic nature of much Ukrainian nationalism, the glorification of Nazis, the banning of opposition parties and of Russian language teaching and media. I utterly oppose NATO expansion. Of course it was not Russia who blew up the Nordstream pipeline or shelled the nuclear power station they were themselves occupying.
I absolutely get all of that.
But unless Armageddon appeals to you, and if you have the slightest respect for truth over ideology, the cheering on of Putin has to stop.
————————————————-
Forgive me for pointing out that my ability to provide this coverage is entirely dependent on your kind voluntary subscriptions which keep this blog going. This post is free for anybody to reproduce or republish, including in translation. You are still very welcome to read without subscribing.
Unlike our adversaries including the Integrity Initiative, the 77th Brigade, Bellingcat, the Atlantic Council and hundreds of other warmongering propaganda operations, this blog has no source of state, corporate or institutional finance whatsoever. It runs entirely on voluntary subscriptions from its readers – many of whom do not necessarily agree with the every article, but welcome the alternative voice, insider information and debate.
Subscriptions to keep this blog going are gratefully received.
Choose subscription amount from dropdown box:
Paypal address for one-off donations: [email protected]
Alternatively by bank transfer or standing order:
Account name
MURRAY CJ
Account number 3 2 1 5 0 9 6 2
Sort code 6 0 – 4 0 – 0 5
IBAN GB98NWBK60400532150962
BIC NWBKGB2L
Bank address Natwest, PO Box 414, 38 Strand, London, WC2H 5JB
Bitcoin: bc1q3sdm60rshynxtvfnkhhqjn83vk3e3nyw78cjx9
Ethereum/ERC-20: 0x764a6054783e86C321Cb8208442477d24834861a
Subscriptions are still preferred to donations as I can't run the blog without some certainty of future income, but I understand why some people prefer not to commit to that.