The next morning I stayed in the Aparthotel writing, while Niels went out to the airport, to pick up the BMW 4×4 he had hired. Our destination was Halle an der Saale, near Leipzig. It was, I think, our first – and overdue – foray into the former East Germany.
Hotel rooms in Halle were thin on the ground and again very expensive. But as we were now hiring a vehicle, there was no need to be in the city centre, and for a change I booked us in to the Schloss Teutschenthal, a hotel about 8 miles outside the city.
At just 75 euros a night it was a fraction of the cost we had been paying, and given the choice I much prefer rural surroundings.
About 11.30am Niels phoned and reported a problem. He had been unable to collect the car. Neither the firm he had booked nor any of the others had availability.
He had argued long with the agent, who had explained to him that the agencies are franchises.  The brand name company itself is a separate entity and the online booking site is a third separate entity. Because the online site took your money did not mean there was a car in fact available. They frequently oversold.
At busy times like just before Christmas, cars were in very short supply. The railway lines were in crisis, which also increased demand. We were looking to hire in Bremen and drop off in Berlin five days later. But the Berlin drop off was to another company within the same franchise; each franchisee wanted their own vehicle back, they were not interchangeable. Arranging that at times of high demand was very difficult.
So, no car, and over 70 euros spent on a wasted taxi ride to the airport and back.  We had to dash to the railway station, and the itinerary for 7 December was 12.33 pm RE82022 Bremen to Hamburg, 14.04pm ICE1007 Hamburg to Halle (Saale) arriving 17.16pm.
Without a car, having booked in to Schloss Teutschenthal was a mistake, because it meant we would arrive in the city centre at 17.16, then have to get a taxi out to the Schloss to check in, then come back in again, while the event started at 18.00.
Our normal format was for me to do an introduction, then Ithaka would be screened, then Niels and I would take questions and lead discussion after the screening.
Today our trains ran to time, which was fortunate as we really needed them to. As we pulled in to Hamburg where we had to change, I observed an incident through the window of a carriage on the opposite side of the platform.
A stout Muslim lady, heavily swathed in grey hijab, was being escorted off the train by a female police officer. Two other police officers were waiting on the platform for her.
The Muslim lady had a child in a pushchair and another, about four years old, clinging to her skirts. Her pushchair was festooned with bags looped around the handles. None of the police were assisting her with children, pushchair or bags as she got off the train.
It was a small incident, but crystallised a sense of unease within me.
Germany is not a country at peace with itself. The closure of Dusseldorf Christmas market, the guard yelling at the young man with the wrong ticket, the aggressive begging everywhere, the man scouring the litter bins in the first class carriage for deposit bearing bottles, the heavy police presence on every station, the complete lack of surprise at the theft of my two laptops. You can add in to that the substantive dysfunction in the railway system.
I was just passing through everywhere, seeing nothing in depth.  But Germany did not feel as I expected it to feel – tolerant, efficient, prosperous and content. It felt like a society under real stress. No doubt I am reading too much into a succession of small incidents, and my mood was rattled by the loss of my laptops. But such was my sense.
Hamburg station was very crowded, and the first escalator we came to where we could change platforms was blocked off by police, for reasons that were not plain. We walked along to a further escalator, up which was a concourse with a row of shops.
Niels spotted a car hire agency and went in to speak to them, but again they had nothing available. So we got on the ICE to Halle, which went right through Berlin, and arrived there after darkness had fallen.
The taxi driver had never heard of Schloss Teutschenthal, and entered it dubiously into the satnav on his telephone, which he proceeded not to follow very often, as we headed out of Halle and on to unlit country roads.
It was a dark night and there were no other vehicles around. A surreal picture unfolded. We were surrounded on all sides by red lights in the air, like fields of magic giant poppies.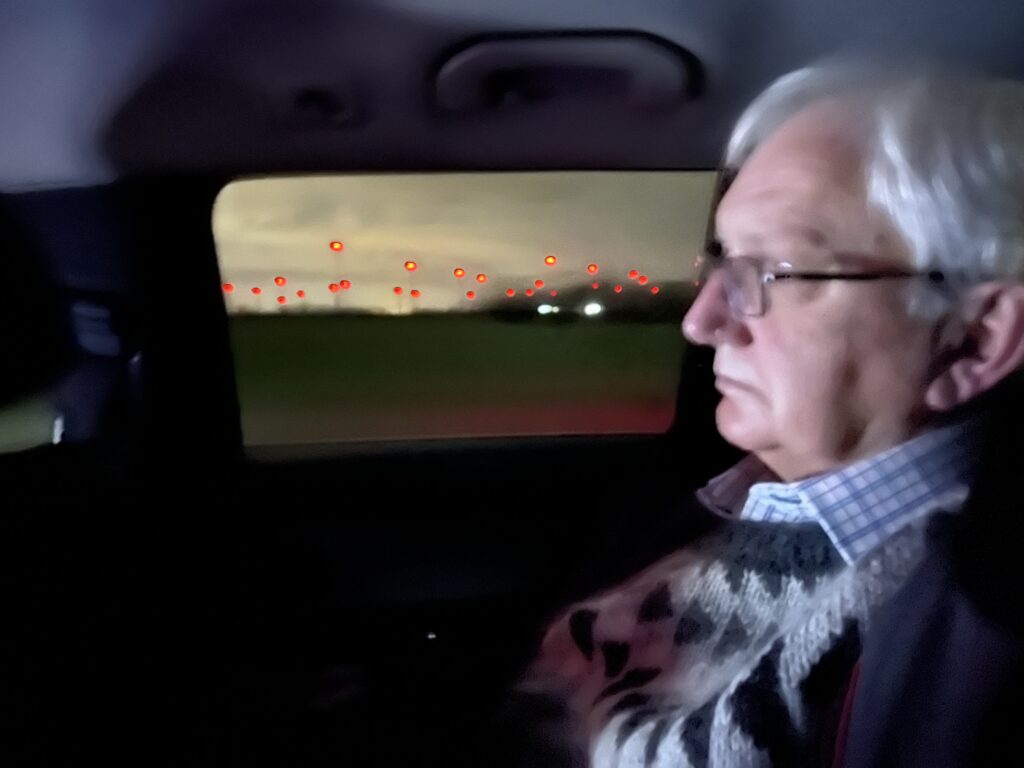 At first I thought we were amongst the airport landing lights, but there were too many of them, and they were the wrong colour – all the same deep red – and far too widespread.  As the car sped along and parallax took effect, I realised that, although on all sides, they were further away, and thus much larger, than I had realised.
The driver got hopelessly lost, largely because he kept deviating from his satnav route on lanes that he thought looked to be shortcuts, but kept turning away in the wrong direction.
We eventually arrived in Schloss Teutschenthal, checked in, left our baggage and dashed back to the car. We meandered back through the giant poppies, and then as we hit Halle heading to the cinema we again became lost, this time in the city itself. I noticed more than once we passed back the way we had come.
I do not think the driver was taking us for a ride, to increase the fare, I think he was lost. The atmosphere in the cab had become rather tense. Niels had texted the organisers who had put back the start time from 18.00 to 18.15, but when we were still not there at 18.20 it was decided to start the film and do the speaking afterwards.
Generally, this does not work well. If you get to speak before the film, you can convince the audience you are interesting and informative enough for it to be worth staying for the discussion afterwards. Otherwise they tend to rush for the door at the end of the film.
Niels and I were chatting to the taxi driver to defuse the tension in the cab, which was affecting the driver as well. He had switched the meter off. He came from Bosnia, and had only been driving the taxi a few weeks. He said apologetically that he knew Halle well but not places outside the city. We were too polite to point out his deficiencies in Halle itself.
The film having started, I have no idea why we felt the urge to arrive as soon as possible to make our apologies to the organisers, but we did. The cinema was in an imposing Gothic building at the top of quite a steep hill, which we dashed up as quick as we could.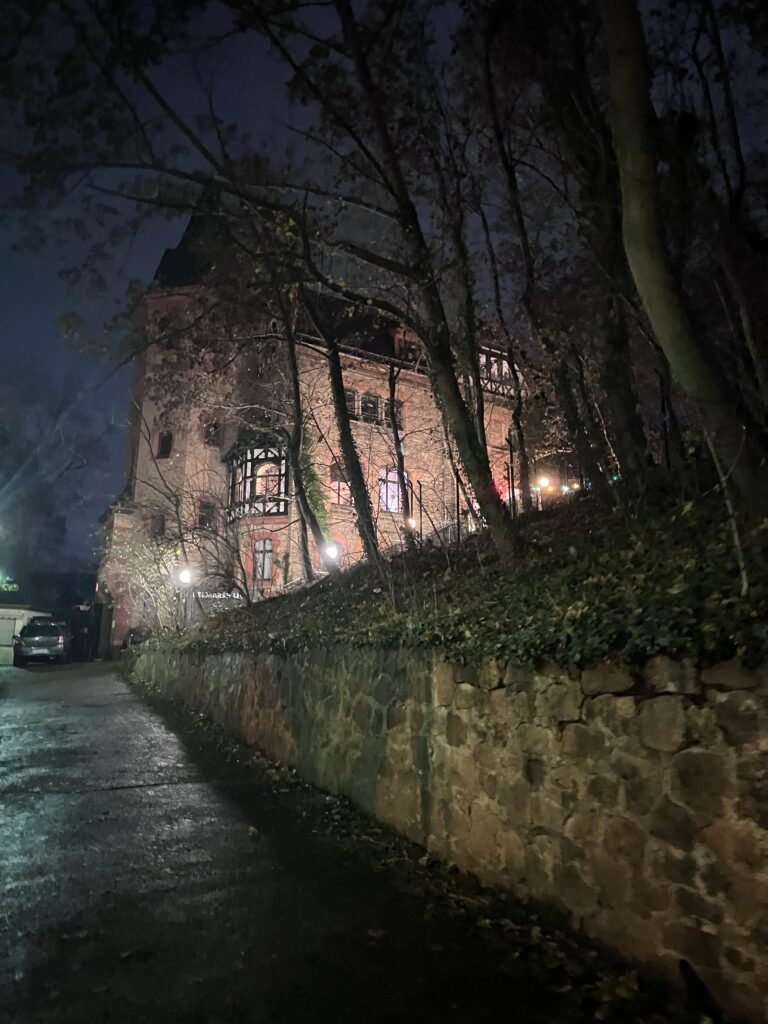 Arriving breathless, we found a very pleasant young woman from Amnesty International, the organiser, standing outside the cinema. She was a little testy at our delay, exacerbated by the fact that Amnesty had booked and paid for a hotel for us in town, which message had not got through to us.
She asked, in a wondering rather than accusatory way, why it had still taken us another 20 minutes to arrive when Niels had said we were in a taxi 5 minutes away. I found myself explaining that the taxi driver had got lost repeatedly and that he was new to the city, having just arrived from Bosnia.
It just came out wrong. I realised immediately I must sound like some kind of horrible racist. I tried to disentangle, explaining that the problem was not that he was Bosnian but that he did not know Halle, but it was one of those situations where anything you say just sounds unconvincing and digs deeper.
I retreated to cover my confusion, saying (truthfully) that Niels and I had eaten nothing since breakfast and needed to find something before the speeches. We went down the hill again to a very good local restaurant.
I felt a bit better after a very good schnitzel and a few glasses of wine. It was possibly the only occasion I have been glad that Ithaka is almost two hours long.
Which is a good place to mention that even modern electronic copies of films have frames – it seems capturing motion still works the same way, a series of still images not a seamless whole, even without physical film.
The length in time of a film differs depending on the frame rate at which it is played, and the convention on this differs from country to country. Therefore Ithaka was about seven minutes shorter in Germany than in the UK.
At least, I think that is how Niels explained it.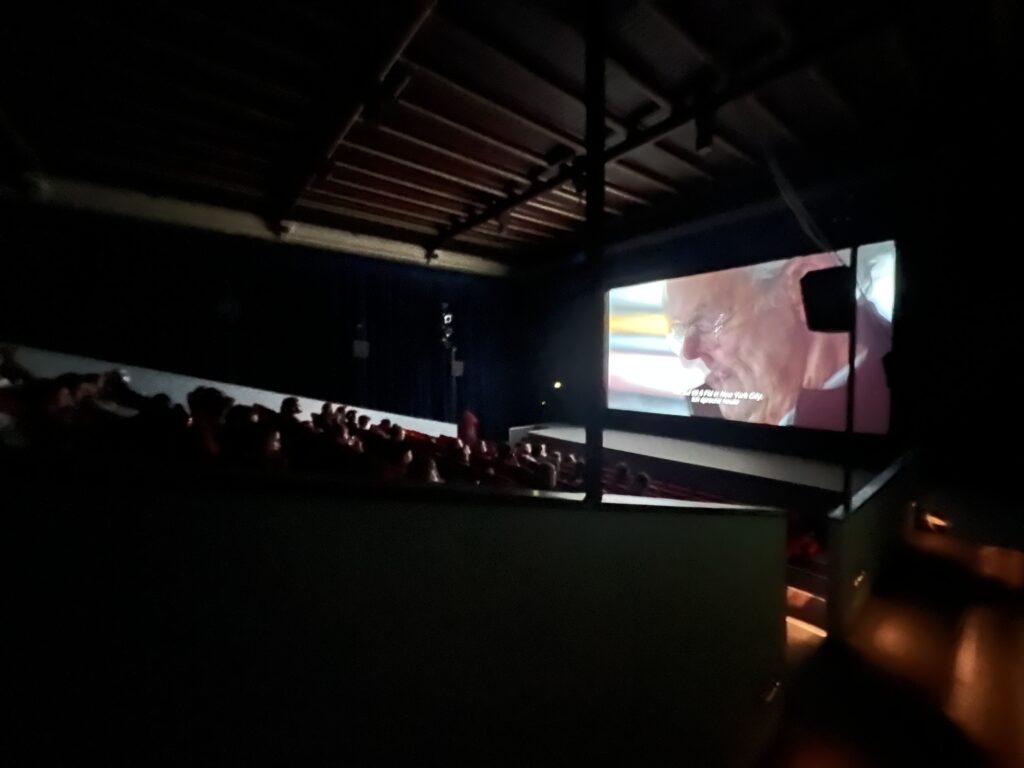 There was a very good audience, notably with many young people and happily they fairly well all stayed for a very lively discussion. Niels spoke particularly well that night.
I had noticed that German audiences seemed to warm to Niels more readily than they did to me. I seemed to have a difficulty forming that empathetic connection with German audiences that is so essential to good public speaking.
Feeling the response of your audience, which presumably comes largely through a process of interpreting and aggregating signals of body language, and then adapting to it, is an ability I have prided myself on my entire adult life.
Any experienced political speaker will tell you there is an intuitive element – the emotional reaction of the audience communicates itself back to the speaker in a way that we do not always understand.
This is not just projection. When the audience is feeling intense personal sympathy towards Julian and his young family, or anger at the way he is treated, you pick that up as you face them.
I know it is not just projection of my own emotion onto the audience, because occasionally you pick up that you are failing to carry the audience's feelings in the direction you wish. It is also not just visual, because my eyesight is awful.
When I speak to a Scottish audience about the clearances, and about the need for land reform today to return the land to the people, I feel this sentiment strongly reflected, emotionally, back to me from the audience. On other subjects, such as gender reform, I have felt emotional barriers come down and resentment of me from the audience, although nobody else is speaking but me.
It is intuition. I have found it best expressed in fiction by Isaac Asimov in the character "the Mule" in his Foundation trilogy.
You may, if you like, take this with a pinch of salt purely as an expression of the way I feel about audiences and public meetings, and just more evidence that Craig Murray is eccentric.
But the feeling I got back from our audiences in Germany was one of rather austere respect, as though I were at a remove, some exhibit generally acknowledged as valuable, rather than a warm human being with whom you might interact.
Niels on the other hand appeared effortlessly to be on the same wavelength as the German audiences, and they seemed to warm to him instinctively. His speaking style is much more intellectual than my own, but he also was very effective at conveying the pain of the family he witnessed while filming Ithaka, and the inhumane and degrading treatment of Julian in Belmarsh.
In Halle, Niels gave a simple description of the terror of Julian's infant children at being subjected to internal oral inspection while visiting Belmarsh, and sniffed and pawed by Alsatians taller than them. He delivered it in a quiet voice and low tone, and it has stayed with me.
This photograph after the talks rather nicely captures Niels as the star of the show that evening.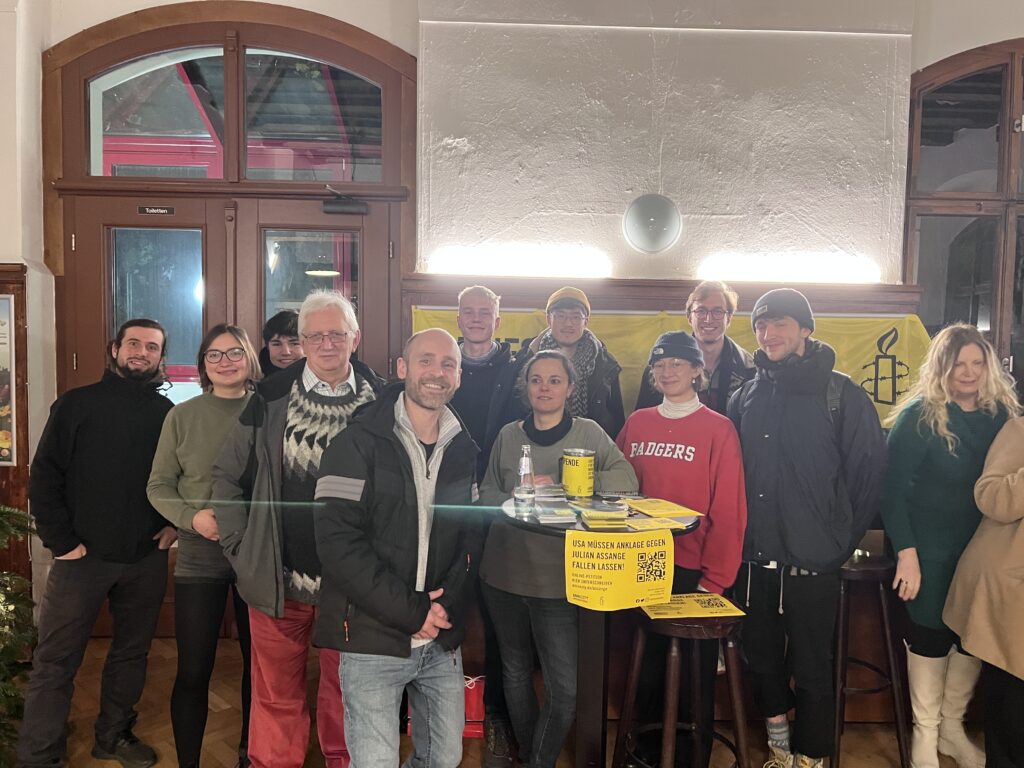 I did however come away with a great deal of chocolate given me as presents. I am very easy to cheer up.
After chatting with activists and being photographed in an excellent reproduction of Julian's Belmarsh cell, complete with authentic harsh prison soundtrack, we returned to the very comfortable Schloss Teutschenthal.
The hotel was completely dark and apparently deserted, so we went to our beds for an early night.
Daylight the next morning and I found that the Schloss reminded me very much of the von Trapp family home in the film of the Sound of Music.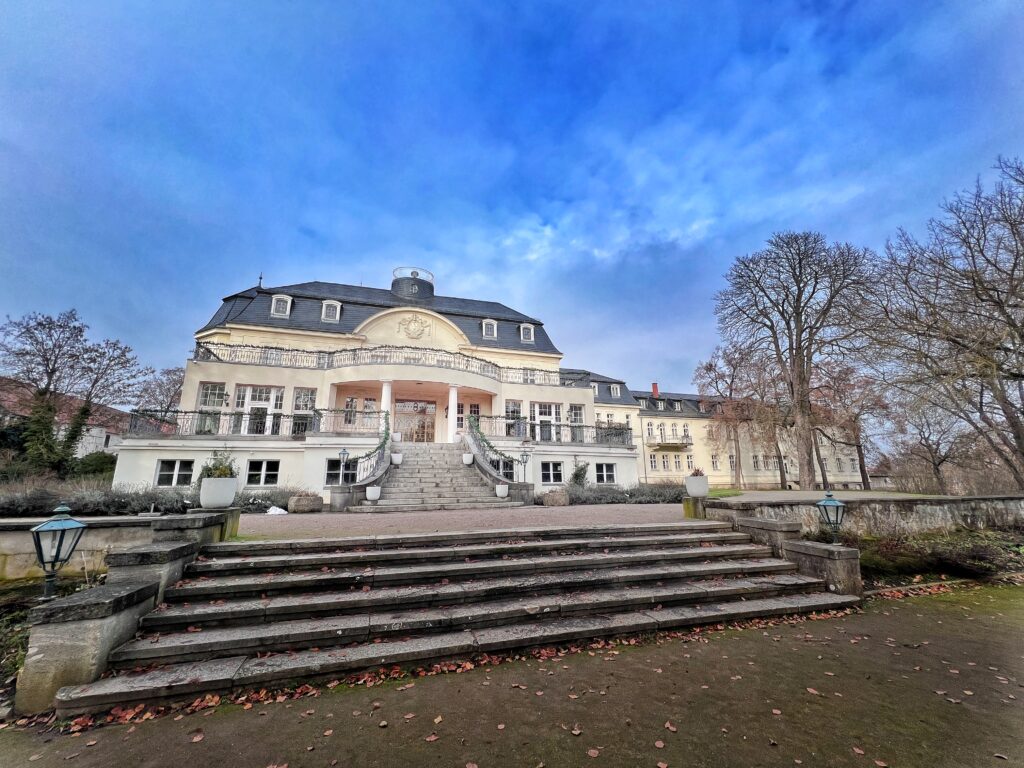 We had breakfast in the magnificent dining room. We were the only guests in the hotel, although it was quite busy with staff preparing the ballroom for a banquet that evening. The hotel functions chiefly as a conference centre and wedding and events venue, though you can just check in as we did.
In that dining room in November 1943 the estate's owner, Carl Wentzel, had hosted a grand dinner for leading German industrialists. The discussion centred on the urgent need to get rid of Adolf Hitler.
Wentzel went on to be actively involved in the Wolf's Lair assassination plot of July 1944, and he was hung by the Nazi regime on December 20, 1944. Most, possibly all, of the participants in that November 1943 dinner were also executed around that time.
The hall was hung with a painting of Wentzel referencing his fate.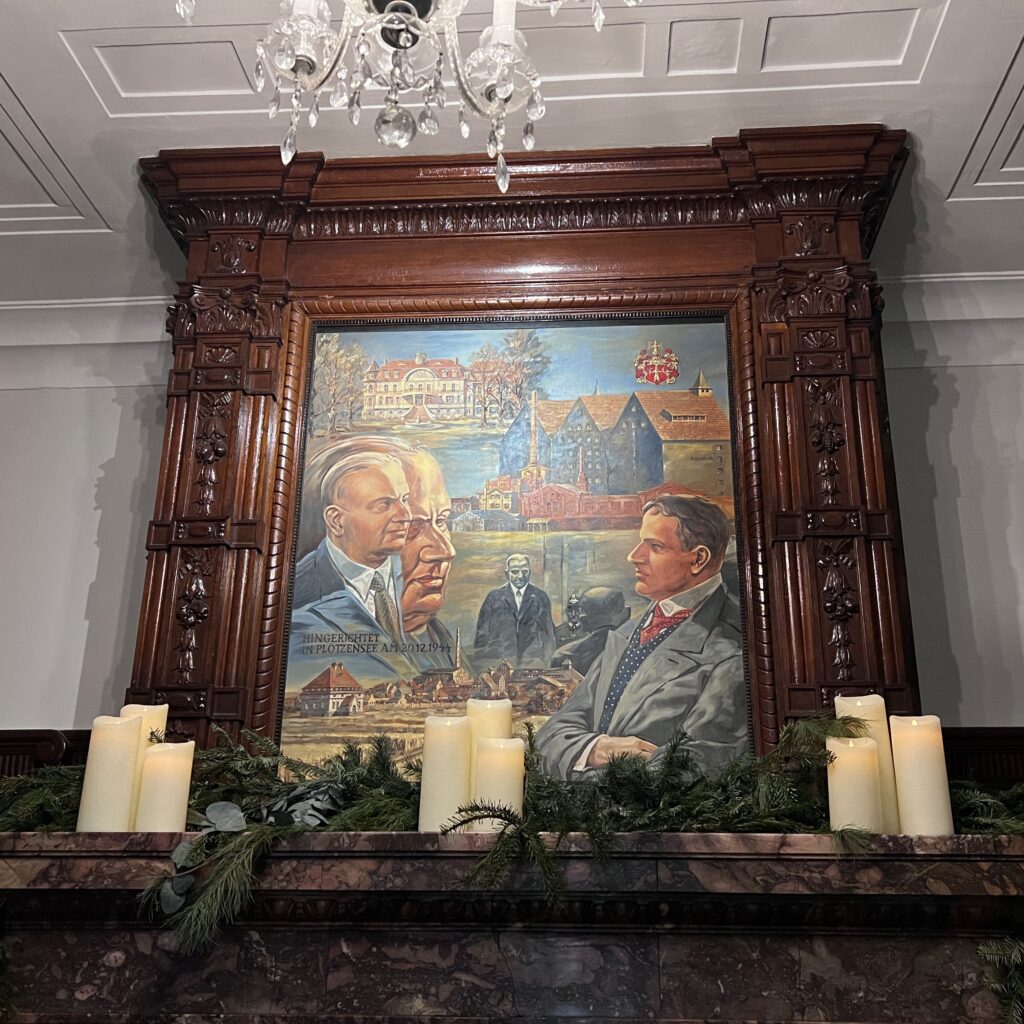 The estate and mansion, now hotel, is  back in the hands of the Wentzel family, having been in communist East Germany during the cold war period.
In Germany, restitution of lands confiscated by both Nazis and communists has been patchy post reunification, but seems to have been achieved in this case; presumably Carl Wentzel's history helped the case.
In neighbouring Poland I had visited many such properties in the early 1990s, and there they had generally been turned into party rest and recreation centres or sanitoria during the communist period.
There were no accessible staff in Scholls Teutschenthal who spoke English, but it appeared to me this had been the case here too. Two large hostel blocks had been built in the grounds, by the look of them in the 1970s, and were now derelict.
In Poland in the early 90s there had been complete and full scale restitution to property owners, in those parts of the country which had been Polish pre-1939.
I supported this as part of my job in the British Embassy, but privately I viewed it as disastrous. Massive tracts of country were restored to the same hopeless and bickering aristocrats who had made Poland unviable for centuries.
The current elegant "Schloss" dates from about 1880 but the original medieval castle still stands in substantial ruins and looked fascinating, but was blocked off.  After a walk in the grounds with Niels after breakfast, I went to do some writing – I later learnt he had then climbed a wall into the old castle. I fear my wall-climbing days are behind me.
In taking a taxi back into Halle station in daylight, the mystery of the giant poppy lights was revealed.
We were in the middle of a vast wind turbine plantation, by a long way the largest I had seen in Germany. Each of the huge turbines was topped by a red warning light for aircraft. They were indeed much bigger and much further away than it had seemed in the dark, while the sails had been completely invisible – Niels' picture near the top of this article conveys the illusion rather well.
We were now heading back into Berlin. Our itinerary for 8 December was 13.06 Halle ICE800, Berlin HBF 14.25.
As this was a short hop, I decided this was the moment to save a day on my Interrail pass and buy a ticket. Much to my surprise, it was 85 euros for a first class ticket. German trains are not cheap.
This train returned to the tradition of being very late, and it behaved oddly. It came into the station faster than you would expect, and seemed to have difficulty stopping, ending up much further down the platform than the marked positions indicated. It seemed to have difficulty stopping at subsequent stations too.
In Berlin we were staying at Viktor's Residence, a very grand but slightly quirky establishment we had chosen as very close to the cinema. Our rooms had kitchenettes, but a notice sellotaped to a cupboard door stated that they were only equipped with cookware, crockery etc for guests who stayed over two weeks.
There was not so much as a kettle or cup. In fact, almost none of the hotels I stayed at in Germany provided kettles. They all had those little Nespresso machines or equivalents, which provide you with a thimbleful of lukewarm gunge.
Viktor's Residence did not even provide one of these. Perhaps unless you were staying a fortnight.
The event that evening was in a venue with the intriguing name of "musikbrauerei". The first challenge was finding it.
The hotel reception kindly gave me a map, together with an explanation that the musikbrauerei was not actually at the location marked, but on the next street. Google Maps had another idea completely.
When I arrived at the general area, in the back streets of some flats amongst some unlit commercial buildings, I could find nothing indicating the musikbrauerei and no signs for the event.
One building had some structured red uplighting which made it stand out, so I went there. I walked around it, but it appeared deserted. Just as I was about to about to leave, a basement door opened and a man walked to the top of the stairs to have a smoke. He confirmed it was the musikbrauerei and let me in through the basement door.
Once inside, a very large doorman was difficult to convince I did not have to pay. He was in a room with rows and rows of very industrial looking coat racks, all empty. I then was shown to a flight of stairs leading down from the basement into a series of chambers even further underground.
This was becoming surreal. The rooms were equipped for exactly the kind of strange party you see in films (at least that is the only reference I have). The bachelor party scene in Succession comes to mind.
It was a very strange and wonderful space. I could post a dozen photos, but these two give you the idea: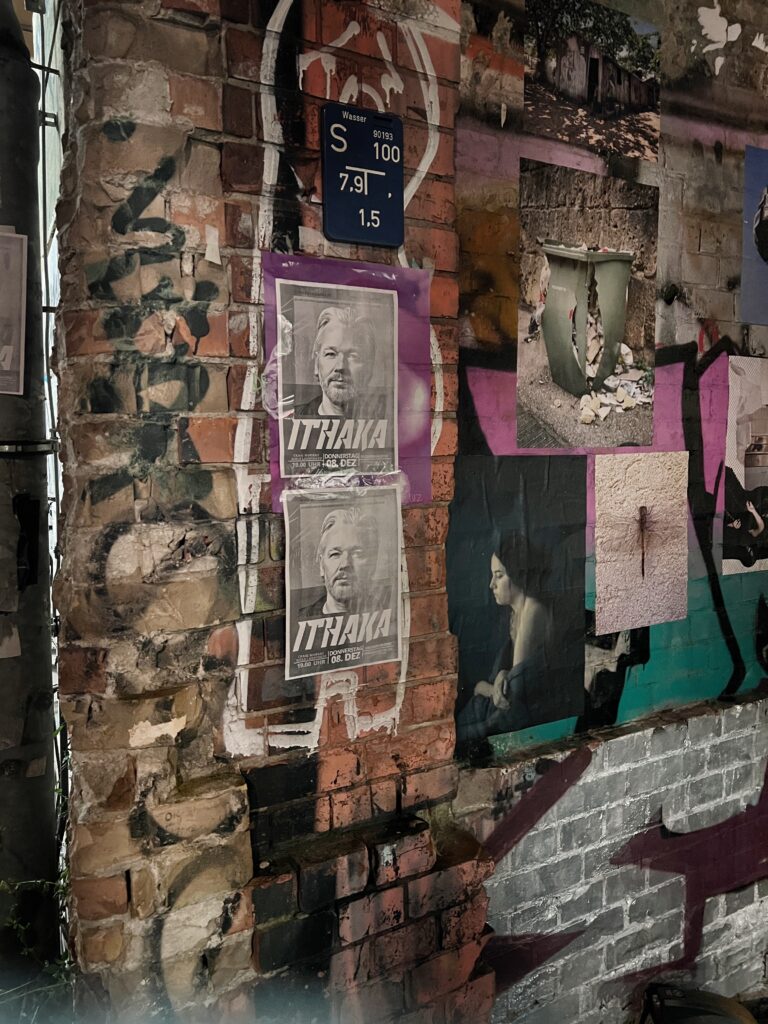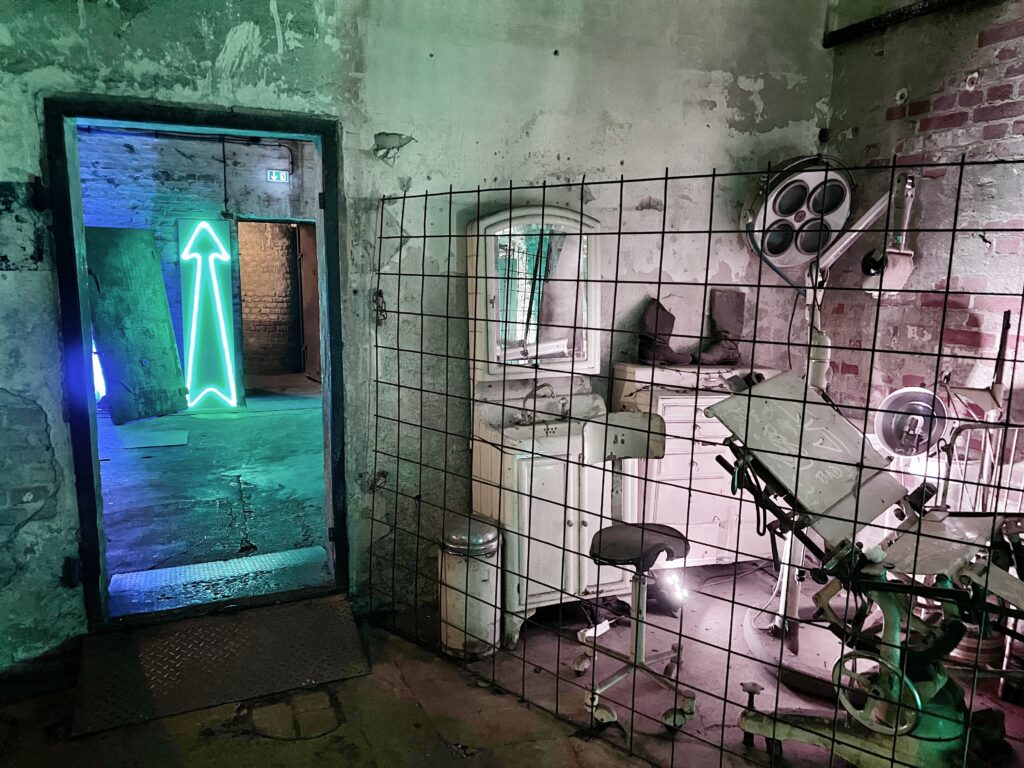 Well Toto, I said, we're not in Kansas anymore.
————————————————-
Forgive me for pointing out that my ability to provide this coverage is entirely dependent on your kind voluntary subscriptions which keep this blog going. This post is free for anybody to reproduce or republish, including in translation. You are still very welcome to read without subscribing.
Unlike our adversaries including the Integrity Initiative, the 77th Brigade, Bellingcat, the Atlantic Council and hundreds of other warmongering propaganda operations, this blog has no source of state, corporate or institutional finance whatsoever. It runs entirely on voluntary subscriptions from its readers – many of whom do not necessarily agree with the every article, but welcome the alternative voice, insider information and debate.
Subscriptions to keep this blog going are gratefully received.
Choose subscription amount from dropdown box:
Paypal address for one-off donations: [email protected]
Alternatively by bank transfer or standing order:
Account name
MURRAY CJ
Account number 3 2 1 5 0 9 6 2
Sort code 6 0 – 4 0 – 0 5
IBAN GB98NWBK60400532150962
BIC NWBKGB2L
Bank address Natwest, PO Box 414, 38 Strand, London, WC2H 5JB
Bitcoin: bc1q3sdm60rshynxtvfnkhhqjn83vk3e3nyw78cjx9
Ethereum/ERC-20: 0x764a6054783e86C321Cb8208442477d24834861a
Subscriptions are still preferred to donations as I can't run the blog without some certainty of future income, but I understand why some people prefer not to commit to that.