UPDATE
I no longer have a source with access to Putin's inner circle. I did not pretend to understand the astonishing episode of the Wagner march on Moscow at the time, and plainly it was impossible, if the Russian and Belarussian official narrative were remotely true, that Prigozhin could be allowed to carry on living.

Well, at least I got that right. But I still am no closer to understanding the entire dynamic. Unless Prigozhin has been effectively a prisoner these last few months, it seems incomprehensible that he did not flee.
To move from something I do not understand to something I do.
In comments below the line here, and even more so in replies to the post of this article on twitter, I am intensely irritated by the sheer stupidity of the lines trotted out by the Putin cult.
Ukraine has not lost 400,000 dead. That is half of British Empire casualties in World War 1 – in one year? It is 80% of the size of the Ukrainian armed forces in 2021. To try to give a meaningful comparison, those units of the Iraqi Republican Guard destroyed in the initial 2003 onslaught by vastly superior forces using massive firepower, lost about 20% dead in the most extreme cases. They had broken long before that many were killed in flight.
There would be evidence of fields piled up with thousands of bodies if 400,000 were dead. In all the drone and headcam footage we have seen, there is nothing remotely like that. It is simply a quite extraordinary example of the Big Lie technique. Ukrainian casualties have been serious, but nothing like on that scale.
I wrote below in the original article that ludicrous casualty figures have been claimed by both sides. I really do not need idiots doing so here.
The "Putin is perfect" narrative claims that Russia has failed to entirely subdue Ukraine because a) it never intended to b) Ukraine had an immensely powerful army at the start of the conflict.
Both claims are utter nonsense. Russia sent a column of its finest troops and armour to Kiev from the North at the start of this stage of invasion. It also sent special forces ahead into Kiev with the object of decapitating the Ukrainian command structure. The ground had been prepared by very large sums of money paid to key Ukrainian officials and generals.
The aim was regime change.
The whole was based on very faulty intelligence that there would be little resistance and the Ukrainian people would welcome regime change. Much of the money to have been laid out in bribes had in fact been stolen within the Russian FSB (something, I would add from personal experience, MI6 is not immune from either).
The initial Russian assault on Kiev was a costly failure, with many of Russia's best forces very badly damaged. The attempt to deny this is pathetic. We all saw it.
Elsewhere the Russian advance meant much better. This is largely because:
It is nonsense to state that Ukraine had very powerful armed forces. In 2021 the Ukrainian army was equipped almost entirely with largely outdated ex-Soviet hardware. There were huge problems in supply chains caused by quite astonishing levels of Ukrainian corruption (though this was true of both sides). A Ukrainian command structure riddled by co-option of large, supply favoured, units of Nazis, which ran on bragadaccio, was hardly efficient either.
The Russian invasion of its far smaller, weaker and corruption-riddled neighbour has been a demonstration of Russian weakness.
Of course Russia will ultimately win – Russia is a lot bigger and it is taking on a smaller, underdeveloped and scarcely functional mafia state.
But that this is all an example of Putin's genius, and casualty rates favour Russia by ten to one, are claims so divorced from reality they can only come from those who are utterly delusional – or paid to put them out.
END OF UPDATE
For well over a decade, we were used to nightly shots on our television news of British and US forces, in heavy combat gear, storming across desert landscapes in cloud of dust or firing heavy machine guns over the top of mud walls.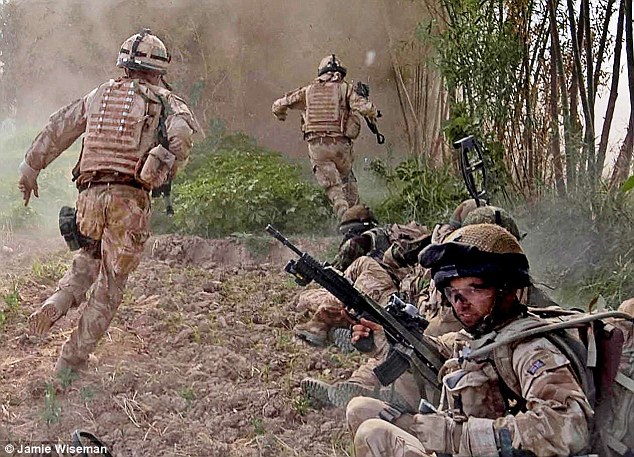 These shots were provided by "embedded journalists" with the UK and US forces, swaggering around in the same kind of body armour and helmets as the troops, often distinguishable only by a blue bib with "press" written on it.
Thankfully, we see almost no such screen footage of the proxy war NATO is fighting against Russia in Ukraine. War porn has almost disappeared from our screens. We saw a lot of it when the failed Russian column to Kiev was destroyed in the early part of the war, but since then, very little.
The answer is of course not hard to find. The ratio of Iraqi dead to American dead in the second Iraq war was about 200 to 1, and in the "triumphant" early advance was still higher than that. The embedded journalists travelling as part of US or UK armed forces in their armoured vehicles were posing as heroes, but in little real danger at that stage.
The US forces were a real danger to non-embedded journalists. 16 journalists and 6 other media workers were acknowledged as killed by US forces in Iraq, while scores of other Iraqi journalists disappeared with no certainty as to who killed them. By contrast 2 "embedded" journalists were killed.
The "embedded journalists" were of course not real journalists at all, they were simply functioning as actors, presenting images of the exhilarating triumph of colonial massacre of a technologically inferior people, to a home audience that lapped it up.
By contrast, being in the front line with Ukrainian troops now would be very dangerous indeed. The very tiny number of journalists who have done it are indeed worthy of the name. Streaming along as a passenger in a glamourised turkey shoot in Iraq is much more congenial than being embedded with troops in Ukraine who are fighting where the kill ratio is somewhere close to even.
(There are utterly ludicrous enemy casualty claims by both Ukraine and Russia, which should be treated with equal contempt).
The territorial gain in the vaunted Ukrainian counter-offensive is of the same order as that in the notoriously futile Battle of the Somme. It doesn't make for glorious television.
You may have noted a repeated Western propaganda meme, that very often when a Russian missile strikes hundreds of miles from the frontline, it is frequently said to have landed close to a hotel, bar or cafe used by western journalists.
I am not sure this is the propaganda win they think this is.
The Ukraine war is going extremely well for those who are making billions from the arms sales and increases to western defence budgets that have resulted. It is going extremely badly for ordinary people all over the world, who have suffered the inflationary and other consequences of the disruption of trade and production and the population flows.
Our rulers would love it to go on like this for years – in fact a quick Ukrainian victory would be a disaster for the profiteers.
This war is going nowhere on the ground. I do not expect a Russian winter offensive will be significantly more successful than the Ukrainian spring offensive. It would be impossible to display frontline coverage that did not demonstrate both abject horror and utter futility. Which is why there is almost none.
I am grateful we are seeing so little war porn on our screens. But I know why.
————————————————
Forgive me for pointing out that my ability to provide this coverage is entirely dependent on your kind voluntary subscriptions which keep this blog going. This post is free for anybody to reproduce or republish, including in translation. You are still very welcome to read without subscribing.
Unlike our adversaries including the Integrity Initiative, the 77th Brigade, Bellingcat, the Atlantic Council and hundreds of other warmongering propaganda operations, this blog has no source of state, corporate or institutional finance whatsoever. It runs entirely on voluntary subscriptions from its readers – many of whom do not necessarily agree with the every article, but welcome the alternative voice, insider information and debate.
Subscriptions to keep this blog going are gratefully received.
Choose subscription amount from dropdown box:
Paypal address for one-off donations: [email protected]
Alternatively by bank transfer or standing order:
Account name
MURRAY CJ
Account number 3 2 1 5 0 9 6 2
Sort code 6 0 – 4 0 – 0 5
IBAN GB98NWBK60400532150962
BIC NWBKGB2L
Bank address Natwest, PO Box 414, 38 Strand, London, WC2H 5JB
Bitcoin: bc1q3sdm60rshynxtvfnkhhqjn83vk3e3nyw78cjx9
Ethereum/ERC-20: 0x764a6054783e86C321Cb8208442477d24834861a