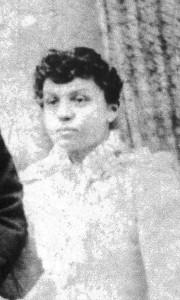 This is a photo of my great grandmother, Valentina Brattisani, taken on her wedding day at the Catholic cathedral in Edinburgh. I post it because I had never seen a photo of my great grandmother until just now, and it is an emotional thing to rediscover an ancestor. She looks astonishingly like my grandmother, also called Valentina. Somewhere there must be an uncut copy of that photo with my great grandfather on too.
it is actually quite a sad story, because Valentina died still young, her husband remarried, and her children were effectively cast out in favour of new ones. My grandmother was born into what was famously one of Edinburgh's wealthiest families, but lived in slums and great poverty. She had thirteen surviving children, however, and was a permanent source of love and fantastic food for the masses of children and grandchildren with which she was permanently surrounded.
I shall be in Edinburgh all of August. I shall stand outside that Cathedral, and take some flowers to the graves of both Valentinas.