'Murray's book is a terrific read. He has done full justice to the life of a remarkable British hero, without ignoring his faults' — Peter Oborne, Daily Mail

'An important re-evaluation of this most intriguing figure' — William Dalrymple

'This is a fascinating book … his research has been prodigious, both in libraries and on foot. He knows a huge amount about Burnes's life and work' —Allan Massie, The Scotsman

'If you are a fan of the Flashman series of books, you will be gripped by the story of this British spy' —Hannah Ferret, The Sun
This blog has been going for over ten years now and has never asked for money or taken advertising. In that time I have continually campaigned on a whole variety of issues, though chiefly human rights, Scottish independence, against war, and on the need for a profoundly more equal society. I have travelled the length and breadth of the UK and around the world to speak at literally hundreds of public meetings, and have appeared in numerous videos and documentaries. My primary purpose has always been as much to promote debate and the ability to think well outside the increasingly narrow box which society prescribes, as to convert to my own precise views.
And I have been paid for almost none of it. I do it entirely because I believe in it. I have never asked readers for cash to keep this blog going. I have never asked for a fee to speak in a good cause.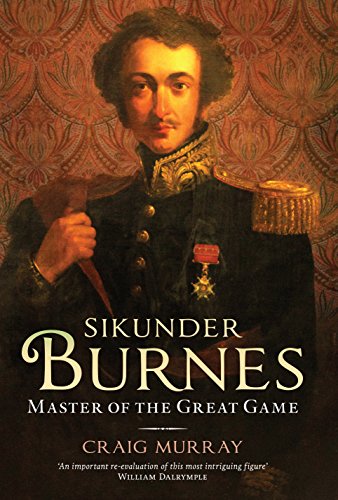 But I do ask you, now, to buy my book. I ask you to do this to get the book itself (and buy more for Christmas presents!) but also as a recompense to pay for any of my work you have enjoyed on this blog, or elsewhere, over the past decade. Sikunder Burnes is the result of eight years of unfunded hard work, and manuscript research in England, Scotland and India. It is, I believe, worth every penny it costs. I appreciate it is expensive, and I have no difficulty whatsoever if you prefer to buy the electronic version which is a great deal cheaper.
It is the story of the fascinating life of a man both caught up in, and attempting to shape, an astonishing period of Scottish, British, Indian, Pakistani, Kalati, Afghan, Uzbek, Iranian and Russian history. As I hope you would expect from me, it even bursts out from such a broad canvass into all kinds of unexpected intellectual directions, many of which surprised me too!
My preference would be for you to buy it from a bookshop if you can, because bookshops need support. Otherwise you can order it from thehive.co.uk (where it is currently cheaper) or from Amazon. Doubtless other online options are available. Unfortunately we live in a country where some people cannot afford a book, and in that case you would much oblige me by asking for it from your local library.
To tax your patience further, I should be most grateful if you could do a couple of other things. Firstly, once read leave a review of the book, on Amazon, Goodreads, or any other available forum. Please note that I am not asking you to puff the book – I should be very grateful if you could leave completely honest reviews.
Secondly, it would be very helpful if you could leave comments below on your experience of buying the book. If online, was it in stock, how quickly did it come and what did you pay? If in a bookshop, did they have it on a shelf, did they appear to have heard of it, did it have to be ordered in and how long did that take etc.? Library feedback is also most welcome. We will keep this page permanently available for comment on the blog, renamed The Sikunder Burnes Page. Your views on the book are also very welcome here.
Frankly, I do need the revenue from the book to keep going because at the moment finances are very tight. But it means more to me than that, in that it represents a step towards a new career direction where a shunned whistleblower might be permitted to work.
Please do buy, and enjoy, Sikunder Burnes.


Buy Amazon Hardback
Or Buy Kindle ebook
Or Buy Google Play Books
Or Buy Kobo ebook

UPDATE We are no longer selling signed editions from this blog, as we have run out. I have also finally given in and started accepting subscriptions to keep the blog going; its very success keeps making it more expensive to run.
View with comments
---