We cannot know what will happen on Thursday. There are huge differentials in opinion polls. We now know that the pollsters' samples, demographically weighted to reflect the population in terms of age, geographical spread, and past voting intention, return very similar results. What differs is the extent to which they apply the additional filter of judging likelihood to vote, not by people's declaration on this point, but by historic records reflecting the fact turnout is much higher among the elderly. That in itself has thrown a spotlight on the massive age differential in voting. The Tories are extremely dependent on pensioners. It is precisely the same age group that supported Brexit and opposed Independence.
There has been some drop in Tory support among the elderly in the election, but only in line with the drop in the general population. The abandonment of the triple lock, the dementia tax and the end of winter fuel allowance have not particularly dented the loyalty of the Tory grey army.
So if younger people want to stop the Tories, they have to get themselves to the polling booth at all costs. As for campaigning, almost certainly more effective than attending rallies or sticking leaflets through strangers' doors, would be to sit down and have a real heart to hear with elderly family members and acquaintances.
A quick disclaimer. I realise there are a lot of wonderful people of pension age who are not Tories. I am not attacking the elderly, I am stating a plain and undisputed fact about voting breakdown by age.
It is also the case that there has been a very definite trend away from the Tories for the last month, and there is little evidence to suggest that has stopped. So today's polls are not how opinion will stand on voting day.
But this election has been a great victory already, whatever the result.
Firstly, a genuine alternative has been put to the electorate in England and Wales for the first time in a generation. And Jeremy Corbyn has proved beyond doubt that left wing policies are popular. Refusal to endorse nuclear weapons, aggressive foreign policy, privatisation and austerity are indeed popular. With New Labour triangulating themselves right into the neoliberal establishment consensus, English and Welsh voters had no opportunity to express a radical view since 1983.
The careerist Blairites who had taken over the Labour Party argued that it would be electoral suicide not to adopt all the Tory policies. NHS privatisation, utility privatisation, PFI, benefit cuts, Trident, attacks on foreign countries; these are what the public want, said the Blairites.
Corbyn is now proving that was a lie.
Indeed, of all the opinion poll findings which give results such as strong public support for renationalisation of the railways, that which drives the stake deepest into the hearts of the Blairites and Tories alike is the YouGov poll on foreign policy. People are not stupid, and by a two to one majority people believe that our wars abroad cause terrorism here. That is why the furious Tory attack, that to explain is to support, bounced off.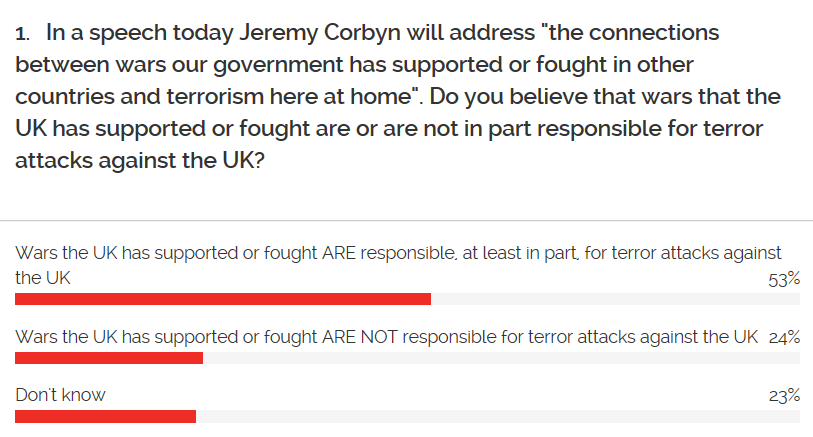 A clear majority of people oppose our recent wars in Muslim lands.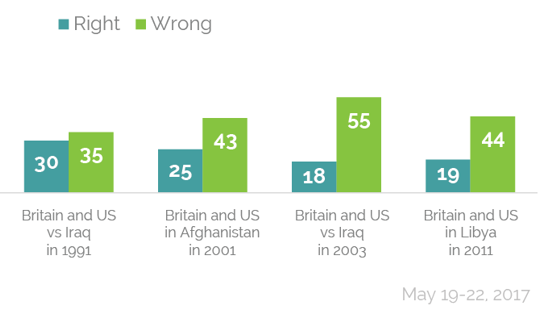 It is precisely those of Corbyn's views which the entire mainstream media, the Tories and the Blairites consider unacceptable, and which fall well outside the Overton window, which are popular. That explains why the attacks do not work. The victory of this election is that those popular views have been expressed widely, after years of being banished methodically from the airwaves.
If May wins, she will almost certainly not have the huge landslide she expected. Her honeymoon period is well and truly over and she now has a very negative public image. That is going to get worse as we are heading into a Brexit recession and a house price crash. I agree with every word of this extremely important article from Will Hutton. May's support is almost entirely from hard Brexiteers who are going to crash the economy to satisfy their racism. That will quickly appear a very bad idea.
A May government with a small majority, possibly dependent on Ulster Unionists, running a disastrous policy and becoming ever more unpopular, is the best outcome the Conservatives have left in terms of retaining power. All the media's horses and all the media's men are not going to be able to put together again the ludicrous image they had constructed of Theresa May as a great leader, which fell apart at the very first public scrutiny.
If Corbyn comes to power, he will almost certainly have to be supported by the SNP, who I am proud to say have an even more radical platform than Labour, including scrapping Trident and reversing all benefit cuts. How many Blairites would defect to the Tories rather than support a Corbyn government with SNP support is an interesting question. But remember, most Blairites would sell their mother for a ministerial limousine. Corbyn's position against the Blairites has been immeasurably strengthened by this campaign, and win or lose, his party leadership is safe if he wants to keep it. If John Woodcock etc. wanted to take themselves off to form a second Tory Party that would be no bad thing at all.
Of course I want to see May defeated and out of office, because Tory policies actually kill people. But I will not be too disappointed by a pyrrhic Tory victory.
A renewed Tory government will quickly become extremely unpopular as it flails in Brexit negotiations. It will be more right wing and authoritarian than ever, because those are May's instincts when in trouble. As a Scottish nationalist, I have no doubt at all that the clarity of the choice between a hard right Brexit led Tory government, and Independence, can have only one result. Whether May or Corbyn is in No.10, I am confident this is the last Westminster election I shall have to endure.
If May sneaks back, Corbyn can continue with the work of recasting the Labour Party on popular and radical lines. Most importantly, boundary changes will give the chance for reselections to ditch a large portion of the Blairite rump. Still better would be a change of rules for mandatory reselection, where again the SNP shows Labour the way. And by next time Corbyn must face down the disgustingly blinkered and selfish attitude of the GMB, who love getting fat pay packets for working on weapons of mass destruction, and Corbyn must get a policy on Trident which he can defend without twisting himself in knots – again following the SNP.
If May gets back in, her government will collapse by 2020. Even a "defeat" on Thursday would not be the end, but just the start of a new dawn for popular radical politics,
Liked this article? Please consider sharing (links below). Then View All Latest Posts