UPDATE
The site is just back up at 16.42 on 21 March having managed to slip like the Tardis into another dimension and thus dodge the massive DOS attack we are under. over 50,000 separate IP addresses simultaneously throwing up millions of hits. The attack has not actually stopped and does seem to have a human intelligence changing terms and directing it, which could make for an interesting afternoon. Once our excellent techs get a minute from fighting it, we will post the cloudfare graphs as evidence.
I just thought I might give you a little taste of what it means to your personal life to express dissent from the government line in the UK in 2018. Let me start with this combined effort from the UK's most popular website, Guido Fawkes, which fanatically supports the government, and the Blairite crew at "The Guardian".

The red ink is original.
Now it is true that, when I was sacked as Ambassador by the Foreign and Commonwealth Office for blowing the whistle on extraordinary rendition and the Blair government's misuse of intelligence from torture, I went into a terrible depression and voluntarily spent ten days or so in St Thomas Hospital (not a mental illness facility) for treatment. I have never tried to keep this secret, indeed it is a major part of my memoir "Murder in Samarkand". It is also true, as I have always acknowledged, that I have had other less serious depressive episodes treated at home and been diagnosed as bipolar since I was 20.
That we stigmatise anybody who has ever had a mental illness, write them off and view their views, on anything, as invalid, is an attitude I had hoped we had moved past last century. Indeed, if this hatchet job was done on anybody writing within the Overton window, then the Guardian would be dedicating editorials to condemning it. We have in fact moved to the old Soviet position, where disagreement with the official line equals mental illness. I quite confess this sort of thing does in fact hurt me – if you cut me, do I not bleed?
The use of the term "conspiracy theorist" has been used to denigrate my views, ever since Jack Straw as Foreign Secretary lied to Parliament denying that the UK ever obtained intelligence from torture and denying the existence of the extraordinary rendition programme, which I was supposed to have fantasised. Anyone interested in this history can watch this series of videos of my evidence to a Parliamentary Committee on the subject. It explains why I start nowadays from a position of being so hated by the British state and its acolytes, and also of course enables you to judge for yourself whether I should be ignored as insane.
Ever since then, the state and corporate media have described me as a "conspiracy theorist". Even though there is now acceptance that extraordinary rendition did happen and presumably they, somewhere inside, know I was telling the truth. I find people are taken aback to discover, for example, that I broadly accept that there was no US government involvement in 9/11 (other than minimising the Saudi role) and 9/11 discussion is banned on this blog – [warning it still is].
I cannot in fact conceive of a more outlandish conspiracy theory than that the Russian government secretly manufactured and stockpiled novichoks, hidden from the OPCW, and secretly trained assassins, only to blow the whole operation on a retired spy they let out of jail ages ago. Yet nobody calls Boris Johnson a "conspiracy theorist" for positing that.
But the abuse is not confined to what people publish about me. I receive some extremely unpleasant emails of which this is an example: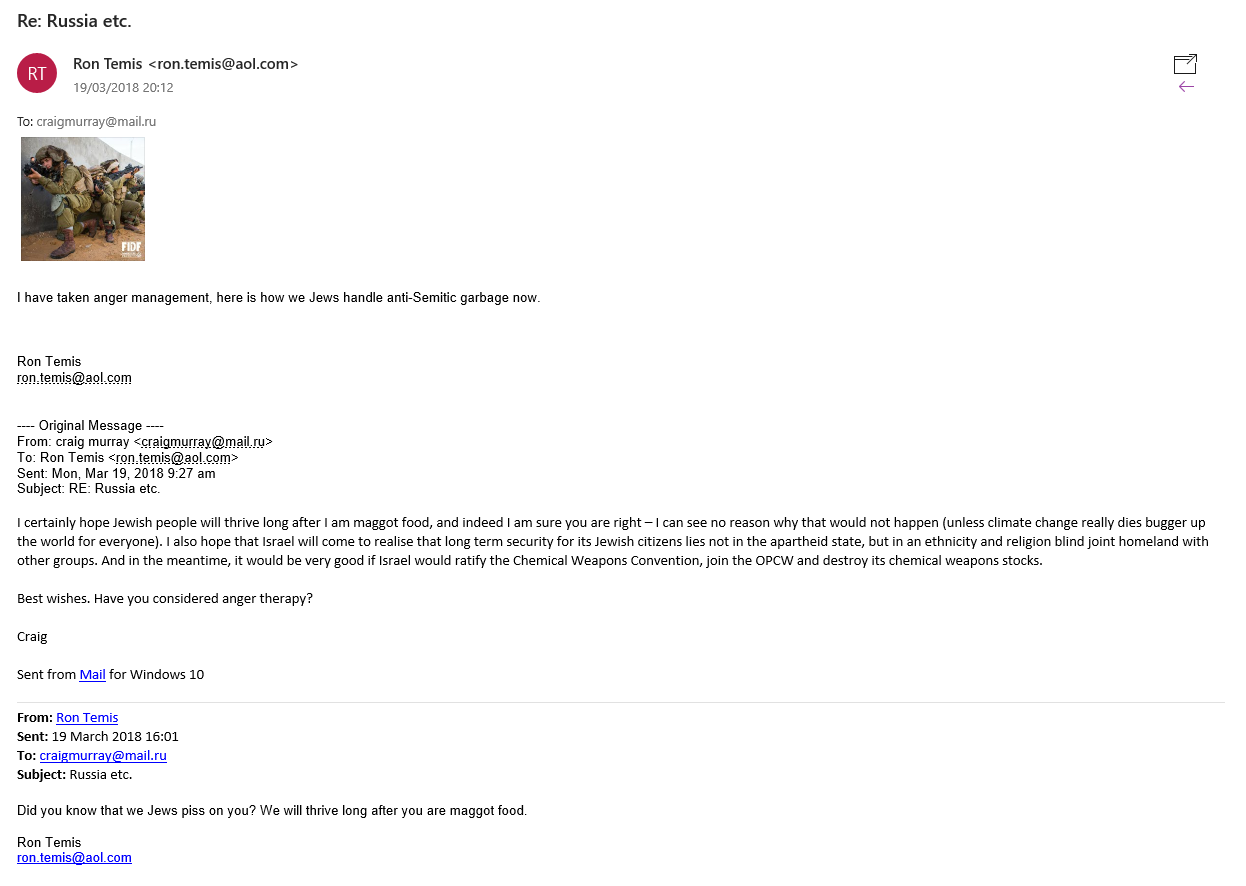 I do hope Mr Temis can get money back on his anger management sessions. But there has been rather a lot of this, including some by old fashioned mail. which I find myself prodding suspiciously before opening :-).
There is of course an open effort to extend the term "anti-semitic" to embrace any criticism of Israel. It is also particularly used by Blairites to attack anybody taking any position seen as supportive of Jeremy Corbyn. I am not in the least anti-semitic. Jewish people have made a disproportionate, indeed magnificent, contribution to the world in the fields of science, music, literature, commerce and others. That does not alter the fact that Israel is a rogue state when it comes to chemical weapons, the subject currently under discussion. It refuses to ratify the Chemical Weapons Convention and destroy its chemical weapons stocks, and refuses to join the OPCW.
Plainly someone attacked the Skripals. In stating that it is not the case that Russia was the only state who could have done it, I have included Israel amongst other possibilities. Israel might wish to frame Russia for the deed, as Russian actions in Syria have severely conflicted with Israeli ambitions in Syria and Lebanon. But I have never said it was, or was most likely to be, Israel – it could be the CIA framing Russia, it could be a non-state actor entirely (which I am inclined to think most likely – this could come from those close to a victim of Skripal's treachery, though I still think the Orbis intelligence connection has been overlooked).
Some of the most vitriolic abuse has come from state and corporate media journalists. Falsely categorising me as an insane racist allows them to ignore any challenge to the establishment line on Salisbury and absolves them, in their own minds, from any dereliction of duty in not questioning it.
In a chilling example of the way they move to crush dissent, here a prominent Blairite corporate media journalist, James Bloodworth, attempts to ensure that consideration of other possibilities than the government line is not carried even in the private domain. He harasses and bullies an individual attempting to force him to accept Mr Bloodworth's version of what I had said, rather than what I had actually said. When Mr Law (who as a lecturer in philosophy presumably has an attachment to intellectual honesty) refuses, Bloodworth sanctions him by pulling out of his literary festival.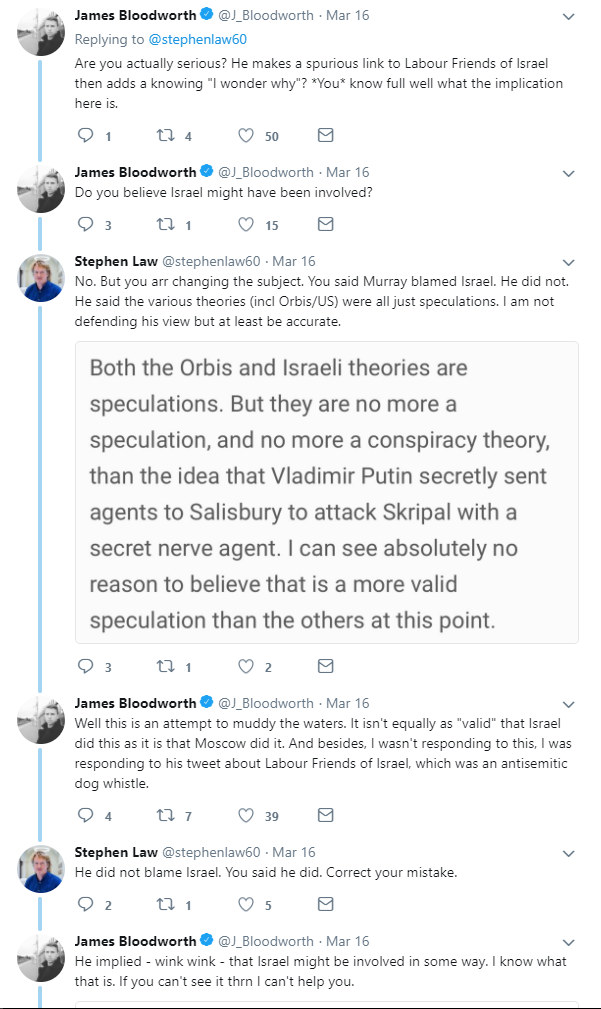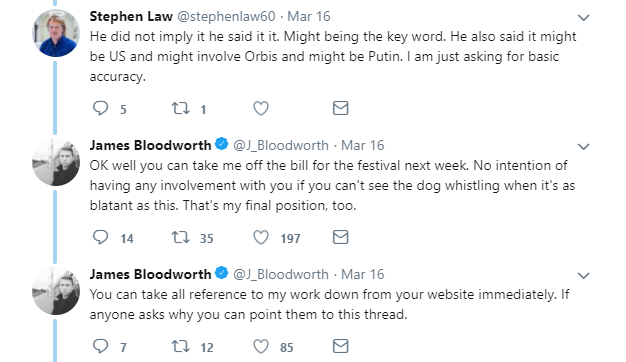 It is very difficult to understand what is happening in the UK today, but when the BBC on its flagship news programme holds a discussion of the Salisbury attack under a huge photo-shopped picture of the leader of the opposition in a Russian hat standing outside the Kremlin, it is plain a fundamental shift has happened in society. The Salisbury attack has perhaps taught us something massively more important than any of the stuff about chemical weapons, and that is that Britain is further along the road to becoming an authoritarian state than we had realised.