A senior SNP elected representative told me a couple of weeks ago that the party hierarchy were intent on making sure there would be strict control over debate at the upcoming conference. The leadership fear pressure from the membership on holding another Independence referendum, using the mandate won at the last Holyrood elections. You will recall that the SNP was elected on a promise of a new referendum in the event of a significant change in the status quo, specifically including Brexit.
Being well aware from the AUOB marches and other events that the grassroots are ready for another campaign, and with the opinion polls very encouraging, it seemed to me that the foot soldiers deserved at least to be able to voice an opinion on when and how they went into battle. So I suggested back to my friend that, as I am attending as a delegate, I would hold a fringe meeting within the Conference venue on the routes to Independence. This might include how we get a new Indyref in the face of Westminster opposition, its timing, and lessons learned for the Yes movement from 2014 on how to win it. The idea was also to explore other potential routes to Independence including a National Assembly.
They replied that I would not be allowed to hold a fringe meeting on Indyref2. I thought they were being over-dramatic. So I asked my friend the doughty Peter A Bell to join me as a speaker (he agreed in principle), and I was planning to ask James Kelly and Stuart Campbell as well, but first applied for a room in the Conference Centre so I could give them a date.
It didn't go well.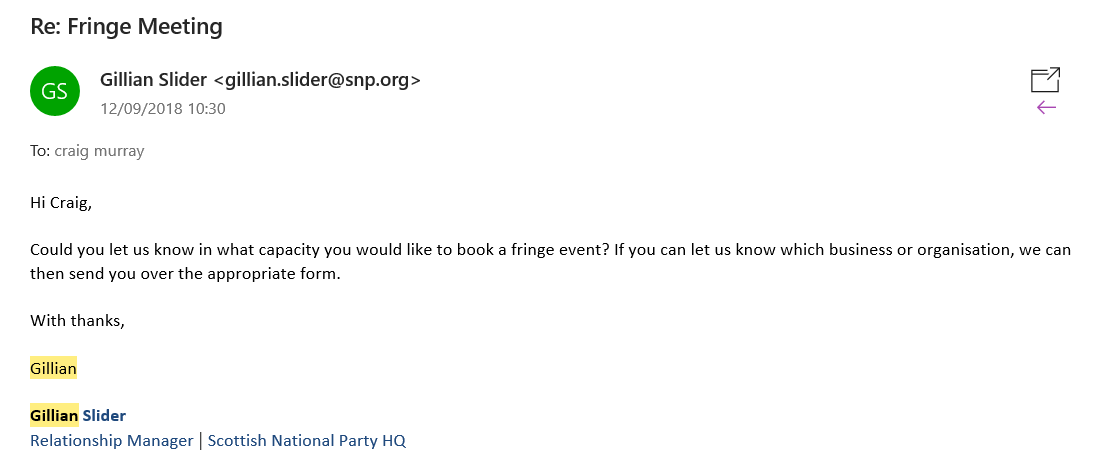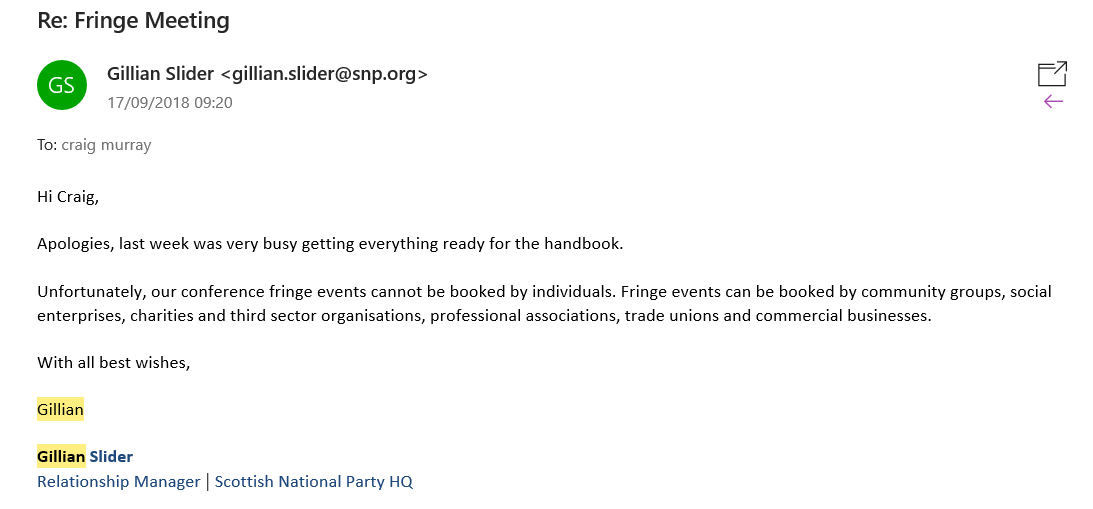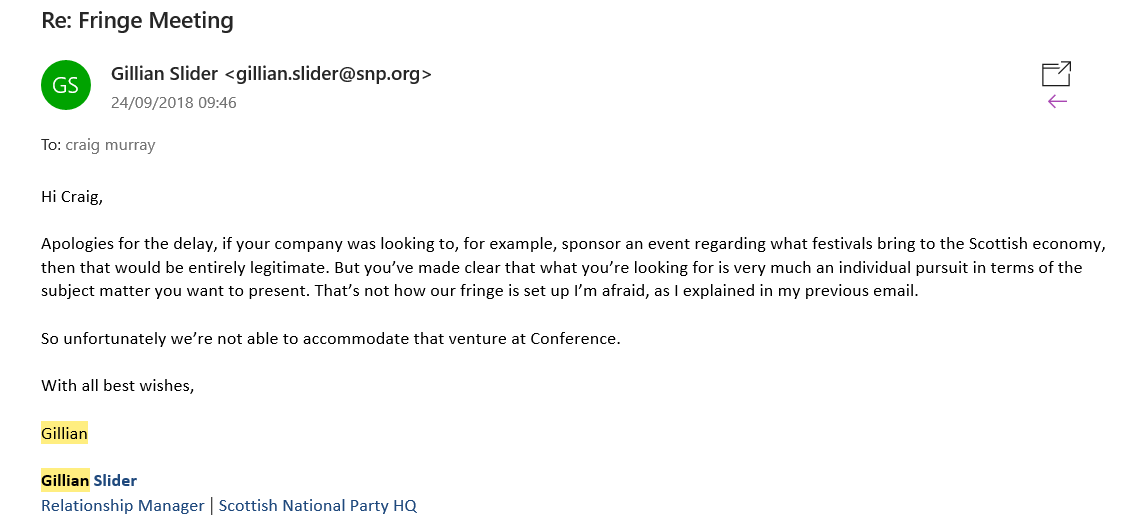 So I can hire a room on the SNP fringe for the purposes of commercial promotion, but not to promote Scottish Independence.
The Scotsman or the rest of the Unionist media can hire a room for a meeting, but the pro-Independence new media is not allowed to hire a room – even though its readership is bigger than the Scotsman's.
I am not asking to speak in the Conference, but just to hold a Fringe meeting. The Conference Fringe is where members can discuss things that are of political interest without claiming to be dictating, or in line with, party policy. I am a delegate offering to pay the going rate for the room, and rooms are available. As it happens, the policy we wish to discuss, Independence and how to use the mandate from the last Holyrood election, is bang in line with official party policy anyway.
I went into this with genuine innocence, not believing my friends' prediction that a fringe event on Indyref2 would not be allowed. I do not imagine for a moment Ms Slider was giving her answers without consultation with Chief Executive Peter Murrell, who is also Nicola Sturgeon's partner. When a party becomes so Stalinist in its organisation it will not even permit mildly dissenting voices – or just not totally subservient voices – even to express themselves on its fringe, it is not really democratic.
If anybody has managed to book a fringe meeting, and is looking for a speaker?