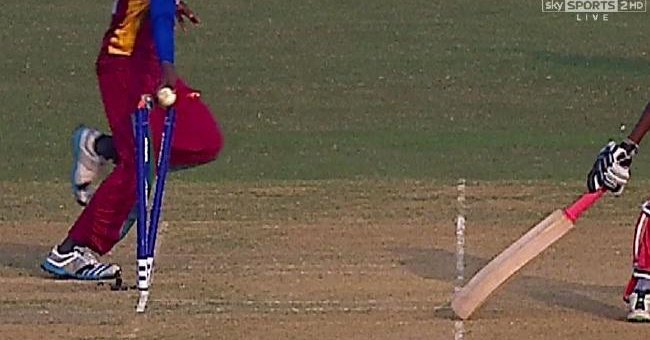 Even this picture does not give the idea of how close it was. The bat is moving forward (left to right), and you can see the stump has already moved forward a fair way. At the instant the stumps were broken, the bat was further back towards the crease. If it was out, it was by well less than a millimetre (on the line is out – you or the bat must be grounded behind).
Cricket is a game of marginal decisions. But this is different. At the moment when the bowler would normally have entered his delivery stride, the bat was still grounded well and truly within the crease. It is plain that the bowler had run up with no intention of actually bowling, but purely with the intention of completing a mankad. There was no early run by the batsman that triggered the mankad. The batsman was not attempting to steal an advantage. Had the bowler completed his delivery in the normal way, the batsman would still have had his bat grounded at the point of release.
I am not against all mankads on principle, but I do think that the accepted convention that the bowler gives a warning first if he feels the batsman is backing up too enthusiastically is a good one. Here no warning was given.
Zimbabwe needed two runs to win with six balls remaining and one wicket left. By this bit of cheating West Indies have knocked Zimbabwe out of the U-19 World Cup. I use the word cheating because I am convinced there was never any intention to bowl a legitimate delivery, while the batsman was plainly attempting to operate within both the spirit and laws of the game.