Tortoise was sponsored to produce the Dani Garavelli attempted assassination of Alex Salmond by Tulchan Communications, the same firm that employed Ruth Davidson on £50,000 a year for 24 days of corporate lobbying – until banned by the Scottish Parliament.
Tulchan Communications is an openly Tory body. Its Chief Executive is Lord Feldman, former Chairman of the Tory Party. Its directors include Lisa Kerr, former SPAD to George Osborne. It is a part of the UK's suave system of corruption, whereby political hacks with the inside track get paid huge bungs by firms to influence ministers in their favour on tax, contracts, regulations etc.
It is genuinely not my normal style to judge an argument by who said it or by who paid for it. Nobody can possibly accuse me of not having judged and critiqued Garavelli's article on its own merits.  But the reaction to my critique, both from the mainstream media and from a whole slew of paid SNP staff, was to attack me for receiving subscriptions for my blog.
That led me to the train of thought that the source of funding for this blog is open – it is you, the readers, voluntarily – but why were those same people not asking who funded Ms Garavelli and why?  I might not have done anything about it until I saw a tweet from Ms Garavelli stating that her piece had been "legaled" several times. Which is expensive.
By the fine art of provocation I got more details from Ms Garavelli of just how extensive her involvement had been.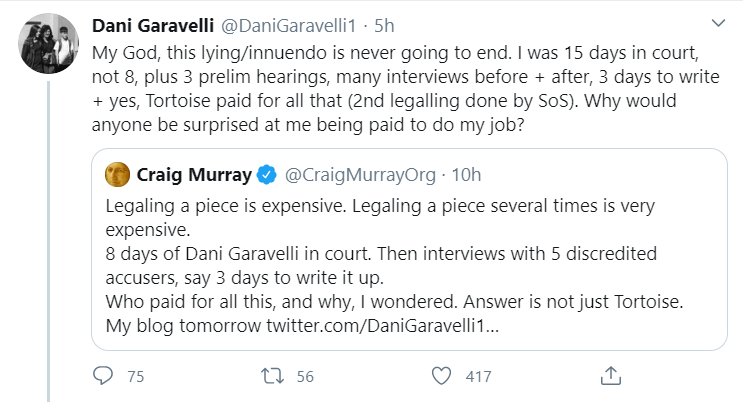 Indeed, when you think about it, that makes it even more remarkable that she managed to speak to not a single person from the defence nor reflect any of the evidence of the defence witnesses. All that work yet meeting only one side? But it also makes this very expensive. Why would a magazine nobody reads pay so very much for a completely one-sided hit-job on Alex Salmond?
Tortoise claims to have an entirely new model for "slow" journalism, hence the name, putting in the research. That fits with what Garavelli has done here, although when you have made not the slightest effort to get more than one side of a story I am not sure why that is called "journalism" as opposed to "propaganda".
Tortoise accepts subscriptions of £100 per year, but that is a minor part of their income. Most of their income comes from corporate sponsorship, and though they do admit this on their website, they are coy about which company is behind which article. BP are among the major actors. In the case of Dani Garavelli being employed to try and destroy Alex Salmond, the initiative to commission it from Tortoise came from Tulchan Communications. Garavelli was a very safe bet for this. Her normal employer is the independence hating "Scotland on Sunday".
Garavelli had described the massive All Under One Banner marches as "the flag-fixated organisation beloved of the Trumpian tendency" and claimed they are disliked by the "mainstream" SNP. It seems to me highly improbable that Tulchan Communications would have expended so much money without giving Tortoise a pretty strong steer that they wanted an entirely one-sided account. The propaganda purpose is of course revealed immediately by the fact that Tortoise's pretend subscription model operates from behind a paywall, but the Salmond attack article was pushed out for free everywhere. But I do not know what Garavelli's brief was, and Tortoise could be pretty sure what they would get from Garavelli. I must add in fairness that I have no information whether Garavelli knew that Tulchan Communications were funding Tortoise for her article. It would be nost interesting to know whether she spoke to Ruth Davison at any stage.
Tortoise is what is politely known as an "Atlanticist" organisation, like a media equivalent of the Henry Jackson Society. It was co-founded by James Harding, Cameron appointed former Head of News at the BBC, by the ex United States Ambassador to the UK and by a Jack Daniels whisky heiress. Its corporate sponsors include the Bill Gates Foundation, the Rockefeller Foundation, Capita and BP. Radical it ain't.
James Harding was of course the former Murdoch editor of the Times and Head of News at the BBC, who claimed that it had been his mission to make BBC News more pro-Israel, and later claimed that he had succeeded. I think we can say he was telling the truth.
All the people at Tortoise and all the forces they represent are firmly opposed to Scottish Independence. Tulchan Communications are extremely firmly opposed to Scottish Independence. Scotland on Sunday are fanatically opposed to Scottish Independence. Dani Garavelli makes a living from ridiculing Independence supporters.
So when Alex Salmond, who lifted the SNP into government and political dominance from small beginnings, was found innocent at trial, and these ultra anti-Independence forces combined to do a hatchet job on him effectively disputing the verdict of the court, the SNP needs to unite in congratulation and stop the self-interested sniping. Now.
——————————————
Unlike our adversaries including the Integrity Initiative, the 77th Brigade, Bellingcat, the Atlantic Council and hundreds of other warmongering propaganda operations, this blog has no source of state, corporate or institutional finance whatsoever. It runs entirely on voluntary subscriptions from its readers – many of whom do not necessarily agree with the every article, but welcome the alternative voice, insider information and debate.
Subscriptions to keep this blog going are gratefully received.
Choose subscription amount from dropdown box:
Paypal address for one-off donations: [email protected]
Alternatively:
Account name
MURRAY CJ
Account number 3 2 1 5 0 9 6 2
Sort code 6 0 – 4 0 – 0 5
IBAN GB98NWBK60400532150962
BIC NWBKGB2L
Bank address Natwest, PO Box 414, 38 Strand, London, WC2H 5JB
Subscriptions are still preferred to donations as I can't run the blog without some certainty of future income, but I understand why some people prefer not to commit to that.