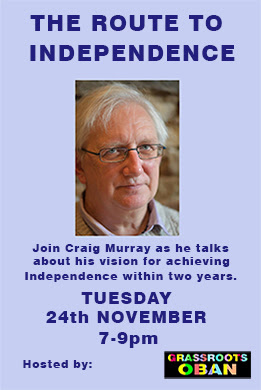 Grassroots Oban are hosting me for a zoom talk on the Route to Independence this evening at 7pm. You are welcome to join us, which you can do by registering in advance (ie now) here:
https://zoom.us/meeting/register/tJ0kfuqrpzIrGNLlxVYFLb2z2LlxT6Hx_vFf
After registering, you will receive a confirmation email containing information about joining the meeting. I hope that over half the meeting will be open to questions and contributions and I am very happy for these to be wide-ranging. I must confess I don't like online meetings and I very much miss actually getting round and meeting people. Hopefully we are not too far now from being able to do that again.