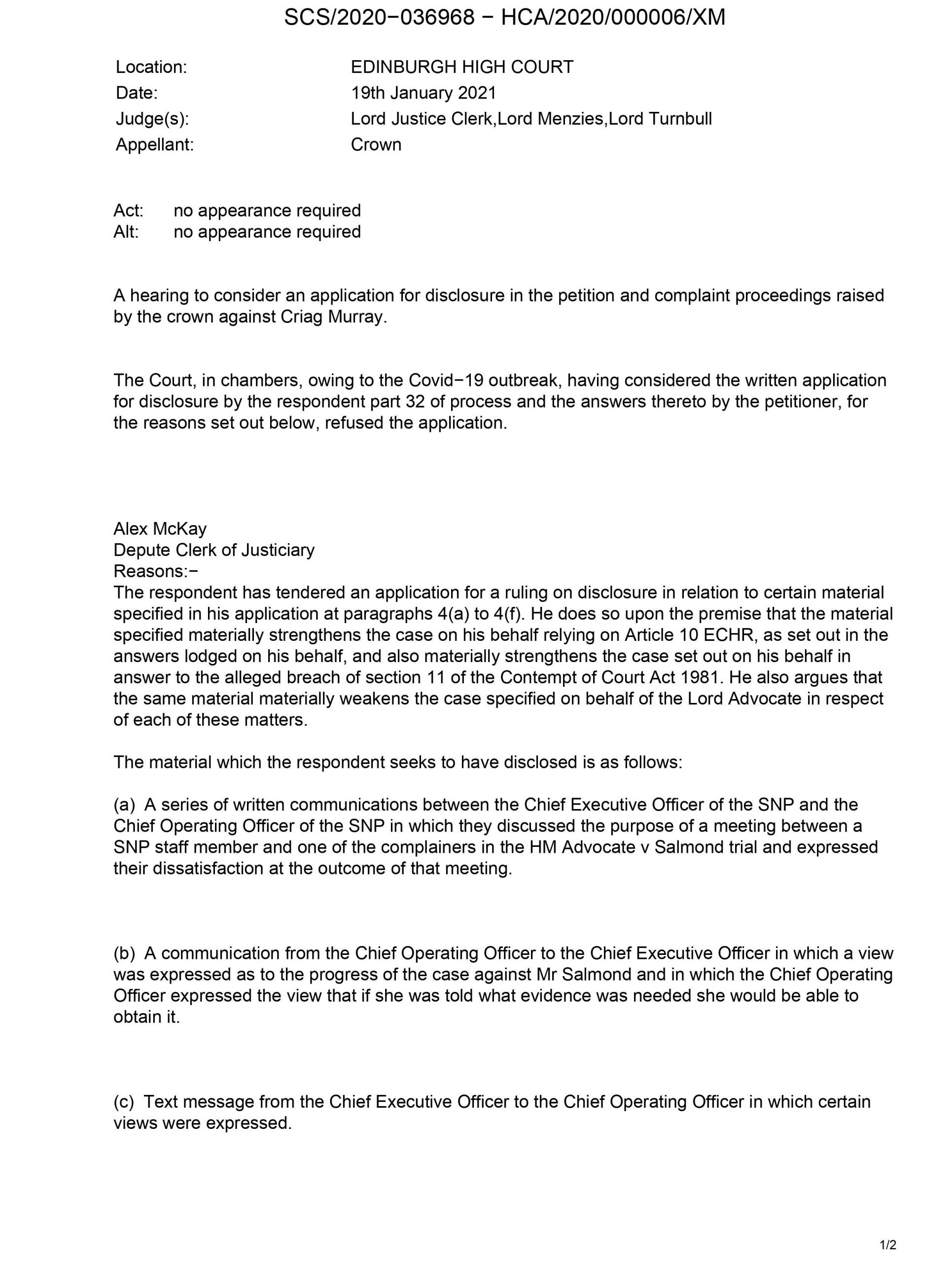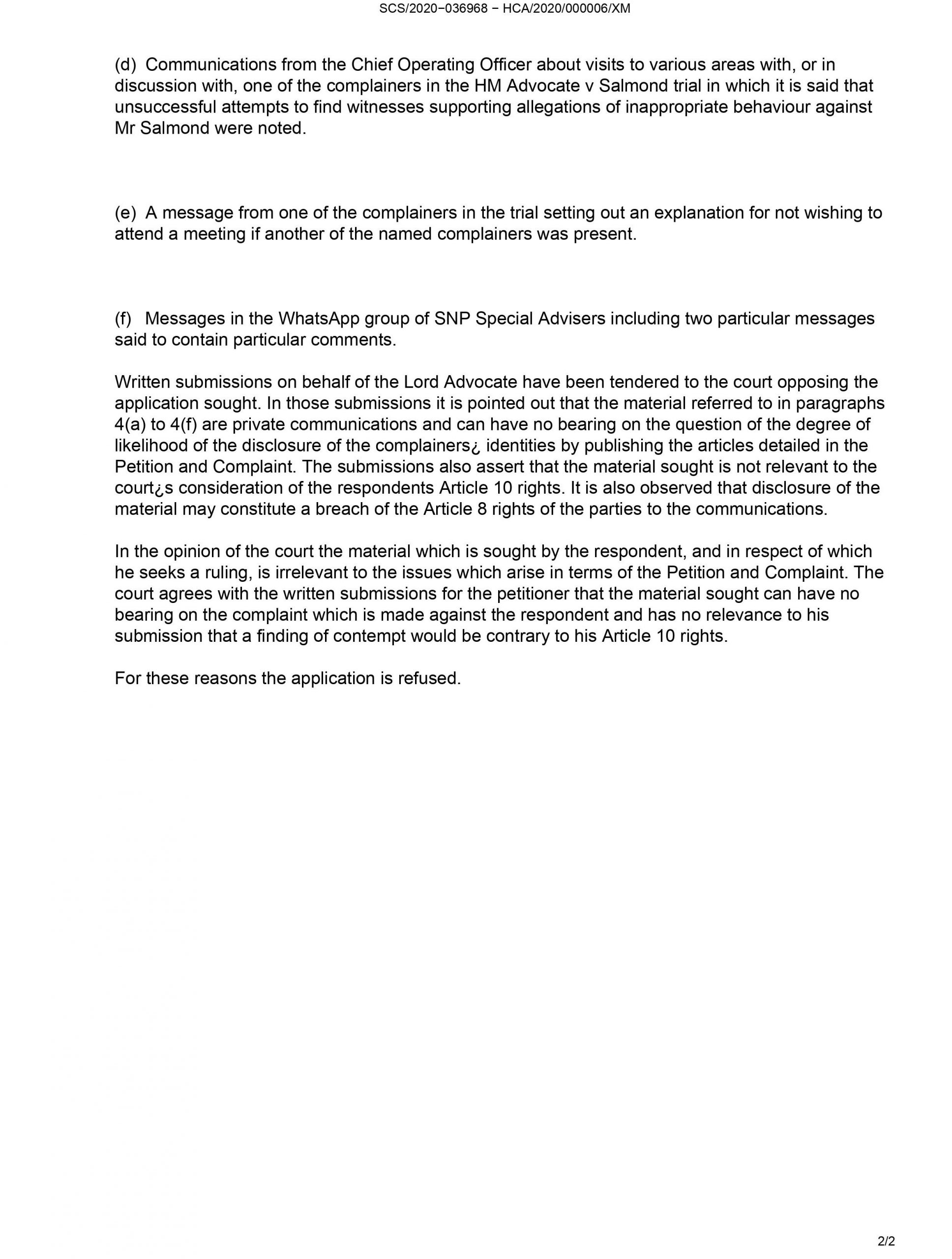 I am strongly advised to shut up and say nothing just before my trial. I will however point out three things:
1) These documents are all in the possession of the Lord Advocate. They are held in the Crown Office. That is why we are asking the Crown to disclose them. The Lord Advocate at no stage, in opposing their release, denied their existence. This is the Lord Advocate's reply to the application. 20210114 Answers to Disclosure Request (3)
2) These are some of the same documents the Lord Advocate has refused to give the Holyrood Inquiry and which Alex Salmond has said prevent him appearing before the Inquiry until the Lord Advocate agrees he can reference them in his evidence.
3) The High Court has agreed with the Lord Advocate that these messages are irrelevant to my trial and do not go to my Article 10 rights of free speech. The High Court notably refrained from endorsing the Lord Advocate's argument that they are "private messages" and that Murrell and Ruddick are protected from their disclosure under Article 8.
This is extremely important as it means the High Court has not endorsed the Lord Advocate's arguments for keeping these messages from the Holyrood Inquiry. The grounds on which the High Court did find against me – relevance and Article 10 – relate to my trial but do not relate to the Holyrood Inquiry.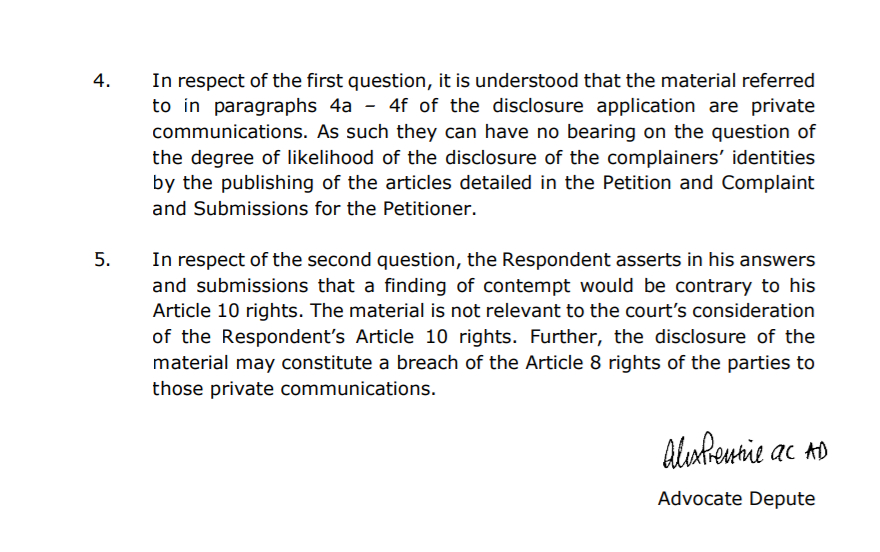 The High Court ruling notably does not endorse the argument here on Murrell and Ruddick's privacy. The Lord Advocate's refusal to provide these documents to the Holyrood Inquiry on the grounds of the privacy and data protection rights of Murrell and Ruddick is therefore unlikely to survive a court application by the Fabiani Committee. That would require a great deal more courage than the Committee have shown to date.
I am as advised not going to comment on the merits of the High Court ruling, or on what the messages show.
But, as a matter of simple fact, these messages have now been barred from:
1) The Salmond Trial
2) The Holyrood Inquiry
3) The Murray Trial
Move along please. Absolutely nothing to see here. Nothing at all. Everything in Scotland is perfectly normal and above board. Ignore Craig Murray, he is a conspiracy theorist.
And if you don't ignore all this, if you publish anything, we may send you to prison.
—————————————————–


Forgive me for pointing out that my ability to provide this coverage is entirely dependent on your kind voluntary subscriptions which keep this blog going. This post is free for anybody to reproduce or republish, including in translation. You are still very welcome to read without subscribing.
Unlike our adversaries including the Integrity Initiative, the 77th Brigade, Bellingcat, the Atlantic Council and hundreds of other warmongering propaganda operations, this blog has no source of state, corporate or institutional finance whatsoever. It runs entirely on voluntary subscriptions from its readers – many of whom do not necessarily agree with the every article, but welcome the alternative voice, insider information and debate.
Subscriptions to keep this blog going are gratefully received.
Choose subscription amount from dropdown box:
Paypal address for one-off donations: [email protected]
Alternatively by bank transfer or standing order:
Account name
MURRAY CJ
Account number 3 2 1 5 0 9 6 2
Sort code 6 0 – 4 0 – 0 5
IBAN GB98NWBK60400532150962
BIC NWBKGB2L
Bank address Natwest, PO Box 414, 38 Strand, London, WC2H 5JB
Bitcoin: bc1q3sdm60rshynxtvfnkhhqjn83vk3e3nyw78cjx9
Etherium/ERC-20: 0x764a6054783e86C321Cb8208442477d24834861a
Subscriptions are still preferred to donations as I can't run the blog without some certainty of future income, but I understand why some people prefer not to commit to that.