I was down in London last week for discussions around my appeal to the Supreme Court, and staying in a hotel close to Leicester Square, I wandered along to see the fans during their game with Ukraine and its very noisy aftermath. I was hoping to write a piece about disgusting uncouth yobs of racist English nationalists and their stupid and perhaps violent excesses.
With the exception of the most hardline of unionists and the politically correct automatons of the "new" SNP, it is ingrained in most Scots to support two teams: Scotland, and whoever is playing England. This is generally expressed lightly, but the centuries of oppression and cultural and economic dominance that led to these attitudes are very real. I have been amusing myself greatly on twitter throughout the tournament by supporting the Czech Republic, Germany, Ukraine, any opponent of England, I confess largely because it creases me up to see unionists so easily triggered and unable to cope with teasing.
I know, I should get out more.
Well, I have to say I was wrong. I found it impossible to dislike the crowds of England supporters. They were joyous, and there was no sign I could find around Leicester or Trafalgar Squares of the kind of racist Brexit backers who had booed the England team for taking the knee. Indeed, the most striking thing about the crowd was its extreme multiculturalism, the most joyous and unified representation of most of the ethnic groupings on this earth, all with their arms around each other and sharing beer, wine, tequila, a variety of smokable substances, and anything else to hand.
There was also a far greater gender mix than I expected, and the women were by no means passive or in girlfriend mode. In fact some of the more aggressively uninhibited groups of celebrating young women were distinctly intimidating to an old fogey like me and had me scuttling to cover (they meant no harm but might have hugged me to death).
Yes, I know London is not Grimsby or the ex-red wall constituencies, I know English nationalism is a real problem and will split up the UK (about which I am intensely happy). But I was wrong to dismiss the Gareth Southgate phenomenon of an essentially decent Englishness and its reach. My loyalties for Euro 2020 (sic) now lie with the nation of my Italian grandmother. But I feel somewhat less revolted by the continuing success of the English team.
I should make my confession; I liked the English fans I was around that night.
————–
I should be very grateful if you read this excellent article by Alexander Mercouris on my appeal to the Supreme Court. Alexander is a lawyer and it is an explanation of the detail, but it absolutely captures everything I have been lying awake at nights and thinking about the case.
I was chatting to Vivienne Westwood at a rally for Julian Assange and she is very taken with the climate crisis. We are heading for the edge of an abyss, and a few people in power are considering how to slow down a bit, while almost nobody is suggesting we turn round. Vivienne reminded me of her website Climate Revolution, which is very stimulating and worth checking for updates.
Vivienne often chooses to express her thought through her art and allegorical representation, and also writes cogently and pithily. The breadth and depth of her knowledge and quality of her thinking are impressive. For those not with a natural artistic bent, it is worth taking the time to understand. For example, she chose to celebrate Julian's fiftieth birthday not by eating birthday cake but by smearing it on herself. It is a great piece of agitprop, and invites you to work out why.
Finally, here is a lovely picture of John Pilger, who was on great form, and me showing off my bald spot.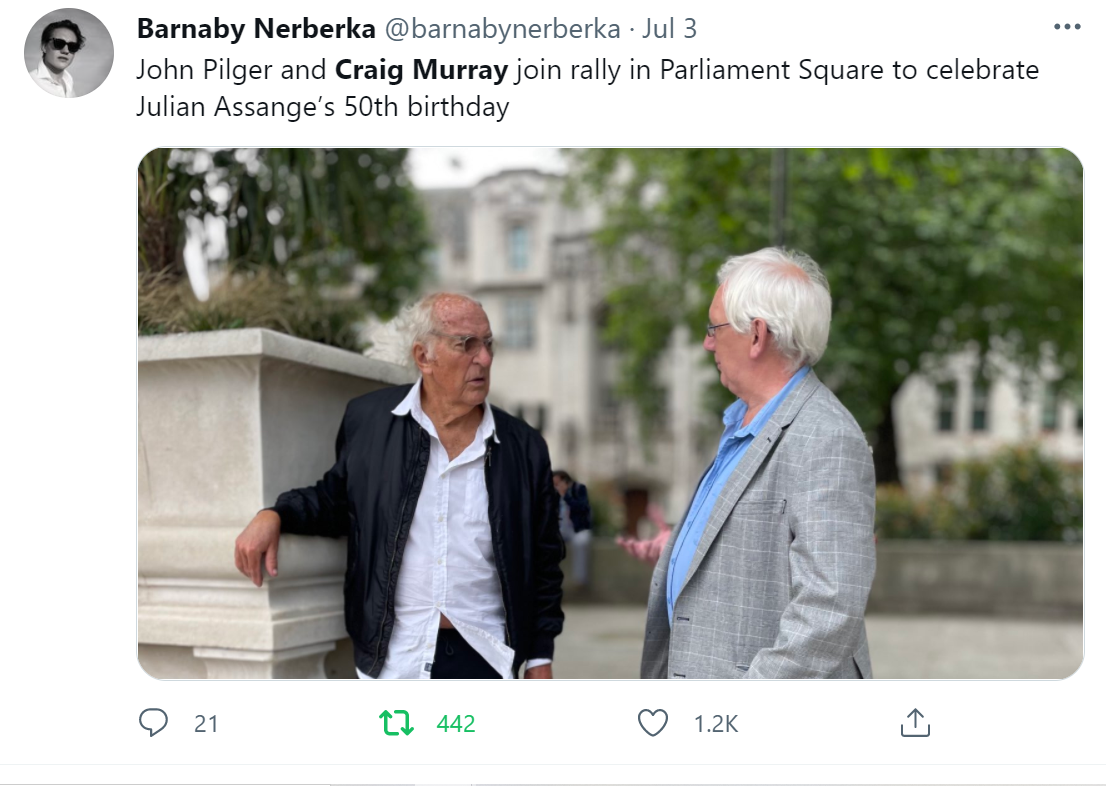 ———————————————


Forgive me for pointing out that my ability to provide this coverage is entirely dependent on your kind voluntary subscriptions which keep this blog going. This post is free for anybody to reproduce or republish, including in translation. You are still very welcome to read without subscribing.
Unlike our adversaries including the Integrity Initiative, the 77th Brigade, Bellingcat, the Atlantic Council and hundreds of other warmongering propaganda operations, this blog has no source of state, corporate or institutional finance whatsoever. It runs entirely on voluntary subscriptions from its readers – many of whom do not necessarily agree with the every article, but welcome the alternative voice, insider information and debate.
Subscriptions to keep this blog going are gratefully received.
Choose subscription amount from dropdown box:
Paypal address for one-off donations: [email protected]
Alternatively by bank transfer or standing order:
Account name
MURRAY CJ
Account number 3 2 1 5 0 9 6 2
Sort code 6 0 – 4 0 – 0 5
IBAN GB98NWBK60400532150962
BIC NWBKGB2L
Bank address Natwest, PO Box 414, 38 Strand, London, WC2H 5JB
Bitcoin: bc1q3sdm60rshynxtvfnkhhqjn83vk3e3nyw78cjx9
Ethereum/ERC-20: 0x764a6054783e86C321Cb8208442477d24834861a
Subscriptions are still preferred to donations as I can't run the blog without some certainty of future income, but I understand why some people prefer not to commit to that.