I am much looking forward to the Salmond/Darling debate this evening. The media have already been playing the expectations game for all they are worth, so that if Darling does not actually wet himself during the debate and then fall flat on his face and break his spectacles while attempting to remove his soiled trousers, they will all be able to claim that he performed better than expected.
Attempts to skew the agenda by Better Together are frenetic this morning. We have Cameron, Clegg and Miliband all signing a pledge to give Scotland (unspecified) new tax and legal powers after a No vote.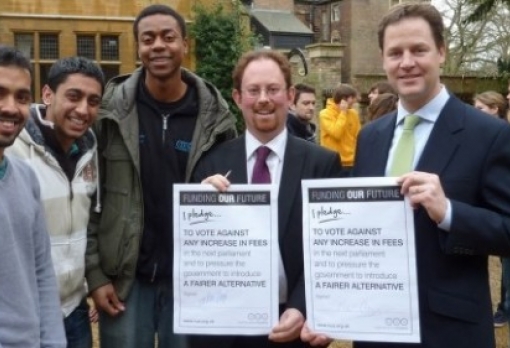 Oh look, here's Nick Clegg signing another pledge about what happens after a vote.
Nick Clegg is always signing pledges. He must be a really honest man.
We also have a new think tank called Fiscal Affairs Scotland, pontificating on the state of Scotland's public finances this year. Personally I am deeply suspicious of all these new think tanks and lobby groups which keep springing up. Fiscal Affairs Scotland appears on a google search not to exist at all, beyond the report released today. Nor can I find this report online. But there is a remarkably fair summation of it in the Scotsman, under the heading "Independence: Economists Criticise Both Sides". This states that "Scotland's finances could be facing anything from a deficit of £10.8bn up to being £1.9bn in credit – meaning Scots would be £1,033 better off or £1,324 poorer."
It should be noted that this relates to 2016 only, and includes a substantial estimate for the one-off costs of setting up a new state. There are numerous reasons to believe Fiscal Affairs Scotland's estimate deliberately pessimistic, but for the moment it is the media treatment of the report which interests me.
Better Together immediately rushed out a press release stating that the report said that Scots would be much worse off after independence, and lazy and complicit "journalists" simply copied and pasted the Better Together press release without bothering to look at the report. This from the Guardian's unionist hack Severin Carrell:
Better Together seized on a new analysis of Scotland's likely finances in its first year of independence, mooted as 2016 by Salmond, from a recently launched thinktank Fiscal Affairs Scotland. The paper found that Scotland's deficit would be worse than the UK's by up to £900 per head unless oil revenues doubled over current forecasts or Scotland took only half its expected share of UK debts.

Jackie Baillie, Scottish Labour's shadow health secretary, said these findings added to the pressure on Salmond to defend his economic predictions for independence in tonight's debate. "Expert after expert lines up to explain the threat of separation to our public finances, Alex Salmond will have to explain why he is right, and they are all wrong," she said.
Carrell was too lazy, stupid and downright unethical to even bother to ask anyone from the Yes campaign for a comment.
There will be an even more intrusive media attempt to frame tonight's debate in Salmond's favour. An opinion poll by IPSOS/Mori will be released by STV at the start of the debate.
IPSOS/Mori has been consistently unionist friendly in its poll results. These differences between pollsters are not coincidental. They do not take random samples of the population and then tell us how that random 10,000 people break down. They radically adjust their sample by "weighting" to reflect the age, social groups and geographical distribution of the population. So, if you ought to have 20 retired people living south of Edinburgh in your sample but you only have 4, then you multiply the results of those 4 by 5 to weight your sample.
This is where it gets particularly murky. One of the key factors they weight for is political allegiance. So they weight your answers according to their own prior view of what they think the actual distribution of political views ought to be. I am not making this up.
They do this by prior vote weighting. So if 28% voted Labour at the last Holyrood election, their panel has to include 28% who voted Labour at the last Holyrood election or votes be weighted accordingly. But get this – they do not just take your word for how you voted at the last election, they then adjust this to account for "false memory" and "shy votes" – wanting to remember you sided with the winner, or being ashamed to say who you voted for.
The net effect is that the samples have deliberately boosted numbers of Labour voters in them. Pollsters generally adopt a "panel" approach. Having identified their voters and applied their weightings, they just keep asking the same voters again so they don't have to recalculate the weightings. So they create a Labour-biased panel, and then stick with it.
In Scotland they have a history of being spectacularly wrong. At the 2011 Holyrood elections the pollsters on average overestimated the Labour vote by 6% in their final polls.
The excellent "Scot Goes Pop" website dissects the shenanigans of the opinion poll weightings in great detail, poll by poll.
Anyway, ALex Salmond will have to face "IPSOS/MORI says you are twelve points behind" and be on the back foot right at the start of the debate. There is worse. Commenters on Wings Over Scotland and Scot Goes Pop who are part of the IPSOS/MORI panel have reported that for this survey they were asked twenty questions on subjects like oil revenues and the NHS, which were heavily biased towards the No camp. "On a scale of 1 to 10, How worried are you that an independent Scotland would not be able to afford basic pension provision."
On top of which, at STV's invitation IPSOS/MORI has selected the audience for the TV debate to reflect IPSOS/MORI's view of the composition of the Scottish public – ie heavily Labour and unionist. ITV have done everything conceivable to load the deck in Darling's favour. Let's see how the game unfolds.