Alison Levitt, the lawyer appointed by Keir Starmer to produce the report which "cleared" him of involvement in the decision not to prosecute Jimmy Savile, is married to Lord Carlile, friend of two serial paedophiles, Greville Janner and Cyril Smith.
Carlile played a role in the Establishment cover-up of Janner's crimes.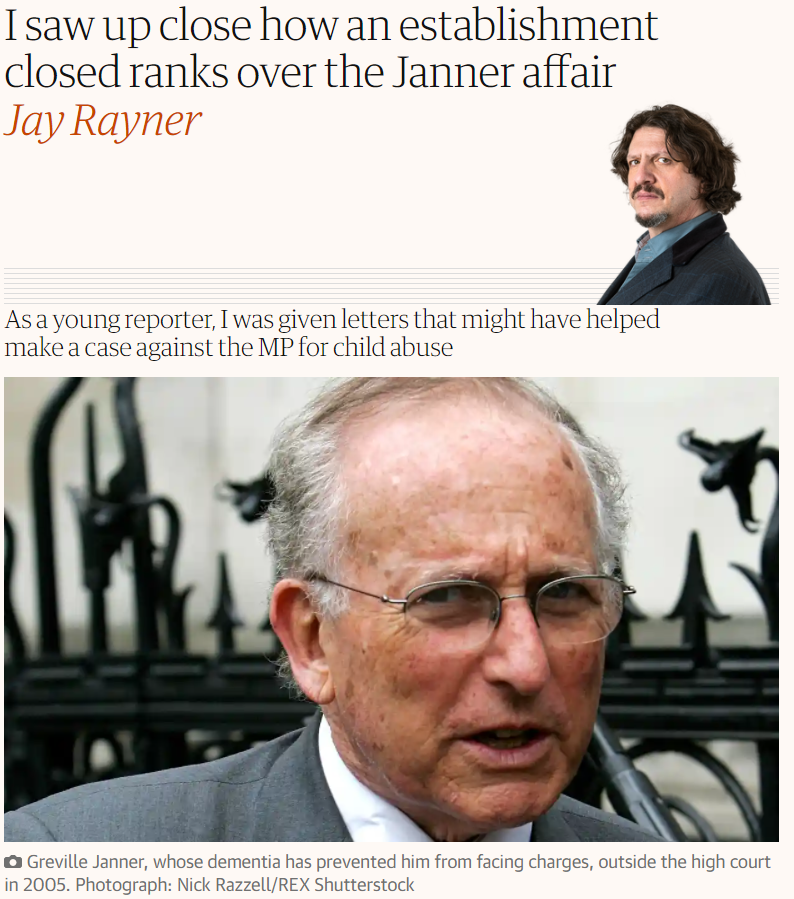 As the Guardian article states of Starmer's successor as Director of Public Prosecutions, Alison Saunders:
What's more, Saunders admitted Janner should have been charged in 1991 and that there were two further missed opportunities in 2002 and 2007 when the "evidential test was passed", meaning there was a realistic prospect of conviction.
The husband of Alison Levitt, the lawyer appointed by Starmer to investigate the non-prosecution of Jenner, was very much a part of the Establishment rallying around in 1991 to block the prosecution of Janner. On 3 December 1991 Carlile made a speech in the House of Commons which attacked Janner's public accuser in startling terms:
I can but echo the tributes that have been paid to my hon. and learned Friend the Member for Leicester, West (Mr. Janner). He is a man of determination and enthusiasm, whose integrity and will power have crossed party lines. I for one value the friendship that he has given me in the eight and a half years that I have been a Member of the House, despite the fact that we are in different parties and disagree on many issues.

Mr. Beck is an evil man. Perhaps more to the point, he is a corrupt man. Several hon. and hon. and learned Members who are present, some of whom have already spoken, have, like me, had the opportunity over the years in their professional lives to meet corrupt and evil people and to examine and sometimes cross-examine them in court. I am sure that those who share my professional experience will agree that those who have trodden in the mire of corruption all too easily become corrupt to the core. They cease to recognise the difference between what is good and what is bad and between what is honourable and what is corrupt.

They turn, like Mr. Beck, easily to more corruption and try to wheedle their way out of their own previous corruption–and that is what has happened in this case. That is why my hon. and learned Friend the Member for Leicester, West was slandered with dreadful calumny by Mr. Beck.
We now know that the police had a great deal of corroborative evidence for Beck's claim that Janner was abusing children in care homes. I do not claim Carlile knew this – I do not know. Carlile states that Janner is his friend. They were both MPs, both QCs, both members of Friends of Israel, both patrons of UK lawyers for Israel and of the Friends of Israel Educational Foundation. They were regulars on the same parliamentary committees dealing with legal affairs. They were both to leave the Commons at the same time and both to join the Lords only slightly apart.
Alex Carlile may well have had no idea Janner was a paedophile. After all, he shared a cramped parliamentary office with Cyril Smith for many years, and apparently never realised that Smith was a prolific paedophile. Possibly Alex Carlile is simply a particularly unobservant man.
It is however unfortunate that Starmer chose to appoint as the legal eagle to exonerate him over Jimmy Savile, the wife of the stalwart parliamentary defender of Britain's second most prominent paedophile. I presume that Starmer never noticed that either, just as he did not notice the decision by his office and the staff under him not to prosecute Savile.
It is extraordinary that these people manage to become so rich and powerful when they are entirely unobservant. Especially as Levitt, Starmer, Carlile and Jenner were all top QCs.
Anyway, that is just an everyday tale of unobservant folk.
Here is the clincher in this episode of how the Establishment functions. Carlile went on to found a company, SC Strategy Ltd, in partnership with Sir John Scarlett, former Head of MI6, who obtained that position as the main author of the infamous "Dodgy dossier" of lies on Iraqi Weapons of Mass Destruction. They were joined for a while as a Director of that company by Lord Arbuthnot, former Tory junior defence minister and husband of Lady Arbuthnot.
Lady Arbuthnot was the initial and later supervising magistrate on the Assange extradition hearings.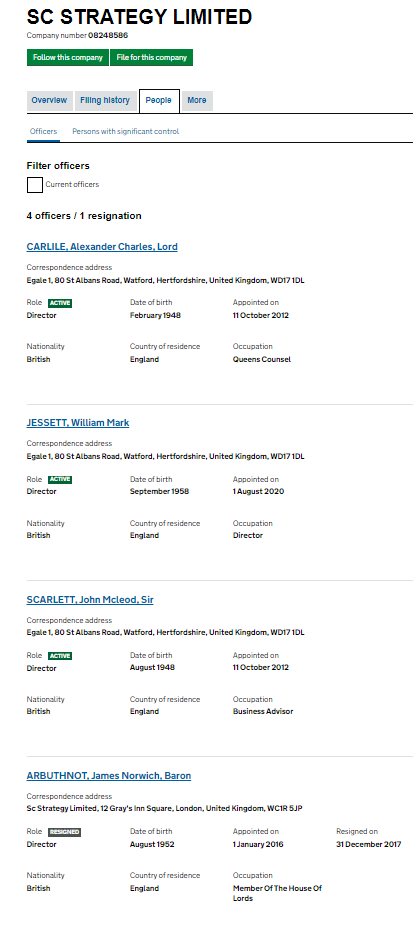 The Establishment: like a circle in a circle, like a wheel within a wheel. If you read this together with my initial article on how the Establishment functions, you will have had two doses of effective vaccine against the lies of the mainstream media.
I have often noticed that ordinary people like you and I manage, in general, to live our entire lives with no connection of friendship to paedophiles at all. Yet the powerful are always finding they are connected to Janners, Epsteins, Saviles, Smiths, Mountbattens etc entirely by accident. It is of course all nothing but accident, bad luck and coincidence. To wonder if it might be otherwise is to be a mad proto-Fascist conspiracy theorist, apparently.
———————————————


Forgive me for pointing out that my ability to provide this coverage is entirely dependent on your kind voluntary subscriptions which keep this blog going. This post is free for anybody to reproduce or republish, including in translation. You are still very welcome to read without subscribing.
Unlike our adversaries including the Integrity Initiative, the 77th Brigade, Bellingcat, the Atlantic Council and hundreds of other warmongering propaganda operations, this blog has no source of state, corporate or institutional finance whatsoever. It runs entirely on voluntary subscriptions from its readers – many of whom do not necessarily agree with the every article, but welcome the alternative voice, insider information and debate.
Subscriptions to keep this blog going are gratefully received.
Choose subscription amount from dropdown box:
Paypal address for one-off donations: [email protected]
Alternatively by bank transfer or standing order:
Account name
MURRAY CJ
Account number 3 2 1 5 0 9 6 2
Sort code 6 0 – 4 0 – 0 5
IBAN GB98NWBK60400532150962
BIC NWBKGB2L
Bank address Natwest, PO Box 414, 38 Strand, London, WC2H 5JB
Bitcoin: bc1q3sdm60rshynxtvfnkhhqjn83vk3e3nyw78cjx9
Ethereum/ERC-20: 0x764a6054783e86C321Cb8208442477d24834861a
Subscriptions are still preferred to donations as I can't run the blog without some certainty of future income, but I understand why some people prefer not to commit to that.