Emily Benn inherited her grandfather's physiognomy.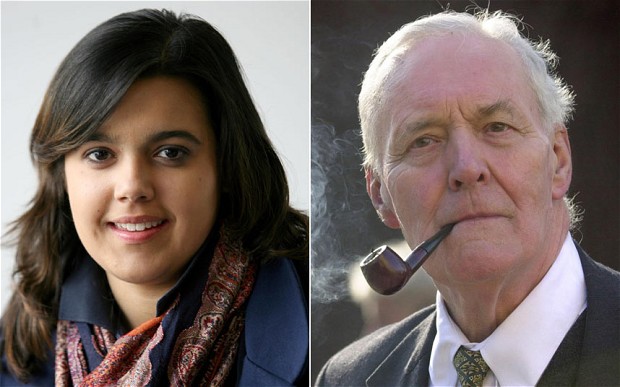 She has come to fleeting attention by criticising Alex Salmond for saying that Tony would be "birling in his grave" at Hilary Benn's warmongering.
During the Westminster elections, I received a text from the SNP asking members living in the centre of Edinburgh to nip down to the Mound for a photocall with Nicola Sturgeon. I looked out of the window at a cold Edinburgh morning, rain driving horizontally, and decided against it. Nadira remarked "If it was Alex Salmond you would have gone." This is true. If it were Alex Salmond, I would have gone if it had entailed attempting to cross a river of molten lava.
It is therefore with consideration that I say that on this occasion I think that while Salmond was absolutely right that Tony Benn would fundamentally have disagreed with Hilary's speech, the expression was perhaps over-colourful. I did not really get to know Tony until 2005 on, when the great chasm of Hilary's support for the Iraq War already loomed between them, but Tony's parental affection and pride were undimmed. There would be something really wrong with you for your opinion of your children to be conditional on their sharing your political opinions. So probably not birling.
But equally, I am quite sure Tony would not have felt Alex had anything to apologise for, and would have much admired Salmond's own contribution on Syria.
UPDATE Several commenters have formed the impression that I object to the phrase "birling in the grave" as offensive. I do not, it is a perfectly ordinary phrase. My point is rather that there was no family split in the Benn family despite some radically different political opinions, and that seemed to me in fairness worth noting. I describe "birling in the grave" as over-colourful purely as a description of the Tony-Hilary relationship, not as an offensive phrase. Tony certainly is birling in his grave over the Syria vote.
View with comments
---