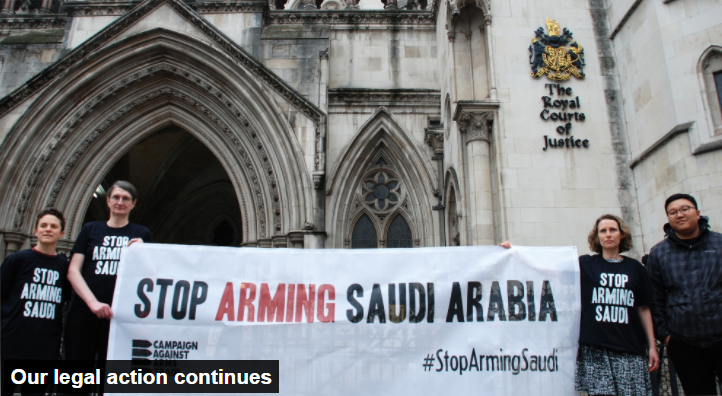 The ever excellent Campaign Against the Arms Trade is back in the English High Court again today in its continuing attempts to ban arms sales to Saudi Arabia. It is against UK law to sell arms to a country which is likely to use them in breach of international humanitarian law, and that Saudi Arabia consistently and regularly uses British weapons to bomb schools, hospitals and civilians is indisputable.
Unfortunately the courts are an instrument of power and control for the 1%, not an impartial resort for justice, so I fear CAAT will not succeed despite the fact their case is undeniably correct.
Part of the British Government's defence is the close military support it gives to Saudi Arabia, which it claims minimises civilian deaths (it plainly does no such thing). Thousands of children have died in the Yemeni war, most killed by the Saudis and their allies. These war crimes have been documented by the United Nations despite concerted UK and US diplomacy at the UN aimed at downplaying the Saudi crimes. Cluster bombs, white phosphorous and other illegal weapons have frequently been used.
Yemeni dead children very seldom make in into the mainstream media, whereas Syrian children do. But not all Syrian children – those children killed by the jihadist head-choppers the West and its Saudi allies have armed, funded and "advised" do not make the corporate and state media either. Only children allegedly – and the word needs repeating, allegedly – gassed by the Syrian armed forces are apparently worth our attention.
If we really attack because we care about the children, we would be attacking Saudi Arabia to halt its atrocities in Yemen. Instead we are allying with Saudi Arabia – the child killers, UK military support to whom is today being stressed in the High Court – to attack Syria.
Anybody who believes this is anything to do with "humanitarian intervention" is a complete fool.