A NATO summit approaches that brings Donald Trump to Europe and then on to these shores, and brings the usual clamour for more of the taxpayers' money to be given to arms manufacturers.
Yet NATO is a demonstrably useless institution. It's largest ever active military deployment, for 12 years in Afghanistan, resulted in military defeat throughout 80% of the country, the installation of a pocket regime whose scrip does not run further than you can throw the scrip, and a vast outflow of heroin to finance the criminal underworld throughout NATO countries.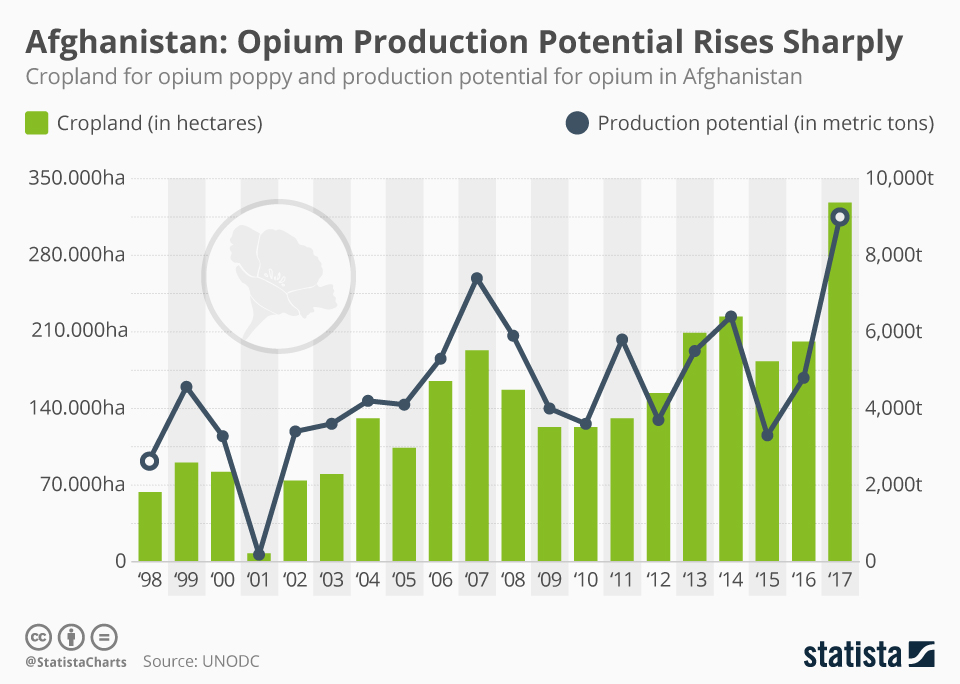 Look at this chart closely, and marvel at the fact that the NATO occupation began in early 2002.
In invading Afghanistan and boosting the heroin warlords, NATO countries destabilised themselves
NATO's second biggest military operation ever was the attack on Libya, where NATO carried out an incredible 14,200 bombing sorties using high explosive munitions and devastated Libya's infrastructure and entire cities. Here is Sirte after NATO "liberation".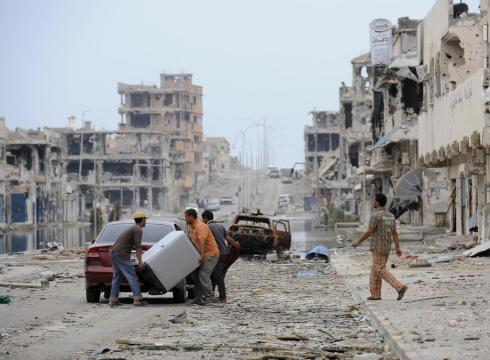 The direct result of the devastation of Libya and destruction of its government infrastructure has been the massive untrammelled exodus of migrants, especially from West Africa, through Libya and across the Mediterranean on boats. This has not only led to the appalling exploitation and tragic death of many migrants, it has fundamentally weakened the governments and indeed governing public ethos of European NATO member states and led to a right wing populist surge throughout much of the EU.
In short, in destroying Libya, NATO members destabilised themselves.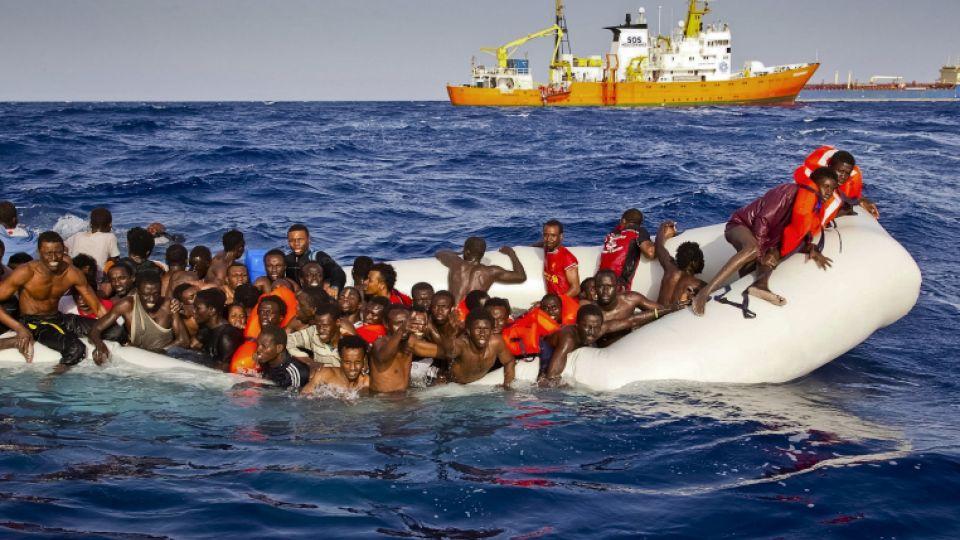 The direct result of NATO's destruction of Libya.
Now NATO is focusing once more on the original "threat" it was supposed to combat, a Russian invasion of Western Europe.
Russia has absolutely no intention of invading Western Europe. The very notion is ludicrous. It does not require NATO to deter a threat that does not exist.
Poland, the Czech Republic, and Slovakia alone have a combined GNP as big as Russia. On a purchasing power parity basis, if you add in Estonia, Latvia, and Lithuania those Eastern states still match Russia economically. On a PPP basis, the combined GDP of all NATO states is 12 times that of Russia.
Russia does have disproportionate military power for its size – but not that much. Russia's defence spending is one sixth that of NATO defence spending, though it is slightly more efficient because, despite corruption, less of Russia's defence spending goes into the pockets of arms company shareholders, lobbyists, politicians and other fatcats than happens in the West. But that cannot outweigh Russia's massive economic disadvantage. Nothing can. Russia is very well placed to defend itself, but in no position to attack major powers.
Russia's foreign policy successes – in Crimea, Syria and Georgia – have been based not on massive military strength – the NATO powers far outweigh Russia there – but simply on much better statecraft. And NATO, for all the trillions western taxpayers spend on it, has been unable to do anything about it, despite the fact that Russian actions in Crimea and Georgia have been illegal in international law.
In fact if anybody has not worked out by now that our famed nuclear arsenal is a chocolate teapot, then they have not been paying attention. In none of the recent foreign policy crises – including the North Korean nuclearisation issue – nobody, anywhere, ever has mentioned Trident missiles as part of the solution. They are utterly worthless.
The threat of a Russian attack on NATO itself is non-existent. The EU is not officially a military alliance but the idea that any part of EU territory could be subject to invasion without the rest of the EU reacting is a political impossibility. It is very plain that Vladimir Putin's policy is to reincorporate into Russia those bordering pockets of ethnic Russians in former Soviet states. But this has been approached piecemeal and avoiding major confrontation. There is no practical threat to the Baltic states whose security is already de facto guaranteed by EU membership.
So NATO's role of defence against Russia is otiose, and its wider military adventures have been a total disaster.
Finally, a thought about China. I cannot think of a parallel to China these last two decades, where any country in history has obtained so much economic pre-eminence in the World and shown so very little interest in military expansion. The invasion of Tibet occurred before China's economic flowering, and the South China Sea dispute is hardly the invasion of Iraq. I do not claim any expertise in Chinese culture or thought, but they appear to realise that dominance can be achieved by more subtle means than the sword. It is going to be a fascinating few decades as China rapidly overtakes the USA in the superpower stakes.