My good friend Manni Singh has been jailed for 72 days – an incredibly draconian sentence – for organising an entirely peaceful political demonstration at which I was a speaker, on which there were zero incidents of violence or damage.
The harsh sentence is completely out of line with any recent treatment of peaceful protestors, for example from the Occupy movement or Extinction Rebellion.
People attended the Glasgow All Under One Banner march from all over Scotland. Singh made all the correct applications to hold it to Glasgow City Council. His application was for simply a repeat of the highly successful and peaceful event a year previously. As I reported at the time, it was the SNP group who control Glasgow City Council who ordered the start time be moved forward from 1.30pm until 11am, specifically in order to reduce the numbers on this pro-Independence march. 100,000 people attend AUOB marches from all over Scotland, including the Highlands and Islands, so an 11am start is simply not practical.
Manni went ahead with the original start time in close cooperation with the police. There were no problems whatsoever. Glasgow City Council is not only SNP controlled, it is controlled by a group specifically close to Nicola Sturgeon. It was the SNP on Glasgow City Council who pushed the police to arrest Manni Singh and initiated his jailing, as confirmed here in this tweet from NEC national executive member and Glasgow City Councillor Rhiannon Spear.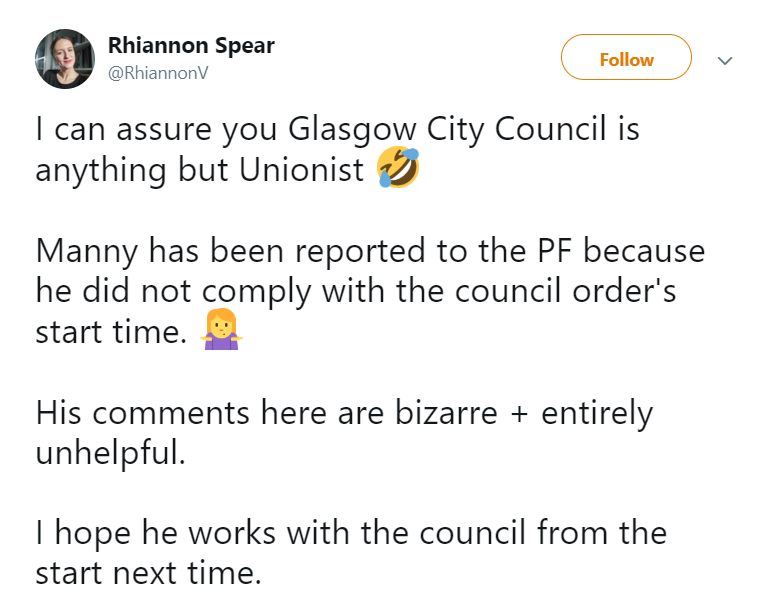 Many prominent SNP supporters – including the brilliant writer Paul Kavanagh – are baffled by the SNP's hostility to the AUOB marches. As Paul wrote at the time of the Glasgow demonstration:
Yet Nicola Sturgeon, who was happy to attend an anti-Brexit march in London, not only didn't attend the Glasgow event, she didn't even tweet a supportive message afterwards. Other SNP figures went on social media to criticise the march for taking place. Because apparently demonstrating that there is indeed mass support for independence in Scotland in the face of anti-independence parties and press which insist there is not is a waste of time that could better be spent sticking SNP leaflets through doors, leaflets that invariably get stuck in a bin without being read.

In fact, the last time that the SNP officially supported a mass participation independence event was the rally at Calton Hill back in 2013. That's simply not good enough. But worse than that, the SNP led council in Glasgow became embroiled in a dispute with the march organisers, and now Manny Singh of All Under One Banner has been charged with an offence under the Civil Government Act. None of this is a good look for the SNP.
Here is a photo of Nicola Sturgeon on that anti-Brexit march in London.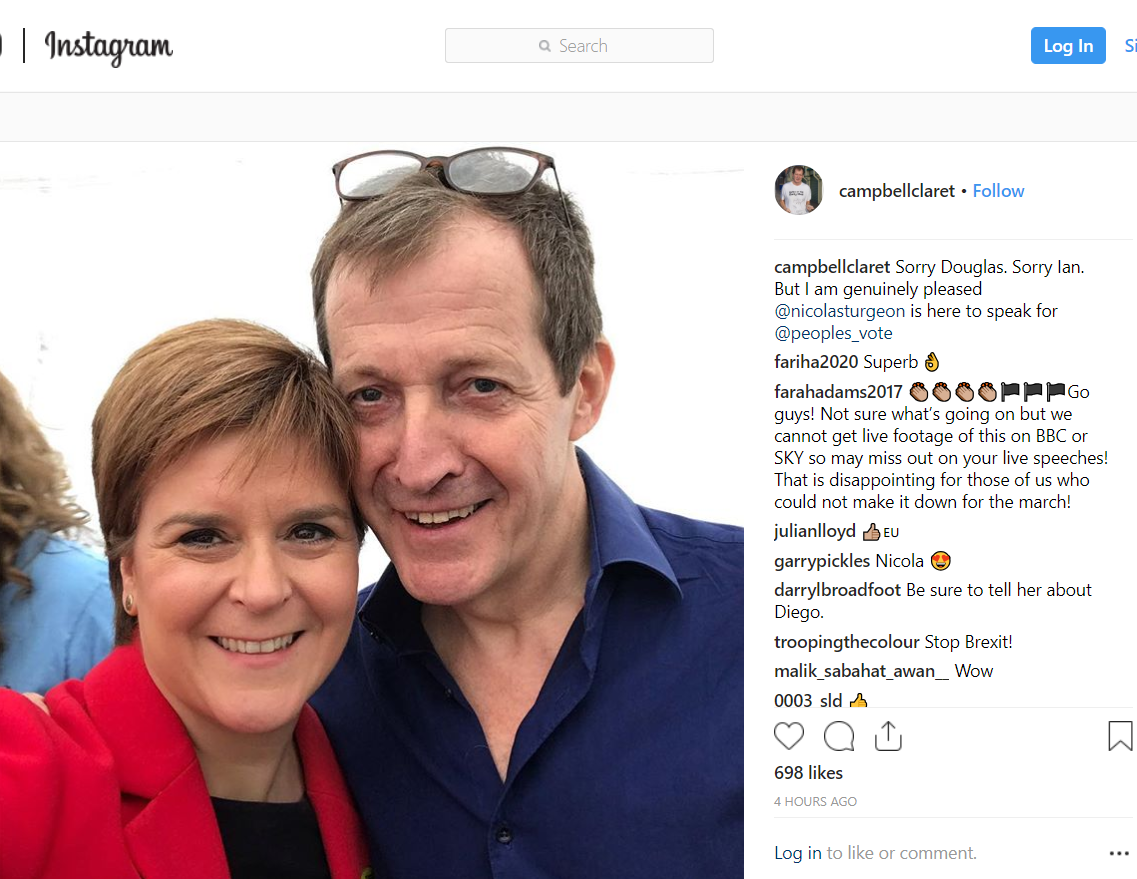 The vicious jailing of Manni Singh shows you just the kind of oppressive society Scotland is becoming under the Sturgeon government. The fact that diehard Independence supporters like Elaine C Smith and Brian Cox have had to come out and oppose the oppressive hate crime bill should tell you something. AUOB is a genuine grassroots, working class Independence organisation. That Independence is the genuine aim of the SNP careerists who try to sabotage it I very much doubt.
The jailing of Manni Singh for a peaceful demonstration should be a wake up call to all those who believe that the Scottish establishment will not jail me for publishing the truth about the trial of Alex Salmond. Precisely the same people are behind the political persecution of me as behind the jailing of Manni. That is why I am extremely keen that you should follow my trial, and dial in to listen to the hearing tomorrow morning. Please read my article from earlier today.
Manni was given the alternative of a curfew sentence which he refused because of his employment as a taxi driver.
You can see my account of the demonstration for which Manni has been imprisoned.
——————————————
Unlike our adversaries including the Integrity Initiative, the 77th Brigade, Bellingcat, the Atlantic Council and hundreds of other warmongering propaganda operations, this blog has no source of state, corporate or institutional finance whatsoever. It runs entirely on voluntary subscriptions from its readers – many of whom do not necessarily agree with the every article, but welcome the alternative voice, insider information and debate.
Subscriptions to keep this blog going are gratefully received.
Choose subscription amount from dropdown box:
Paypal address for one-off donations: [email protected]
Alternatively by bank transfer or standing order:
Account name
MURRAY CJ
Account number 3 2 1 5 0 9 6 2
Sort code 6 0 – 4 0 – 0 5
IBAN GB98NWBK60400532150962
BIC NWBKGB2L
Bank address Natwest, PO Box 414, 38 Strand, London, WC2H 5JB
Subscriptions are still preferred to donations as I can't run the blog without some certainty of future income, but I understand why some people prefer not to commit to that.