I have transferred £10,000 from my defence fund to Mark Hirst's defence fund, which needs money immediately. If anybody who donated objects, your donation can be refunded if you use the contact button top right to send a message.
This does not mean that my own defence fund has more money than it needs – quite the opposite, as the Crown seems to be continuing its policy of spinning out the case as long as possible, with multiple procedural hearings, to drain our funds and ability to fight. The Crown has still not produced the new argument on how it proposes to prove "jigsaw identification", which we strongly deny and have produced considerable evidence to disprove. The Crown was ordered at the last procedural hearing to come up with new substantive argument, and we are yet to see this. The Crown's only tactic to date has been to argue that all of our witnesses and evidence are inadmissible, even most of my own witness statement, and the Crown refuses to produce any of the documentation requested by my defence.
The requested documentation included the messages from Peter Murrell to Sue Ruddick, Chief Operating Officer of the SNP, stating that "it was a good time to be pressurising the police" to take action against Alex Salmond, and another to get the Metropolitan Police to act because "the more fronts he is having to firefight on the better". Incredibly, even though these messages are now firmly in the public domain, the Crown Office still refuses to release the original documents to my lawyers for use in my defence.
Those messages are the tip of the iceberg. It is some months since I saw them, but others include a message from one of the SNP's most senior officials in which they explain that the police were saying they did not have sufficient evidence to act on some of the complaints. There then follows a line that had me springing up from my chair when first I read it. It was to the effect that if the police would only specify what evidence they need, then they could get it for them.
My sworn statement, given to the High Court in August, names that official. I am not permitted to tell you the name before the trial.
There is much more of this that I could tell you. Either the Crown Office will release these documents for my defence, or from the witness box I shall recount them (which is the reason they seek to stop me giving evidence). To prove to you that I really do know this material, here is an extract from my twitter direct messages detailing the famous Murrell one, written two months before it was leaked to Kenny Macaskill and given by him to the press.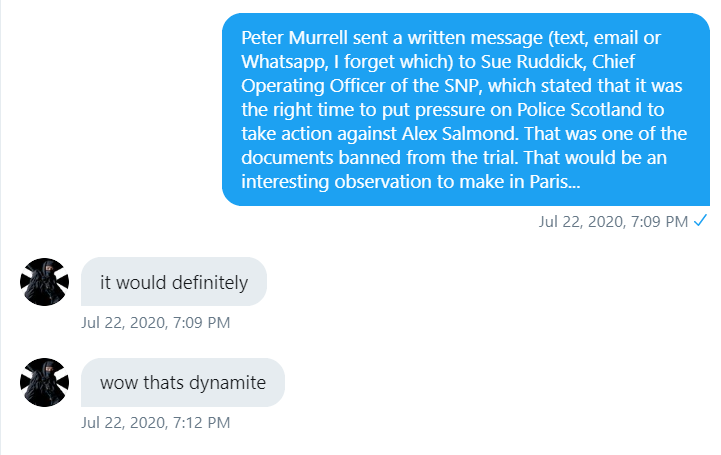 The trial keeps slipping backwards due to Crown procrastination. I am in the peculiar position of facing a potential jail sentence yet being impatient for them to bring it on. Currently scheduled for 20 and 21 January in the High Court, Edinburgh. Please put it in your diary.
For those asking how can I stand for President of the SNP while exposing this kind of dirty laundry, the answer is very simple. This is a part of why I am standing. This kind of appalling behaviour by party officials has nothing to do with party members, nothing to do with Independence, and we have to stand up to put a stop to it, before it does still more damage to the party. Hushing it up would eventually explode in the face of the Independence campaign.
—————————————————–


Forgive me for pointing out that my ability to provide this coverage is entirely dependent on your kind voluntary subscriptions which keep this blog going. This post is free for anybody to reproduce or republish, including in translation. You are still very welcome to read without subscribing.
Unlike our adversaries including the Integrity Initiative, the 77th Brigade, Bellingcat, the Atlantic Council and hundreds of other warmongering propaganda operations, this blog has no source of state, corporate or institutional finance whatsoever. It runs entirely on voluntary subscriptions from its readers – many of whom do not necessarily agree with the every article, but welcome the alternative voice, insider information and debate.
Subscriptions to keep this blog going are gratefully received.
Choose subscription amount from dropdown box:
Paypal address for one-off donations: [email protected]
Alternatively by bank transfer or standing order:
Account name
MURRAY CJ
Account number 3 2 1 5 0 9 6 2
Sort code 6 0 – 4 0 – 0 5
IBAN GB98NWBK60400532150962
BIC NWBKGB2L
Bank address Natwest, PO Box 414, 38 Strand, London, WC2H 5JB
Bitcoin: bc1q3sdm60rshynxtvfnkhhqjn83vk3e3nyw78cjx9
Subscriptions are still preferred to donations as I can't run the blog without some certainty of future income, but I understand why some people prefer not to commit to that.