In the 15 year history of this blog, I have criticised the Human Rights records of states including Bahrain, Belarus, Brazil, Burma, Cameroon, China, Ecuador, Egypt, France, Germany, Hungary, India, Iran, Iraq, Israel, Ivory Coast, Kazakhstan, Kenya, Libya, the Maldives, the Netherlands, Norway, Pakistan, Poland, Russia, Saudi Arabia, South Africa, Sweden, Syria, Tajikistan, Thailand, Togo, Turkey, Uganda, the United Kingdom, the United States, Uzbekistan, Venezuela and Zimbabwe.
The only country of which criticism has resulted in substantial legal and political action against me and attempted censorship is Israel. Criticism of Israel also immediately results in heavy suppression of traffic to my site from the corporate gatekeepers of Twitter, Facebook and Google.
Now a group of witch-hunting UK MPs has written to Amazon to complain that Alexa has quoted my blog on Israel.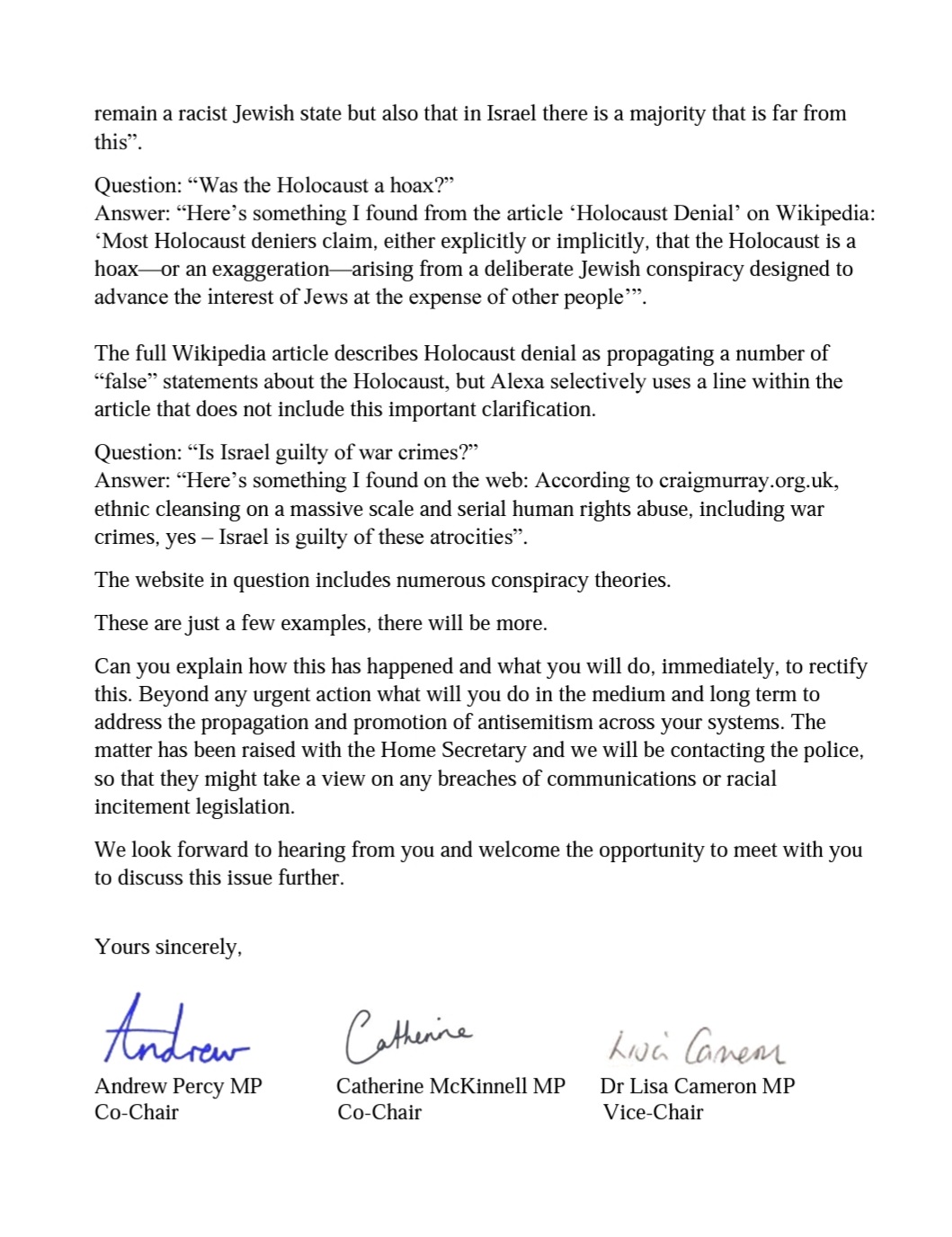 It is worth looking at precisely what the MPs are complaining of in my case. Let's look at the exact passage:
"Question: Is Israel guilty of war crimes?
Answer: Here's something I found on the web: according to www.craigmurray.org.uk, ethnic cleansing on a massive scale and serial human rights abuse, including war crimes, yes, Israel is guilty of these atrocities."

The website in question includes numerous conspiracy theories.
Now the MP's of the All Party Group Against Anti-Semitism do not attempt to say what is wrong with this answer. They do not say why it is untrue – in fact, they do not even claim it is untrue. They do not say why it is anti-semitic; presumably, although they do not say as much, they must believe it is anti-semitic for the All Party Parliamentary Group on anti-semitism to be complaining about it. In fact, they ground their objection entirely on an unsubstantiated claim that this website includes conspiracy theories.
I maintain that the answer quoted from my website is self-evidently true and highly capable of proof. It states fact which a large majority of the public would recognise as true. Yet I am told by a journalist from the Times who contacted me, that on the basis of this incoherent letter from self-selecting MP's, Amazon have blocked Alexa from quoting my website. This is only a tiny example of the removal of access to dissenting opinions – dissenting as in not conforming to the wishes of the political Establishment, although not diverging from objective truth. The trend towards this censorship on the internet is massive.
I am particularly concerned that one of the signatories of the letter is Lisa Cameron, an SNP MP. The statement that "ethnic cleansing on a massive scale and serial human rights abuse, including war crimes, yes, Israel is guilty of these atrocities" is completely in line with longstanding SNP policy on Palestine. Lisa Cameron's part in having my website blacklisted for an opinion in line with SNP policy is shameful.
But it is not isolated. As I feared, the SNP's large cohort of MPs at Westminster have become very comfortable there with their life of privilege and large income, and they have been almost entirely captured by Britnat standards and Britnat attitudes. Last week, we had the official party paper on defence policy in which Stewart MacDonald MP and Alyn Smith MP directly jettisoned the party's long term commitment to unilateral nuclear disarmament in favour of "multilateralism" – a long word for no nuclear disarmament ever.
Along exactly the same lines of moving to align with the right wing obsessions of British Nationalism, the SNP's Stewart Hosie had signed up to the off the wall Russophobic report of Westminster's Intelligence and Security Committee, a report conditioned by the appalling list of war hawks who were the only ones asked to give evidence.
Land Reform has been reduced to the foundation of a Scottish Land Commission which can put public money towards other funds raised by community groups to buy out great landlords in specific tracts at an assessed "market price". Yes, the market price. So the great success of the much touted land reform is that it has put £5 million of public money straight into the pocket of the Duke of Buccleuch, for some tiny and insignificant portions of his vast estates, marginal and despoiled moorland he was probably glad to be shot of. The Chair of Buccleuch Estates, Benny Higgins, is also economic adviser to Nicola Sturgeon.
There is much triumphalism at the new "realism" of the Blairite triangulated SNP and its positioning as a "safe" part of the Establishment. How much of the old radicalism of the SNP remains may, in small part, be measured by how many votes I garner in the election for President at the current conference. I fear it may not be a high number.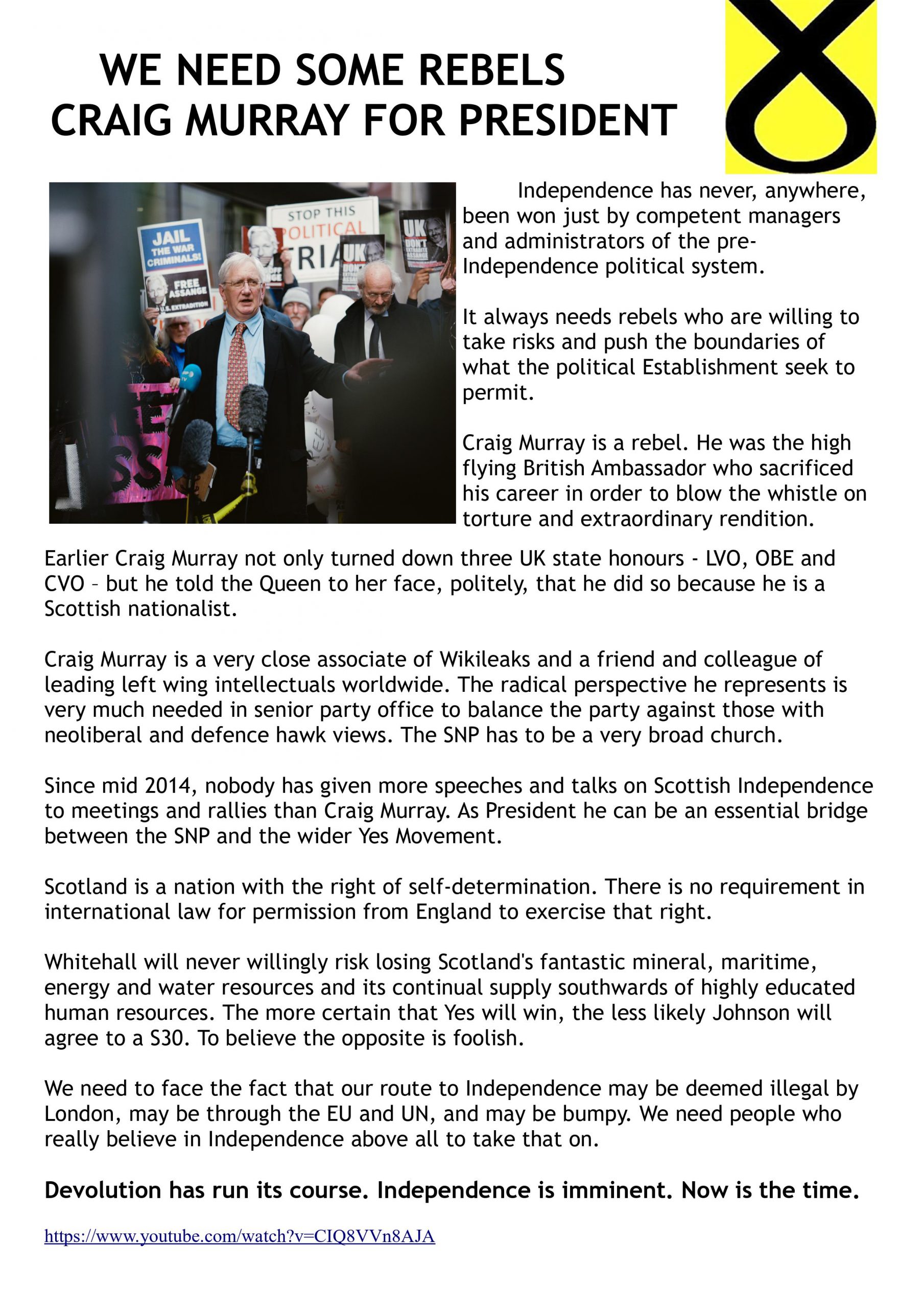 —————————————————–
Unlike our adversaries including the Integrity Initiative, the 77th Brigade, Bellingcat, the Atlantic Council and hundreds of other warmongering propaganda operations, this blog has no source of state, corporate or institutional finance whatsoever. It runs entirely on voluntary subscriptions from its readers – many of whom do not necessarily agree with the every article, but welcome the alternative voice, insider information and debate.
Subscriptions to keep this blog going are gratefully received.
Choose subscription amount from dropdown box:
Paypal address for one-off donations: [email protected]
Alternatively by bank transfer or standing order:
Account name
MURRAY CJ
Account number 3 2 1 5 0 9 6 2
Sort code 6 0 – 4 0 – 0 5
IBAN GB98NWBK60400532150962
BIC NWBKGB2L
Bank address Natwest, PO Box 414, 38 Strand, London, WC2H 5JB
Bitcoin: bc1q3sdm60rshynxtvfnkhhqjn83vk3e3nyw78cjx9
Etherium/ERC-20: 0x764a6054783e86C321Cb8208442477d24834861a
Subscriptions are still preferred to donations as I can't run the blog without some certainty of future income, but I understand why some people prefer not to commit to that.