I found this list on the Facebook page of Anya Darr. The information in it checks out, and it is pretty startling.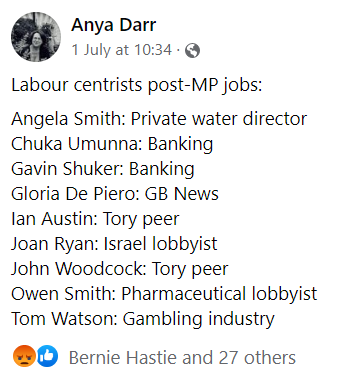 I was anxious to namecheck Anya Darr because she is being evicted from her little cottage while awaiting a fresh disability assessment from the NHS. It is a story typical of the cruelty of Tory Britain. There are plentiful resources for everybody to live comfortably, but many millions of lives are blighted by massive and growing inequality of wealth distribution.
Starmer New Labour has now adopted the position of opposing strike action by the working class because it is an inconvenience to the public. The inconvenience of refusing their labour is the only tool the working class has to combat destitution where the price of everything is permitted to rise except the price of labour.
Despite blatantly lying to gain election by the membership, Starmer has dropped all of Corbyn's key plans to renationalise the railways and public utilities. In fact he appears to have no serious plans at all to combat the collapse in social values and devastation of the poor caused by rampant neo-liberalism.
That is not an accident. New Labour has returned to its modern role as a fake opposition designed to give a simple illusion of democracy and political choice.
The people on Anya's list are not peripheral figures. They were at the heart of the Parliamentary Labour Party who destroyed Corbyn and their closest allies now again control Labour through Starmer. John Woodcock, now a Tory peer, and Wes Streeting were politically joined at the hip. Owen Smith, now a Big Pharma lobbyist (again) was once the Blairite choice to replace Corbyn. Privatised water director Angela Smith once pretended to support Corbyn's popular policy of water renationalisation.
The politics of those people listed is, and always was, entirely four square with the Starmer group currently controlling the Labour Party.
Once these right-wing Labour MPs leave the Parliamentary party, we can see who they really are. Frankly, Starmer with his anti-union drive is scarcely disguising it now.
The United Kingdom is an entirely fake democracy, where a whole generation of right-wing charlatans seeks to follow the footsteps of Tony Blair to massive self-enrichment. That is the "alternative" to the populist English Nationalist Tory Party. The United Kingdom is a total bust, no longer a viable political entity. It cannot serve the interests of the vast majority of its people, and the elite in control have skewed its governance systems to produce levels of inequality which have become socially unsustainable, with no democratic outlet for change.
Scottish Independence will only be one aspect of the subsequent dissolution of the current UK structure. It will prove the catalyst for a great deal more radical change, and the much needed blast to the Westminster political system. I remain confident that we will see real and fundamental change, and in our lifetimes, which will sweep away the current political class.
————————————————-


Forgive me for pointing out that my ability to provide this coverage is entirely dependent on your kind voluntary subscriptions which keep this blog going. This post is free for anybody to reproduce or republish, including in translation. You are still very welcome to read without subscribing.
Unlike our adversaries including the Integrity Initiative, the 77th Brigade, Bellingcat, the Atlantic Council and hundreds of other warmongering propaganda operations, this blog has no source of state, corporate or institutional finance whatsoever. It runs entirely on voluntary subscriptions from its readers – many of whom do not necessarily agree with the every article, but welcome the alternative voice, insider information and debate.
Subscriptions to keep this blog going are gratefully received.
Choose subscription amount from dropdown box:
Paypal address for one-off donations: [email protected]
Alternatively by bank transfer or standing order:
Account name
MURRAY CJ
Account number 3 2 1 5 0 9 6 2
Sort code 6 0 – 4 0 – 0 5
IBAN GB98NWBK60400532150962
BIC NWBKGB2L
Bank address Natwest, PO Box 414, 38 Strand, London, WC2H 5JB
Bitcoin: bc1q3sdm60rshynxtvfnkhhqjn83vk3e3nyw78cjx9
Ethereum/ERC-20: 0x764a6054783e86C321Cb8208442477d24834861a
Subscriptions are still preferred to donations as I can't run the blog without some certainty of future income, but I understand why some people prefer not to commit to that.