It is not controversial to say that the UK's immigration system is utterly broken. The reason is very plain but seldom noted – decades of cuts in which the cheapness of the system is crazily prioritised over the system working.
The costs to the economy of the system not working are simply enormous.
I have line managed the managers of two of the UK's largest visa departments abroad. Over twenty years I witnessed first hand the systematic deprofessionalisation of the immigration service, which has continued apace since I left.
The plain truth is this: while governments driven by a desire to cut public spending are unwilling to fund the administration of immigration with reasonable levels of professionalism and expertise, it really does not matter what the policy is. The tool to carry the policy into effect was degraded long ago.
It is not that the system has collapsed under the weight of applications. Ever increasing applications are a complete myth. To take asylum applications as an example, do you know in what year asylum applications peaked? 2002. Yes, twenty years ago. 2022 is seeing something of a surge on 2021, but that surge will take 2022 to about 50% of the levels we were seeing twenty years ago.
The problem is not increased volume of applications. The problem is the wanton destruction of the machinery to cope with them.
When I first worked closely with immigration officers, in the British High Commission in Lagos over thirty years ago, this was the system:
All visa applicants had their case initially reviewed by a member of locally employed staff, but still a UK government employee of UK nationality. They would carry out an initial sift. Obvious visa grants – people who had previous visas and had never overstayed – would be put in a pile for rubber-stamping. All others would be granted an interview.
There were 22 visa officers to do the interviews, half from the Immigration Service and half from the Foreign Office. They would interview the applicants who required it. These officers were all well paid and well housed, enjoyed diplomatic status, and were highly trained and frequently very experienced. They would serve three or four years in the country and many took real pains to develop expertise in its culture. There were two Chief Immigration Officers in charge.
I remember one wise CIO impressing on their staff to judge the person in front of them. You give a visa to an individual, not to a document. Paperwork could be forged, or a genuine applicant may have difficulty getting the mound of papers together. Conversing with the individual and asking them questions, making due allowance for nervousness, was the most important part of the process.
The system had not substantially changed when I was Deputy High Commissioner in Accra 20 years later, except that rather more responsibility was given to the locally engaged staff, and the FCO insisted that we should no longer employ British local staff but could hire much cheaper Ghanaian staff for the initial sifting.
I viewed this as crazy; the pressures brought on local Ghanaian staff by extended family and friends over visa issue was immense, and it was pretty well socially impossible for them to avoid what we would view as corruption.
Now the system has changed completely. It has been privatised – almost everywhere in the world, Visa departments are outsourced to private firms with a slim layer of official management. Most visa decisions are taken by very low paid agency staff working through a computer checklist. Very few applicants get interviewed at all – it is done almost entirely on the documentation.
There are no appeals against refusal of a visit visa. If you are turned down, you are turned down.
Businesses in the UK suffer massive damage from important export customers being inexplicably refused visas, with no right of appeal. Equally very large numbers are allowed in on the basis of entirely fraudulent applications and forged documents. We liberals are not supposed to admit that side of the equation, but it is true.
Furthermore the number of visa departments abroad has been radically reduced. Visa decisions are now often taken by a minimum wage person, working for a private company, operating from a computer checklist in a completely different country to the home of the person being judged. The person taking the decision almost certainly knows nothing about the education system, economy, social systems or corporate structures of the country the applicant is applying from.
Rational, evidenced decisions are simply impossible in this situation. The excuse for cutting back visa departments to "regional hubs" was – wait for it – the cost of the machines that print out the high technology visas. This is symptomatic of the crazed accountancy of the whole system – for the price of about £3 million in capital expenditure the UK abandoned all local knowledge and expertise in its visa issuing process.
Let me give you an example of the effect of this. Visas for Uzbekistan are now processed in Istanbul. Two years ago I was shown an instance of a visa refusal where the minimum wage drone writing the reason for refusal, believed Tashkent to be in Turkey.
The UK Immigration Service I used to work alongside was a service, regulating immigration. That was abolished in favour of the "UK Borders Agency", a title more suited to the privatisation agenda. It then got changed to the macho "UK Border Force", a paramilitary sounding body that conjures images of lantern jawed heroes holding back Suella Braverman's "invasion" of foreigners.
The Tories change the name regularly, and I am not sure what it is this week. But all the time the administation is sliced and cut, farmed out for profit, and run on cheaper and cheaper lines, with contempt for any notion of professional expertise.
There are still experienced and good immigration officers in the service of the Border Force, but these are now heavily concentrated at UK ports of entry. When there was a professional and competent visa service operating abroad, the visa officers at ports of entry had a relatively easy task, looking out for forged visas and passports, or applying intelligence material on smuggling etc.
Now, however, the person arriving from India with an entirely valid visa in his entirely valid passport, is being scrutinised at Heathrow for the very first time by somebody with skills and experience; after being given the visa by a 18 year old at a private company who never laid eyes on them.
The immigration officers at ports don't trust the visas their own government has issued in its crazy cheap system. So in effect you have immigration interviews being conducted at the arrival airport desk, while thousands of passengers are queued up behind. That is the reason for periodic immigration chaos at airports – and results in immigration officers effectively being instructed not to do their jobs. Morale is at an all time low.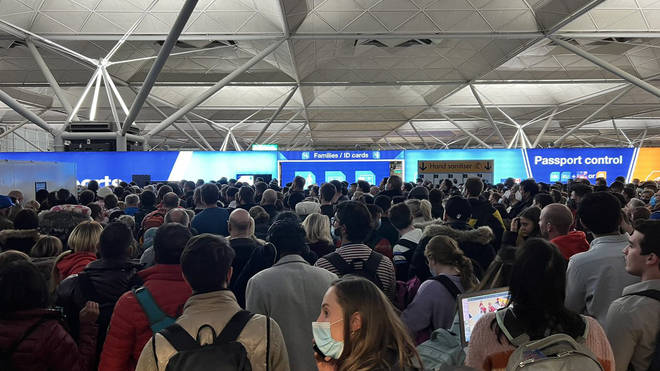 Asylum is a related but different issue. The Observer today reports that Home Office staff are being recruited to decide asylum cases in the UK who have no relevant experience and have come straight from working in supermarkets or cafes, being empowered to decide cases after three days of training. The report confirms that the grade of such staff has been reduced to Executive Officer, again to save money over using more senior staff.
The UK does not receive disproportionate numbers of asylum applications. Asylum applications per head of UK population are just half the level of the EU average. This from a UK parliamentary library briefing:

In 2020, 72% of all asylum applications were accepted as genuine at first decision by the Home Office. About one third of the remaining 28% were accepted on appeal. So 81% of all asylum applications are ultimately judged genuine. The Patel/Braverman line that most are "economic migrants" is a plain lie.
The mass arrival of Albanian citizens by boat is a relatively new phenomenon. I am sceptical that the numbers are as large as being put out. It seems to me wildly improbable that 2% of the adult male population of Albania is crossing the Channel in small boats. But it is worth noting that over 40% of Albanian asylum applications are accepted as genuine at first decision by the Home Office. The shameful painting of all Albanians as criminal is plain wrong.
Let me again upset some of my "own side" by saying that the Home Office is so denuded of well paid, expert staff that the bad decisions are not all one way. There are horrible instances of refugees being returned to torture and death after a bad asylum decision. But equally, there are bad decisions the other way, with frauds and criminals also gaining asylum.
The government simply refuses to pay for the degree of knowledge and expertise to make good decisions. I represented (without fee) a number of asylum applications at Immigration Appeals Tribunals – and never lost a case. The reason that so many appeals succeed is that the tribunals are before a real judge, and the Home Office officers have an embarrassing lack of basic knowledge and expertise, often depending for country information on publications or – very frequently – denials of human rights abuse by the particular despotism in question. It just does not cut ice with a judge.
Personally I am pleased that the system in general errs towards generosity to asylum seekers, once they get out of the hideous limbo of years of waiting for the application to be decided, frequently effectively in prison, and even when allowed into the community denied the right to work and support themselves.
It is now illegal in UK domestic law to arrive in the UK for the purpose of claiming asylum – contrary to international law and the UK government's obligations under the Refugee Convention. At the same time, there is no provision to claim asylum outside the UK. In effect, the Conservative government has made it impossible to claim asylum other than by the desperate measure of pitching up in a small boat.
They then claim astonishment that people pitch up in small boats.
There is nothing in either the 1951 Refugee Convention nor its 1967 Protocol that stipulates that refugees must claim asylum in the first safe country they reach. That is a peculiar right wing canard. There is an obligation to treat refugees humanely, assist with housing and allow to find employment. The UK is failing in all of these duties.
At the risk of diluting the impact of this article on why the UK's immigration system does not function, I cannot refrain from noting that this is part of a much wider trend in neoliberalism.
Twenty years ago a visa applicant facing refusal would have an interview with a real, experienced and properly paid immigration officer. Now the decision is taken by a low paid employee with a computer checklist who does not see the applicant.
This is for precisely the same as the reason I cannot normally see my GP as I would simply have done twenty years ago, but have to explain my symptoms instead to somebody with little or no medical qualification working their way through a computer checklist.
It is precisely the same reason I cannot see a bank manager, in the branch I have used for forty years but which no longer has a manager, about a loan for my company. Instead I have to speak to a low paid person in a call centre working their way through a computer checklist that simply applies a formula related to historic turnover and profit, with no experience or understanding of start-ups and investment periods.
We have had decades to get used to the replacement of the skilled working class through automation. What we see now is the replacement of the professional middle classes through automation. Be they local bank managers, immigration officers, or GPs a computer checklist and unskilled operator is cheaper.
In all cases, the delivery of the service which is the reason for the process is massively undermined, but that is ignored in favour of very short term financial benefit.
I expect this trend will attack higher education soon, with the need for face to face interaction with students denigrated and mass redundancies among lecturers in favour of computer learning. That is one of my dystopian predictions for the next couple of decades.
To return back to immigration, the Tories have destroyed the system meant to implement their flailing policies. The policy levers have no viable implementation mechanism at the end of them. It could be fixed, by substantial investment, reversing privatisation, and re-establishing a worldwide expert immigration service again.
If you add that to a genuine and effective legal mechanism for accepting and processing the European average of refugee applications and a sensible policy to admit the workers the UK economy desperately needs, the benefits would far outweigh the cost. But in a mad universe where all public spending bar defence is effectively viewed by the Tories as loss, it will not happen.
————————————————-
Forgive me for pointing out that my ability to provide this coverage is entirely dependent on your kind voluntary subscriptions which keep this blog going. This post is free for anybody to reproduce or republish, including in translation. You are still very welcome to read without subscribing.
Unlike our adversaries including the Integrity Initiative, the 77th Brigade, Bellingcat, the Atlantic Council and hundreds of other warmongering propaganda operations, this blog has no source of state, corporate or institutional finance whatsoever. It runs entirely on voluntary subscriptions from its readers – many of whom do not necessarily agree with the every article, but welcome the alternative voice, insider information and debate.
Subscriptions to keep this blog going are gratefully received.
Choose subscription amount from dropdown box:
Paypal address for one-off donations: [email protected]
Alternatively by bank transfer or standing order:
Account name
MURRAY CJ
Account number 3 2 1 5 0 9 6 2
Sort code 6 0 – 4 0 – 0 5
IBAN GB98NWBK60400532150962
BIC NWBKGB2L
Bank address Natwest, PO Box 414, 38 Strand, London, WC2H 5JB
Bitcoin: bc1q3sdm60rshynxtvfnkhhqjn83vk3e3nyw78cjx9
Ethereum/ERC-20: 0x764a6054783e86C321Cb8208442477d24834861a
Subscriptions are still preferred to donations as I can't run the blog without some certainty of future income, but I understand why some people prefer not to commit to that.