Intellectual curiosity can takes us in unexpected directions. This particular journey started with my learning that the word "Cajun" is a contraction of "Canadian".
Nine years after Culloden, 300 British troops under Lt Col John Winslow entered the town of Grand Pre in Acadia, Nova Scotia. They constructed a palisade fort which enclosed both the church and cemetery. They then summoned all males aged ten and over to the church to hear a proclamation. Disarmed and surrounded, the Acadians were all registered, then told they were to be deported immediately.
Here is that register. Remember many of these were children as young as ten years old. About a quarter did not survive the brutal deportation.
Pierre ALIN
Jean APIGNE
Oliver AUCOIN
Claud AUCOIN
Charles AUCOIN
Jean AUCOIN
Renez AUCOIN
Joseph AUCOIN
Alexandre AUCOIN
Jean Batiste AUCOIN
Charles AUCOIN
Pierre AUCOIN
Simon AUCOIN
Abraham AUCOIN
Simon AUCOIN
Charles AUCOIN
Martin AUCOIN
Oliver AUCOIN
Jean a Pierre AUCOIN
Charles AUCOIN
Aman BABIN
Battiste BABIN
Charles BABIN
Feler BABIN
Jean BABIN
Joseph BABIN
Joseph BABIN
Joseph BABIN
Joseph BABIN
Paul BABIN
Pierre BABIN
Rener BABIN
Simon BABIN
Simon BABIN
Johanes BABBIN
Jacques BELMERE
Joseph BELMERE
Renez BELMERE
Oliver BELFONTAINE
Oliver BELFONTAINE
Francois BENOIST
Joseph BENOIST
Joseph BLANCHARD
Pierre Ilasis BLANA
Pierre BOBIN
Joseph BOUDRO sits
Joseph BOUDRO
Pierre BOUDRO
Michel BOUDRO
Michel BOUDRO Jr.
Ettime BOUDRO
Charles BOUDRO
Marin BOUDRO
Paul BOUDRO
Abraham BOUDRO
Jean BOUDRO
Jesepah BOUDRO
Pierre BOUDRO
Joseph BOUDRO
Norez Michel BOUDRO
Benois BOURG
Francis BOURG
Michel BOURG
"Old" Rener BOURG
Joseph BRASSIN
Cherussin BRAUX
Commo BRASSEAUX
Charles BRAUX
Pierre BRAUX
Vicar Francis BRAUX
Paul BRUN
Joseph BRUN
Pierre BRUN
Aman BRUN
Joseph BRUN
Paul CAPIERE
Pierrs CARETTER
Antoine CELESTIN
Joseph CELESTAIN
Norez CELESTINE
Paul CELESTINE
Charles HEBERT
Etimme LANDRY
Renez LANDRY
Simon LEBLANC
Etair LANDRY
Jean LANDRY fils
Paul LEBLANC
Simon LANDRY
Paul LANDRY
Jean LEBLANC
Jean LANDRY
Jos. LANDRY
Francois LEBLANC
Michelle LANDRY
Jean Pos LEBLANC
Francois LEBLANC
Michelle LANDRY
Bernard LEBLANC
Jean DOUCET
Martin LANDRY
Jacques LEBLANC
Jean DOULET
Jean LANDRY
Pieurs LEBLANC
Antaine HEBERT
Germain LANDRY
Jean Pauque LEBLANC
Igneiff HEBERT Rener LANDRY
Oliver LEBLANC
Simon Pierre HEBERT
Charles LANDRY
Allin LEBLANC
Jean Battiste HEBERT
Rener LANDRY
Joseph LEBLANC
Paul HEBERT
Pierrs LANDRY
Felix LAURENT
Francois HEBERT
Le Petis Clauds LANDRY
Paul LEBAR
Paul HEBERT
Etim LANDRY
Jean LEBARE
Pierre HEBERT
Pierre LEBLANC
Norez LEBARE
Francois HEBERT
Pierre LEBLANC
Margaret LAPIERRE
Alexandre HEBERT
Jean Battiste LEBLANC
Delene LEURON
Aman HEBERT
Benois LEBLANC
Jean LEPRINCE
Jos. HEBERT
Charle LEBLANC
Joseph LEBOUS
Bonnos HEBERT
Jacques LEBLANC
Brounos LE GRANGER
Guilljaums HEBERT
Simon LEBLANC
Pierre LE CLANE
Benonis HEBERT
Pierre LEBLANC
Pierre LEBLANC
Joseph HEBERT
Joseph LEBLANC
Pierre Jean LEBLANC
Simon HEBERT
Oliver LEBLANC
Norez LEBLANC
Alexis HEBERT
Charle LEBLANC
Jean Baptiste LEBLANC
Charle HEBERT
Joseph LEBLANC
Michelle LEBLANC
Charle JEANSONNE
Oliver LEBLANC
Pierre LEBLANC
Alexandre LANDRY
Joseph LEBLANC
Charle LABLUN
Pierre LANDRY
Jean Charle LEBLANC
Pinions LEBLANC
Jean a Pierre LANDRY
Michelle LEBLANC
Auguste LEBLANC
Charles LANDRY
Blesse LEBLANC
Baptiste LEBLANC
Antoine LANDRY
Simon LEBLANC
Piere NOALIS
Bonaumturs LEBLANC
Antoine PITREE
Pierrs a GOUITIN
Jean LEBLANC
Dominque PITRE
Aman LANDRY
Francois LEBLANC
Simon PITRE
Jean LANDRY
Battistes LEBLANC
Simon PITRE
Former LANDRY
Daniell LEBLANC
Bour QUETTE
Francois LANDRY
Alin LEBLANC
Michelle QUETTE
Jos. LANDRY
Joseph LEBLANC
Basil RICHARD
Charle LANDRY
Simon LEBLANC
Renez RICHARD
Pierre LANDRY
Jeanmer LANDRY
Germain RICHARD
Jose LANDRY
Alexis LANDRY
Joseph RICHARD
Charle LANDRY
Charle LANDRY
Joseph RICHARD
Germain LANDRY
Germain LANDRY
Jean RICHARD
Battiste LANDRY
Jean LANDRY
Jean RICHARD Joseph BABIN
George CLOATRE
Jean DUPUIS
Simon BABIN
Pierre GRANGER
Antoine DUPUIS
Jos. BABIN
Jean Battis GRANGER
Francois DUPUIS
Rener BABIN
Jean GRANGER
Jean DUPUIS
Feler BABIN
Sorans GRANGER
Alexandre DUPUIS
Charles BABIN
Simon GRANGER
Michelle DUPUIS
Joseph BABIN
Charles GRANGER
Suprian DUPUIS
Jean Robs CHOC
Joseph GRANGER
Charle DUPUIS
Clotis ——-
Rener GRANGER
Germain DUPUIS
Finmi CHELLE
Charle GRANGER
Antoine DOUCET
Pierre COMMO
Francois GRANGER
Tunuislaps FORREST
"le Vieuc COMMO"
Jean GRANGER
Oliver FORREST
Joseph COMMO
Joseph GRANGER
Josses inferms
Jean Louis BOUDRO
Ansemine GRANGER
habitant in formis
Jean Battiste BOUDRO
Joseph GRANGER
Charles JEAN SONNE
Charle BOUDRO
Francis GRANGER
Joseph GOTRO
Pierre BOUDRO
Charle GRANGER
Alexxis GOTRO
Claude BOUDRO
Aman GRANGER
Jean GOTRO
Anseleme BOUDRO
Joseph GRANGER
Pierrs GAUTRO
Pierrs BOUDRO
Vestache COMMO
Paul GOTRO
Paul BOUDRO
Jean Battiste COMMO
Charle GOTRO
Joseph BOUDRO
Esteeme COMMO
Jean GOTRO
Pierrs BOUDRO
Alexis COMMO
Joseph GOTRO
Paul BOUDRO
Oliver COMMO
Paul GOTRO
Joseph BOUDRO
Pierre COMMO
Alexis GOTRO
Pierrs BOUDRO
Simon COMMO
Aman GOTRO
Paul BOUDRO
Norez COMMO
Joseph HEBERT
Joseph BOUDRO
Bassil COMMO
Aman GRANGER
Pierrs BOUDRO
Dominque COTE
Pierre HEBERT
Paul BOUDRO
Jean Beautiste DAIGREE
Joseph HEBERT
Joseph BOUDRO
Jean Baxirles DAIGREE
Manuel HEBERT
Alexandre DUON
Charle DAIGREE
Pierre HEBERT
Joseph DUPUIS
Norez DAIGRE
Oliver HEBERT
Fabien DUPUIS
Oliver DAIGRE fils
Jean HEBERT
Silven DUPUIS
Oliver DAIGRE
Joseph HEBERT
Simon DUPUIS
Brener DAIGRE
Norez HEBERT
Germain DUPUIS Joseph DAIGRE
Etimme HEBERT
Jean Batiste DUPUIS
Astaches DAIGRE
Pierre HEBERT
Aman DUPUIS
Battistes DAIGRE
Augustin HEBERT
Charle CELESTINE
Alin DAIGRE
Renez HEBERT
Pierre CELESTINE
Charles DAIGRE
Aman HEBERT
Jacques CELEVE
Pierrs DAIGRE
Jacques HEBERT
Jacques CLELAND
Norez DAIGRE
Oliver HEBERT
Pierre CLEMENSON
Jean Battiste DAVID
Augustin HEBERT
Lewis Pierre CLOATRE
Joseph BOULET
Joseph HEBERT
George CLOATRE
Pierre BOULET
Joseph HEBERT
Jaque RICHARD
Joseph LEBLANC du
Sour
Maturin LEBLANC
Pierrs LEBLANC
Charles LEBLANC Cems
Paul LEBLANC
Jean Pierrs LEBLANC
Germain TERRIOT
Oliver TERRIOT
Pierre TERRIOTE
Jean TERRIOT
Charles TERIOT
Jacwue TERIOT
Brunois TERRIOTE
Charls TIBODO
Joseph TIBODO
Paul TIBODO
Germain TIBODO
Joseph TRAHANE
Pierre TRAHAN
Claude TRAHAN
Michelle TRAHAN
Charle TRAHAN
Pierre TRAHAN
Jean TRAHAN
Renez TRAHAN
Francis ROUS
Charles ROBICHOCT
Jean Le SOUR
Francis ROUS
Antoine MAJET
Baptiste SAPIN
Jeanm Batptiste MASIER
James SAPIN
Battis MASSIER
Joseph SEMER
Amans MASSIER
Charle SONIER
Battistes MASSIER
Pierre SOSONIER
Paul MELANSON
Renez SOSONIER
Baptistes MELANSON
Marcelle SONER
Pierre Jane MELANSON
Pierre TERRIOT
Battistes MELANSON
Janis TERRIOT
Jean Battis MELANSON
Charle a Claude TERRIOT
Joseph MELANSON
Pierre MELANSON
Suprien TERRIOT
James MELANSON
Charle TERRIOT
Pierre Jean MELANSON
Pierre TRAHAN
Aman MELANSON
Joseph TRAHAN
Pierre MELANSON
Joseph TRAHAN
Jacques MELANSON
Jean TRAHAN
Joseph MUNIER
Charles TRAHAN
Anselmer ales MANGEAN
Jean Batistes TRAHAN
Pierre RICHARD
Pierre TRAHAN
Jos. RICHARD
Joseph TRAHAN
Charles RICHARD
Charle TUNOUR
Paul RICHARD
Joseph VINCENT
Paul RICHARD
Antoine VINCENT
Joseph ROBICHAUD
In the next year 40% of the 15,000 population of Acadia were forcefully deported, deliberately dispersed to British colonies around the globe, in such dreadful conditions that over 1,200 died on the journeys. Males over ten, and females and small children, were bundled into separated random groups and those groups sent off to different destinations.
In Grand Pre itself, the British troops burnt down the church and destroyed the homes, and then smashed the system of dykes and sluices that the Acadians had built for their highly productive agricultural system.
Almost all of the remaining Acadians were dispersed over the next few years. Traveling through the wilds, some who left "voluntarily" eventually found their way to Louisiana. Hence "Cajun". In 1758 it was made illegal in Nova Scotia for Catholics to own land. In 1759 a further Act was passed:
"An Act for the Quieting of Possessions to the Protestant Grantees of the Lands, formerly occupied by the French Inhabitants, and for preventing vexatious Actions relating to the same." The legislation prohibited "any troublesome or vexatious Suits of Law" by Acadians trying to recover their lands and made it illegal for any courts in the province to hear cases brought "for the Recovery of any Lands" by "the former French Inhabitants."
The preamble to Act recounted the "Manifest Treasons and Rebellions" of the Acadians against a British crown to which they had never in truth had the slightest duty of allegiance.
The Acadians had arrived in modern Nova Scotia from 1608. There were three unusual things about them.
i) From the start they had been focused on land reclamation in the coastal marshlands, rather than moving inland cutting down forests for agricultural land as was the prevalent pattern across North America. Historians have calculated they reclaimed in total 5,261 hectares of land. Their achievements in land reclamation were quite startling, especially as in the Grand Pre marsh they were dealing with tidal flows in the Bay of Fundy of over 15 metres, said to be the world's highest.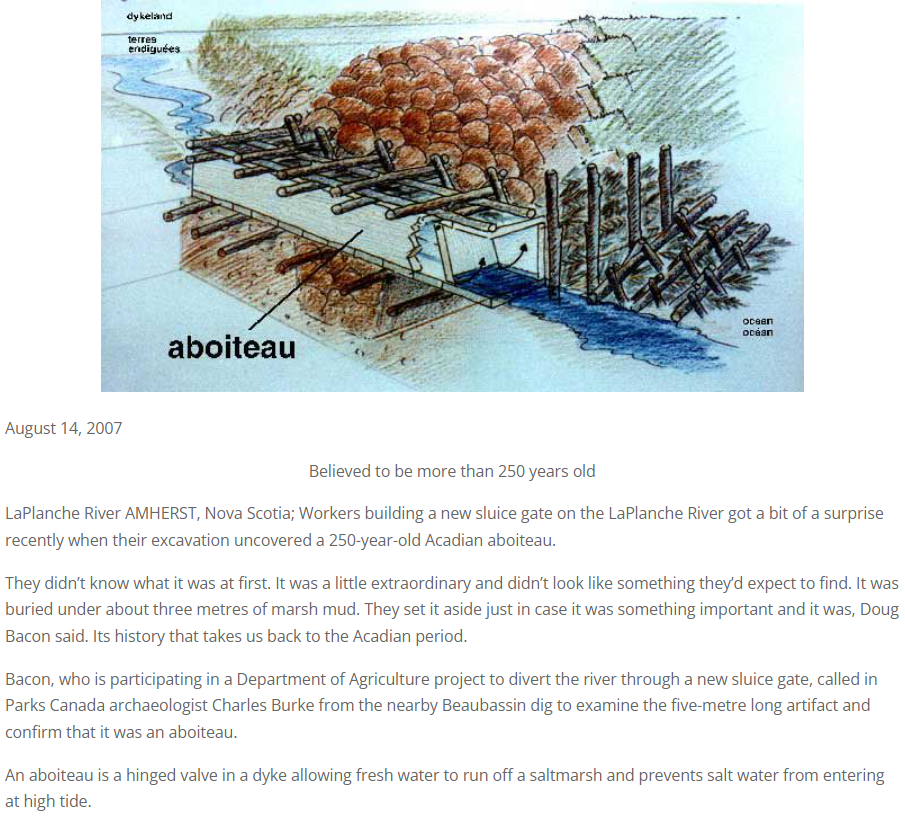 Modern scholarship has emphasised that their land reclamation skills were brought with then from the Western French seaboard, and then developed in a local vernacular. The unique feature of Acadian land reclamation, as opposed to French or Dutch, is that it was a communal effort and not dependent on central finance and hierarchical organisation. That is because of their second special feature:
ii) The Acadians arrived as individuals or families with no hierarchy. They acknowledged no nobility and crucially they did not acknowledge any Crown. Occasionally they were obliged temporarily to pay lip service to the French or British crown when military forces passed through, but until their deportation they were never successfully subjected to any central authority.
iii) They enjoyed consistently friendly relationships with the local Mik'maq nation and intermarried without apparent prejudice on either side, developing a large Creole component. Historians have generally explained this as due to Acadian agriculture being on reclaimed land and thus not competing for resources. However that ignores the fact the salt marshes they were reclaiming were themselves a very valuable source of food for the Mik'maq – birds and eggs, fish shellfish and crustaceans, samphire etc.
I rather tend to the view that it was the lack of hierarchy and crown allegiance that also led to good relationships with the native people. The Acadians made no claim to conquer the land, impose a new king or create a state. They were just settling non-aggressive farming communities.
Historians are at pains to counter the idyllic portrait of the Acadians. We are told they were very poor, lived in squalid conditions, tended to inbreed, left no cultural legacy and were often led by their Catholic priests. There is validity in all those points, but in the historical context such criticisms cannot help but come over badly. The imperfections of a society do not justify genocide.
In reading about the Acadians, I was struck by this passage:
"When the first New England colonists came to Nova Scotia five years after the Acadians were expelled, they encountered a landscape littered with bleached bones of livestock and burned ruins of houses."
Anyone who has hill walked in the Highlands of Scotland knows just how frequently you come across the low walls of the base of old homes, often grouped together in small settlements, and sometimes in desolate moor many miles from the nearest habitation or cultivated land. These of course date from the Highland Clearances, some contemporary with the genocide of the Acadians.
One obvious fact had leapt out at me since childhood. The depopulation of the Highlands was a political choice, and the vast managed hunting estates were perfectly capable of supporting large populations through livestock and arable in the past. The notion they can only sustain grouse and small numbers of deer is evidently nonsense.
I am currently researching a biography of the Jacobite General George Murray, and was looking at a journey he took from Blair Atholl to Braemar. There is absolutely no public road there any more – not within twenty miles of most of his route – and the places he stayed including manses seem to be wiped from the map. There was a population – indeed he later raised troops there.
Go to google maps, trace a straight line Blair Atholl to Braemar (yes, obviously you can get there the long way round) and see what you can find today in the middle. But this is not wilderness, it is completely habitable and was populated.
I could recount a thousand or more atrocities across the history of the British Empire as bad as the Acadian genocide. Many are completely forgotten, like the massacre of the Murree tribe in Balochistan under a flag of truce, or the Sierra Leone Hut Tax war. Some are startlingly recent, like the Chagos Islands. But I recount the Acadian story because of its resonance to the Scottish Highlands, with that justification of treason and rebellion, and because of the furious denial in recent days after Scottish colonisation was asserted in the House of Commons.
The tone of much of that reaction is essentially that white people were not the victims of Empire. Well, I give you the Acadians. It is also worth pointing out the very basic fact that there was never the kind of expulsion and depopulation anywhere in England that occurred in both Scotland and Ireland. What happened to the Gael was much worse than effects of agricultural enclosure.
It is Armistice Day today and Remembrance Sunday shortly. What was in my childhood an occasion for reflection, grief and thanksgiving for peace has been turned into an orgy of militarism.
We are supposed to think of those who "gloriously" gave their lives for Britain, perhaps while shooting up Afghan civilians in a village or destroying the infrastructure of Iraq. Have a look through that list of names from the town of Grand Pre, and wonder which ones were ten year old boys separated from their mothers. Ponder which died on their hideous deportation journeys. The victims of Empire deserve remembrance too.
————————————————-
Forgive me for pointing out that my ability to provide this coverage is entirely dependent on your kind voluntary subscriptions which keep this blog going. This post is free for anybody to reproduce or republish, including in translation. You are still very welcome to read without subscribing.
Unlike our adversaries including the Integrity Initiative, the 77th Brigade, Bellingcat, the Atlantic Council and hundreds of other warmongering propaganda operations, this blog has no source of state, corporate or institutional finance whatsoever. It runs entirely on voluntary subscriptions from its readers – many of whom do not necessarily agree with the every article, but welcome the alternative voice, insider information and debate.
Subscriptions to keep this blog going are gratefully received.
Choose subscription amount from dropdown box:
Paypal address for one-off donations: [email protected]
Alternatively by bank transfer or standing order:
Account name
MURRAY CJ
Account number 3 2 1 5 0 9 6 2
Sort code 6 0 – 4 0 – 0 5
IBAN GB98NWBK60400532150962
BIC NWBKGB2L
Bank address Natwest, PO Box 414, 38 Strand, London, WC2H 5JB
Bitcoin: bc1q3sdm60rshynxtvfnkhhqjn83vk3e3nyw78cjx9
Ethereum/ERC-20: 0x764a6054783e86C321Cb8208442477d24834861a
Subscriptions are still preferred to donations as I can't run the blog without some certainty of future income, but I understand why some people prefer not to commit to that.