It is good to be joined by Niels Ladefoged on this tour. Niels was the Director of Photography on the film Ithaka, and as such a fly on the wall of the Shipton/Assange family for two years. But his commitment to Wikileaks goes back much further. He is a very helpful and calming influence to have around when facing a crisis like a stolen laptop.
It is a crisis. I have much important data stored on a copy hard drive, but that was made some time ago and much else has been lost. I do not maintain sensitive material on the laptop. But the risks of identity theft and the danger to my own access to all kinds of different accounts is very real.
Fortunately Sunday 27 November is a rare day off on the tour. The hotel does not do laundry at the weekend, and Germany allows workers a rest day on Sunday in a way that has been forgotten in the UK – so laundries are shut, and so are laptop shops.
There is another peculiarity. The laptop appears to have been taken out of the laptop bag, but the fairly large sum of cash in the bag was not taken. However what has also vanished is my heart medicines (Apixaban and Digoxin for the medically minded), which were in their boxes and kept in my laptop bag in a ziploc sandwich bag.
By one of life's peculiar little coincidences, Niels, who arrived on a different train from Erfurt, found his vital prescription medicine had disappeared from his luggage the very same day. So we both need to sort out our prescriptions.
The day is spent in several return trips to the railway lost property office and in making a police report. The lost property office counter alternates between a man in a peaked cap who ignores you, and a woman in a peaked cap who yells at people to go away.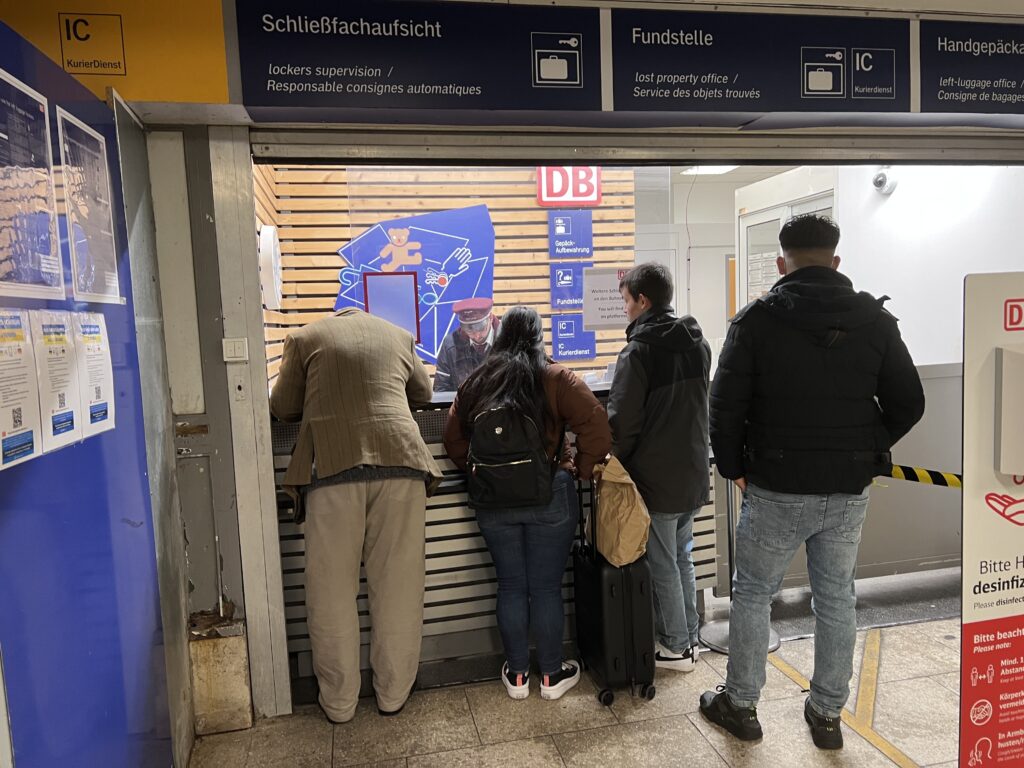 In the police station I am taken upstairs by a very earnest young policeman with a fashionably sparse beard, who speaks excellent English. He takes all the details and determines exactly where I was sitting, which door I exited the train by, what I was wearing and what route I took to the hotel. He says he will look at the station CCTV cameras. There were none on the train.
I tell him I am dubious that a thief would target such an obviously old and cracked laptop. He said he was not at all surprised. Thieves board the train at the station just before Frankfurt and walk up the train. They would take the laptop from its bag in a second, without looking at it.
He said it was not unusual for thieves to take the laptop and not the bag. He smiled at my concern about identity theft, saying that was not their level at all. The policeman seemed genuinely eager to get on to the CCTV footage and start lookiing for the thief.
This left me more open to the idea it was just a random theft, but I had seen nobody moving through the train as he described, and the very few people left in the first class compartment all looked entirely respectable.
In the evening Niels and I went to the old town of Frankfurt, of which there is not a great deal. It is not a good city to spend a Sunday. Everything seemed to be closed. Eventually we found a very local restaurant, where the waitresses wore what looked like football socks over their jeans.
The restaurant was splendidly decorated for advent, with what seemed like half a forest festooned in great boughs all over the place, through which peered the light of big chunky red candles. The place had plainly already survived hundreds of christmases without burning down, but I have no idea how.
I ate roast ham hough with sauerkraut and pan fried potatoes, washed down with a shared litre flagon of local wine. The crackling on the ham hough was superb. We felt a lot better after this, and asked the waitress for a local schnapps. She brought something really sweet and horrible with an alcohol soaked apricot in it. We drank it for research, and even ate the apricots, but I don't recommend it.
Niels (at this point I shall blame him) then asked if they had a schnapps more like Danish schnapps. They brought us a couple of glasses of Korn. We knocked them back and agreed they did not seem like spirits. No burn and we guessed 20% alcohol. They were only 40ml measures, not 50ml.
So we thought we should have two more. That went quite well so we decided to repeat. After we had knocked back six each, we looked at the bottle and saw it was 32% alcohol. We thought it might be sensible to stop at this stage, but unfortunately the waitresses started to give us free schnapps.
It would have been rude to refuse.
This did not really help with the aim of forgetting my troubles and relaxing. I slept very badly, fretting over my missing laptop. The next morning, I had still lost my laptop and I now had a headache.
I also felt a terrific guilt – which I do most days here – at enjoying myself whilst campaigning for Julian, while he is in terrible conditions in a maximum security prison.
I got up, showered and shaved and went laptop shopping. This was quite fun. It soon was obvious to me I could not afford one as good as the one I had lost.
In the end I chose an Acer Aspire 5, with Intel i5 (the stolen one had i7), 8GB RAM (compared to 16GB) and 512GB SSD (compared to 1TB HDD). Even so this cost me 770 euros. But it is a slim and elegant thing of beauty.
It is a 17 inch, like my old one, but when I slotted it in to my old laptop bag it really came home how radically slimmer it is, taking up far less space. It is also a great deal lighter.
Having got through the dash to Slovenia, I was now hoping for a period of much more sedate rail journeys. Our itinerary today 28 November was just 11:53 ICE 623 Frankfurt to Munich, arriving 15:09.
The train left on time and sped along at great speed. Nothing seemed untoward, until a man in red uniform walked through the train announcing that the cafe was closed due to a power failure in the kitchen.
Then about 20 miles after Wurzburg the train slowed to a crawl, before finally coming to a complete halt, next to a yard full of rusted excavation equipment. There it stayed for about 45 minutes. An announcement was made that the line was blocked.
Fifteen long minutes later came another announcement that we would go back to Wurzburg, before proceeding to Munich by a different route. So we headed backwards, very slowly, for about ten minutes, before stopping in front of a different yard, also full of rusting excavation equipment.
It was like watching Scrapheap Challenge without the contestants.
Eventually we started to crawl along again, through Wurzburg station and out the other side without stopping. We picked up speed, heading away from Munich. Then another halt for ten minutes, then the train started running in its original direction once more.
Reaching Wurzburg for the third time, the train halted in the station and everybody was told to get off. Another Munich train was expected the other side of the same platform in five minutes.
A platform change, to one substantially further away, was announced just as the train pulled in to the station. Everyone went running off down the stairs with their luggage.
The last second platform change is the favourite game of German Railways.
We had come in on a huge train – two ICEs joined – while the one being changed to was a great deal smaller and arrived already full. We therefore decided to let it go, as there were now three more Munich trains showing as queued up over the next twenty minutes. We got on the first of these, which was comfortable, and arrived in Munich about three hours late.
Ithaka was being shown in the quirky little Werkstation Kino in a courtyard basement. The local organisers were very enthusiastic, and all sixty seats were sold out. People were being turned away. I introduced the film with two brief observations.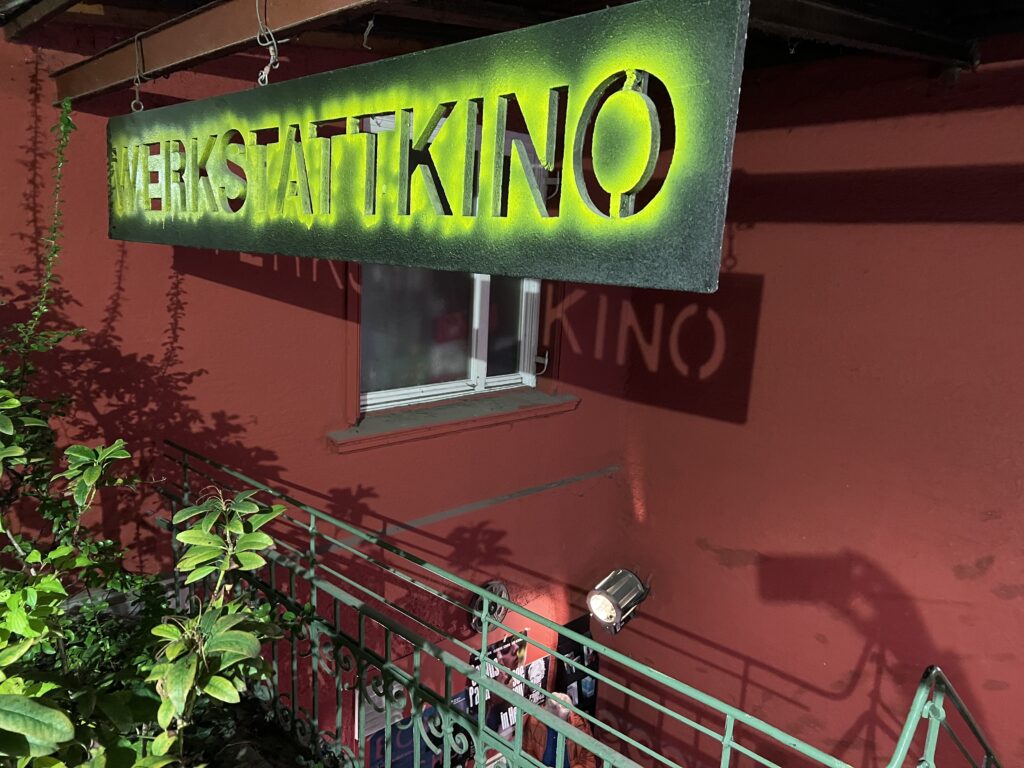 Firstly, I pointed out that the CIA had the spy videos of Julian's meetings with his defence lawyers. Secondly they had all his legal papers, seized when he was removed from the Embassy. There are two parties to the extradition proceedings, the USA and Julian Assange. In any genuine legal proceeding, where one party had stolen the legal documents of the other and spied on their legal conferences, the case would be instantly dismissed.
Plainly the so-called judicial process is a farce, a piece of political theatre.
Niels and I then adjourned to dinner in another very local restaurant in the same building. One of the peculiarities of the "cinema" was that the public entrance was sealed by a very heavy steel door. It was completely blank on the outside and could only be opened from within. This is locked shut during performances, to the bemusement of latecomers.
One lady had driven from Austria to see the film but arrived too late. She joined us for a pleasant meal, and absolutely insisted on paying. Niels knew her as a long term supporter.
Niels is Danish and therefore very low maintenance – give him a plate of rotting fish with a couple of raw eggs on top and he will be happy for days. He explains to our chairpersons that you pronounce his surname, Ladefoged, by not sounding the d's or the g. If you want to try it at home, I suggest you try making the noise of a vacuum cleaner blocked by a sock.
Niels is a compulsive photographer, as a fortunate result of which this narrative is now superbly illustrated.
Talking to activists after the film, we learnt the inevitable cause for the ruination of Germany's once legendary railways – privatisation.
Privatisation has been carried out on the British model, with the track run by a private entity and different operating companies running their rolling stock on the track. This has been an unmitigated disaster from day one.
In a refinement of exquisite stupidity, the private network company is responsible for rail maintenance, but the government pays for any rail replacement needed – which is an incentive not to maintain. The activists in Munich explained this as the root cause of the increasingly frequent line closures and derailments.
We were staying in the Moma1890 hotel in Munich, which was really pleasant. We had two days there, which gave me a day to set up my new computer, and to go and see a doctor for a new prescription, as did Niels. Unfortunately the hotel did not do laundry, and an unpleasant odour was beginning to emit from my luggage.
We visited a small winter market behind our hotel. It was delightful, with lights twinkling brightly in the bitter cold and little santa clauses on bicycles zipping around on cables stretched between the trees.
The gluhwein was very welcome, sweet and strong and tasting as though the wine was drinkable per se. It was a very resonable 3.5 euros for a 200ml glass, and for just 1 euro more you could add an extra shot of spirits.
Niels has a theory that adding enough shots of rum to his gluhwein would counter the sugars. I have a theory that adding enough shots of brandy to my gluhwein will counter the sobriety. We both test this.
You pay a 3 euro deposit for a delicate frosted glass with an etching of a stag. I would like to keep mine, but the thought of carrying anything else in my luggage dissuades me.
We found a nearby tapas restaurant for dinner, and discovered such a very good wine that it is best to draw a veil over the rest of the day: El Canto de la Alondra, Ribera del Duero. You can't say that after you drink it. Lots of forward fruit for a Ribera del Duero but still very soft and full.
The next day 30 November was a straightforward journey, EC114 at 13:32 from Munich East to Stuttgart, arriving at 15:59. The train arrived about one hour late in Stuttgart.
All but the facade of Stuttgart station has been demolished and the entire railway area is being "redeveloped". Currently you leave the station on a snaking elevated runway above the building site, with MDF floors. It is a 800 metres walk along this from platforms to taxis.
As I was trying securely to balance my laptop bag on top of my wheeled luggage, Niels pointed out to me that there was a velcro strap on the back of the bag, specifically for that purpose. I was amazed. I have had that laptop bag for seventeen years and never noticed that strap. It has traveled hundreds of thousands of miles with me, all round the world.
The bag was given to me by Alex the Geek, a supporter of my anti-war candidacy against Jack Straw in Blackburn in the Westminster general election of 2005. Alex had a little computer sales and repair store in the town.
The bag was already second hand in 2005. It is very well constructed with industrial strength zips, clasps and fabric. It has about eight separate compartments, and the main area for the laptop is enormously wide, because in those days laptops were enormously wide.
Often on short journeys I use it just as a travel bag. It has an airline luggage label flapping from the handle, which for years has resisted all attempts at removal. It now had my slim little Acer tucked safely inside.
And it has a velcro strap to attach it to my luggage handle!
Niels has taken upon himself the role of Passepartout, having plainly been briefed that I am hapless. Even with his help, having to cart the luggage over the vast redevelopment was a real struggle.
We are very often not seeing the best of the cities on this tour. We arrive at the railway station, usually about dusk, and generally stay close to the station. The cinemas tend to be in the same central area.
Certainly in Stuttgart, from station to hotel to cinema was just horrifyingly ugly. Neither poor nor derelict, quite the opposite. Brash, tasteless. and soulless.
Plainly the railway area buildings just demolished all had to die, as they committed the unforgivable sins of not being of grandiose scale, and of being designed for human use. Nothing else I saw in Stuttgart fits that description.
There was an excellent turnout in Stuttgart and very active hosts in a very good cinema. We were buoyed by the news that five major international media groups, the original publishing partners for the cablegate leaks, had come out strongly calling for an end to the persecution of Assange, in the interest of protecting press freedom.
The real joy of this trip is the people we meet. In every venue there are fantastic local activists, who organise vigils, petitions and other actions for Julian. Many have street stalls on a weekly basis.
I am sorry we will not be visiting Aachen, where a lady held a "Free Craig Murray" banner in the town centre, every Saturday of my own imprisonment. That banner was given to me by German activists at the "Hands around Parliament" event for Julian. But I am meeting hundreds of equally doughty souls.
In Stuttgart the event is hosted by Pax Christi and die AnStifter. They were organising a major human rights festival, "30 days in November", and this was the closing event.
After the screening and talks we went for drinks and snacks with the organisers. All the events have different local organisers and we do this almost every day. I apologise for not noting and acknowledging every one individually.
The next morning we journeyed on to Wiesbaden. I post this picture of the Stuttgart station departures board to illustrate what I have been saying about German Railways. You can see from the station clock top right the photo is taken at 11:23. So every single train on that board is late – the departure times range from 10:51 to 11:11.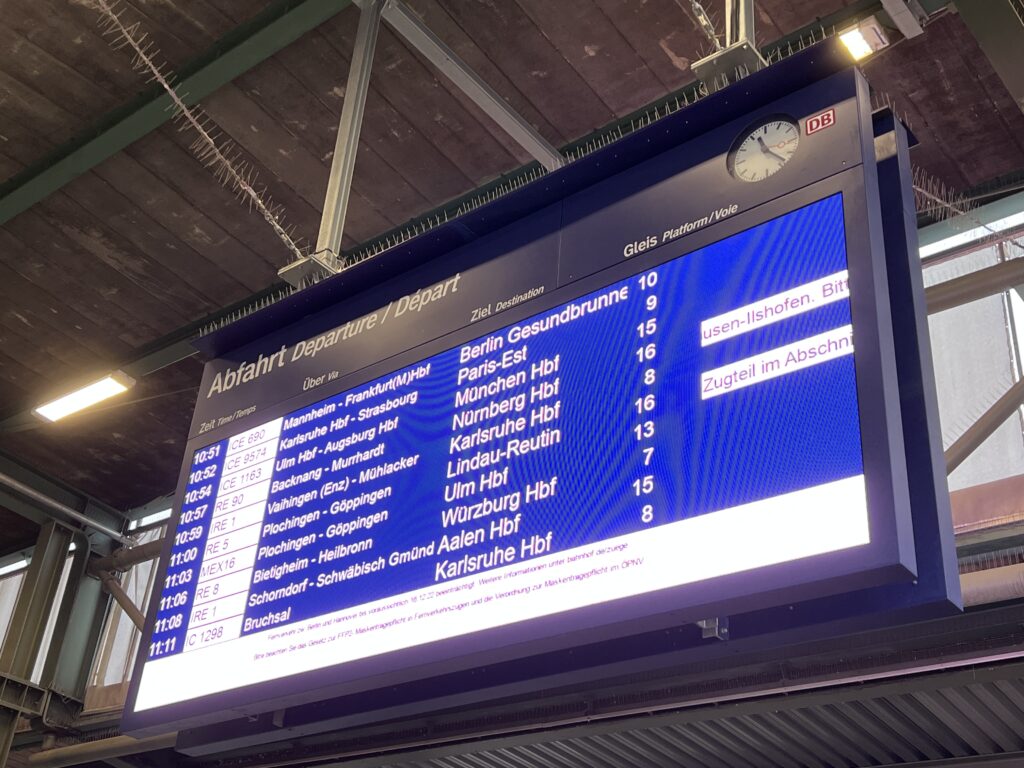 That is absolutely typical of Germany's privatised railway.
Our itinerary this day, 1 December was 11:37 IC 2312 Stuttgart to Mainz then 13:29 SBA35836 Mainz to Wiesbaden. Hurray! We were on time!.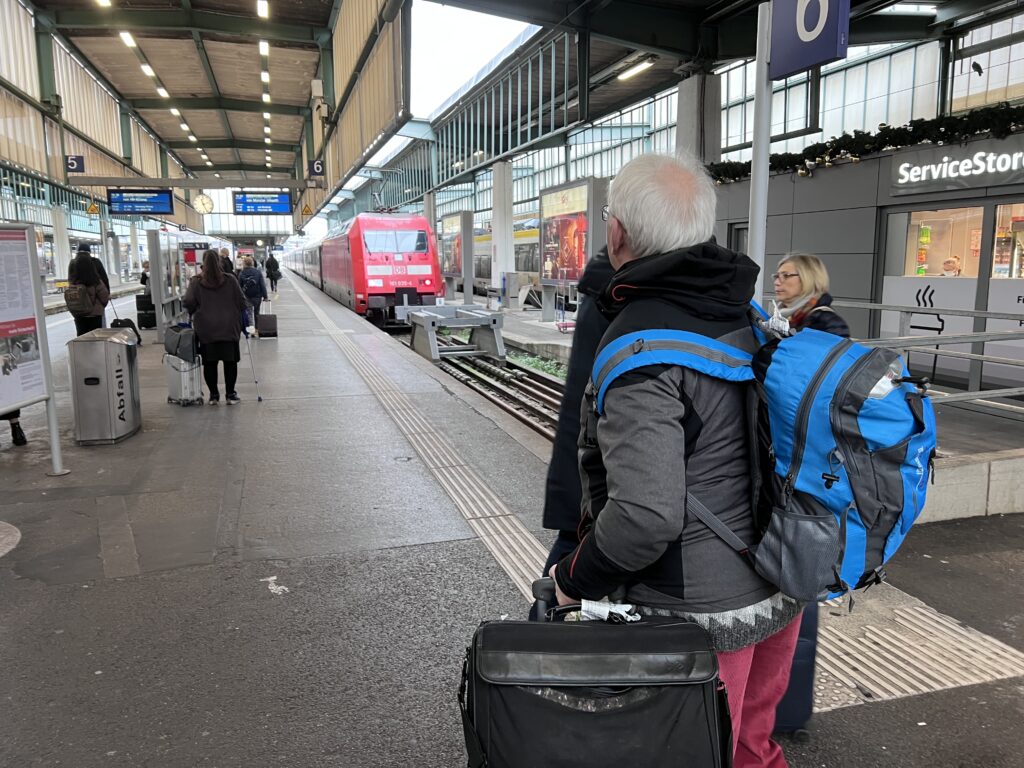 The train to Mainz was not busy, and very comfortable to write on. Here I am working, with my elegant new laptop and my beloved old laptop bag: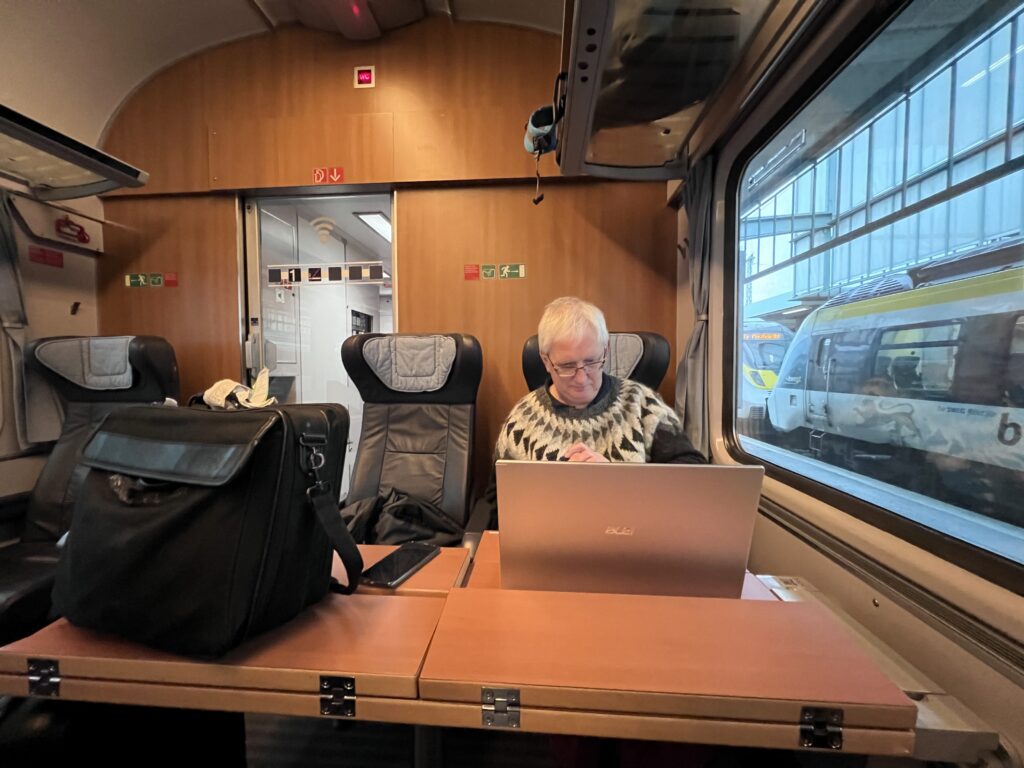 The train from Mainz to Wiesbaden was a little commuter hopper, full of young women and their children, and a great deal of laughter. Wiesbaden appears effectively a suburb of Mainz.
Wiesbaden is very lovely. A spa town, it has natural hot springs bubbling up in various parks and hotels. It is difficult for a British person to criticise German cities for ugliness, the UK having been involved in their destruction, but much of Wiesbaden either survived or has been sympathetically restored.
The facade of my hotel, the Schwarzer Bock, had been restored with studious attention to grim ugliness, but there were some surviving details on the lower two floors from the original hotel, including much of the spa pool area.
Goethe had stayed in this hotel for a cure, and so had Dostoevsky, who had lost all the money for his European tour in the casino. He wrote up the experience as a novel "the Gambler", in which Wiesbaden in Hesse is called Roulettebad in Hesse.
I am afraid the hotel is now run by Radisson Blu and is pretty prosaic. But Wiesbaden had plenty of evocative architecture,  and is plainly very wealthy. Wilhelmstrasse and the streets off it are full of very expensive shops selling top range products.
There are designer furniture shops, designer curtain shops, designer handbag shops. I saw a shop selling nothing but very expensive garden furniture, and another just selling those kind of stupid and pointless objects interior designers love to shove down next to coffee tables. Driftwood painted gold, peacock feathers in improbably shaped vases, roller skates painted electric blue with crystals round the top.
Plainly Dostoevsky was not the only person in Wiesbaden with more money than sense.
It is not generally recalled that, when Cumberland won at Culloden, most of the cities of Scotland were held down for the English by garrisons of mercenaries from Hesse. Cumberland actually disliked the Hessian officers for treating their adversaries according to the rules of war and refusing to commit atrocities.
Almost certainly, all of the Hessian officers occupying Scotland would have been familiar with Wiesbaden and would have walked around the very streets and buildings I walked around now. Doubtless some of them had stayed at the Schwarzer Bock.
I wondered how seriously Hessian archives had been searched for letters home or diaries on their time in Scotland, or what published memoirs there might be. I made a note on my new laptop to pursue the idea next year.
The cinema was beautiful, an art deco marvel. It was also very large, holding over 500 people, so though around eighty came, they did rattle around a bit. It did get fuller than this picture taken before the start, but not enormously.  Now you get to see what Niels looks like.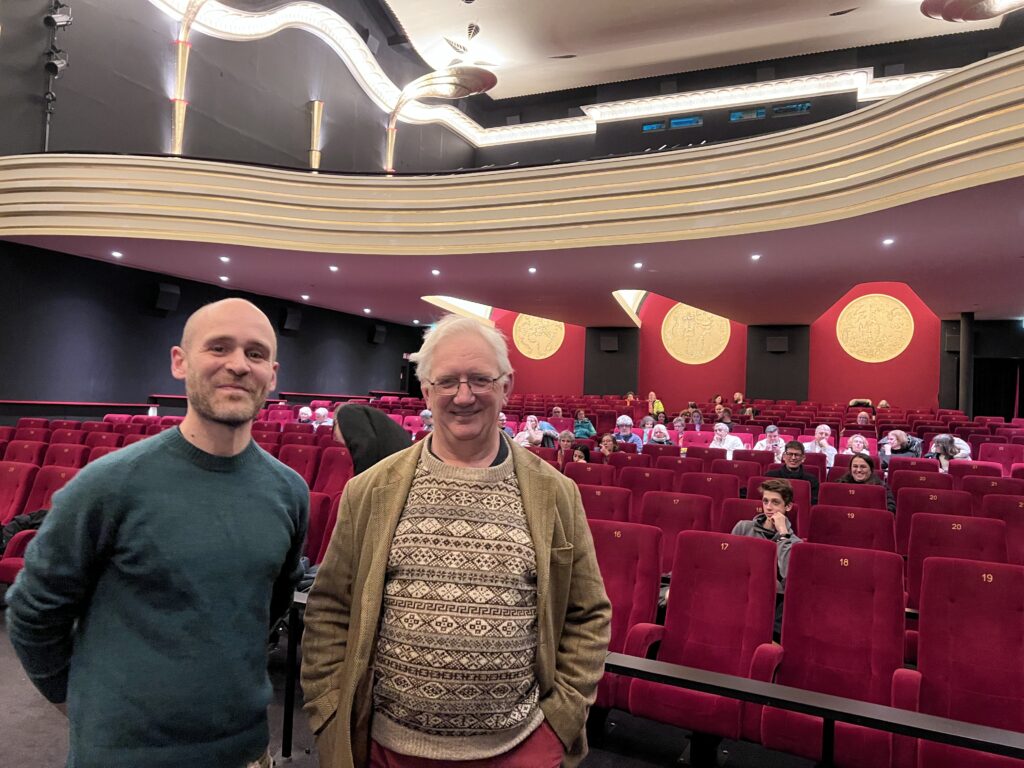 There was a dead air around Wiesbaden after the meeting, occasioned I think by Germany being knocked out of the World Cup that evening.
I had bought a new wheeled case at Niels' suggestion, to replace the rucksack I had been struggling with. I found two wheeled cases much easier to manage, and with my laptop bag now velcroed to the handle of one of them and Niels to assist with lifting when needed, my luggage problems appeared to be over.
2 December we had a comparatively easy itinerary. 12:26 ICE 1651 Wiesbaden to Frankfurt Airport, 13:09 ICE 610 Frankfurt Airport to Bochum arriving 15:09.
Bochum was the first destination on our tour that I had not previously known even existed!
The trains were on time. The change at the airport station went smoothly, but the train from there was very packed. The luggage racks by the door at the carriage ends were overflowing with expensive looking bags and suitcases. We squeezed our luggage into any available bit of vacant floor, and then put my laptop and Niels camera bag into the overhead rack above us.
The rack was made of glass, presumably purposely so that you could look up and see your bags through it. Given recent experience, I repeatedly looked up and saw the comforting sight of the green and white baggage label attached to my laptop bag, pressed against the glass.
And then I didn't.
Shortly before we arrived at Bochum, I looked up again, and it just was not there. It was gone.
I was stupefied. Niels went running down, collecting together our other bags, then looking for my laptop. I started asking everyone on the coach if they had seen the bag, or seen anybody take the bag.
To be fair, this got a much better response in Germany than it might have done in the UK. Virtually everybody stood up and started rummaging around. One large man was particularly helpful and started moving off and getting people searching in adjacent carriages. But all for naught; nobody could find anything and nobody had seen anything.
We pulled into Bochum. Niels stood preventing the door from reclosing while we searched, which got the railway staff involved. In the end he got off with the luggage while I stayed on the train and continued the search until the next station.
At Dortmund I had to give up. A second laptop in five days had been stolen from me.
I returned on a local train to Bochum. I had lost not just my laptop, but a lot of important tickets, receipts and documents in the bag, plus – and this is crucial to me – my reading glasses.
When the first laptop disappeared, I concede it was possible a thief had quickly taken it from the bag, not noticing how old and beaten up it was.
But I had not removed my new laptop from the bag during the journey, and there was no way of knowing a laptop was in there at all. It was next to Niels' much more valuable camera bag, which was untouched.
The whole carriage was flooded with luggage, presumably because it came from Frankfurt airport. The racks at the carriage ends were overflowing with expensive luggage, right next to the doors, away from their owners and very easy to steal at a station.
Why would a simple thief instead take my beaten up bag, from right over the head of its owner?
It plainly makes no sense at all.
We headed into Bochum as the night closed in.
————————————————-
Forgive me for pointing out that my ability to provide this coverage is entirely dependent on your kind voluntary subscriptions which keep this blog going. This post is free for anybody to reproduce or republish, including in translation. You are still very welcome to read without subscribing.
Unlike our adversaries including the Integrity Initiative, the 77th Brigade, Bellingcat, the Atlantic Council and hundreds of other warmongering propaganda operations, this blog has no source of state, corporate or institutional finance whatsoever. It runs entirely on voluntary subscriptions from its readers – many of whom do not necessarily agree with the every article, but welcome the alternative voice, insider information and debate.
Subscriptions to keep this blog going are gratefully received.
Choose subscription amount from dropdown box:
Paypal address for one-off donations: [email protected]
Alternatively by bank transfer or standing order:
Account name
MURRAY CJ
Account number 3 2 1 5 0 9 6 2
Sort code 6 0 – 4 0 – 0 5
IBAN GB98NWBK60400532150962
BIC NWBKGB2L
Bank address Natwest, PO Box 414, 38 Strand, London, WC2H 5JB
Bitcoin: bc1q3sdm60rshynxtvfnkhhqjn83vk3e3nyw78cjx9
Ethereum/ERC-20: 0x764a6054783e86C321Cb8208442477d24834861a
Subscriptions are still preferred to donations as I can't run the blog without some certainty of future income, but I understand why some people prefer not to commit to that.