When I agreed to do the tour of Germany, I stipulated that I would need to break off to honour a speaking commitment in Maribor, Slovenia. This turned into a crazy epic.
The straight line distance from Berlin to Maribor is 425 miles, not very different from London to Inverness. Unfortunately the entire Alps are in the way and Maribor is much better connected to Eastern than Western Europe. The distance by road is given at exactly 600 miles. I can't find a distance calculated by rail, but I think it is well over 900 miles. (I can't find a site which gives rail distances except on a crow flies basis).
My route on for 25 November was 06:01 ICE 1001 Berlin to Munich, 10:17 EC 217 Munich to Graz, 16:27 RE 157 Graz to Spielfeld-Strass, 18:04 RE 4443 Spielfeld=Strass to Maribor.
I should arrive at 18:20 to give a speech immediately. My talk with Stella had finished around 22:30 in Berlin and my talk the next day in Maribor began at 19:00. Then the following day it was back over the Alps and across the German plain again to speak at Frankfurt at 18:00. If my many political adversaries ever needed hard evidence I must be quite nuts, I guess this is it.
But I had said I would go to Maribor, so I did.
I had hung around after the talk in Berlin to chat with those attending – this is important both to motivate and to recruit activists. Because I knew I had a very early start, I had chosen the Intercity hotel, right next to the railway station. This was a mistake. It was very expensive (260 euros the night) and dreadful value for money. The mattresses were very thin, I have had thicker handkerchiefs than the towels and heavier towels than the carpet. There was nothing but water to drink in the room.
After checking in, I walked to the railway station so I would know exactly where to drag all that luggage in the early morning. I am not in general a fan of modern architecture but I simply loved Berlin Hauptbahnhof and spent a rapt half hour wandering around inspecting it closely. St Pancras is always called a cathedral to rail, and this is the modern equivalent. It is breathtaking in both scale and ambition and in quality and detail.
It speaks the same architectural language as some of London's newer projects like the London Bridge Station rebuilding or some of Crossrail, but with much more assurance and verve. In London the great glass lift columns would have been square not round, because it is cheaper. The multiple levels of trains are dizzying and, reflected in acres of glass, sometimes illusory. There is just so much of it, all designed precisely to function but with an exact role in the aesthetic scheme.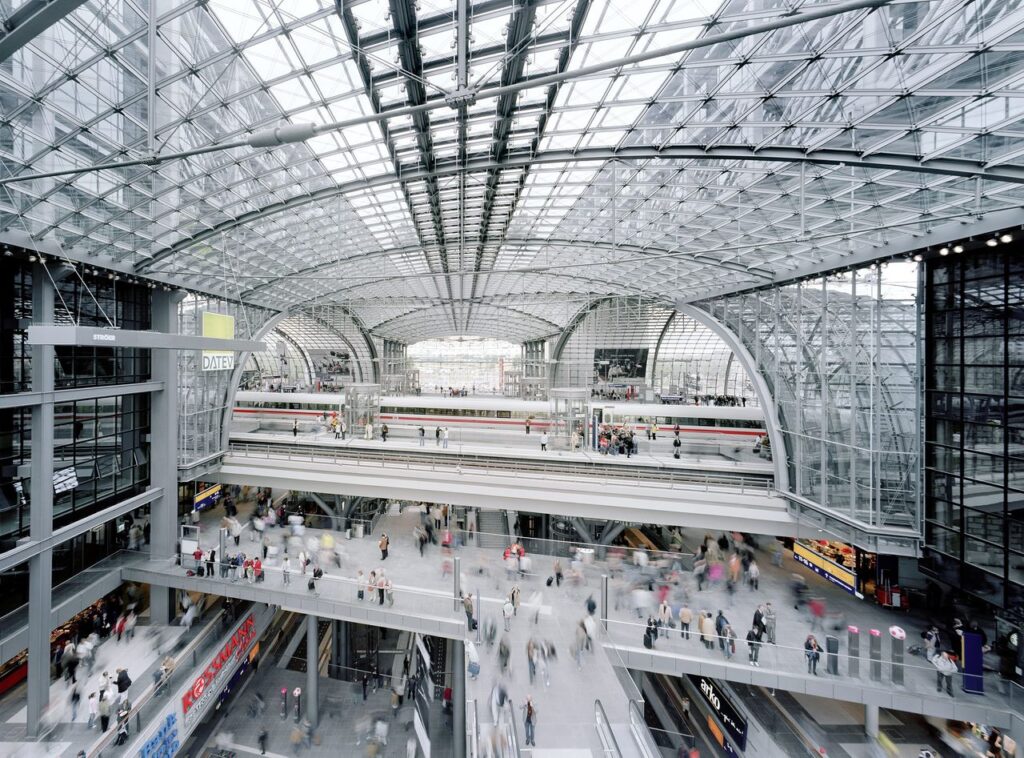 Returning to the mundane, I was very hungry, having eaten nothing since breakfast on a wildly difficult and tiring day (and that breakfast had been mostly champagne). I found the last food outlet open and bought their last cheese baguette, which had reached the stage that sweat fell from the cheese and the bits outside the bread were many shades darker.
And so to bed.
5am; up, shower, shave, off to the station. Finding it difficult simply to lift the luggage. It is very cold. Pass a long queue of homeless people outside the door of a soup kitchen. Get to the platform on the station's lowest level.
There is a deeply held belief in the UK that German trains are very efficient. I held it myself.
The Munich train arrived seven minutes after it should have departed and left 13 minutes late. First class had the old fashioned system of six seats in a closed compartment, two banks of three against the walls facing each other, with a sliding door and a single corridor running down one side of the train. But it was a very new carriage, and the traditional design was rendered in attractive light wood panelling and with curves in the large glass walls.
I was in the end compartment in the carriage. Germany has re-instituted the compulsory wearing of masks on trains, which specifically have to be heavy PP2 masks. In flying (unwillingly) from Cologne to Berlin I had not had to wear a mask. They are compulsory on trains in Germany but not on planes, which makes no sense whatsoever.
Whether for fear of covid or because I look like a crazed axe killer, the lady who was also in the compartment where I had my reservation plainly was not happy with my being there. She scowled as I came in, made a fuss about moving her luggage (which was in no way needed), and finally demanded I show her my ticket and seat reservation. She then looked daggers at me for 15 minutes.
As I was obviously spoiling her day, I got up, smiled and said goodbye, and went and found another seat.
After a while I went up to the restaurant car to see what could be done about breakfast. I am embarrassed not to speak any German, but the lady there spoke English. I asked her what was available for Breakfast. She told me I had to choose from the menu, and passed me one. There were a range of options from the Kaiser breakfast, including ham, eggs and cheese, to the Wien breakfast, just a pastry and a coffee.
I asked for the Kaiser breakfast. She shook her head, took back the menu, and put a big cross in red biro through the Kaiser breakfast. So I chose the next breakfast down, and she did exactly the same thing. We worked our way down to the Wien breakfast, and finally she crossed that one out too.
So having eliminated all the breakfast options I switched to the other side of the menu and ordered a plate of ham and sausage. The lady said I could not have that either as they had no bread.
I gave up and asked for a latte. She said they had no milk. I went back to my seat clutching a black coffee.
I had been through exactly the same situation in Poland immediately post Communism, where restaurants would not tell you what they had and insisted you order from a menu of non-existent choices, until you chanced upon something available, like a game of culinary battleships.
Apart from that, this was a very pleasant train. The station indicators in the corridor also had a speedometer, and most of the time it hummed along at a highly impressive 260 kph (160 mph). It actually caught up on time before it got to Munich, which was fortunate as it was a short connection to Graz. This change involved humping the luggage quite a way, but I made it.
This also was a train organised in compartments, but the carriage was much older. I shared a compartment with a delightful and friendly lady, traveling with her partner, who was going back home to Salzburg for a break. She is a chef and has her own Michelin listed restaurant in Munich, doing Austrian cuisine. The restaurant only has 23 covers and you currently need to reserve three weeks in advance.
She had survived lockdown by starting to do takeaway food, and in fact had achieved a bigger turnover, and profit, on takeaway than the restaurant ever had before. But she was pleased to be back to normal and stop the takeaway, which was all of the drudgery and none of the pleasure of being a chef.
We had a long and friendly chat about families and life. It made the journey go very quickly.
It is surprising how quickly the Alps came into view after leaving Munich, and you hurtle towards them for a very long time without their seeming to become appreciably closer. Once we reached the Austrian border an announcement was made that we could take off our masks, which we all did.
We were travelling in coach 12. The guard informed us that at Salzburg we had to change from coach 12 to coach 10, as one of the outside carriage doors would not open. This was not a problem in Germany, but meant the coach could not be used in Austria.
The two ladies were only going as far as Salzburg, but once there they insisted on carrying my luggage for me – all of it – and installing it and me safely in coach 10. They instructed the young gentleman sitting in the compartment that he was to look after me.
The line from Salzburg to Graz was extremely beautiful. My new young travelling companion worked for the Austrian rail network and he was very proud of it. He pointed out to me all the landmarks on the way, particularly mountains, castles and waterfalls, of which he had an encyclopaedic knowledge.
He kept telling me to take pictures and was most disappointed with my lack of photographic skills – with some justice. I took lots of pictures of myself reflected in windows and a variety of different passing poles and gantries. Here instead is Interrail's picture advertising the route.
It is at least this pretty the whole way.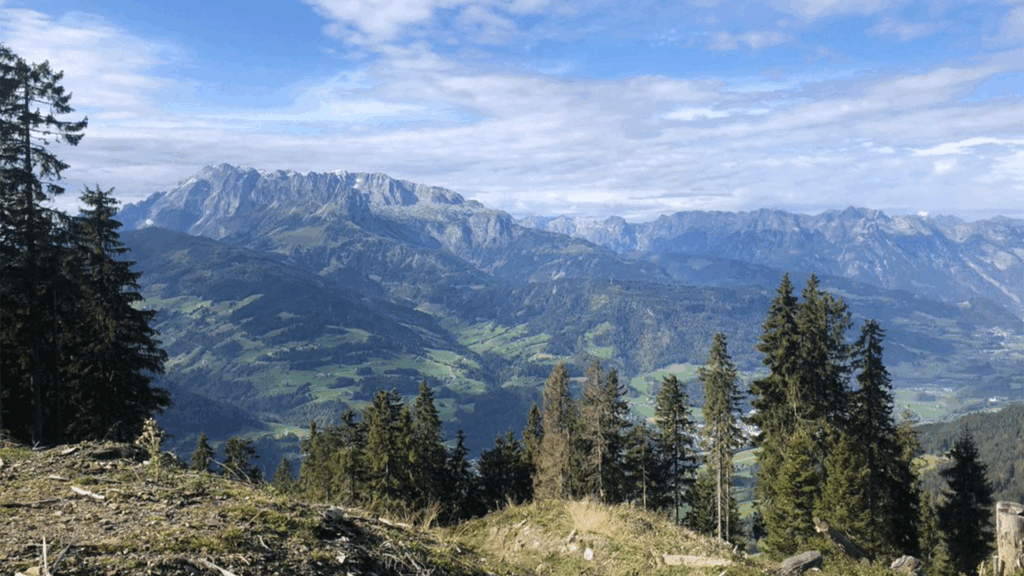 Austria and Italy will shortly be opening a massive tunnel under the Brenner Pass, 34 miles long. The Semmering tunnel, 17 miles long, will complete in three years time. There has been an incredible burst of tunnel building through the Alps which is revolutionising connections between central and western Europe with northern Italy and the Adriatic.
The Gotthard Base Tunnel, 35 miles long – which is longer than the Channel Tunnel – was finished in 2016. The Ceneri Base Tunnel, also in Switzerland, opened in 2018. Further West a major new tunnel under the Alps between France and Italy is nearing completion.
The reason for my companion's journey was that he was working on a route for a new over 30 mile tunnel that will replace the highest area of the Salzburg to Graz line. This is still in development stage, and even that fact he said is "hot news".
This day's journey of 260 kph trains and information of a whole complex of gigantic rail projects, stood in the starkest of contrasts to the impoverished and neglected infrastructure of the UK. We cannot construct even a single and short high speed line; the road between London and Edinburgh is still not fully dual carriageway and parts of Scotland still suffer appalling communications deficits.
Arriving at Graz I again had a change of platforms to negotiate with all that luggage. Fortunately Graz has mid-platform lifts down to the interchange level, and I made it to an adequate little local chugger. I really can't tell you much about this, except that it was dark outside and I fell asleep more or less immediately.
A friendly man woke me with a shake of the shoulder at Spielfeld-Strass, which is basically countryside with a shed in it. Here we had a remarkable change of trains, all the more peculiar for taking place in the dark.
We descended on to a normal platform and then walked over a footbridge, where I struggled mightily. The other side of the footbridge led not on to another plaform, but down on to the tracks. Half the people were hurrying off to a train in front of us and on our left, which was alongside a conventional train platform, and half of the people to a train front right, which involved crossing the lines and climbing up from a low wooden bench.
Everybody was running. I stopped a bearded man amongst what seemed like a party of young people and asked "Maribor?". He pointed to the train on the right. I picked up my pile of luggage and ran after the disappearing crowd, again with an aerobic burst I simply would not have thought I could produce. I threw the luggage piece by piece up into the carriage and climbed up after it. The doors closed and off we went.
We had of course just scrambled across the Austrian/Slovenian border and changed from an Austrian to a Slovene local train, although it is astonishing that these two EU states have not devised a more elegant way of doing it by now. The Slovene train was clean and new, one of those low slung designs with three internal steps up to a raised level at each carriage end above the bogies.
We made a couple of small stops on the way to Maribor, at stations – one very illuminated new and steel glass shiny, and one an old weedy unlit platform next to a cowshed. They had in common that neither had a sign saying where it was. A single person hopped on in each instance. Then we came into Maribor, the lights of which appeared very extensive.
Emerging on to Maribor station, which seems made of precisely the same concrete, glass and steel components as Austrian stations, I contemplated wearily that the short train had stopped as far from the exit on an extremely long platform as it was possible to stop. As I prepared for one last battle with the bags, I was delighted to see a huge bearded man stride forward to greet me. They had come to pick me up, and the man, who introduced himself as Matic, lifted my large suitcase as though it had no weight at all.
We drove to the self-declared autonomous zone of the Pekarna Centre, which was hosting me. This is an alternative culture commune which occupies an extensive site stretching over several former military buildings. It is very active in painting, film and the plastic arts, and functions as a very vibrant music venue and youth centre. It also holds a variety of events aimed at social consciousness and well-being. I had been invited in the context of an annual political teach-in to explain the Assange case.
The commune has rehabilitated several of the buildings on the derelict army base, and like many such groups has been through a process of varying relationships with the state. Originally declared by its founders to be self-governing and free from state law, gradually state regulation and state funding for aspects of the commune's work crept in. This includes subsidies from various state creative arts funds, local council funding for the modernisation of one of the buildings, and eventually the insertion of an "official" NGO and local authority control of the hostel accommodation.
This process has led to the inevitable conclusion – the state now intends to close the centre down entirely and take over the land and buildings for other purposes. There have been two formal attempts to do so in the last few years, and both candidates in the current mayoral election are pledged to shut down the centre. The council always propose ostensible public sector schemes of popular appeal as their aim.
The latest wheeze is to use the site for a dental hospital, although the local university hospital which will purportedly own it has no knowledge of the plan and no funding for it. The commune of course believe this is all fake and the aim is profit making private housing.
A luta continua.
I had been asked in advance what I eat, and had replied pretty well anything. I have to confess I meant Chinese, Italian, Indian etc, and had not expected to be presented with a bowl of rice and lentils. I had eaten nothing since the old cheese sandwich at the midnight before, so I ate my way through it with surprising gusto. It was very nicely cooled and spiced and would have been perfectly fine on the side of a few lamb chops. There was very decent Slovenian wine to wash it down.
After dinner I had a very quick tour of the grounds, mostly very dark but stumbling upon large groups of young people in surprising places. We also went in to the second hand bookshop, which they claim to be the largest in Europe. I doubt this, but it is certainly very large, over two open floors. While they have a great deal of shelving, there are also great rotundas of books simply stacked from the floor, spines outward, though taking out a lower one might be like a game of giant Jenga. This certainly allows a much higher book density than if everything was shelved.
I had a very few minutes but enough to realise there was an extremely productive Slovenian language publishing industry even during the time of the Austro-Hungarian Empire. Upstairs included the English language section, most of which was the worst kind of potboiler fiction. Indeed I wondered how on earth these many thousands of light and romantic fiction titles had found their way to Maribor. Sadly I had no time to find out.
I was equally surprised that the upper floor could support what must have been a great many tonnes of books. Passing back downstairs, I could inspect if from below as there was no plaster ceiling and beams and floorboards were exposed. Both were massive – the beams were about 24 inches square.
It was now time for me to give my talk, and we went over to one of the concert halls, which was gratifyingly full. I hope that I will be able to find a video link so you can watch it if you wish. The format was just me speaking for about forty minutes, and then taking questions and inviting discussion. On this tour I am mostly making a short introduction and then taking questions after showing the Ithaka movie. That is very effective, but personally I always prefer giving longer talks where I can expand, explain and explore my views. I felt very at home doing this before the Maribor audience.
You are going to get very bored if I recount to you twenty very similar talks I am giving on this tour. But each has unique aspects, often in response to questions. I recall in Maribor giving the example of the Panama Papers as illustrating what happens when a whistleblower goes the traditional mainstream media route rather than going for full exposure through Wikileaks.
When the papers were leaked of a law firm representing many thousands of people and enterprises hiding their assets in parliament, the western media filtered the information and hid everything connected to prominent western companies and individuals. Instead they deliberately gave the entirely false impression that the bulk of money laundered through Panama is Russian, and made the headlines entirely about Russian and Russian-linked individuals, including a chef with tenuous connections to Putin as an official caterer.
Out of 10 million documents leaked, about 120 were actually made available as documents by the journalists, and about a number 200 had their contents referred to by mainstream media journalists – how fully and how honestly we have no way of knowing.
We live in a world of fake investigative journalism. Access to the Panama Papers was strictly controlled by a Washington-based entity, the "International Consortium of Investigative Journalists". Their funders include
Ford Foundation
Carnegie Endowment
Rockefeller Family Fund
W K Kellogg Foundation
Open Society Foundation
Is it surprising they hid all the evidence about corporate America in the Panama Papers? The contrast to the Wikileaks model of giving the citizen access to unfiltered source material could not be clearer.
I was very warmly received by the audience in Maribor, and afterwards we had a party. The following is what I picked up from many conversations. There may be other contrary or balancing information. I am just reporting the views of those I met.
Maribor was Slovenia's major industrial centre and the main textile manufacturer for the whole of Yugoslavia, integrated into other Eastern European markets. It went through rapid deindustrialisation in the 1990s and had never really recovered. There remains high unemployment, though things have improved a little since EU membership as there is greater integration with Graz in Austria – a city which has been through similar problems. Graz currently has a Communist Party local administration.
Maribor feels cut off from Ljubljana. It is only 70 miles away but transport infrastructure needs upgrading. The train takes two hours and twenty minutes and the road is poor. There is a strong feeling that money from the EU and other international bodies never gets further than Ljubljana. The capital is booming and has significant funding for renovation, the arts and tourism. I encountered a lot of resentment towards the council.
I was very flattered to meet a couple who had journeyed from Graz just to hear me speak having read my books, and that two others had come with copies of Murder in Samarkand for me to sign (one in the US edition, Dirty Diplomacy).
I also took the opportunity of being in Slovenia to discuss the route they took to Independence, where I believe there are vital lessons for Scotland. I shall be discussing this in a Zoom talk to Alba International on 4 December, which I hope will be made more widely available afterwards.
I spent the night in the hostel, which is not a phrase you will hear from me very often. The next morning it was off to talk in Frankfurt.
The train schedule was 26 November was very slightly more forgiving. 07:19 INT 311 Maribor to Graz, 08:26 RJ 74 Graz to Wien Meidling, 11:22 ICE 26 Wien Meidling to Frankfurt.
This arrived in Frankfurt at 17:36 for a 18:00 talk, so there was no room for error. The big worry was a 4 minute change in Graz, with all the luggage. If I missed that, there was no way to make the talk in Frankfurt.
Matic arrived in a car to get me to a very cold Maribor station in plenty of time. Unfortunately, the train arrived 13 minutes late. It was a Ljubljana to Budapest direct train, which underlined the fact Maribor is very much in Eastern Europe. It consisted of only three rather tired carriages, of which the back one was first class, in which I was the only passenger.
Fortunately this train went straight through the border at Spielfeld-Strass without our having to change trains, but the train did change from a Slovenian to an Austrian crew, which took 15 minutes.
I have no idea how, but leaving the border 15 minutes late it still arrived in Graz bang on time. The next train was straight across the platform, so I made that four minute change with the luggage, in two swift trips.
I was now on the train from Graz to Prague. The carriage was Austrian Railjet and it was my favourite so far. Spacious and light, with plenty of tables, and a really helpful attendant who served at the table from a good menu of food and drink that actually existed. I had Goulash soup and a bottle of beer.
The train journey from Graz to Vienna was even more spectacularly beautiful than that from Salzburg to Graz. Not as high and the valleys were a little gentler, but the villages, castles and valleys were like an ever unfolding stream of picture postcards.
At Wien Meidling I changed to the train to Frankfurt. Here I was in an open first class carriage, mostly airline seating and quite full. Seats were three across, two one side of the corridor and one the other. I was in a single seat.
I slept for a couple of hours, and then I folded down the airline style table in the back of the seat in front. I was just about able to balance my bulky old 17-inch laptop on it and started to type this article.
It is a lovely old laptop of a very high spec. It had been all round the world with me for seven years. It has Intel i7, 16 GB RAM and 1 TB HDD. But it looks like rubbish. Far thicker than a newer version, it made a very significant contribution to the weight I was carrying, was very dirty indeed and the case is cracked.
The train wifi being pretty useless, I was using my phone as a portable hotspot. I was confused to note that the phone was displaying "two devices connected". I tapped on this and found that one was the pairing name I had set for my laptop, and one was a succession of numbers and symbols. I had never seen this before.
(UPDATE I thought it went without saying, but the portable hotspot was protected by a password – I had not changed the strong random one generated by the phone. That is why I was surprised).
The carriage was about half full. Everybody seemed normal. There was one young man, athletic looking with neat short hair, who had been already on the train when I boarded. He was working concentratedly on a small laptop on the table in front of him, and he continued to do so without a break for the entire six and a half hours from Vienna Meidling to Frankfurt.
He never looked at me and there was nothing strange about him other than his levels of concentration. But he was the only passenger near me who went the whole distance from Vienna to Frankfurt.
Indeed, rather to my surprise by the time we approached Frankfurt the carriage was very nearly empty, as people got out stop by stop. As Frankfurt is a huge place I expected the opposite.
As we neared Frankfurt, I packed up my laptop, disconnected the charger, and put both in my laptop bag which I left on my seat after putting the table back up. I then went quickly to the toilet (in a wooden cabinet actually inside the carriage) for a pee.
I came back just as we pulled in. There were only four of us getting off this first class carriage at this final stop. I got down with the bags, put the rucksack on my back, balanced the laptop bag on the wheeled suitcase, and set off down the platform.
At some stage another ICE train had joined us and I was sixteen carriages from the end of the platform. I was panicking a bit as my talk started in half an hour, although both hotel and venue were close.
Hurrying, I dropped the laptop bag from the top of the wheeled case. In picking it up I noticed the zip was partly undone. It just crossed my mind as strange, as I knew I had not left it that way. But I did it up and hurried on.
The Metropolitan Hotel is right next to the station. I checked in and hurried up to my room. Something was nagging at me and I opened the laptop bag. The laptop was gone.
I raced back to the station, but the train was as gone as the laptop. I went to the information desk, and they directed me to lost property. I went to the lost property desk, where a man in a red peaked hat was studiously unhelpful, and told me to go online and fill in a form.
Niels was filling in at the talk. I joined him and it was a disastrous attendance – only twelve people. They seemed subdued by the simple fact of being such a small gathering. I could not understand what had gone wrong.
It was good to see Niels. Given that we had been meant to travel together ever since London, and had not even managed to set eyes on each other these first three days, it was a happy reunion and he cheered me up.
But you lose a huge amount of information when you lose a laptop – including a lot of research for my book on George Murray. You then start to get into all the perils of identity theft. There was a huge task ahead, in warning people, in blocking and securing, and then recovering accounts.
Then on top of this, the comparative failure of the Frankfurt event (and I say that with due respect to the dozen great people who did show).
Oh well, I said to Niels. Things can only get better.
I was very wrong.
————————————————-
Forgive me for pointing out that my ability to provide this coverage is entirely dependent on your kind voluntary subscriptions which keep this blog going. This post is free for anybody to reproduce or republish, including in translation. You are still very welcome to read without subscribing.
Unlike our adversaries including the Integrity Initiative, the 77th Brigade, Bellingcat, the Atlantic Council and hundreds of other warmongering propaganda operations, this blog has no source of state, corporate or institutional finance whatsoever. It runs entirely on voluntary subscriptions from its readers – many of whom do not necessarily agree with the every article, but welcome the alternative voice, insider information and debate.
Subscriptions to keep this blog going are gratefully received.
Choose subscription amount from dropdown box:
Paypal address for one-off donations: [email protected]
Alternatively by bank transfer or standing order:
Account name
MURRAY CJ
Account number 3 2 1 5 0 9 6 2
Sort code 6 0 – 4 0 – 0 5
IBAN GB98NWBK60400532150962
BIC NWBKGB2L
Bank address Natwest, PO Box 414, 38 Strand, London, WC2H 5JB
Bitcoin: bc1q3sdm60rshynxtvfnkhhqjn83vk3e3nyw78cjx9
Ethereum/ERC-20: 0x764a6054783e86C321Cb8208442477d24834861a
Subscriptions are still preferred to donations as I can't run the blog without some certainty of future income, but I understand why some people prefer not to commit to that.