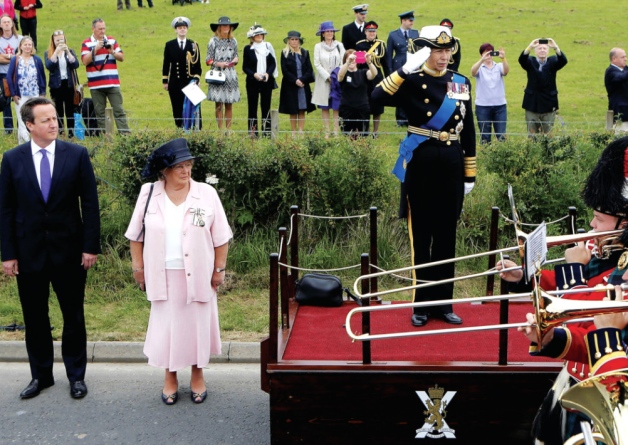 Disappointing Crowd for Open Air Gilbert and Sullivan
1,600 people attended British Armed Forces Day in Stirling. 20,000 attended Bannockburn Live, 1 mile away. Guess which the BBC covered?
The unionists have long been obsessed by the fear that the 700th anniversary of Bannockburn would remind Scots that their ancestors were prepared to die for their national freedom. I have never seen any Yes campaigner even mention it, as the case for independence is nothing to do with the early medieval period. But the British state was so concerned, that it waited until the dates for the Battle of Bannockburn event had been set and all the permissions given by Stirling Council , and then announced they were holding National Armed Forces Day at the same place and same time.
As a result, due to police fears about the overcrowding, Bannockburn Live was forced to slash capacity from 40,000 to 20,000.
Stirling Council should never have agreed to hold both events on the same day. In fact, it is a secret how they did agree. Stirling Council officials, called before a Scottish Parliament inquiry to explain, stated they could not say who at Stirling Council had given the permission, as because the process was irregular it was subject to an independent inquiry.
Only the Labour Party in Scotland could come up with that one – "because we have done something extremely dodgy, it is therefore secret." Stirling Council is in fact run by a right wing Labour-Tory-Lib Dem coalition aimed to keep the largest party – the SNP – out of power. Stirling Labour Party is therefore the absolute epitome of just how disgusting Labour are.
So today the BBC News lead item was the Stirling Armed Forces Day commemoration, with David Cameron parading about with his soldiers in front of every Tory in Scotland (1,800 people). The BBBC had three crews at the Armed Forces Day plus two radio crews. Not one of them managed even a mention of the ten times larger Bannockburn commemoration just down the road.
On top of which the BBC coverage was as appalling a bit of state propaganda as you could ever wish to see. A fine old retired soldier, they reported, told David Cameron that he did not wish to see the country he fought for broken up. It really was, straight out, as crass propaganda as that. Evidently the BBC were unable to find a single ex-soldier who supports independence.
But for me the piece de resistance was the BBC's conclusion. It showed that when the BBC really puts its mind to it, the BBC can try to be completely biased in a more subtle way – by use of body language, inflection and expression. In September, the female presenter opined, Scotland would have to choose between what it has to [spoken lightly, trippingly, frivolously high pitched voice] gain, and what it has to [stentorian, serious, loud, low pitch, serious expression] lose.
To explain Bannockburn, I feel the Declaration of Arbroath coming on. This is an astonishing document which predates Locke and Hobbes by well over three hundred years. It is the first declaration in history that puts forward the idea of the sovereignty of the people. It praised Robert the Bruce for defending Scots from the dreadful atrocities of English armies, but then goes on to say:
Yet if he should give up what he has begun, seeking to make us or our kingdom subject to the King of England or the English, we should exert ourselves at once to drive him out as our enemy and a subverter of his own right and ours, and make some other man who was well able to defend us our King; for, as long as a hundred of us remain alive, never will we on any conditions be subjected to the lordship of the English. It is in truth not for glory, nor riches, nor honours that we are fighting, but for freedom alone, which no honest man gives up but with life itself.
The document is signed by named nobles but is in the name of the "freeholders and whole community of the realm of Scotland". There is no document anywhere near it temporally that describes the idea of a nation state like this. Unionist historians have done everything possible to denigrate this very plain sentiment, making the obvious point that the signatories were nobles and clerics. Well, neither Locke nor Hobbes were refuse collectors. The appeal to the Pope was of course to be expected in the early XIV century. It cannot be denied, except by those who hate the Scots, that these sentiments encapsulate the "social contract" and an idea of the nation that was a major advance in European civilisation.