Israeli economics minister Naftali Bennett has claimed of Binyamin Netanyahu that "The prime minister is not a private person but the leader of the Jewish state and the whole Jewish world." Really? Netanyahu is the leader of all the Jews in London, or California, or Ethiopia, who may never have set foot in his state?
This extraordinary remark by Bennett lays bare the fundamental flaw in the very concept of Israel. It is not a modern state, defined as a territory and comprising all the various citizens of whatever descent who live within it. It is rather a vicious racist construct, defined absolutely by race, refusing territorial limits, and with an aggressive theocratic overlay that claims tribal superiority over the entire rest of the world.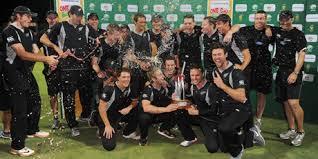 Here is a picture of the New Zealand cricket team. In the last twelve months, New Zealand cricket teams have fielded payers including Hamish Rutherford, Peter Fulton, Colin Munro, Dean Brownlie, Ross Taylor, Rob Nicol, Corey Anderson, Grant Elliott, Jimmy Neesham, Kyle Mills, Adam Milne and Mark Craig, not to mention the McCullum brothers. But if I told you that Alex Salmond was the leader of all Scots around the world, including the Black Caps, you would quite rightly call me a nutter.
We would not tolerate the level of racism in any other country that we tolerate from Israel. There was a huge outcry against Labour MP Paul Flynn who dared question whether it was sensible to send a strongly professed Zionist Jew as British ambassador to Israel, but when the Israeli government itself proclaim the political leadership of all Jews all over the world, it is a logical impossibility not to ask the question.
I wish nothing but good to all people, including all Jewish people, but by their increasingly hardline racialist approach, their unceasing encroachment on Palestinian land and their rigorous adoption of all the racist mechanisms of an apartheid state internally, I feat that the window of opportunity for a peaceful future for those Jewish people living in what is currently Israel is closing fast.
It must be universally proclaimed: there is not a single racial group in the whole world from whom worldwide racial claims of political allegiance, or an internal racially based legislative order, are acceptable. Bennett's remarks are beyond the limit of civilised political discourse.