So far 564 people believe they have shared on Facebook my article conclusively refuting the CIA's invention of lies about Russia hacking the DNC, using the share button on this site. Another 78 have tried to share it from my Facebook page. Between them those 650 people will have. according to the Facebook average, about 200,000 friends. The total amount of incoming traffic from these 200,000 friends? 22 people. Almost nobody can currently reach this site through Facebook, as the "came from" interface on my statcounter below shows. Nothing from Facebook. Facebook are actively colluding in preventing social media from contradicting the mainstream media lies about Russian involvement in the US election campaign.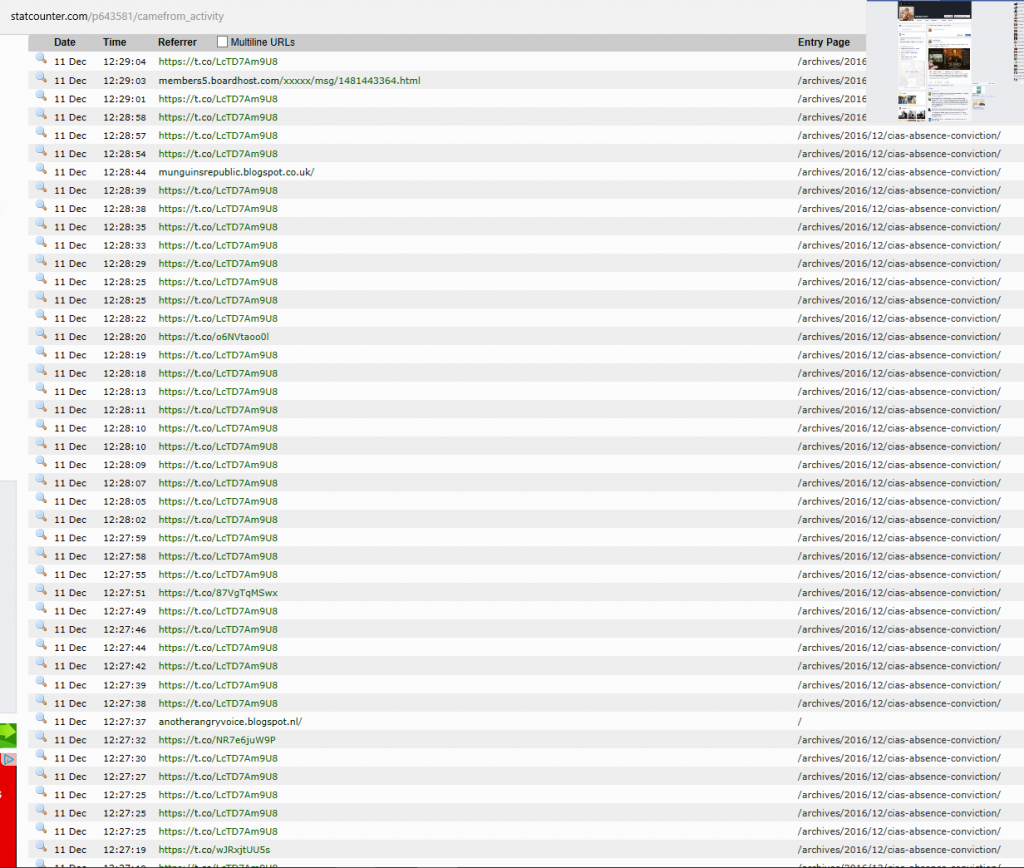 Don't believe me? If you think you shared the article on Facebook, phone one of your Facebook friends and ask if it appeared for them.
The only way to defeat this is to republish the article yourself. I waive any copyright. If you have access to a blog, copy and paste it there and post a link to that blog on Facebook. Or simply cut and paste my whole article and copy it to your Facebook page, in sections if required.
I am similarly ghost banned on twitter. The work round to this, which plenty of people have found, is to create a new tweet yourself with a link to my site, rather than retweet one of my tweets. As with the Facebook share, if you do retweet you will be unaware it doesn't work.
There are profound implications for society in the compliance of the major social media corporations with establishment demands to prevent social media from effectively challenging the mainstream media narrative – and I cannot think of a more classic example than this case. I do urge you to take action as described above, to show that the people will not stand for it.
UPDATE
Calling Facebook out worked, we have just been unblocked! If you contrast this new came from log with the above, you will immediately see the difference – and just how important social media is to a dissident website like this one.