The right wing bias of BBC Question Time tonight staggers belief, even for the BBC. One Francoist, two Tories, the still more right wing Chukka Umunna, all "balanced" by Akala, who thankfully has more brains, and certainly more compassion, than the rest put together.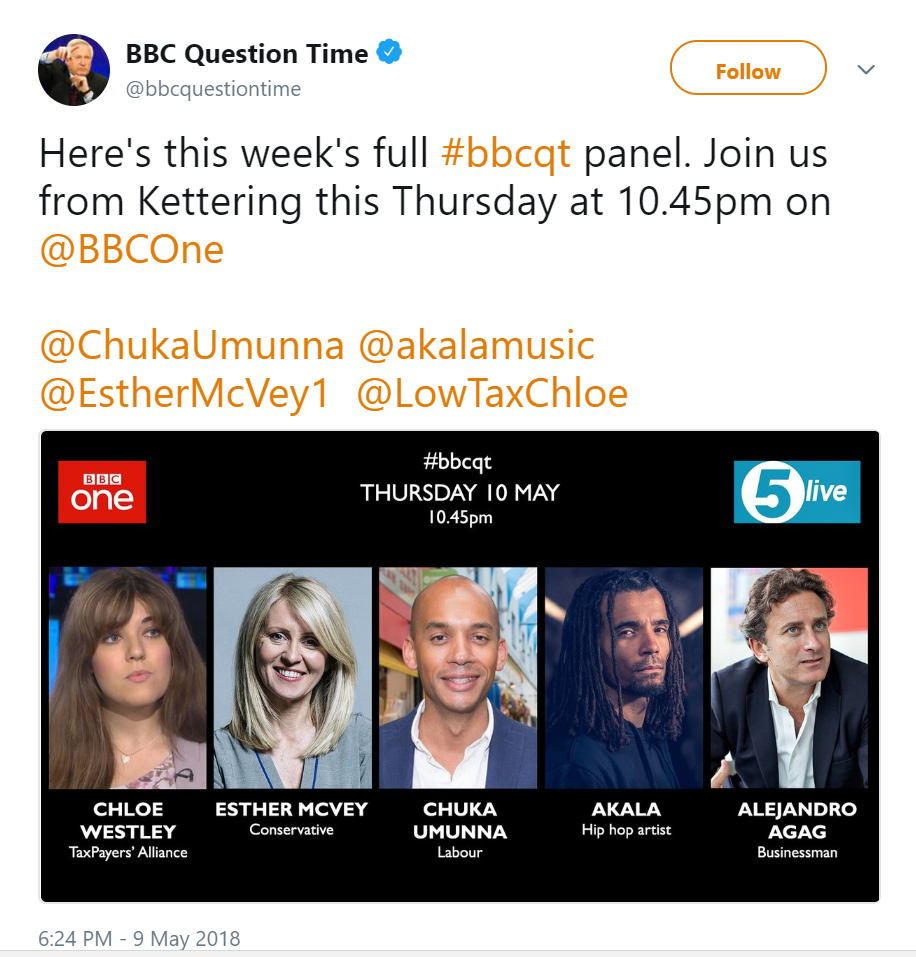 Esther McVey, Tory. Champion of the rape clause, minister implementing benefit cuts and promoting privatised benefits assessments, lobbyist against regulating gambling machines. One of the very nastiest of Tories.
Chloe Westley Another Tory. Here representing the tiny far right fringe group the "Taxpayers Alliance". Proponent of fierce benefit cuts. Studying the rampantly Islamophobic counter-terrorism course at St Andrews University. Her twitter handle is "LowTaxChloe" which is all you need to know.
Alejandro Agag Another Tory, invited by the BBC as a "businessman". Former MEP for the Francoist Spanish Popular Party – the current government in Spain which is busy jailing as many political prisoners in Catalonia as they can get their hands on, and is happy sending in paramilitary thugs to club old Catalan ladies waiting to vote.
Chuka Umunna Full time taxpayer-funded right wing campaigner against Jeremy Corbyn.
Akala Very decent guy. Performing this year at our Doune the Rabbit Hole festival for which you should pull your finger out and get buying tickets now.
Why is the BBC permitted, day after day after day, to pump out programming which actively promotes a political programme far to the right of where the British population actually stand? With the continual over-representation of nutty right wing groups like the Taxpayers' Alliance and the Henry Jackson Society, while left wing groups of much larger membership such as Stop the War are completely ignored. Why low tax campaigners but no invitation ever to groups like Black Triangle who represent claimants interests? Not to mention the routine ignoring of the SNP, parliament's third largest party.
I strongly urge you not to pay your TV license to fund this barrage of right wing propaganda. I and thousands of others in Scotland have refused to pay since 2014, and other than lots of silly threatening letters nothing has happened. Just stop paying for this nonsense.