UPDATE
My new appeal for funds to continue my legal defence has now reached £42,300 of the £75,000 target. I am extremely grateful to all of the 2,053 people who have so far contributed to the top-up. The moral support from those who cannot afford to contribute is also very greatly appreciated. That is now £117,300 of the £150,000 needed in total.
I have today received a bill from my legal team for £60,563.40 in fees to date in defending the contempt of court charge against me for my reporting of the Alex Salmond trial.
In addition to this, I have paid a separate legal fee for a QC to draft a petition for a court to consider whether the accusers' anonymity should be continued by the courts, given their continued participation in a high intensity public campaign against Alex Salmond and effectively against the verdict of the jury. I have also paid to commission the Panelbase poll proving that my blog was in no way a primary source of information for those who believe they have identified accusers.
In total to date £69,052 has been spent. Which means about £5,000 remains in the pot, and the main trial itself is currently scheduled for 21 January.
The Crown has adopted a policy of simply blocking everything the defence seeks to do: objecting to my witnesses, objecting to my own affidavit, objecting to the release of documentary evidence. In consequence there have been three preliminary hearings. Those who listened to last week's hearing will know that these have resolved none of the questions at issue. The Crown constantly shifts its ground, or submits draft positions, and has not yet clarified the evidential basis for its charges, while blocking my evidence. They have objected to all of my witnesses being heard, and to the opinion poll being considered.
This has the appearance of what is known in the US as "Lawfare". My financial resources are drained and there is a huge impact on me in terms of my time taken up – frankly very much worse than I anticipated – and an emotional strain too.
As a reminder, this is the list of documents from the Salmond case disclosure my which defence is seeking to access, and which the Crown is refusing to release.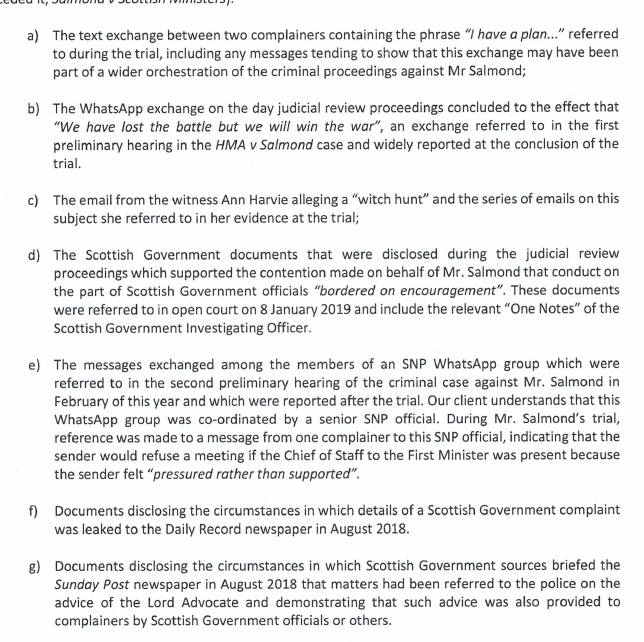 To be plain, this is material which I know for certain to exist. I am not fishing. The Crown has admitted its existence in forbidding Alex Salmond's own solicitors from releasing it to anybody, (including Alex). Much of this was kept out of the Salmond trial itself as "collateral evidence", as I explained here.
The most likely next court hearing is to request the Court orders the Crown to produce this material. In effect, each court hearing costs about £20,000 in legal fees. It is now plain that I need at least double the £75,000 originally raised to get me through the trial. I am really very sorry to have to ask again, but I therefore need to request further contributions to my defence fund at this point.
I am deeply conscious that, the legal battle having caused my blogging output and depth of research to fall these last few weeks, there has been a drop-off in readership and in subscriptions, so I am handicapped in making this appeal precisely by the very legal battle I am appealing to try to fight. I also do realise these are hard times for people. I do not want anyone to give anything if it causes them even the slightest hardship.
I will post updates on progress from this renewed funding appeal. I have asked the lawyers to produce a version of their fee note which can be published.
Click HERE TO DONATE if you do not see the Donate button above
Alternatively:
Account name
MURRAY CJ
Account number 3 2 1 5 0 9 6 2
Sort code 6 0 – 4 0 – 0 5
IBAN GB98NWBK60400532150962
BIC NWBKGB2L
Bank address Natwest, PO Box 414, 38 Strand, London, WC2H 5JB
Bitcoin: bc1q3sdm60rshynxtvfnkhhqjn83vk3e3nyw78cjx9