The resignation letter of Craig Mokhiber, Director of the New York Office of the UN High Commissioner for Human Rights, has gone viral on social media but most posts only show page one. Here is the full four page letter.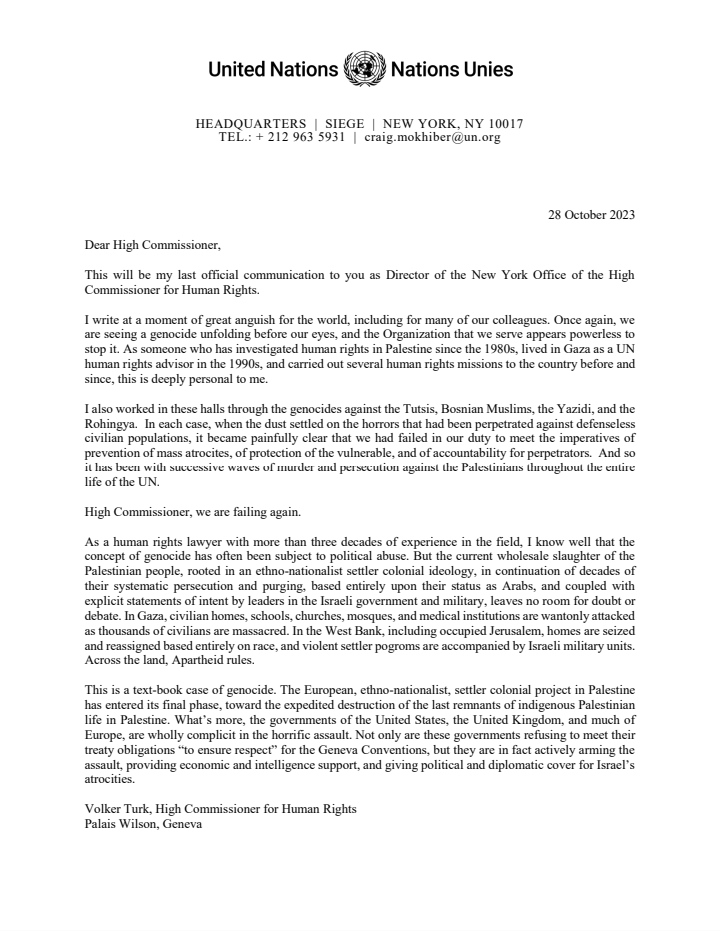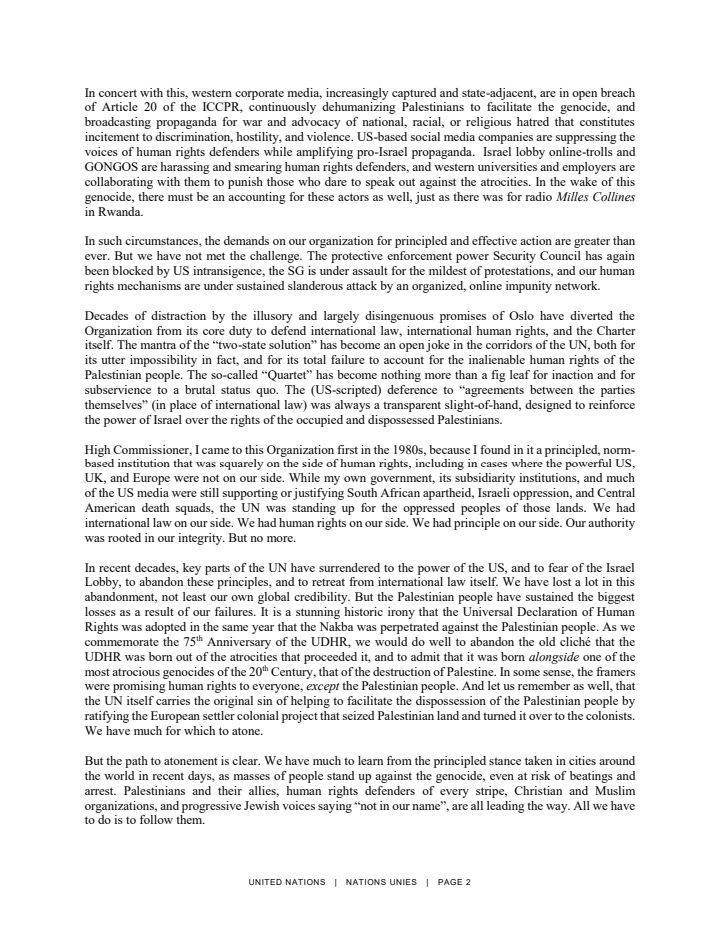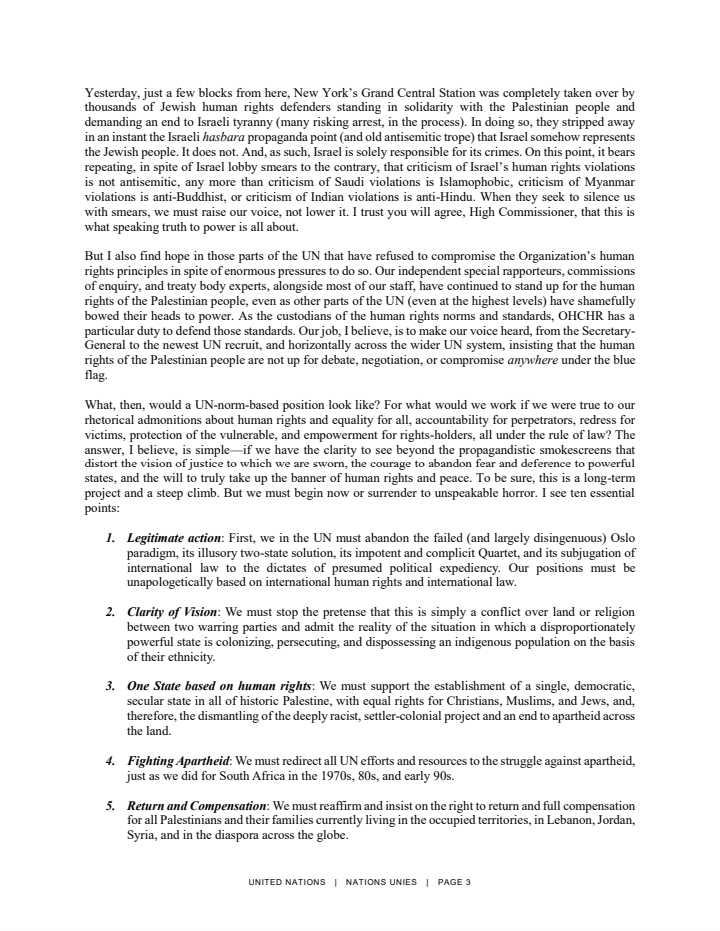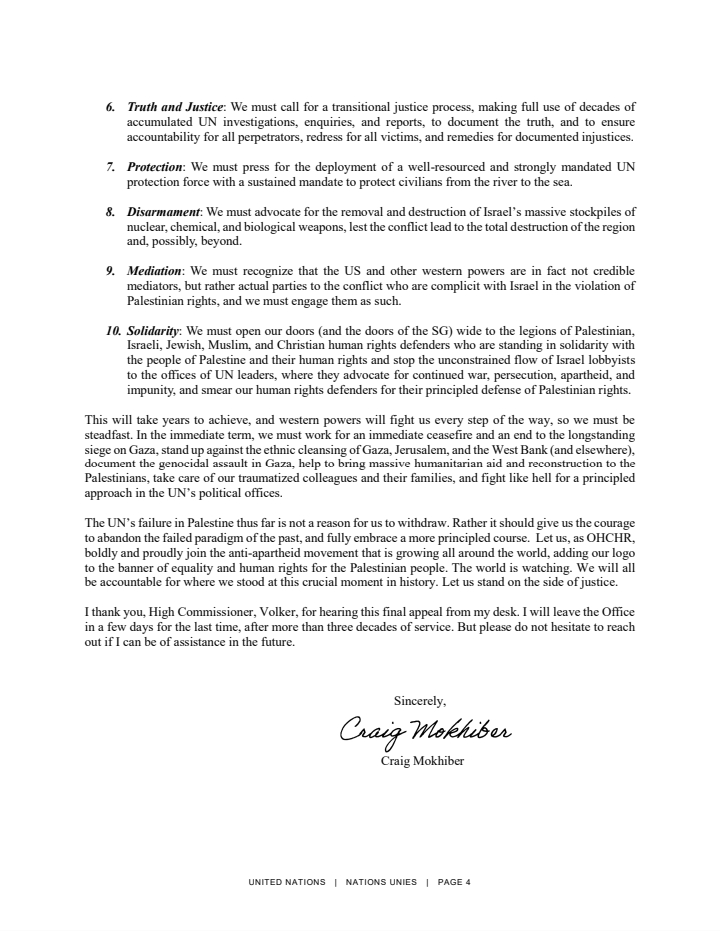 This needs no gloss from me. Craig is one of the world's leading international lawyers.
I am writing this in Geneva where I am tomorrow meeting UN officials to pursue my own case: both my unprecedented in modern times jailing for contempt of court, and the current surreal persecution under the terrorism act. I shall also be raising the case of other journalists subjected to persecution under the terrorism act, including Kit Klarenberg, Vanessa Beeley and Johanna Ross.
This account from John Laughland is interesting in how precisely it accords with my own experience, particularly in being held for exactly an hour with no right to remain silent and no right to a lawyer.
By one of those astonishing coincidences in life, tomorrow is the United Nations International Day to End Impunity for Crimes Against Journalists.
I am not making it up, that really is a thing.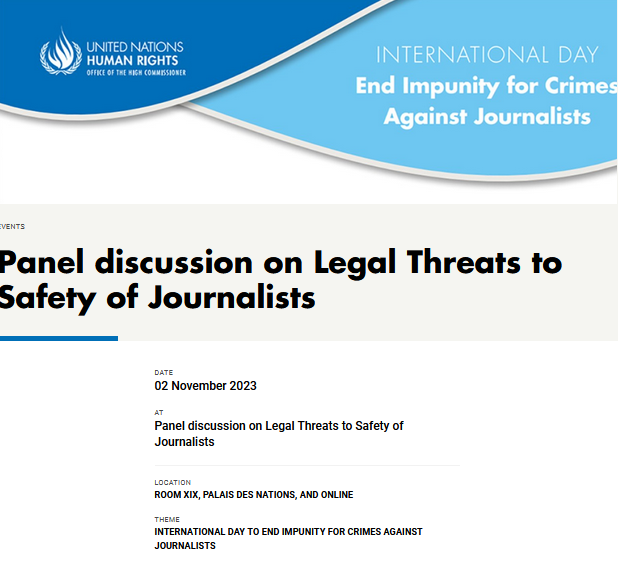 And the major theme of the keynote meeting is
"to bring visibility to a new Study on the impact of counter-terrorism and other criminal laws on media freedom and safety of journalists. Panellists will explore legal challenges faced by journalists and the increasing practice of resorting to restrictive legal frameworks to unduly interfere with the work of journalists."
So I could hardly have walked in at a more auspicious moment.
Subject to an "anti-terrorism investigation", I do not view it as safe currently to return to the UK. Whether the investigation relates to my support for Wikileaks or to my support for Palestine, or to both, I do not know as the police have not said why I am being investigated.
I honestly believe I am not fighting for me, but against encroaching fascism in western societies. It is for freedom from an ever encroaching police state and from a political class trying to enforce a monopoly of information to the public. The fight can only happen at all with financial support from the amazing readers of this blog. You have seen me through so much, and I am very grateful.
Click HERE TO DONATE if you do not see the Donate button above
Alternatively:
Account name
MURRAY CJ
Account number 3 2 1 5 0 9 6 2
Sort code 6 0 – 4 0 – 0 5
IBAN GB98NWBK60400532150962
BIC NWBKGB2L
Bank address Natwest, PO Box 414, 38 Strand, London, WC2H 5JB
Bitcoin: bc1q3sdm60rshynxtvfnkhhqjn83vk3e3nyw78cjx9
Ethereum/ERC-20: 0x764a6054783e86C321Cb8208442477d24834861a
It would be extremely helpful if you could subscribe to this blog, even if only for £3 a month. Less than 0.2% of readers subscribe, and that does make it difficult. You can use the Paypal button below or standing order to the bank details above:
Choose subscription amount from dropdown box:
View with comments
---