Last week many were genuinely shocked by the news that the UK's major company directors had awarded themselves average earnings increases of 49%, while most ordinary people suffered a significant drop in real income.
If you need further evidence of the callousness of society's haves towards ordinary people, look at this from the USA. A Bank of America "foreclosure mill", law firm Steven J Baum, makes its money by having families evicted from their homes onto the streets. These wealthy lawyers decided to have a Halloween party where they would dress up as – homeless people.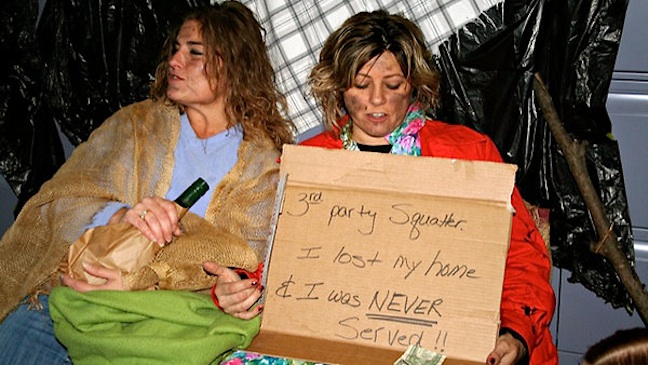 These two were by no means alone – if you google you can find plenty of pictures of other bastards at the party.
We are likely to see a major increase of home repossessions in the UK next year. There are signs that society is rediscovering the notion of horizontal solidarity. The highly effective role of social media in rapid political organisation leads me to think it ought to be possible to set up an organised system of resistance to evictions, with people rapidly converging to aid those under threat.