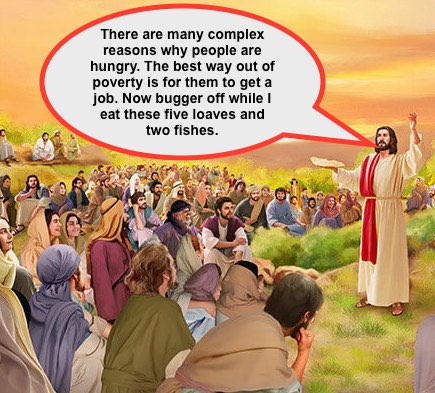 Thanks @ROBN1980 for this illustration
On their return the apostles told him all that they had done. And he took them and withdrew apart to a town called Bethseda.
When the crowds learned it, they followed him, and he welcomed them and spoke to them of the kingdom of God and cured those who had need of healing.
Now the day began to wear away, and the twelve came and said to him, Lord the people are hungry.
Now Jesus turned to them and said "There are many complex reasons why people are hungry. The best way out of poverty is for them to get a job. Now bugger off while I eat these five loaves and two fishes."
Now one amongst the faithful, a man named Marr, arose and said, "Lord, many of them do have a job, and yet they are still hungry. Behold, even here are hungry nurses".
And the people were sore perplexed.
And Jesus looked upon the nurses and he said "Physicians, heal thyselves. Ha! See what I did there? Now bugger off and let me eat these loaves and fishes."
Upon having refreshed himself with the loaves and fishes, Jesus turned to the text of his authorised biography.
On reading the story of his birth, Jesus called Luke and said unto him "Thou art my beloved biographer, in whom I am well pleased".
"Verily, this story of my birth is well written. It will sell for many years. The Nativity will have a strong stable readership. Ha! See what I did there?"
"Now clear off and give me some peace, I have to send a letter to Tim Farron upon the evils of sodomy."
Explanatory note: On the Marr programme today, Theresa May responded to an Andrew Marr question about nurses having to use foodbanks, having suffered a 14% wage cut since 2010. May, a strongly professed Christian, replied "there are many complex reasons why people use foodbanks" and "the best way out of poverty is to get a job."
One Tory line which May used on both Marr and Peston, I have seen trotted out by the media themselves repeatedly in the last few days. May stated that under the Tories, the wealthiest 1% of taxpayers pay a higher proportion of taxes than ever under Labour. Adam Boulton was pushing this line on Sky News recently, using the figure that the wealthiest 1% pay 29% of income tax.
I have seen nobody make the obvious rejoinder. Under the Tories the wealthiest 1% have the greatest percentage of national income in modern political history. That is why they pay more tax. But due to tax avoidance, it remains the case that the wealthiest pay a lower percentage of their income in tax than any other group. There is no chance that this obvious reply will be given to Theresa May by an interviewer, or that Adam Boulton will start proclaiming it on the airwaves.
The above post is designed to highlight the hypocrisy of May and her unchristian attitudes. It in no way intends to insult the teachings of Jesus; rather the opposite.
Liked this? Please share using the links below. Then View Latest Posts