Where is the British Ambassador to Israel Matthew Gould, who has put so much effort into promoting himself as a self-proclaimed "Jewish Zionist"? What has he to say while the people in Gaza are being massacred even as they shelter in UN facilities?
Well two days ago he was attending the swearing in of new Israeli President Rivlin, together with a British delegation of weird right wing folk, including Baroness Pauline Neville Jones, favourite "security expert" of the BBC, Stuart Polak of Conservative Friends of Israel, and New Labour public school and Oxford right winger Paul Spellar.
But surely the British Ambassador to Israel has spoken out in public about the terrible carnage in Gaza?
He most certainly has. Gould has reflected the massive indignation of the British people by stating that:
"This was a conflict triggered by Hamas raining down on Israel hundreds and hundreds of rockets fired indiscriminately at Israeli towns and cities. Israel has a right and even an obligation to defend it citizens."
Gould paid a pro-Israeli propaganda visit to Sderot, the Israeli chosen destination for media reports about Hamas rocket attacks, and the place where Israelis hold parties to watch people being blown apart in Gaza. Gould spoke of having to take his own family into the bomb shelter in Tel Aviv when sirens sounded from Hamas attacks.
Matthew Gould was a long term collaborator of Adam Werritty, having held meetings with him over a decade in Tehran, Washington, Israel and London, at most but not all of which Liam Fox was also present. The Foreign and Commonwealth Office refuse to list these meetings or say who was present and what was discussed, even though Gould met Werritty including when Gould was Private Secretary to both David Miliband and William Hague.
I have no hesitation whatsoever in stating that what is happening in Gaza is a part of a continuing process of deliberate genocide of the Palestinian people by the Israelis. When I have previously stated this, some commenters have taken issue with the word genocide. I see no other word that fits.
This chilling article by Martin Sherman, Head of the Israeli Institute of Strategic Studies, calling for Gaza to be ethnically cleansed of all Palestinians, should open the eyes of some of those who refuse to see that Israel is no longer a morally defensible entity. The 3,600 Facebook shares of this evil are evidence of how the madness of fascism has overtaken the citizens of Israel.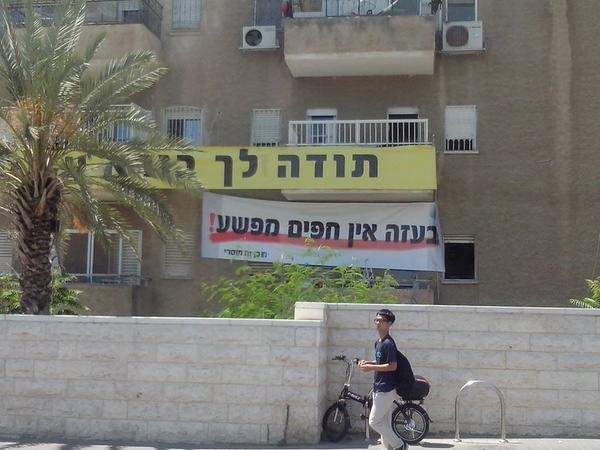 This banner on Herzl Boulevard expresses what has become the catchphrase for the extermination of Palestinians "There are no innocents in Gaza". This justification of the extermination even of women and children should evoke parallels for Jewish people which are too obvious for me to emphasise. Yet this extraordinary slogan, justifying genocide, is supported and repeated by huge sectors of the Israeli populace.
I wonder how long it will be before we hear it from Matthew Gould?